By Holly Burnett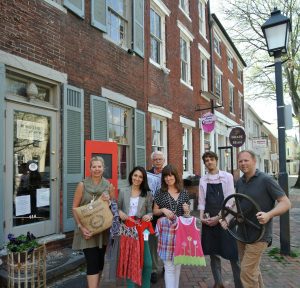 Main Street, USA. It could be any street – an artery, a thoroughfare, or a few quaint storefronts that define a community, both in its past and in its present. Such is the story of South Royal Street in Old Town Alexandria, Virginia, USA, zip code 22314.Turn back the centuries, and the buildings will look much the same as today – understated, yet active – inhabited perhaps by a silversmith, a bookbinder, a baker, or a candlestick maker – each contributing significantly to sustain and advance their hometown.Working on South Royal Street for 25 years is Todd Healy, Alexandria's "artist in residence." His shop, Gallery Lafayette (gallerylafayette.net and capitolartifacts.com), is now located on the corner of South Royal and Prince at 130 South Royal Street. His precise drawings and watercolors of Alexandria landmarks have memorialized these structures. He is the creator of new art that pays homage to the past.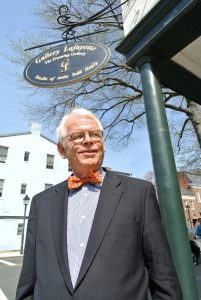 In addition, Healy is a meticulous frame-maker who will take your art, your memories, whatever they may be, and rediscover them inside hand-painted beveled mats and handcrafted frames, elevating a canvas or even a piece of paper to the stature it has come to earn in your heart. Your life can now hang on your wall rather than be hidden in a drawer. Healy is the street's preserver. Entrepreneurs Pouneh Barnes and Megan Podolsky are co-owners of 529 Kids Consign (529kidsconsign.com) an upscale children's and maternity consignment boutique, at 122A South Royal Street, which opened in April 2012. The store name's numerals represent a college savings plan, and families can begin saving for their children's education by shopping or consigning at 529. A precious off-street entrance (just follow the 529 sign) allows for ample "stroller parking."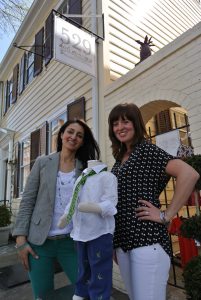 Once inside, you are struck by elegant wrought iron clothing racks brimming with the most exquisite size 0-10 baby clothes – all high-end labels (many European), resembling the baby department at Neiman Marcus except with more buyer-friendly price tags. And keep on going; there's more upstairs including maternity clothes, strollers and additional gently or never used gear. The store is also dotted with the hottest new baby items (not consignments) to maximize your shopping experience.Barnes and Podolsky maintain strict consignment standards and guidelines (located on their website), and the quality of their convictions is evidenced in the clothing and gear they accept – perfect in every way. So whether you're consigning, shopping for a gift or your own children, 529 is the place to go. Barnes and Podolsky are the street's re-allocators.At 121 South Royal Street, craftsmen Lawrence Miller and Tim Shaheen oversee Lawrence Miller & Company (lawrencedmiller.com), perhaps the most revered silversmith in the Washington, DC area. The shop, originally opened in 1968 by master silversmith Anthon Rubesch, was well known to Alexandrians as Rubesch's. In 1991, an 18-year-old Lawrence Miller apprenticed under Rubesch and his son's watchful eyes. Ten years later, after Rubesch's death, son Dezso sold the business to Miller, who changed the name to Lawrence Miller and Company in 2006. Shaheen joined the business in 2005 and is a co-owner.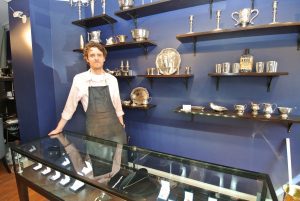 In addition to designing custom jewelry and silver pieces (most recently a chocolate pot for Mars, Incorporated), the company is one of the finest antique and priceless silver restoration experts in the country. They are also known for their jewelry repair and alterations as well as jewelry/silver appraisals and impeccable engraving. Unique artisans, preserving a legacy of craftsmanship and old world skills, Miller and Shaheen are the street's restorers.At 114 South Royal Street, you'll find owner Coddy Eyre inside Maggie Jane's by Coddy Eyre, an enchanting, two-story retreat for the senses, filled with luscious vintage-inspired home furnishings, jewelry and gifts – most found and repurposed by Eyre herself. She is Alexandria's own "American Picker." The store, named after her mother Maggie and daughter Jane, seems a natural progression for a young Eyre, who would play dress up in a 1950's tulle-lined prom dress and hold tea parties with her grandmother. She has incredible taste that harkens back to the romanticized, carefree days of our childhoods that live on in our memories.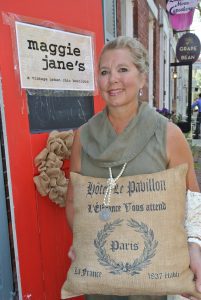 Maggie Jane's is also the exclusive local distributor of the acclaimed, all-organic CeCe Caldwell Chalk and Clay Paints that are used to revitalize/transform vintage furniture, and Eyre teaches classes in its application (contact her at 571/643-8293 to register). From white-washed barn doors to shell-encrusted mirrors, cupcake candles to peacock wall panels, you'll find something you adore (on every wall) inside Maggie Jane's. Her prices are incredibly reasonable, and this writer couldn't leave without grabbing up not one, but two of her necklaces. Eyre is the street's re-purposer.Owner and designer Glen Stone of Carbon Industrial Design (carbonindustrial.com) manufactures custom furniture. But his store at 128 South Royal Street is no normal showroom. Stone actively searches for and then salvages old and/or unwanted equipment, beams, gears and other like materials, originally used for another purpose entirely, and essentially "reclaims" them as part of his original Carbon creations that are altogether functional, attractive and downright cool.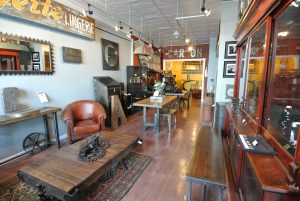 Carbon's long and deep display space features such unique objects as industrial-sized water pipes that have evolved into planters – beautiful in their simplicity and massiveness; distressed wood and vintage wheels that come back to life as a dramatic coffee table cart; and gleaming metal roof vents transformed into industrial kitchen light fixtures.Carbon's clients include both individuals and restaurateurs, who are seeking that sleek mix of wood and metal. In addition to its reclaimed furnishings, Carbon boasts an impressive collection of huge, vintage original company and product advertising/display signs, such as Stroehmann Bread and Chrysler Plymouth, ranging in price from $200 to $4,000 depending on their rarity and condition. But the pièce de résistance are Stone's custom-designed tables with such materials as reclaimed factory butcher block tops and iron machine base legs. No two tables are alike, and each is a genuine work of art. Stone is the street's re-imagineer. David Gwathmey and Sheera Rosenfeld opened GRAPE + BEAN (grapeandbean.com), located at 118 South Royal Street, in 2008, to offer customers exceptional coffees and wines (hence the store's name) from smaller, more-specialized independent producers. Both are handcrafted agricultural products with many similarities. "Start your day with one, end your day with the other!"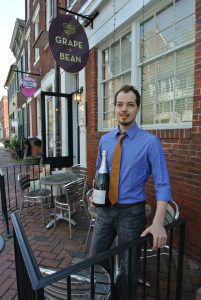 You can enjoy sipping at the cozy coffee/wine bar (as well as dog-friendly sidewalk seating weather permitting), indulge in daily lunch specials Wednesday through Friday, participate in wine classes/tastings (visit their website for more information), or shop to carry home. Their gourmet items also include artisanal cheeses and charcuterie, chocolates and breads. GRAPE + BEAN's popularity has spawned a sister store in Rosemont at 2 East Walnut Street. Both locations possess an air and feel reminiscent of California's wine country and are well-suited to Alexandria's community. Gwathmey and Rosenfeld are the street's purveyors.Then we come to Jamie Turner (James D.), Attorney at Law, specializing in real estate and trusts, located at 124 South Royal Street in the law offices of Thomas, Ballenger, Vogelman and Turner, P.C. Turner loves this street and has worked at three different addresses here since 1984. "I'm excited to see the revitalization of this street through new proprietors and businesses who contribute to the community growth," Turner stated. (And if you would like to join this block, he has 1,100 square feet of rental space available.) Turner is the street's protector.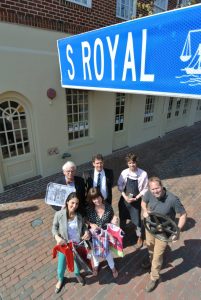 Dissolve the centuries, and the buildings look much the same as yesterday – understated, yet active – inhabited by an artist/frame-maker, entrepreneurial visionaries, silversmiths, a stylist, a craftsman, tavern proprietors and a solicitor. Each contributes significantly to sustain and advance their hometown – a few quaint storefronts that define a community, both in its past and in its present. Such is the story of South Royal Street, zip code 22314. Main Street, USA.