By Jeff Winter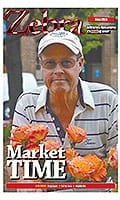 If you close your eyes at the City of Alexandria's town square on Saturday morning's from 5:30 a.m. to 12:00 p.m., you can hear the teaming crowd of people bustling through the farmers' market in Market Square on King Street, smell the fresh and delightful baked goods and coffee, and if you have a vivid imagination, you can almost hear the sound of anxious horse hoofs on cobbled stoned streets after making their way from George Washington's home in Mt. Vernon to drop off the garden's assorted fresh produce for sale to Alexandria residents .  This imagery from the days of the late 18th century may be difficult for most, but with few exceptions, not much has changed at one of America's oldest and still most popular farmers' markets in the country.
The first farmers markets technically originated in Egypt over 5,000 years ago when farmers along the Nile brought their fresh produce to be sold.  Today there are farmers' markets all over the world with the smallest ones being no more than 3-4 vendors selling their fresh produce to the largest one in the world in Tokyo, Japan which has over 1,700 stalls.  Farmers' markets are commonly defined as municipal facilities where several or more producers gather on a regular basis usually on a regular schedule to sell fresh fruits, vegetables, meats, flowers, bakeries and prepared foods.  They are in essence direct to consumer locations from the producers thereby cutting out the middleman such as supermarkets.  The most important criteria to be considered a farmers' market is that goods are produced locally and vendors sell their own products.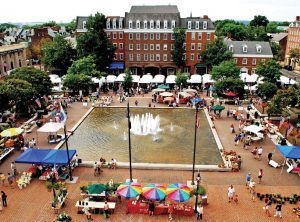 In America, informal markets have been around since the early settlers in Jamestown.   People who come to Alexandria on Saturday mornings find themselves in a busy plaza where local farmers and artists have been selling their products since 1753.  Old Town Alexandria's Farmers' Market is thought to be one of the nation's oldest continually operating farmers' markets, serving as a primary way Alexandria residents have typically obtained their fresh meat, dairy, fish, fruits and vegetables.
The modern Old Town Farmers' Market has tents lined up in rows and broken up into quadrants to make it easier for both the 60 vendors and the numerous patrons that fill the square.  Like its earlier traditions, the vendors include both the sellers of fresh, in season produce combined with the sellers of handcrafted woodworks, handmade clothing, jewelry, and even a professional gardener eager to provide his helpful tips.  It is safe to say that this farmers' market has evolved subtly into a plethora of goods and services, much to the delight of the people that regularly visit the market.
In fact, it has become so popular that the City of Alexandria agreed to extend the hours of operation from 7:00 a.m. to 12:00 p.m.  The un-official opening of the market begins when the vendors have unloaded their goods, and for many that is around 5:30 a.m.   If you think that is early, consider this, Cameron's Berries from Summit Point, West Virginia begin loading their fresh picked vegetables, assorted berries, shiitake mushrooms, and flowers at 12:30 a.m.  "Once everything is fully loaded on the truck," said owner Woody Cameron, "we begin our trek to Alexandria and once we finally arrive, we start all over again unloading our goods and setting up our stall and we are ready for business by 5:30 a.m."
Woody is not by himself at this early time of the morning, other vendors are ready to go as well, and patrons are already hovering around the stalls with their purchased fresh coffee and handmade stuffed croissants in their hands preparing for their day at the market while standing under the gleam of the early morning sun.  It is indeed a something beautiful to experience and it does harken one back to days gone by when life was simpler, kinder and friendlier.
"I have been coming to the Old Town Farmers' Market for over 30 years," commented one experienced visitor.  "Whether I just need a carton of eggs or some fresh flowers for the dining table, I come early and stay late.  I get to visit with my neighbors, say hello to my favorite vendors and it just makes me feel like I am truly part of a community."  Somehow, I think the vendors feel the same way if you take the time to visit with them.
The Lamb's Quarter from Calvert County, Maryland, is another family owned and operated business that has been in the Jim Bourne family since 1690.  It seems to be one of the visitor's favorite vendors with its farm fresh produce and meats.  "For me, the pork products are highlights," commented one regular.  "They have two types of sausage and both are outstanding, I prefer the Italian.  They also have bacon, not every week, but occasionally, and it is some of the best bacon I've ever eaten.  Not as salty as store-bought bacon and it's just fantastic."  They are one of the few vendors that have a Community Supported Agriculture (CSA) or farm subscription program where you can become a shareholder and get 22 weeks of vegetables.
Not un-like many of the vendor's farms, the idea for The Lamb's Quarter began in 2007 out of a desire to work where they lived, raise their children on the farm, eat good food and share the results of their labor with those who also valued good, wholesome food.  They began their CSA in 2008 and are now in their 6th season.  However, that's not the beginning of the story.  Jim grew up on this farm, living and working on a place that his family had farmed since 1690.   Tobacco was still king, they work hard, the rewards were small, but sufficient.
But tobacco's reign was coming to an end, and in 1983 the last crop was put in the barn.  The next two decades were spent raising beef cattle, caring for a few laying hens, and cutting hay.  By then, Jim had married Patrice, started a family, and worked off the farm.   By 2001, Jim had come back to the farm and began raising broiler (meat) chickens.  Influenced by master farmer Joel Salatin and a host of other farmers dedicated to doing things differently, Jim raised his chickens on pasture. One thing led to another. The cattle became grass fed, laying hens were brought back to the farm and put out on pasture, and a few vegetables were planted.
By that first CSA season in 2008, they had read the books, studied the markets, did some experimenting, and figured that "if you're going to get wet, you might as well jump in the deep end.  We did a lot of 'dog paddling' that first year."  The next year was better, the third year saw their first interns, and now in their sixth season they have a full time vegetable manager and a part-time market master.  They now raise over 3 dozen different vegetables, growing them throughout the year to supply their CSA and farmers' market customers.  They raise cattle, hogs, sheep, laying hens, broiler chickens, and turkeys.  They don't use herbicides or pesticides; their animals are out to pasture in season, are never fed antibiotics, and for those animals requiring grain, they use non-GMO corn and soybeans with an organic mineral mix.  "We farm to make a difference in the lives of our customers."
Another unique perspective of the Old Town Farmers' Market comes from vendor K.C. Cromwell of Affinity Woodworks, a former member of the U.S. Army's Special Forces as well as an Army Ranger.  K.C. has been a vendor for two years now and talked with great pride about the Old Town Farmers Market. "I really appreciate the historical significance of this market and what it means to this community.  I have visited many farmers markets, but none with the history and tradition like this one," says K.C.  "What I respect is the fact that from Megha Even's, the Market Master, to the patrons, and right down to the smallest vendor, we're all trying to maintain a culture of community that has been developed over hundreds of years."
"This market square is literally being used exactly the way as it was intended," K.C. goes on to say, "to embrace the entrepreneurial spirit that our country was founded on."   Like days gone by, this is all accomplished by sharing our gifts and talents with the local community so that we have fresh meat, vegetables, and fruits to put on our tables for dinner, for the dress maker to sell her clothing so that our daughter has a beautiful new dress to wear for that special occasion, and yes, for small businesses like K.C.'s to provide that 'table' or 'bowl' for your family to use for meals.  "Finally, K.C. adds, "I need to say that I am fortunate and proud to be a part of this community, not only for what I can provide, but as important, for what it provides to me."
How has the Old Town Farmers' Market truly evolved?  Vendor "truly-life" calls itself "the ultimate urban garden."   But they don't sell fruits and vegetables, Owner Mellenie Runion and partner Andy grow loofahs, herbs, and flowers which are used in their eco-friendly skin care products.  I don't think George Washington or the community that he was a part of over two centuries ago, that walked this very market, would have any problem with natural flower and herb infused soap.  I do think, however, that his good friend Thomas Jefferson would have been jealous that he didn't invent this himself.  So, if you close your eyes and can't visualize the horses and carriages surrounding the market when you visit, saunter up to Mellenie's stall, close your eyes and see if you can pick out the different flowers used in their soaps.  I think you'll find this just as enjoyable.
Market Square, 301 King Street.
Hours:  Saturday's, 7:00 a.m. to 12:00 p.m., year round.
Free parking in the Market Square garage during Saturday hours of the Farmers' Market
The Del Ray Farmers' Market
The Del Ray Farmer's Market, founded in 1994, may not have the history and tradition of the Old Town Farmer's Market, but looks, size and spirit can be deceiving.  The key to every farmers' market is to know your customers and its community, and the Del Ray Farmers' Market has without question carved out a special niche in one of Alexandria's most popular places to live.  In a neighborhood that prides itself on being Alexandria's most family friendly sections of town, where its main drag, Mount Vernon Avenue, closes down for the popular Arts on the Avenue arts and crafts showcase and for its annual Halloween parade, it should not surprise anyone that their farmers' market is quickly becoming one of the most popular and creative markets in the City.
With 20 vendors, the Del Ray Farmers' Market truly caters to its neighborhood residents, many who ride their bikes to the market with their kids in tow, has something special for every one of its patrons of all age groups.  Market Manager, Pat Miller, has done an amazing job of assembling both a group of exceptional outside vendors with some of Alexandria's own local merchants, with a diabolically delicious array of produce, eggs, meats, cheeses, pastries, treats and snacks and a few other edible delights.
One thing is very clear, the Del Ray Farmer's Market is not trying to compete with any other market, it knows what it is, where it is, and what its patrons want and need.   If you're an early riser on Saturday morning and you live in Del Ray, chances are you'll find yourself at the market with the rest of your friends and neighbors.
Tom's Amish Dairy Products from Peach Bottom, Pennsylvania, sells mold ripened cave aged cheese, and is one of the patrons' favorite vendors.  "The main goal of our group is to produce quality cheeses that are savory to the palate."  It is truly a unique cheese making process.
With the burgeoning interest in health foods, cove or artisan cheese has steadily been receiving the recognition that it deserves. Until recent years, the only cave cheeses on the market were imported from Europe. Now, enterprising farmers have traveled to Europe and learned the secrets from master cheese makers.  These Artisan-Style cheeses are made from raw (unpasteurized milk) obtained from animals located on the farm where the cheese is made.  The cows are pastured on organic, chemical-free grasses and receive no hormones or antibiotics, only homeopathic remedies, if necessary.  Raw milk can be safely used in the cheese making process.  The FDA requires that all raw milk cheese produced and sold in the United States be aged for a minimum of 60 days, the time deemed necessary to destroy any or most harmful bacteria.
Cheese made from raw milk or whole milk is superior in taste to those made from pasteurized milk. Most pasteurized milk is from a collection of dairies and is generally tainted with chemicals.  The heating process used to pasteurize milk destroys many natural enzymes in the milk that affects the cheese making process.  Pasteurization also results in the loss of many delicate flavors and retards the ripening of the cheese.  Artisan cheeses are handcrafted and a work of art in the world of cheese- making.  The milk is chilled and transferred directly into the cheese vat and heated.  The original culture from France (kept from batch to batch) is added once the milk reaches the correct temperature. Soon vegetable rennet is added and the cheese making process begins.
If you're afraid of your sweet tooth, you may be advised to stay away from the Del Ray market's amazing handmade donuts.  The same can be said for other local vendors who sell creative flavored nuts, Pralines, marshmallow deserts, and yogurts, all of which have become a true culinary delight for "kids" of all ages.
One regular, MacRae, commented, "The market got back into full-swing a couple weeks ago with the produce vendors returning, and boy, the market is better than ever!  There's now a gentlemen selling mostly greens (nettles, spinach, kale, watercress), and a fishmonger, and as always, St. Elmo's coffeehouse is there selling their much-needed java at 8 am."
"The Del Ray Farmers' Market is the cornerstone of my Saturday experience," said Jasen, another regular patron.  "It has the plum role of the gooey middle to my family-friendly chocolate wafer cookie sandwich experience; sitting in between me getting out of bed, dressed, grabbing my daughter, loading up the bike, and cruising down Mt. Vernon Ave to Oxford Street.  There, we taste cucumbers, salsa, apple cider, apple slices, and bread samples."
There is no question that the Del Ray Farmer's Market has captured the attention and hearts of Del Ray residents, and with its imaginative Market Manager, Pat Miller, at its helm, it will continue to be another one of Del Ray's classic traditions.  No outside residents required.
Oxford Street and Mt. Vernon Avenue
Hours: Saturday's, 8:00 a.m. to 12:00 p.m., year round
Parking: Free lot (across the street)
The West End Farmers' Market
Alexandria's West End farmers' Market, opened in 2006, is a nice compliment to the City's other farmers' markets.  Like the other two, this market has established its own unique niche in its community, and its Director, Susan Birchler, has taken the fundamentals of the farmers' market culture to a higher level by combining fun and exciting activities along with the sale of fine fresh vegetables, meats, fruits, herbs and the like.  In many ways, the West End Farmers' Market is more like the Old Town Farmers' Market with regard to size and scope, and if you're a dog lover, this market may be just for you.  Dogs are welcome to enjoy the market right along by your side.  What dog doesn't love a good farmers' market and a sample of fresh made bakery goods?
What makes this market different as well is that it is open on Sundays, and for some late sleepers, it is a nice option as it opens at 8:30 a.m. and stays open until 1:00 p.m.  You will find some of the same vendors from the Del Ray Farmer's Market, and it has ample space to move through the stalls when there is a big crowd.  So if you're busy doing early morning chores on Saturday morning, you always have this market as a wonderful option.As mentioned, this market also schedules activities for the whole family to enjoy after you have finished your shopping.  On opening day they were giving away bubbles and whirly gigs to the kids, and it was also "Bike Day," where Kevin O'Hara, an ardent biker, was performing minor repairs and spring cleaning for a small fee.  Kevin is collecting donations to go on a charitable bike ride across the USA, stopping in certain cities to help build low-income housing.   May 19th is EMT day where the Alexandria Fire Department EMT will be at the market doing some community outreach on how to recognize medical emergencies, checking blood pressures and answering other questions.  On June 2nd, patrons of the market will have the opportunity to enjoy a meet and greet with eight local book authors, as well as a book swap and sale.  Used bikes will be for sale on June 9th by the non-profit Phoenix Bikes, as well as Empowered Women International (EWI) will be at the market talking about the work they do in the area.  EWI is an award winning non-profit organization that channels the entrepreneurial spirit, the arts and creative talents of immigrant, refugee and low-income women in the Greater Washington DC Metro area into small businesses that create jobs and a new generation of American leaders and entrepreneurs.  Finally, on Father's Day, June 16th, you can take your dad's picture on a throne, in a crown.  Further in the season they will have a Health Day, a local Museum and Park Day, a Children's FUN Day, and more.
Another example of the distinctness of the West End Farmers' Market is that right alongside the patrons favorite farmers are local cooks and chefs who are bringing some extraordinary taste sensations to the market this season.  Some of their new vendors:  Wondering Zorba is baking Greek sweets; Bonaparte Bakery is making French pastries; The Pastry Boutique is offering good old-fashioned American cupcakes, specialty cakes and cookies; Claire Carrol will be selling gluten free goodies and Grace Brock will be cooking up breakfast sausage sandwiches on homemade biscuits.  If you love chocolates don't miss their new vendor selling all kinds of chocolate delights.  If that is not enough the market has a blackboard comparing prices between their farmers and the local grocery store.  You will be surprised, their fresh produce is cheaper or of equal price.  Now, if only dogs could read and eat chocolate.

4800 Brenman Park Dr, Ben Brenman Park
Hours:  Sunday's 8:30 a.m. to 12:00 p.m., May through November
Parking:  Free