Because nature makes us feel better
By Kris Gilbertson
If we could time travel back to the 1980s and 90s, we'd see that plants—lots of plants—were standard décor in large office buildings. By the turn of the century, this had gone away. Space limitations, the high price of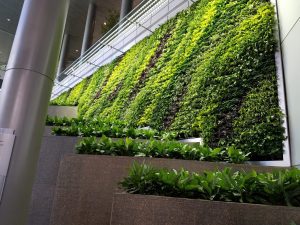 footprint and plant services, even leaking containers and insects brought the decline of greenery in commercial space. But that came with its own price: deteriorating air quality, higher HVAC costs, and "sick buildings."
Now, with the help of technology, indoor plants and all their benefits for people are coming back in a big way.
Everything old is new again
On May 15, the real estate investment firm Monday Properties officially unveiled a state-of-the-art, air-purifying, living green wall in the atrium of The Towers, at 1000 Wilson Boulevard. That's the immense, silver-clad office building on your left as you come off 110 going north into Rosslyn.
This dramatic, active green wall installation was designed and produced by Greenstreet GreenWalls of Lothian, MD, and Alexandria, VA, in partnership with AgroSci, Inc. It is 66' wide, 19' at its highest, and covers 780 sq. ft. with 2,663 individually potted plants managed by AgroSci's patented AerogationTM system. The wall purifies 888 cu. ft. of air each minute; 53,260 cu. ft. of air each hour; 1,278,240 cu. ft. of air each day, 24/7. (Whew.)
How is this possible?
Plants and the microbes1 in their root systems clean air by breaking down VOCs (volatile organic compounds2) into usable food for the plant. The process is called phytoremediation.3 Forcing air into the root system fuels the microbial action and creates an efficient biological filter. (See Glossary sidebar below.)
Scientists have been trying to bring this biological system inside a building for a long time. A prototype of the process was first patented in 1938 by Professor Stanley Hart White at the University of Illinois, but he never pursued it past experimentation.
Many companies since have searched for a way to force air into the root system of a plant without drying it out. AgroSci, Inc. is the first to succeed and to bring its patented AerogationTM system to market through companies like Greenstreet GreenWalls.
"The key to the whole thing is that it is an active system," says Ray Greenstreet, owner of Greenstreet GreenWalls. Plants in buildings or homes get 100 to 200 foot candles of light4 and usually regular watering, but they are not outside exposed to wind and sun.
"They don't have to do much to sustain themselves," Greenstreet adds. "Forcing air through the root system makes the plant more active and also makes microbials in the root system more active."
AerogationTM magnifies the plants' natural cleaning ability by a factor of 200. They don't just sit in their little pots, basking in whatever light is available, waiting to be fed. The plants live in an enriched calcite clay substrate5 that allows moisture to move efficiently through the pot and does not compact, so air can also move through the pot, giving natural microbes more space to grow. Sensors release moisture to each individual plant and turbocharge the biological process.
Because the system consistently delivers air and moisture directly to each plant as needed, there is no danger of leakage and the plants are not stressed. It's when plants are stressed that they become susceptible to insects and disease.
The biggest heating/cooling cost of a commercial building involves bringing in fresh air to provide a livable environment for all the people talking, moving about, and pursuing their reasons for being there.
"If you bring in 96 degree air today, you have to cool it down for the comfort of the occupants," says Greenstreet, "and in winter, you bring in cold air that you have to heat up." The right amount of green walls in a building can produce a lot of that fresh air, and reduce energy costs.
Greenstreet Growers, Gardens, and GreenWalls
Ray Greenstreet grew up in Howard County, MD, and started working in a garden center at 13. In 2000, Ray and his wife Stacy founded Greenstreet Growers, a wholesale growing operation on their 65-acre Lothian farm. In 2005, they opened Greenstreet Gardens, a retail garden center and gift store, in Lothian and have since expanded with retail stores in Alexandria at 1721 West Braddock Road and in Del Ray at 1503 Mt. Vernon Avenue.
Ray's interest in green walls arose from a conversation some years ago with the principals of AgroSci, Inc. about clean air and phytoremediation, and a concept they were working on.
"Things happen in funny ways," he says. "We were just having dinner in Baltimore after a trade show and it came up in conversation." When they explained the concept, Greenstreet was already familiar with the science from his own background. He said if they ever got their patent and got the system developed, he would be interested. Greenstreet GreenWalls is now AgroSci's Mid-Atlantic distributor.
Other green walls designed and installed by Greenstreet GreenWalls include the Gunther & Co. restaurant in Baltimore; Anne Arundel Medical Center in Annapolis; CR Goodman Associates in Annapolis; Quarry Springs Condominiums in Potomac; and the Perkins Eastman DC offices at Thomas Circle.
The wholesale greenhouse business has regular ups and downs. Greenstreet diversified the business largely to keep good employees working all year. His 60 full-time, permanent staff expands to some 175 during peak seasons. Many work part-time, including stay-at-home moms and people retired from a first career in government or government contracting who have always wanted to work with plants. His experienced employees can, he says, do almost anything.
Greenstreet likes to hire young people from time to time. "To try to teach them," he says, "and get them away from their helicopter parents, and make a little money. One thing about agriculture is that you'll get a quick work ethic in it," he adds. "It's an industry where young people can really see how things work."
Looking to the future of green walls
Controlled indoor lighting is a critical factor for the success of a green wall. Substantial research with LED lights is going on now because of the legalization of cannabis, but the findings are applicable to even the most common house plants. It's about finding the right spectrum of light to get the desired rate of growth. "All the big lighting companies see a golden opportunity," says Greenstreet.
He is using more green LED lights in green walls to help plants grow faster, better, and at lower cost. It's cheaper to run LED lights than other kinds of lights.
Do looks always matter?
"Every wall we've sold so far has been about aesthetics," says Greenstreet.  The aesthetics are largely credited to landscape architect Doug Bowe, who joined the company as GreenWalls Designer in 2016.
Doug worked in residential landscapes and mixed use development before joining Greenstreet GreenWalls. "I always wanted to pursue sustainable design and this was an innovative, new technology that led me into the field."
Beyond aesthetics, however, Ray Greenstreet and AgroSci have spent three years educating architects, building owners and the general community about other factors, including residential green walls. "Grow your own vegetables or herbs in your house," he says, "clean and deodorize your own air, help fix sick buildings."
Greenstreet GreenWalls also creates exterior green walls, where they can change the wall twice a year, putting in cold tolerant plants for winter and installing perennials or pollinators in summer. Exterior green walls insulate, reduce wind impact, protect building facades, and bring beauty and a natural element into the urban environment. Ray foresees having pollinator walls throughout the metro area.
These natural elements reflect biophilia6—literally, the love of life or living things. Humans have a deeply ingrained attraction to nature and a strong biological need for contact with the natural world. "Maybe one day airports will have a green wall room you can go in after you come off a long flight, to get re-oxygenated," Ray says. "There's a lot of possibilities."
# # #
A Brief Green Wall Glossary
Microbes, in this limited instance, are the vitally important organisms in soil or substrate that break organic matter (VOCs) down into nutrients that are then available for uptake by plants.
VOCs (volatile organic compounds) include chemicals found in many products we use in our personal and professional lives. VOCs release or "off-gas" into the indoor air we breathe and may or may not be detectable by odor. Common examples of VOCs that may be present are benzene, ethylene glycol, formaldehyde, methylene chloride, tetrachloroethylene, toluene, xylene, and 1,3-butadiene.
Phytoremediation refers to the natural ability of certain plants to degrade (render harmless) contaminants in soils, water, or air. Toxic heavy metals and organic pollutants are the major targets for phytoremediation.
Foot candles are the most common unit of measure used by lighting professionals to calculate light levels in businesses and outdoor spaces. In a nutshell, a foot candle is a measurement of light intensity, defined as the illuminance on a one-square foot surface one foot away from a uniform source of light.
Substrate is the surface on or in which an organism lives (in this case, the plants on a green wall). A substrate can be soil or biotic or abiotic materials, such as enriched calcite clay.
Biophilia means a love of life or living things. In this century, biophilia has been recognized by the scientific and design communities (biophilic design). Studies show convincing evidence of the positive benefits of interaction with nature.