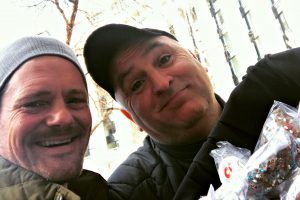 Marching. For Their Lives.
March 24, 2018 marks the date of the international March For Our Lives protest in Washington DC and 836 other events as well as live broadcasts that were witnessed in all 50 states, across the border into Canada and other countries around the world.
The estimated 1,000,000 people marching in today's demonstration will prove to be the largest student protest in American history. The crowd in DC actually exceeded all expectations with over 800,000 counted. Another source indicated the number to be closer to 1 million strong.
The shooting on Valentine's Day last month at Marjory Stoneman Douglas High School in Parkland, Florida took 17 promising lives. This tragedy is widely considered to be the tipping point, kickstarting sensible gun management and reform legislation.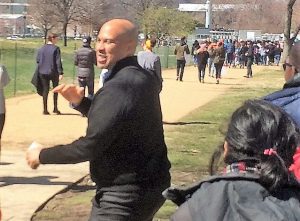 New Jersey Senator Cory Booker led a parade of protesters proudly down Constitution Avenue just south of the Capitol building. The tandem marchers greeted him with a rousing cheer.  One high school student from his home state ran up to shake his hand, and the Senator, pointing to the young man's shaved head extolled the virtues of his own coif exclaiming, "Look at this strapping, handsome young man with his cool hairstyle!
We're like twins separated by birth!"
Former Virginia Governor Terry McAuliffe led a procession of Arlingtonians marching across Memorial Bridge to the demonstration. Virginia Attorney General Mark Herring also attended with his family. Lieutenant Governor Justin Fairfax was spotted in the crowd with comedian Jimmy Fallon.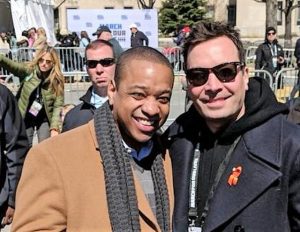 Donuts from Alexandria
Local donut purveyor Rob Krupicka in league with storied restaurateur José Andres and his epic volunteer team of students, partners, Sugar Shack coworkers and family organized a donation of 5,000 donuts to the cause.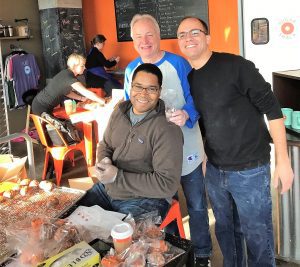 The epic team of volunteers worked at all three of Krupicka's Sugar Shack Shop shops- Old Town, Arlington and Shaw in DC- for 40 straight hours prior to the March,tirelessly prepping the donut donations. Working with the Parkland demonstration group, Rob and crew distributed donuts to the young people from all over the country pouring out of Metro Center en route to the march for their lives.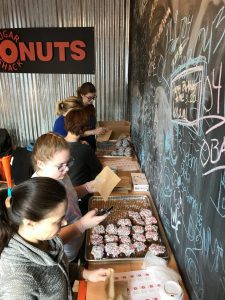 Rob spoke eloquently about his commitment as a father and a small businessman, to making the world a better, safer place- not only for his two daughters but for children living in his own backyard community of Parker Gray and the City of Alexandria, where he served on City Council and as State Delegate.  "I think this event shows what we really want Sugar Shack to be, a real  community.place with a strong commitment to the success of where we are.  We believe in kids and families. I am a parent like many others and we want to lift up our kid's voices and keep them safe."
Rob was joined by his daughters Janelle and Gigi, their mother Lisa Guernsey, partner Carter Batey, and his wife Katy with the help of their son Trace.  Alexandria Vice Mayor Justin Wilson and Sheriff Dana Lawhorne pitched in to assist the assembly line of Alexandria students and friends of the always affable Sugar Shack staff.  Bravo and Brava  all!
Lin Manuel Miranda, creator and star of Hamilton, appeared with Ben Platt, Tony recipient for his lead performance in the award-winning Dear Evan Hanson, sang a moving mash-up "Found/Tonight", merging two ballads from the Broadway mega hits.  Miley Cyrus, Ariana Grande and rapper Vic Mensa lifted the spirits of the crowd In inspirational song. Jennifer Hudson ended the program with a moving rendition of "Time's They Are a Changing".
Martin Luther King Jr.'s granddaughter Yolanda Renee King wowed the masses with her poise and passion. She lead the throngs into a chant reminiscent of the powerful legacy her grandfather's message delivered over fifty years ago not far away down the Mall.
Eleven-year-old Alexandria fifth grader Naomi Wadler astonished the backpack to fanny-packed, ,sign-waving sea of diversity-young, old and in between. Every color of skin, all manner of faith and people in protest across oceans representing nationalities the world over.  The only intolerance was the loss of life at the hand of a gun.
Naomi, with the poise of a veteran public speaker, challenged the country to rise up. To bare arms in protest not to bear arms against each other. She especially addressed violence befalling young black women and children.and how justice and the media appear to be blind to their plight. With wisdoms beyond her grade/school years,Naomi beseeched the transfixed faces making their way up Pennsylvania Avenue. Pilgrims to Mecca. "We know it's only seven short years until we have the right to vote." Naomi is a force of reckoning. Alexandria stands proudly behind her.
Marjory Stoneman Douglas High School Student Samantha Fuentes, a surviving shooting victim speaking  plaintively of her terrifying experience, began to tear up and gag. After a moment she returned to the dais shouting …..
"I just threw up on national television.
And I feel GREAT!!!"
The crowd went wild.
One of the most impassioned student speakers wholeheartedly embraced by the throngs of supporters was Emma Gonzalez. an 18-year-old senior at Marjory Stoneman Douglas High who has become the hugely popular spokesperson for the student movement. Emma held a moment of silence at the podium which washed over the expansive crowd for 6 minutes 20 seconds- the amount of time it took the gunman to slaughter 14 fellow terrorized students and three heroic faculty members.
In New York, Sir Paul McCartney, the former Beatle whose band member John Lennon was gunned down outside his apartment in NY City in 1980, took the stage and with his usual humility and aplomb told the sea of saddened, heavy hearts and cold faces…. "One of my best friends was killed in gun violence right around here, so it's important to me."
And so it was today vitally important to the lives of so many who marched.  All they are saying is give peace a chance.
BONUS PHOTOS BY KELLY & SCOTT MACCONOMY and DIANE CANNEY: