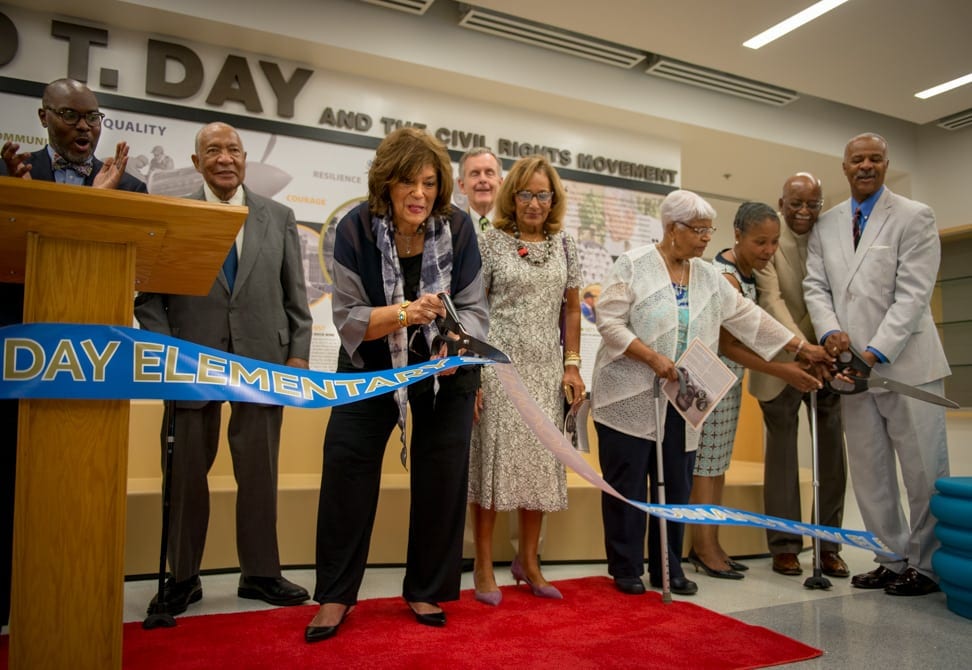 Ferdinand T. Day's family and members of the City and community gathered at the new Ferdinand T. Day Elementary School on the West End to celebrate its opening in time to welcome students at the start of the new school year.
Ferdinand T. Day's daughter Gwen Day-Fuller, grandson, granddaughter and three great granddaughters joined Superintendent of Schools Dr. Gregory C. Hutchings, Jr. and City Manager Mark Jinks in cutting a ribbon to mark the completion of the conversion of the vacant office building into a school.
Ferdinand T. Day Elementary School is the first new school to open in Alexandria since 2000. It is also the first school to be created by retrofitting office space. The school, which will accommodate 650 students, is an example of creative collaboration between the City and ACPS to find space to meet the needs of growing enrollment, particularly on the West End. Retrofitting the building took less than eleven months from the time the City Council agreed to the change in use and it proved to be a far less costly option.
Who Was Ferdinand T. Day?
In February 2018, the Alexandria City School Board voted to name the school after Ferdinand T. Day, a civil rights icon and education pioneer. Ferdinand T. Day was appointed to the Alexandria City School Board just ten years after the Brown versus Board of Education decision. He became the first African American to be elected chair of a public school board in the Commonwealth of Virginia and was highly active in working towards the desegregation of Alexandria.
"Driving up and seeing his name on this building and walking in and seeing the dedication wall with everything about his life is humbling," said Gwen Day-Fuller.
Mr. Day was born in 1918 in Alexandria and went to Parker-Gray School through eighth grade. He continued his secondary education in D.C. Public Schools. At that time, Alexandria offered no formal high school education for African Americans. Mr. Day earned a Bachelor of Science in geography and history.
Unable to teach in Alexandria because he was black, he joined the federal government and retired from the Department of State as a Foreign Service Reserve Officer.
"I am a part of his legacy. I know I would not be here if it were not for people like Ferdinand T. Day. Today, we are naming our school after this great man, who we hope will inspire our students to be as great as him," said Superintendent of Schools Dr. Gregory C. Hutchings, Jr.
As a STEM school, Ferdinand T. Day will offer an integrated curriculum emphasizing literacy, science, technology, engineering and mathematics. The school will grow students who are empowered learners, global collaborators, digital citizens, creative communicators, experiential inquirers and more. The school, located at 1701 N. Beauregard Street, will have outdoor play space, including a basketball court, on the roof of the adjacent parking garage with a raised walkway to allow for easy student and staff access.