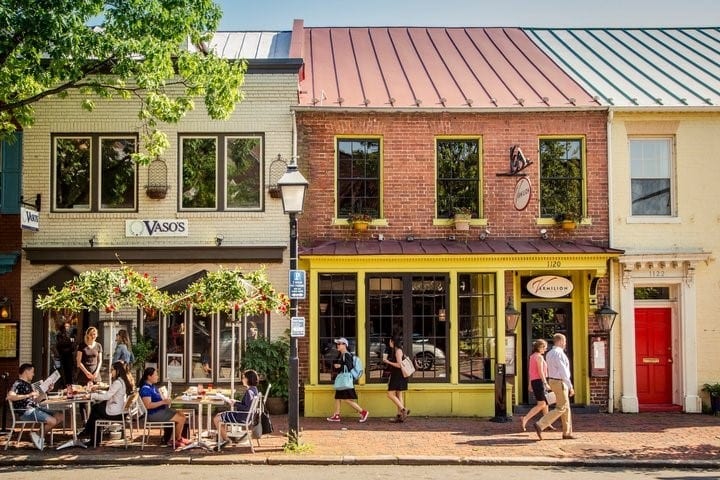 ALEXANDRIA, VA–Condé Nast Traveler held its annual survey and over 439,000 readers voted for the best cities in the U.S. in their 2018 Readers' Choice Awards survey—and Alexandria, Virginia was among the top five in the country with populations under one million. Condé Nast Traveler is a luxury and lifestyle travel magazine which has won more than 25 national publishing awards and is produced at Condé Nast's US headquarters at One World Trade Center, New York, NY.
Says the top travel industry leader about Alexandria specifically, "Washingtonians all are in on the secret, but it's no surprise the rest of the world is catching up: Alexandria, Virginia, the charming, historic city just across the Potomac River from our nation's capital, is a draw—for travelers and future residents alike.
Most people imagine moving there shortly after setting foot in Old Town, walking the brick sidewalks, clocking street after street of perfectly preserved rowhouses from the 18th and 19th centuries.
Walk down King Street, packed with boutiques, restaurants, and specialty shops, before landing at the waterfront, where you can watch the boats on the water before touring the Torpedo Factory Art Center, a collective of galleries and artists' studios.
End the day at Gadsby's Tavern, where some of our founding fathers used to drink, and don't mind the actors in colonial garb performing for you. Like we said, you'll already be wrapped up in the fantasy."
Top 15 Small Cities
Charleston, SC
Santa Fe, NM
Savannah, GA
Alexandria, VA
Sarasota, FL
Sedona, AZ
Monterey, CA
Asheville, NC
Greenville, SC
Key West, FL
Portland, ME
Napa, CA
Palm Springs, CA
Newport, RI
Santa Barbara, CA