December 8, 15, 22
Pop-Up Holiday Happenings on Upper King Street
Between 11:00 am and 4:00 pm
Park area at N. Fayette St. and King St.
Take a break from your holiday shopping and enjoy pop-up holiday happenings on Upper King Street every Saturday during the holiday shopping season. Supported in part by the King Street Corridor Initiative, enjoy these special activities and more in the Shop Small headquarters of the D.C. region. December 8, 2018: hand pressed pendant craft from Wear Ever Jewelry (11 a.m.-1 p.m.) and a cookie making pop-up from Lori's Table (2 p.m.-4 p.m.); December 15, 2018: chair massages by The Wellness Cooperative (2 p.m.-4 p.m.); and December 22, 2018: toy making and game playing by Red Barn Mercantile (2 p.m.-4 p.m.).
December 7-8
Believe: Holiday Gift Drive and Pops Concert
December 7: 7:30 pm
December 8: 2:00 pm and 7:30 pm
Convergence
1801 N. Quaker Lane
Join The Alexandria Singers for "Believe," our annual holiday pops concert weekend, as we weave pop and jazz arrangements of traditional holiday classics with new tunes that will instantly become your holiday favorites! Share your spirit for the season! Special visit by Santa! The Alexandria Singers will collect donations and wrapped gifts for the Alexandria Community Shelter adult residents at all performances of "Believe." Adult clothing/winter accessories preferred by shelter needs/demographics.
Donate Now – Online giving is open through December 10th for shelter contributions! – https://www.mightycause.com/story/Singersspirit18 Purchase tickets at: https://alexandriasingers.com/product-catalog Children under age 5 – free! December 8
How to Celebrate Kwanzaa Workshop
11:00 am and 1:00 pm
Alexandria Black History Museum
902 Wythe St. Have you ever wanted to celebrate Kwanzaa, but are not sure how to begin? Join the staff of the Alexandria Black History Museum and Marilyn Patterson, CEO of Joyous Events, for an informative morning that includes the history of Kwanzaa, and hints on easy to make crafts, games, gifts, recipes and holiday decorating. (703) 746-4356 $2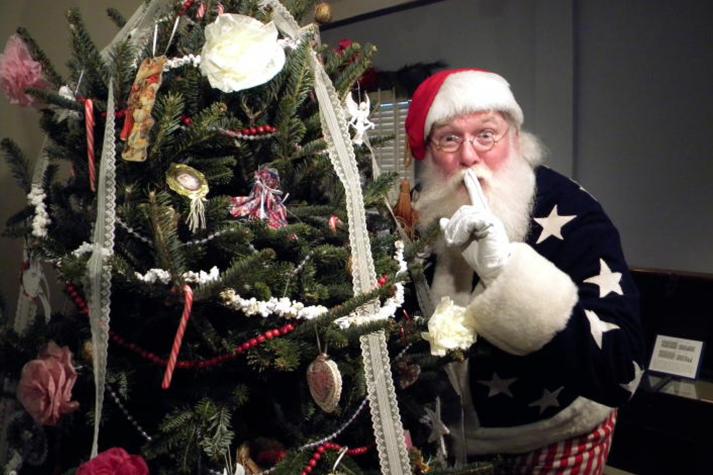 December 8
Civil War Christmas in Camp
12:00 pm-4:00 pm
Fort Ward Museum & Historic Site is located
4301 West Braddock Rd.
Learn about Christmas traditions during the Civil War. Program features a patriotic Union Santa Claus, soldiers and civilians celebrating the holiday in winter camps, the decorated Officers' Hut, a Victorian tree, fort tours and kids' activities. (703) 746-4848 Suggested donation is $2 per person; $5 for families
December 8
Christmas Traditions in Colonial Times
2:00 pm-3:00 pm
George Washington's Mount Vernon
3200 Mount Vernon Memorial Highway
Come join the George Washington Birthday Celebration Committee to learn how the Gen. and Mrs. Washington celebrated Christmas. Rev. Tom Costa of the Historic Pohick Church Docent Guild portrays the Rev. Mr. Lee Massey, the second colonial rector of Pohick Church, in a presentation of how Christmas was kept in the various colonies. Topics include church and home decorations, gift giving, Christmas carols of the period, Twelfth Night Great Cakes, recipes by Mrs. Massey, and tales of seasonal festivities at the home of his good friends and parishioners, George and Martha Washington. Free
December 8
Alexandria Harmonizers Annual Holiday Show: "The Secret of Christmas"
7:30 pm-9:30 pm
T.C. Williams High School
3330 King St.
The Alexandria Harmonizers present their annual Holiday Show with guests "TBD", a modern a cappella group and "Better Together" a mixed barbershop quartet starring the Colosimo's and Havens', for a fun filled evening of music and laughter, rumor has it that there might be a "Jack" sighting. There will also be a silent auction during the show with dozens of extraordinary items to bid on.
December 8
Historic Alexandria Candlelight Tour
4:00 pm-9:00 pm
Gadsby's Tavern Museum, Carlyle House, Lee-Fendall House
134 N. Royal St.
Travel through centuries of local history as you learn more about Alexandria during the holiday season at Carlyle House, Gadsby's Tavern Museum and the Lee-Fendall House. Enjoy each site by candlelight, smell seasonal greenery, sip on drinks and taste period inspired food. Seasonal libations will be available for purchase. (703) 746-4242 $25 adults; $20 seniors (65 years and older) and active military; $5 children (ages 6-17)
December 14-15
Christmas Illuminations at Mount Vernon
5:30 pm-9:45 pm
George Washington's Mount Vernon
3200 Mount Vernon Memorial Highway
Join Mount Vernon for an evening of family-friendly fun and fireworks choreographed to holiday music. Before the fireworks begin around 8:30 p.m., take a stroll through the estate while being serenaded by local choirs, visit with re-enactors from the First Virginia Regiment, and learn 18th-century dance moves from costumed guides in the Greenhouse. George and Martha Washington will also be on site to greet Mount Vernon's holiday guests. Watch colonial artisans demonstrate the 18th-century process of creating chocolate. Keep toasty by warming up by a bonfire, visiting the blacksmith shop, or enjoying some hot chocolate or cider. Additional food will be available for purchase. The Museum and Education Center will also be open from 5:30 pm -8:30 pm. (703) 780-2000 $35 adult/$25 youth with mansion tour; $30 adult/$20 youth without mansion tour.
December 14
Alexandria After-Work Concert Series
6:00 pm-8:00 pm
The Lyceum
201 S. Washington St.
Co-sponsored by the Office of Historic Alexandria and the Folklore Society of Greater Washington, join us for monthly Friday-night concerts on the second Friday of the month. The December program features Jim and Anna Holloway providing an illustrated lecture on Christmas traditions reflected in songs. The program will feature live music, the stories behind the songs and chances to sing-along. Free concert; donations will benefit the Alexandria History Museum at The Lyceum and the Folklore Society of Greater Washington. No ticket required, just show up and enjoy the music! Beer and wine for sale and light refreshments available.
December 14
Alexandria Holiday Sing-Along | Alexandria Citizens Band
7:30 pm-8:30 pm
Del Ray United Methodist Church
100 East Windsor Ave.
Join the Alexandria Citizens Band for the always fun and popular Alexandria Annual Holiday Sing-Along. We'll play all your musical favorites, including a narrated version of the magical "Twas the Night Before Christmas" and a fantastic Hanukkah Medley! Warm up your voices so you can sing along as we entertain you under the baton of Mike Evans. Wear your holiday sweaters and Santa hats. Bring your family and friends. We'll even have some treats for you! Free
December 15
Portside Holidays: Storytime with Santa
3:00 pm-4:00 pm
Alexandria Waterfront Marina
105 N. Union St.
Join the region's most beloved Santa and Mrs. Claus for a special storytime that includes a reading of holiday stories like "'Twas the Night Before Christmas." Take part in the Penny Post pop-up where you can write a letter to Santa that he will take back with him to the North Pole, enjoy a gourmet giant s'more from The Capital Candy Jar, and warm up with a cup of hot cocoa from Dolci Gelati's hot chocolate
December 15
A Victorian Christmas
11:00 am, 12:30 pm and 2:00 pm
Lee-Fendall House
614 Oronoco St.
Experience a Victorian Christmas at the Lee-Fendall House. The house will be beautifully decorated for the season and there will be holiday crafts, photographs with Santa, seasonal treats, story time, an antique toy exhibit and more! (703) 548-1789 $10; free to members
December 16
Colonial Handbell Ringers Concert
2:00 pm and 4:00 pm
The Lyceum
201 S. Washington St.
The Colonial English Handbell Ringers perform clad in colonial attire, bringing a 5-octave set of nearly 80 handbells from the world-famous Whitechapel foundry in London. The ringers will perform children's classics, timeless holiday tunes and original show-stoppers. Audience participation in the sing-a-long encouraged. (703) 746-4994 Free
December 24
Waterskiing Santa
12:45 pm
Alexandria's Waterfront between King and Oronoco St.
Now in its 33rd year, this favorite D.C.-area Christmas Eve event returns to Old Town Alexandria. Gather along historic Alexandria's Potomac River waterfront for a spectacular show by Waterskiing Santa and his merry crew. The prime viewing area is the Alexandria City Marina and Waterfront Park. Come early to see the pre-show (on jet skis) and stay afterwards to meet Santa, Mrs. Claus and their merry crew by the Christmas Tree. Free
December 31
Ship Biscuit Ornament Making
2:00 pm-5:00 pm
Torpedo Factory Art Center
105 N. Union St.
An almost completely intact ship's biscuit from the 18th century was found last year in Alexandria. To commemorate the discovery, visitors are invited to make their own ship's biscuit. Each biscuit will be stamped with the year and then baked at home to track its preservation. No registration required. While supplies last. (703) 746-4399 Free
December 31
First Night Alexandria
2:00 pm-midnight
Various locations
This annual New Year's Eve music festival and more takes over Old Town Alexandria with more than 150 performances at 25 warm indoor venues. Come enjoy the Earth Wind & Fire Tribute Band, Bill Kirchen & Too Much Fun Band, Vaughan Ambrose Trio, Magician Mike Rose, R&R DJs and many more entertainers while dancing into the New Year with DJ Ray Casiano. The afternoon's 10th Annual First Night Alexandria Fun Hunt is a fun way to explore Old Town and take a chance on winning great prizes. From 6 to 9 p.m., families with children 12 years old and younger can enjoy the "Kids Karnival" at Charles Houston (Old Town), William Ramsay (West End) and Mount Vernon (Del Ray) Recreation Centers. There will be face painting, balloons, special hosts in costumes along with carnival styled games, dancing, and fun. Join us for dancing on King Street near the waterfront beginning at 10 p.m. This safe, family-friendly, and fun-filled day culminates with a spectacular First Night fireworks finale over the Potomac River at midnight. (703) 746-3299 $25 through November 30, 2018; $30 December 1-30, 2018; $35 December 31