By Kelly MacConomy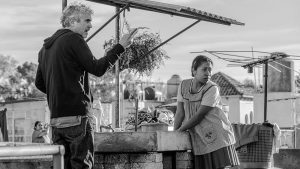 The 91st Academy Awards are tonight, February 24, at the Dolby Theater in Los Angeles. My predictions are in bold italics below for each category–to play along, take a swig of your favorite Oscar beverage every time Zebra hits one right!
Best Picture:
Roma will win. It's a filmmaker's film and a passion project realized in plaintive tribute to a time gone by – always a winning theme with Oscar. Roma ought to win but not without giving its due nod to Black Panther for being all that makes the Oscar cinematic gold.
Best Director:
Alfonso Cuaron will take the prize here as well for Roma.  Cuaron's studious obsession of his remembrances of a childhood past is a labor of love. But this filmophile holds out hope that the Academy will do the right thing and hand it to someone long overdue for that coveted statuette, a most deserving Spike Lee for BlacKkKlansman. But Oscar isn't a lifetime achievement award.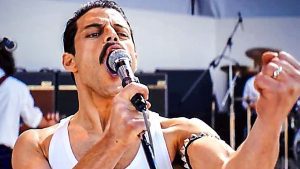 Best Actor:
The Oscar is going to Rami Malek for his emblematic portrayal of Freddy Mercury in Bohemian Rhapsody. It should go hands down to Willem Defoe for his mesmerizing, transcendent assumption of the persona and pathos of Vincent Van Gogh. It's as if he were possessed or reincarnated as the anguished artist.  It's not only the best performance of the year but of a lifetime and perhaps of all time.
Best Actress:
Glenn Close (Wife) has got this one. But it's not a lifetime achievement award. So my vote goes to Lady Gaga. Brava Gaga! Brava!!!
Best Supporting Actor: No surprises allowed here.  Mahershala Ali (Green Book) is the real deal. Poise counts. He will win and he should win. Period.
Best Supporting Actress: Regina King in If Beale Street Could Talk. Ditto.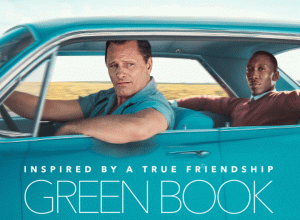 Best Original Screenplay: The Green Book
Best Adapted Screenplay: BlaKkKlansman– Spike gets his Oscar.

Best Feature Length Documentary: RBG for the win but my heart and vote belongs to Free Solo, chronicling the harrowing rope-free rock climbing ascent of the monolithic El Captain in Yosemite National Park in 2017.
Best Animated Feature: Spidey has got this, but Isle of Dogz had me at woof.
Best Foreign Film: Yup you guessed it….: Roma for the win.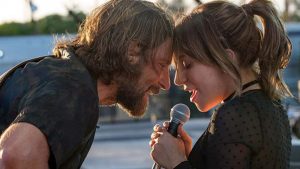 Best Song: Hands down it has to go Gaga for "Shallow" from A Star Is Born, performed by Lady Gaga with Bradley Cooper at the Oscar Show.
Best Cinematography: What else? One more time…. Roma!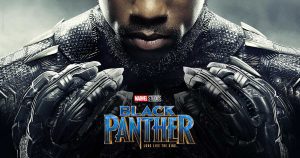 Best Production Design: My inclination is Black Panther for its sweeping cinemascopic mis-en-scene the opening in Oakland to the Bondesque homage casino caper to the fantastical world of Wakanda. But Oscar does truly adore the spectacle of the lavish period piece so The Favourite may well prove to be the favorite in this category.
Best Costume: The Favourite even though Mary Queen of Scots gave them a run for their budget. Black Panther too for that matter.
Best Hair and Makeup:  Vice for making up for Christian Bale's astonishing Dick Cheney channeling transformation not quite trumping Rami Malek's denture and stash job/Freddy Mercury near-perfect personification possession.
Best Special Effects: First Man for one wild ride. If you have ever had vertigo you would know that was quite the trip up on the big screen.
Best Film Editing: Nearly relegated to off-camera award presentation during bathroom breaks, this Oscar is a bit of a crap shoot. Bohemian Rhapsody's editor was left holding the reels when the films's director got fired more than three-quarters of the way through shooting. That might earn him one very heavy gold statuette winning sympathy vote. Although it's as likely to go to another Best Picture nominee as an Honorable Mention kind of slap on the back.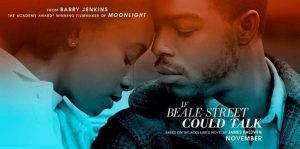 Best Original Score: There is sentimental momentum for Mary Poppins Returns. For moi the greatest disappointment regarding this eternally-anticipated remix was the non-memorable score. Totally lacking in fortuosity. Not one "Um Diddle Diddle Diddle nor Um Diddle Ay!"
I'm Gaga for the percussionistic jam and brassalicious richness of Alexander Desplat's Isle of Dogs score. With ten nominations and two wins including one Oscar for last year's The Shape of Water he's got some pull. But he may not be in the lead. Dog puns intended.
I'm betting on If Beale Street Could Talk along with my fellow Washington, D.C. Area Film Critics Association opinions despite it not having a Best Picture nod. (A reliable indicator for this category.) Not normally given to succumbing to peer pressure I am nonetheless persuaded by its subtle seductive Beale Street blue-note Jazz mix by way of 1960's pre-Hip Hop New York.
Finally Best Animated Short: Bao for the Oscar win. Well because everyone loves a dumpling! And who hasn't suffered a loss of love and life, bargaining amid emotional disbelief and re-imagining a world without it!
Hope you enjoy the red carpet hoopla and the never-ending night of a few hundred stars. We'll be seeing you At Z Movies. Pop that corn!