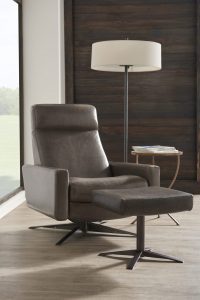 ALEXANDRIA, VA – After 43 years of tinkering, Alexandria brothers Scott and Mark Erb have created a new kind of chair. This week they will show it off in the place it was born when they present it at Creative Classics Furniture at 906 King Street this Saturday, May 4th, from 6 to 8 p.m. Alexandrians can try it for themselves and experience what Mark Erb calls "active seating," an idea brother Scott first had in 1975.
Back then, Scott was an architectural student who started thinking about chairs. He wondered what it would feel like to sit in a chair that shaped itself to fit you, instead of forcing you to conform to it? He wanted a chair that was supportive but could transform to fit any posture, from tying a shoe to sleeping.
The idea kept mushrooming through the years while Scott graduated from Virginia Tech, moved to DC to work as an architect, and then became an Independent Design Consultant in Alexandria. While working for himself, Scott put more time into his chair design, and Scott's brother, Mark, a retired FAA engineer, lent his engineering expertise to the project.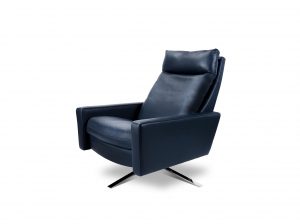 After receiving a patent, the brothers displayed their prototype at the Alexandria Farmer's Market where they received positive feedback and input from attendees. It needed work, but they had a prototype to take on the road.
In 2013, Scott and Mark presented their chair to American Leather, an American furniture manufacturer based in Dallas, TX known for innovative designs. With the help of renowned industrial designer Jeff Webber, American Leather spent another 4 years perfecting the design and mechanism while maintaining the dynamic motion and concept of the Erbs' original chair.
The final product created a whole new category of chair, one that responds instantly to your movements while remaining supportive and firm. Dubbed "The Comfort Air" by American Leather,™ it was introduced to industry retailers in 2018.
Meet Designers and Enter to Win a Chair
Scott and Mark Erb are especially pleased that Creative Classics Furniture is one of the first stores in the country to offer it, right in the chair's hometown. On Saturday, May 4, from 6 to 8 p.m., guests will have the chance to meet Scott and Mark, take a seat in the Comfort Air chair, and even enter to win a Comfort Air of their own during Creative Classic's Relaxandria: a Motion Furniture Sale event. Representatives from American Leather will also be on hand to answer questions.
Scott's dream, which was 43 years in the making, is now a reality—and "active seating" may just be the next wave in chair design.