What's Happening in Alexandria this Month!
May 6-7
Revolutionary War Weekend 9:00 a.m.-5:00 p.m.
George Washington's Mt. Vernon
3200 Mount Vernon Memorial Highway
Step back in time during one of the largest Revolutionary War re-enactments in the region. Watch hundreds of Continentals, Redcoats, Hessians, cannon, and cavalry in action on the estate. Throughout the weekend, learn more about life in the 18th century, discuss military techniques, and watch battle re-enactments. Wander through the encampment and meet the soldiers. This family-friendly event features a youth muster on the bowling green and even meeting General Washington! Included in admission. Revolutionary War Weekend takes place rain or shine. Schedule subject to change. More details: mountvernon.org/revwar.
May 11, June 22
The War of 1812 in Alexandria – A Walking Tour
10:00 a.m.-12:00 p.m.
Lee-Fendall House Museum & Garden
614 Oronoco St.
A guided walking tour of people and places in Old Town associated with the War of 1812 and the British occupation of Alexandria in 1814. The tour will last approximately 90 minutes. Tour space is limited, so the purchase of tickets in advance is highly recommended. Participants are encouraged to wear comfortable shoes and bring water. Free for members, $10 advance, $15 door
May 11, 18, 25
Peeling Back the Layers: Architecture and Preservation
10:00 a.m.-11:00 a.m.
134 N. Royal
Explore the 18th century buildings of Gadsby's Tavern Museum, including spaces rarely opened to the public, and understand how the buildings have changed over time. Wear comfortable shoes, be prepared for stairs, and bring your camera. $15/person; $12/GTMS members. Tickets available at www.alexandriava.gov/shop. Advance purchase recommended
May 17-18
Spring Wine Festival & Sunset Tour
6:00 p.m.-9:00 p.m.
George Washington's Mt. Vernon
3200 Mount Vernon Memorial Highway
Sample wines from 20 Virginia wineries while enjoying spectacular views at the estate. Celebrate the history of wine in Virginia with exclusive evening tours of the Mansion and cellar, appearances by George and Martha Washington, and a live music. Bring a blanket, relax on the east lawn overlooking the scenic Potomac River, and sample wines made in Virginia. Tickets: $42-$52. More details: mountvernon.org/springwine.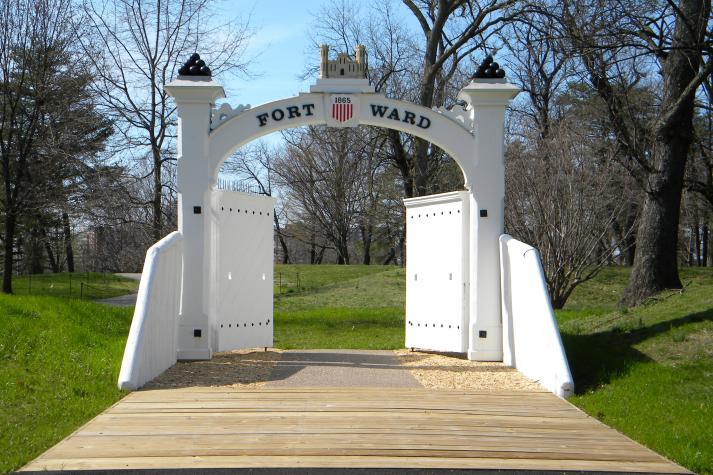 May 18
Fort Tours in Honor of Armed Forces Day
2:00 p.m.-3:30 p.m.
4301 W. Braddock Rd.
Learn about the history of Fort Ward and army life in the Civil War Defenses of Washington from a Union soldier interpreter. Two 90-minute tours of the fort will be presented at 10 a.m. and 2 p.m. Free; program is weather dependent. (703) 746-4848
May 19
Apothecary Geek Tour: An Outlandish Tour
11:00 a.m.-12:00 p.m.
Stabler-Leadbeater Apothecary Museum
105-107 S. Fairfax St.
Learn about a few of the herbal medicines featured in Diana Gabaldon's celebrated Outlander series of novels. Find out about everything from cascara to dauco seeds. Recommended for ages 18 and up. Tour is 11 a.m.-noon. Please arrive between 10:45-11 a.m., as the museum is not open to the public until 1 p.m. and the doors will be locked when the tour begins at 11 a.m. $15; tickets available online at alexandriava.gov/shop/events. Advance purchase recommended as space is limited.
May 25
Beyond the Battlefield Civil War Walking Tour
10:00 a.m.
Lee-Fendall House Museum & Garden
614 Oronoco St.
A guided walking tour of Civil War sites in Historic Old Town. The tour will begin at 10:00 a.m. outside the Lee-Fendall House at 614 Oronoco Street. Participants will see locations and stories associated with soldiers, citizens, and the enslaved, including the occupation of Alexandria and emancipation. The tour will last approximately 2.0 hours and the tour route is approximately 1.75 miles. Tour space is limited, so the purchase of tickets in advance is highly recommended. Participants are encouraged to wear comfortable shoes and bring water. Free for members, $15 advance, $20 door