Community News
Let Loose: Have Fun in Alexandria This Weekend!
Looking for something to do? Here are some suggestions
Alexandria, VA – It's not winter on the calendar yet, but the season's cold temperatures are here. If you want to brave them to relieve the boredom of staying inside your house, there are plenty of great events in the next few days. Just remember to get your winter gear out of storage. Thankfully, most events are indoors this time of year. Most important though, no matter where you choose to go, have fun!
Couples Ring Making Class
Friday, Nov. 15
4–7 p.m. ($195 for two)
1112 King Street
Have you ever wanted to make something for your significant other? Here's the perfect opportunity for the two of you to make unique rings that will last a lifetime! And because you made them, they will forever carry a special meaning. Register HERE.
Meet the Author: Carolyn Sloan
Friday, Nov. 15
6:30–7:30 p.m. (FREE)
1555 King Street
Hooray for Books! welcomes musician and author, Carolyn Sloan, for an evening of stories and jazz. Her new book – "Welcome to Jazz" – is interactive and features the sounds of 12 instruments important to the genre. The book is recommended for ages four and up. If you are unable to make the event, call 703-548-4092 to reserve a signed and personalized copy at least three days prior to the event.
"They Shall Not Grow Old" Film Screening
Saturday, Nov. 16
1:30–3:30 p.m. ($10 per person)
201 S Washington Street
Director Peter Jackson's new World War I documentary featuring restored footage. The past comes alive in this chilling film. Free popcorn and soda. Beer and wine for sale. View trailer HERE.
Torpedo Factory Anniversary Ball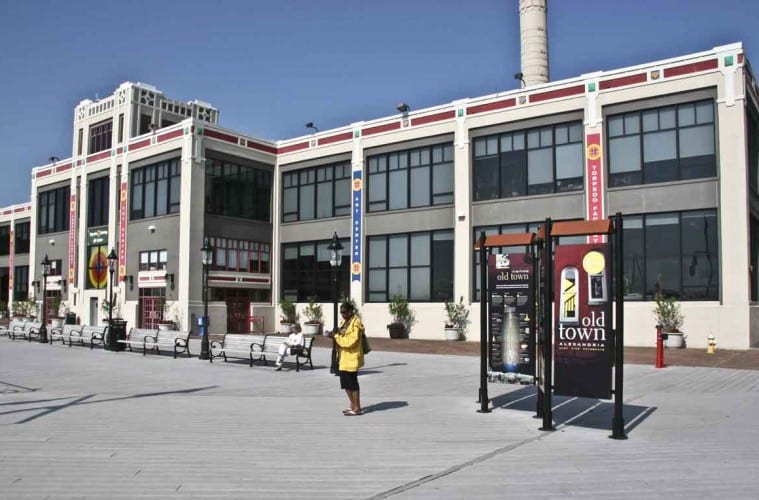 Saturday, Nov. 16
7–10 p.m. ($75 per ticket)
The Torpedo Factory Art Center
105 N Union Street, Room 327
Celebrate as the building turns 100 years old and the Art Center turns 45 years old. There will be music, food, and more! For details and to buy tickets, click HERE.
St Rita School Run for Education
Saturday, Nov. 16
Adult 5K: 8 a.m.; Kids 1K: 8:30 a.m. (Prices vary)
U.S. Patent & Trademark office
Eisenhower Avenue, between John Carlyle Street and Elizabeth Lane
Want to run for a good cause? Sign up HERE. 
ASO Presents: Autumn Cello and Dvorak
Saturday, Nov. 16–Sunday, Nov. 17
Times: Saturday, 8 p.m.; Sunday, 3 p.m. ($20-$85 per ticket)
Saturday's Venue
Schlesinger Concert Hall & Arts Center
Northern Virginia Community College – Alexandria Campus
4915 E Campus Drive
Sunday's Venue
George Washington Masonic Memorial
101 Callahan Drive
Two days, one performance. Great classical music by the Alexandria Symphony Orchestra. For tickets, click HERE.  Sunday tickets SOLD OUT.
Felt Peacock Ornament Workshop with Betz White
Saturday, Nov. 16
10 a.m.–1 p.m. ($75 per person)
1319 Prince Street
Make a peacock ornament with layers of felt and a few embroidery stitches. Author and designer Betz White will provide all the materials. Your creation can be a new addition to your Christmas tree! Register HERE.
Alexandria's Farmers' Markets
For info on the Old Town Farmers' Market, click HERE.
For info on the Old Town North Farmers' Market, click HERE.
For info on the Del Ray Farmers' Market, click HERE.
For info on the Four Mile Run and Artisans Farmers' Market, click HERE.
Note: The West End Farmers Market returns in May 2020.
Geek Tour: Outlandish Tour
Sunday, Nov. 17
11 a.m.–12 p.m. ($15 per person)
105–107 S Fairfax Street
Learn about the importance of healers and apothecaries in the 18th century. The informative talk will focus on the medicines featured in Diana Gabaldon's "Outlander" novels. Adults only, please. Advanced ticket purchase recommended. Click HERE to order yours.
The United States Air Force Band Concert
Sunday, Nov. 17
1–2 p.m. (FREE)
201 Prince Street
The performance will feature works for chamber orchestra, led by Maj. Jason Plosch. No tickets are required!