Community News
Let Loose: Have Fun in Alexandria Thanksgiving Weekend!
Looking for something to do? Here are some suggestions
Alexandria, VA – Planning to eat a hearty Thanksgiving dinner? Looking forward to seeing your family and watching football? Sounds great! But guess what. You will have three more days to relax and have fun! So, what will you do? Well, here are some ideas.
Black Friday & Plaid Friday in Alexandria
Friday, Nov. 29
Throughout Old Town and Del Ray
Shop and find deals at more than 40 stores! Ten boutiques will open at 7 a.m. Look for Plaid Friday posters to earn a free totebag in shops when you spend $100 after 10 a.m. For more about Plaid Friday, read this Zebra article.
Grinch-Mas Story Time and Character Visit
Friday, Nov. 29–Sunday, Dec. 1
Friday: 4 p.m.; Saturday: 2:30 p.m.; Sunday 2 p.m.
1555 King Street
The Grinch visits Alexandria this weekend! Bring your little ones to hear a reading of Dr. Seuss's classic "The Grinch Who Stole Christmas." You'll also receive a free advent calendar. (Santa and Mrs. Claus return Nov. 30 for keepsake photos.)
Small Business Saturday in Old Town
Saturday, Nov. 30
Old Town and Del Ray
Stroll Alexandria's historic streets while you shop. More than 40 stores will participate and offer in-store activities and free gifts. Talk to shop owners and receive personalized customer service. Also taking place that day is the Small Business Saturday Scavenger Hunt, where you will have an experience like no other. Get your Scavenger Hunt map HERE.
Mount Vernon by Candlelight & Christmas at Mount Vernon
Friday, Nov. 29–Sunday, Dec. 1
Various times (Ticket prices vary)
George Washington's Mount Vernon
3200 Mount Vernon Memorial Highway
Take a special tour of the Mount Vernon Estate by candlelight and/or learn about Christmas traditions celebrated by General Washington and his family. For more info and tickets, click HERE and HERE.
Colorful Holiday Ornament Workshop
Saturday, Nov. 30
Starts: 10 a.m. ($90 per person)
1112 King Street
Using enamel on copper, you will be able to create your very own holiday keepsake. All materials provided! Activity recommended for ages 14 and up.
The Alexandrian & Jackson 20's Winter Wonderland
Opens: Friday, Nov. 29 (Recurring daily)
Time: 4–10 p.m. (FREE!)
480 King Street
The restaurant's renovated courtyard will feature pop-up vendors and more to get you into the holiday spirit. To stay warm, there will be heat lamps and blankets available. A portion of the event's proceeds will go to Children's National Hospital.
Alexandria's Farmers' Market
For info on the Old Town Farmers' Market, click HERE.
For info on the Old Town North Farmers' Market, click HERE.
For info on the Del Ray Farmers' Market, click HERE.
For info on the Four Mile Run and Artisans Farmers' Market, click HERE.
Note: The West End Farmers Market returns in May 2020.
The Meeting House Choir and Period Instrument Orchestra Perform Handel's Messiah
Sunday, Dec. 1
Starts: 3 p.m. (FREE!)
Old Presbyterian Meeting House
323 S Fairfax Street
Hear Handel's immortal oratorio performed live! Dr. Steven Seigart will conduct the performance. The piece has been a part of the Christmas season since Handel composed it in 1743.
George Washington's Alexandria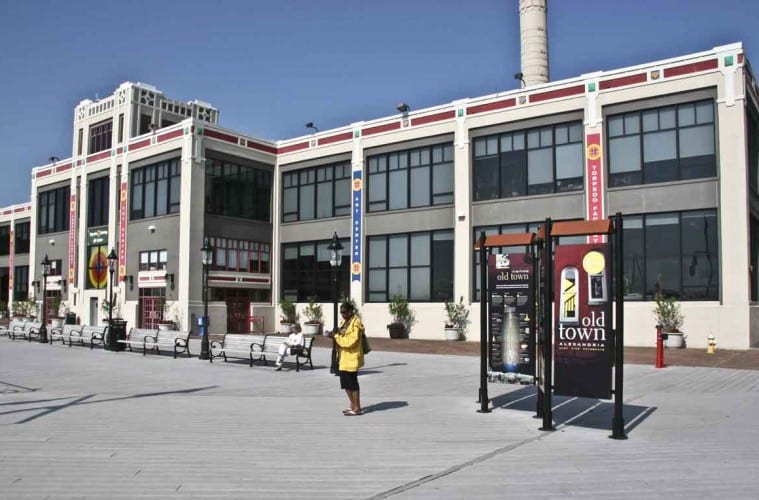 Sunday, Dec. 1
2–3:30 p.m. (Free)
The Torpedo Factory Art Center, South Entrance
101 N Union Street
Be transported back to the 1700s. See Alexandria through the eyes of George Washington! Explore places that the first president frequented. No reservation needed. Call 703-379-7460 for more information.
Museum Store Sunday in Historic Old Town
Sunday, Dec.1
Various times and places
Shop for your friends and loved ones at various museum stores throughout the Old Town. There will be discounts and special giveaways. Stores participating include: Lee-Fendall House, Gadsby's Tavern, John Carlyle House, and the Alexandria History Museum at the Lyceum.