By Steve Houk   livingonmusic.com
It's funny how something so big can at least start, well, pretty simply. Especially when it involves one of modern music's most successful and popular current bands, The Lumineers.
The band's birth really was as elementary as a bunch of common friends hooking up and playing music in their hometown of Ramsey New Jersey, about 25 miles outside of New York City. Lumineers' lead singer Wes Schultz returned from college and wanted to start a band, so he asked an old buddy if he was in. The buddy said sure, but there's a caveat: he wants his friend Jeremiah to play with them. It's a caveat that just may have changed — or at least greatly enhanced — modern rock and roll history.
"Wes got back from Richmond and wanted to start a band with this guy named Justin who was a friend of mine too," The Lumineers' affable co-founder Jeremiah Fraites told me on a break from the band's major world tour that stops at DC's Capital One Arena on February 28th. "Me and Justin had been making tons of music without thinking about where it was going, and Wes was like, 'Hey, I want to start this band with you, Justin. You play drums.' And Justin was like, 'Not without Jer.' Being the little brother of Wes' childhood friend, my late brother Josh, Wes had never really paid me that much attention before, but they asked me, 'Hey, do you want to start this band? The three of us, we'll go out and play bars in New Jersey, bars in New York City.' And that's how it all started. That's when we started writing music together."
Schultz and Fraites would eventually move from Manhattan, where living was too expensive, out to Denver where they could still work to make ends meet, but also find time concentrate on their music. "We thought if we moved somewhere cheaper and had little to no overhead," Fraites said, "we'd actually be able to work on music more. So we got a house with a couple friends, and worked menial jobs at bars and even in a sushi restaurant in Denver. The song 'Slow It Down' off the first album is actually recorded in that house, because the amp was in the kitchen and Wes would play in the living room, and I had a little makeshift studio, and we would come home and do drum takes as if we were cutting Dark Side of the Moon, we'd take it really seriously. And we'd move the rug and all the furniture and sometimes our roommates would come home and be like, 'What the fuck, everything's moved!' But yeah, we did our thing and it worked out."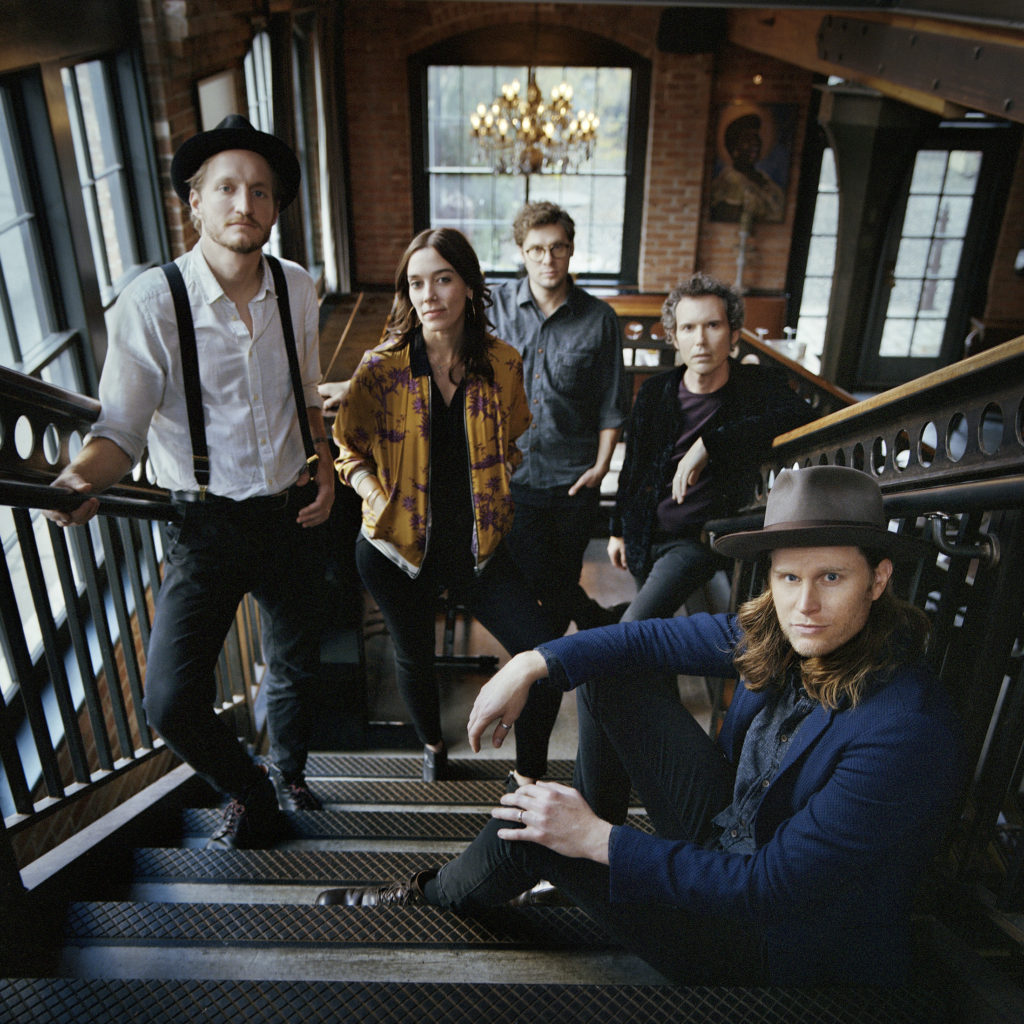 Well yes, those humble beginnings definitely did work out, for damn sure. 15 years after they began their journey, the dynamic duo of Fraites and Schultz — along with their current Lumi-cohorts Lauren Jacobson, Byron Isaacs and Stelth Ulvang — have helped to redefine the sound of modern folk/alternative rock, selling out legendary venues and playing top festivals worldwide, even recently opening for U2 on their world tour, and developing one of the largest and most loyal fan bases on the planet. Last fall, they released their third album III which rose to #2 on the Billboard charts and sparked a #1 single "Gloria." As 2020 hits, The Lumineers show no signs of slowing down, quite the contrary, their rise to fame remains stratospheric.
Fraites and Schultz' simple yet powerful sound has become their own, their trademark, and they have worked very hard at it over their decade and a half of songwriting together. It may have taken a while, but they clearly discovered something very special.
"We wrote a lot of music together back then, it was crazy," Fraites said. "I think we probably wrote close to 75 songs prior to the first album, and we were constantly critiquing the music, like, 'Well how can it be better?' The song that really changed everything for me was Flowers in your Hair off the first album, it was like a light bulb went off where I was like, 'I'm going to like this for the rest of my life, whatever this is, whatever this feels like, this is really cool, this is something different.' I think that's where it all started, and it was something that just we both believed in and it just came natural. It doesn't matter how long it takes, what's important is you get there sooner or later, and I think what helped was writing so many songs before we figured out what was really speaking to us and moved us. And in the end, we really created something that feels like our own."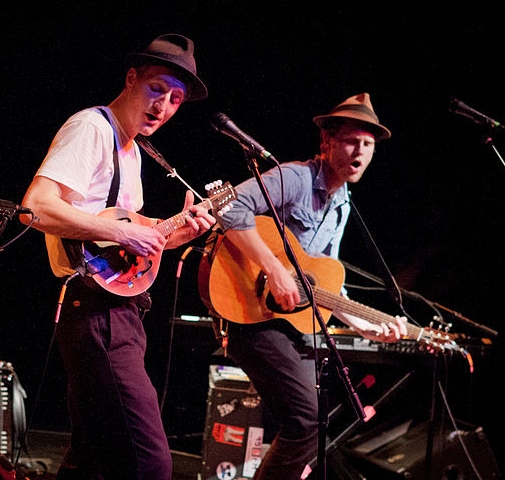 There were times along their ride when their sound had yet to find its base, its rhythm, its unique Lumineers thing. It took a period of ups and downs and hits and misses until things jelled and they were on their way.
"Our music used to be a lot more complicated, it took almost a decade just to sound like us. It's funny but I think you have to go through a lot of failure, a lot of trials and tribulations, a lot of trial and error. And yeah, for me, I really love that metaphor of going to art school for four years and coming out of there and learning how to draw a square, something really basic. It's not like, 'Hey, draw the skyline of New York city perfectly to the perfect dimensions.' It's more like, how do you do something simple that you can understand and believe in yourself?"
Fraites, who just turned 34 and Schultz, 37, have also believed from day one that even if your music is relatively straightforward and seemingly uncomplicated, you still need to give it everything you have, and that includes not only their music, but their live shows. And that philosophy has worked, as their rousing concerts have become part of The Lumineers huge appeal.
"Just because it's simple doesn't mean it's simple," Fraites continued. "It was always this thing of like, philosophically, if you are going to just stomp your foot, or if you're going to push one button on a synthesizer, or one piano key, do it with everything you got, do it with every microscopic ounce of energy and passion you have. Have you ever heard people say don't confuse kindness with weakness, or something to that effect? It's like, don't confuse simple music with not being able to do great music."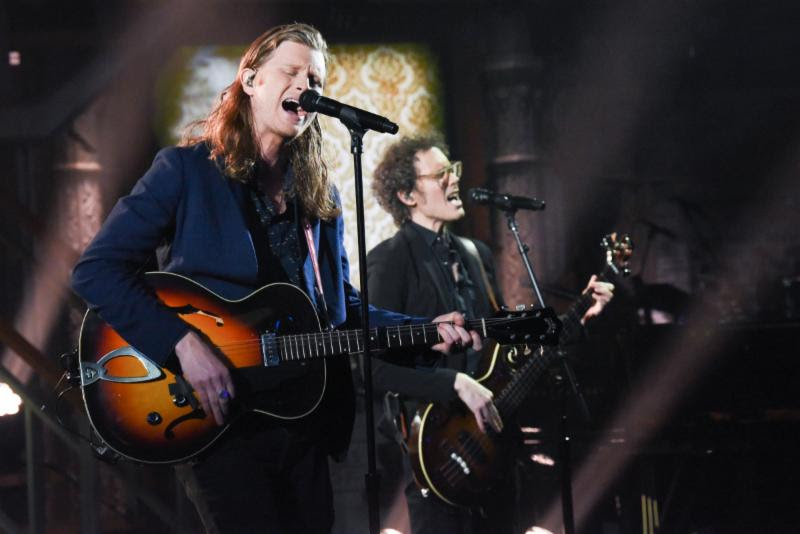 It was when they were about to begin their first tour in 2011 and were already selling out venues that it really hit Fraites that they had finally reached the promised land. I mean, two guys from across the river in Jersey selling out two nights at Madison Square Garden? You know something magical is happening when that goes down. And The Lumineers' momentum has only grown since then.
"Right before our first tour and once 'Ho Hey' went on the radio," Fraites described, "our manager was like, 'Your Seattle show just sold out, as did the Portland show, the Idaho show and the Chicago show.' I was like, 'Whoa, this is crazy. What reality is this now?' And I remember, it was really funny actually, I always wanted to play Radio City Music Hall, and I was like, 'I'd love to do a night or two at Radio City, it'd be incredible.' And our manager's like, 'It's too small. You've got to play the Garden,' and I was like, 'All right, that's fine.' And then tickets went on sale for the Garden and they sold out in like a half hour and they had to add another show, and that absolutely blew my mind. It was just like, "What, TWO nights at the Garden?,' it just was so crazy to be there. I mean, if you came from where we're from, Ramsey in Bergen County New Jersey, to us the Garden was the Mecca of all places to play probably in the world. I remember at the Garden backstage there was a photo of Eddie Vedder and Pearl Jam and there's a little quote from Eddie on the picture: 'You ain't shit until you played the Garden.' It was so funny to be there and see that, and be like, holy cow, we're playing here tonight."
Fraites humbly relishes the success he and Schultz have found, and realizes that it's a combination of a number of factors, some worked for and some unexpected, that have brought The Lumineers to this golden place, where they show no signs of slowing down.
"I will say I had a weird inclination back when that something would happen. I just realized, wow, I feel like there's something to this, I thought, if we just keep working at this, something's got to give because I feel like when I'm in the room, I'm feeling something. When we started writing the first album, I thought, okay, I feel like there's something really interesting here and if I'm wrong and I really should just quit music.
"And I think also it's the timing, whatever that means. I think a band can come out with one of their best albums and if it's in the wrong decade and the wrong atmosphere of the world, who knows. We've gone through many changes with the band members, and many changes with the genre of music, and many changes with song styles, and we've found our sound. I think that we've worked really hard, but we've also gotten really lucky. And all the fans who continue to support us, it really means a lot."
The Lumineers III The World Tour performs at Capital One Arena, 601 F Street NW, Washington DC, 20004. For tickets please click here.