Eatz
An Oasis Is Waiting For You At Lena's!
It's hot out. You're tired of being cooped up in the house. Head over to Lena's Wood-Fired Pizza & Tap. You'll be glad you did!
Lena's "You lead me, lead me to an Oasis"
Alexandria, VA – It's hot out. You're tired of being cooped up in the house. You're tired of cooking or eating out of styro and plastic containers. What to do!!!! Head to Braddock Rd. and Mt. Vernon Ave. Go around the back side of Lena's Wood-Fired Pizza & Tap. You park your car and you see a large white tent and smiling, beckoning faces. You walk in and gaze inside to a wonderland of flowing white swathes of white gauze, ceiling fans, swaying tropical plants and palms, misters, and a swarm of servers in masks and gloves! You truly are in an oasis in the middle of this pandemic. Let your host lead you to an appropriate socially distanced table and settle in. The table is set with disportrsable menus and sanitizer. It hurts to think about it but it's a sign of the times. But, then again, so are your surroundings. This is the kind of fantasy that you could only have dreamed of. Review the menu and see the wide variety of dishes and beverages being offered.
We sat down at our table and were immediately offered water and a special drink menu in addition to the regular beverage offerings. Try some Frosé or Citrus Sangria, select from cocktails like the Raspberry Caipirinha or Mango Mojto. There's a lovely selection of wines and beers. Not feeling like alcohol, try one of the several non-alcoholic refreshers.
There are so many choices to begin your meal. We started with the Flashed Fried Calamari, also available sautéed or grilled, served with cherry peppers and a spicy marinara. The frying was impeccable – crisp and oil-free. The pieces of calamari were lightly seasoned and as tender as it should be. The peppers add a punch when you bite into them. Try the Garlic Parmesan Wing too, served with a spicy and bracing Calabrese ranch dip. They were quite popular among the guests. We also shared the Antipasto Platter. The platter came with a gorgeous display of meats, cheese, and veggies to please everyone. There was paper thin sliced prosciutto di Parma, sopressata, marinated olives, marcona almonds, house made giardiniera, stuffed sweet peppadew peppers, fresh parmesan, and dried figs. It was a virtual party on a plate! I bet you're wondering why we didn't order the giant meatball that put Lena's on the map. We'll get to it soon.
What about greenery? There are several salads to pick from. I highly recommend the Prosciutto and Arugula salad with two of my favorite ingredients. It was topped with pears, sliced red onions, shaved parmesan, focaccia croutons, and lightly dressed with balsamic vinaigrette. The arugula tasted so fresh and refreshing. There are several other choices including a beautiful Oven Roasted Beet Salad with baby spinach, red and golden beets, pickled red onions, feta cheese, and a sherry vinaigrette. Beautiful and colorful. There's also a Tomato and Mozzarella Salad that should not be missed now that we're entering home grown tomato season. It's a display of house made fresh mozzarella, extra virgin olive oil, basil, baby heirloom tomatoes, and topped with a balsamic glaze. This has got to be one of the best ways to eat tomatoes!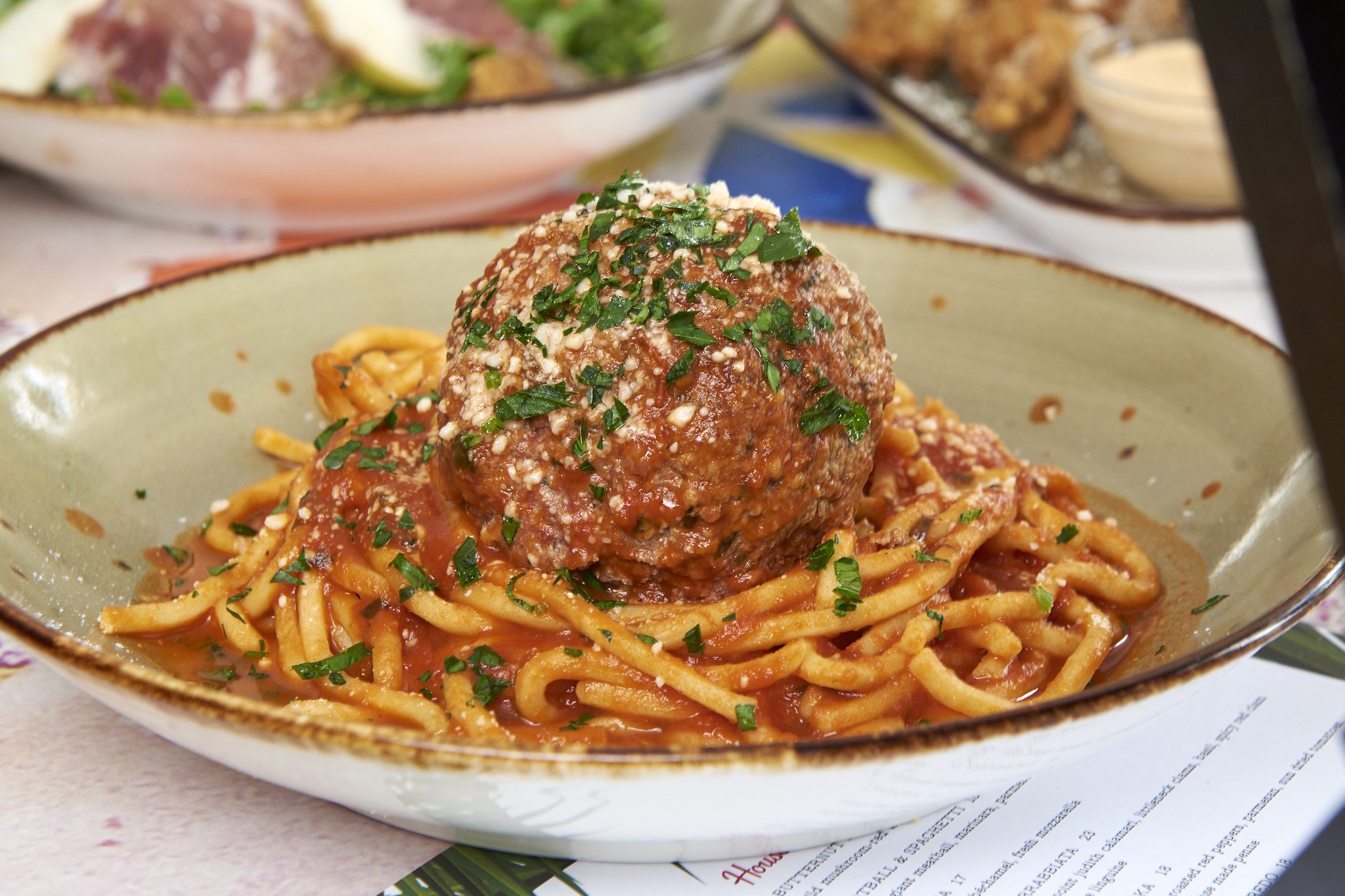 We moved on to the entrees, pastas, and pizzas. There are so many choices, you'll need to come back to try them all. We killed two birds with one stone by ordering the Meatball and Spaghetti that combined the best of both worlds – that historic meatball with house made, extra long hand cut spaghetti and bathed in a marinara with parmesan. That meatball, the size of a baseball, holds a secret inner burst of fresh mozzarella cheese! The meatball is tender and made with high quality beef. It's a meal in itself. The pasta was cooked to the proper al dente and proved itself equal to the task of standing up to the meatball. Seafood? There's lots of choices. Get the Seafood Arrabiata if you want a bit of kick in your meal. Assembled from jumbo shrimp, Point Judith calamari, Littleneck clams, basil, all in a spicy red clam sauce served over house made linguine. Every bite of scrupulously fresh seafood possessed a kick from that clam sauce. Or, try the Grilled Salmon. A beautifully cooked to order piece of salmon sat on top of fregola, the Italian pasta version of couscous, combined with baby spinach, roasted red peppers, basil, and surrounded by a lush parmesan cream sauce. Your fish lover will be transported with every bite.
We could only scratch the surface of the pizza menu. All of Lena's pizzas are baked in a 900° wood fired pizza oven. The result is a stunningly blistered crust with perfectly good toppings. By the way, they have gluten free crusts too. Not to be missed is the Pizza Diavolo. The pizza is topped with spicy sopressata salami, mozzarella, and fried kale – all topped with a calabrese pepper hot honey. The pizza was covered with dark green crispy fried kale. It lent a counterpoint to the heat of the other ingredients and even though we order the large, there were very few slices left. Not feeling that adventurous, get the pepperoni pizza covered with tomato sauce, mozzarella, and hand cut pepperoni. It was so very good and not greasy like so many pepperoni pizzas can be. Delicioso.
Vegetarians AND Vegans can rejoice. Vegetarians have their choice of the Margherita pizza with fresh mozzarella, crushed san Marzano tomatoes, plum tomatoes, basil, and olive oil. There is also a Mushroom pizza topped with creamy Béchamel, wood roasted wild mushrooms, mozzarella, and truffle oil. The vegan pizza of Seasonal Roasted Vegetables is covered with a variety of veggies including those wood roasted wild mushrooms and covered with a balsamic reduction, herbs, and tomato sauce. I tasted it and as a devoted carnivore, I can truly say I would order it again. Another bonus for vegetarians is the Butternut Squash-Ricotta Gnocchi. Jason Yates insisted it was a must order. The dish was a combination of tender bites of gnocchi surround by a wild mushroom-red wine ragu, parmesan, and paper-thin slices of squash in a brown butter-sage cream sauce. The flavors mixed and melded with the sweetness of the squash and the earthiness of the sage butter. I've not had anything that compares to it. One bite just led to another.
Of course, being the gluttonous crew that we are, we could not ignore the desserts. Choices ranged from cakes, tiramisu, and cheesecake to sorbets and gelatos. If the Strawberry Mousse Cake is available, you must order it. Close your eyes, take a bite, and you swear you are eating strawberry shortcake with the freshest berries and whipped cream. Tiramisu is a must. The piece is big enough to share which is a good thing since it is so good. Feel like you need something lighter? Try the gelato. It was as good as any I've had in Italy.
Lena's transport you to another level. You'll feel safe and comfortable while being well taken care of by the staff. Jason Yates and his team have created a little bit of heaven here on earth. Don't miss it!
Would you like your restaurant reviewed? Contact editor@thezebrapress.com
ICYMI: EATZ: Here's The Zebra's Take on Redrocks Pizza in Old Town, Alexandria!