Community News
Love in Action: 'Mother of Light' is Serving Over 600 Alexandria Families with Kindness, Dignity, and Supplies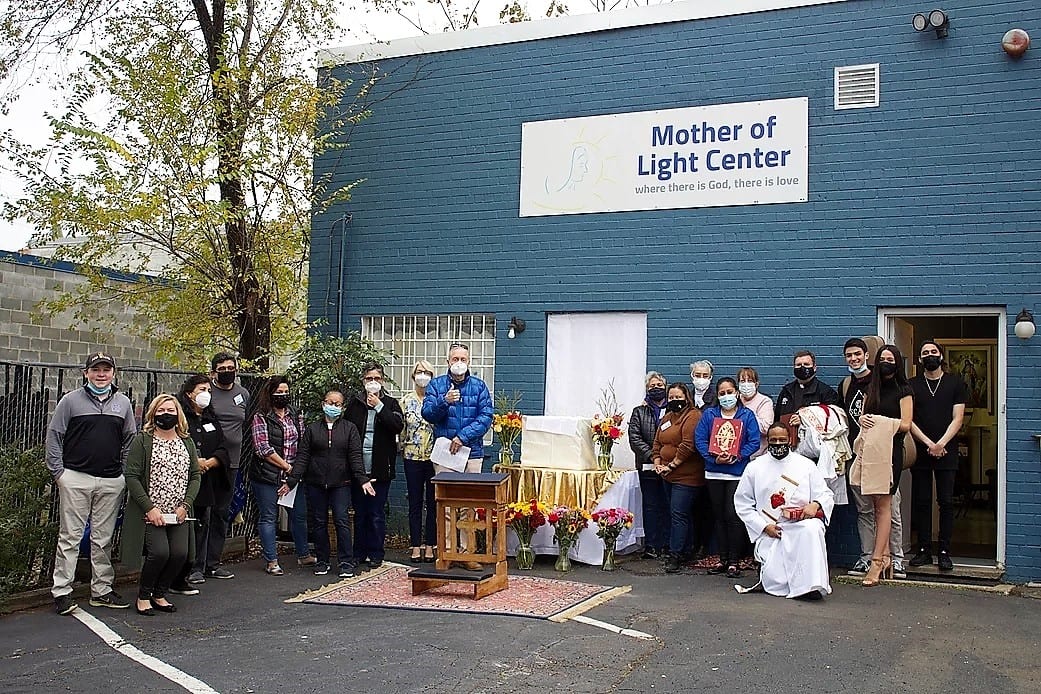 By Connor Hoffman
ALEXANDRIA, VA – Dedication, zeal, and passion are all words that can be used to characterize so many Alexandrians who continue to selflessly serve the needs of others during this pandemic, but the words ring especially true for the devoted volunteers at the Mother of Light Center and their director, Matilde Alvarado.
Tucked away in an unassuming warehouse on Alexandria's east side, the Mother of Light Center, a charitable organization, identifies its mission as supporting the poor, the needy, and those experiencing homelessness. The organization runs in partnership with churches, city agencies and private donations.
Although it existed before the COVID-19 pandemic, its focus has shifted mightily, according to its director Matilda Alvarado, "In the past, before Covid, we used to distribute clothing through Meade Memorial Episcopal Church [on Alfred St.] but Covid shifted things into the pantry. The pantry is special because we not only give food but also other supplies like detergent or toilet paper. Anything that is donated, shampoo, diapers, toothbrushes – we make packages and distribute whatever people need." And she says the number of people in need has increased dramatically. "We are serving probably 600+ families [biweekly]. Whatever we get in goes straight out. We always have enough. For some reason, we just always have enough."
Acts of Service Distinguish Mother of Light
Though many other charitable organizations help support Alexandrians, Mother of Light Center distinguishes itself in its acts of service that create strong personal bonds between volunteers and families. "We care for the person, totally. Our relationship with the families is a personal one," says Alvarado. "We know them by name and we know their needs. We call them by phone, we see them when they come."
Alvarado assures that recognizing and respecting the dignity of these individuals is one of the organization's main focuses. One small example of this is the small bunches of donated flowers from places like Trader Joe's. With these small bouquets, Mother of Light is able to not only provide food but also some simple luxuries to brighten the lives of the families they serve.
In addition to fulfilling physical needs, Mother of Light Center works to provide social, spiritual and relational support. The organization is run solely by volunteers. Some of these dedicated individuals have been there six days a week since the onset of Covid. These volunteers pack, collect and deliver food. Some organize the clothing donations. Some students and young adults from different churches have banded together to make sleeping mats out of plastic bags for people without a home. Some cook and deliver food to the day workers in Shirlington, Route 236 and even the Route 1 corridor.
Personal Touches Take Away Stigmas
When the Thanksgiving holiday arrived, Alvarado and a team of volunteers made sure to provide everything needed so all of "their families" could have a Thanksgiving dinner. This dedicated group calculated food amounts, established maps for the multiple vans provided by St. Stephen St. Agnes School. They delivered 300 meals on opposite ends of the city. Each brown paper bag bore a family's name scrawled on the side of the bag.
"The families like that their name is on their bag. We know what they like and what they don't. Sometimes there is a special request and we put it in their bag. This is one small way we create personal relationships." It is only through these partnerships with Capital Area Food Bank, churches, grocery stores and private donors that make days like this a success. "The best thing about this is that people from the community that we deliver to come to volunteer, and they help us connect with their peers in the community. There is so much talent in the community, people just need to be asked."
Eyes and Hands Toward the Future
As the needs of the Alexandria community continue to grow, Alvarado and Mother of Light look to the future. With their board of supporters, they plan to continue expanding throughout the greater Northern Virginia community. They are hoping to offer webinars which will continue to provide emotional support online to their single mothers' group. Another strategy in the works once the virus subsides, is to provide sewing classes for people in the community. Alvarado says, "We would give them the course and they could start a business from home– entrepreneurial skills with spirituality woven in. We always have spiritual aspects offered if people are interested."
With this dream of growth comes a dream of more space. "You see… here we are sort of stepping over each other. It is okay, but it would be good to have more room." With the determination and faith that naturally flows from Alvarado and her band of volunteers, there is no doubt that more space will somehow be in their future. "We have so many people who help. We have our board, we have many churches, we have people who just come and drop off things here. We are so blessed."
As the winter months approach, if you are looking for a way to get involved or to support our local community through donations, consider this grassroots organization that is helping volunteers, partners, and families keep the faith during these difficult times.
Mother of Light Center 421 Clifford Ave, Alexandria, VA 22305
(703) 508-5289
ICYMI: Here is What's Happening at Senior Services of Alexandria