ALEXANDRIA, VA (Feb. 11, 2021) — Between 2004 and 2009, Brooke Sydnor Curran ran her first nine marathons. On Feb. 6, 2021, she completed her 150th. Virtually, of course.
That's 141 marathons — which is like running from Washington, DC to Boulder, CO and back, plus a couple hundred miles — since 2009 when she merged her passion for running with her compassion for the community and founded RunningBrooke. She pledged to run a marathon a month, in all 50 states, on all seven continents to bring opportunities to kids in the city she loves.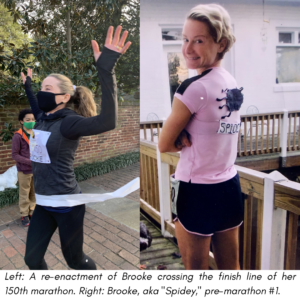 Brooke has run through asthma, exercise-induced asthma and a near-fatal brain aneurysm. Once released from the hospital after her aneurysm, she had to retrain her brain how to walk, then run.
Reflecting back on her school days, Brooke says, "I was the kid who disrupted the classroom, was bored sitting still, who couldn't focus. But I knew movement made me feel better."
"Running makes me feel better…It's never easy, but often the hardest part is just getting your shoes on."
As an adult, she rediscovered physical activity and on a whim, bought running shoes and ran a marathon. In her literal journey, she was inspired to stand up for kids like her.
Today, RB is focused on sparking learning through creative movement programs for kids in the Alexandria City Public School system, both virtually and in the classroom. Integrating movement-based activities throughout the school day primes the brain for learning and helps kids stay on task and feel and do better. The organization's signature program, Move2Learn, is in all 18 Alexandria City Public Schools and serves thousands of students each year.
While no longer running marathons for charity purposes, Brooke says running one a month is now just part of who she is and what she does. "Running makes me feel better and makes room for my best thoughts and ideas," she says. "It's never easy, but often the hardest part is just getting your shoes on."
MORE: Alexandria Living Legend Brooke Curran, Run, Brooke, Run!