Community News
Historic Alexandria
Senator Mark Warner Visits Alexandria's Black History On Walking Tour Led by City Councilman John Chapman
"I've lived here for 35 years and today is the first time I'm hearing some of these stories," said Warner.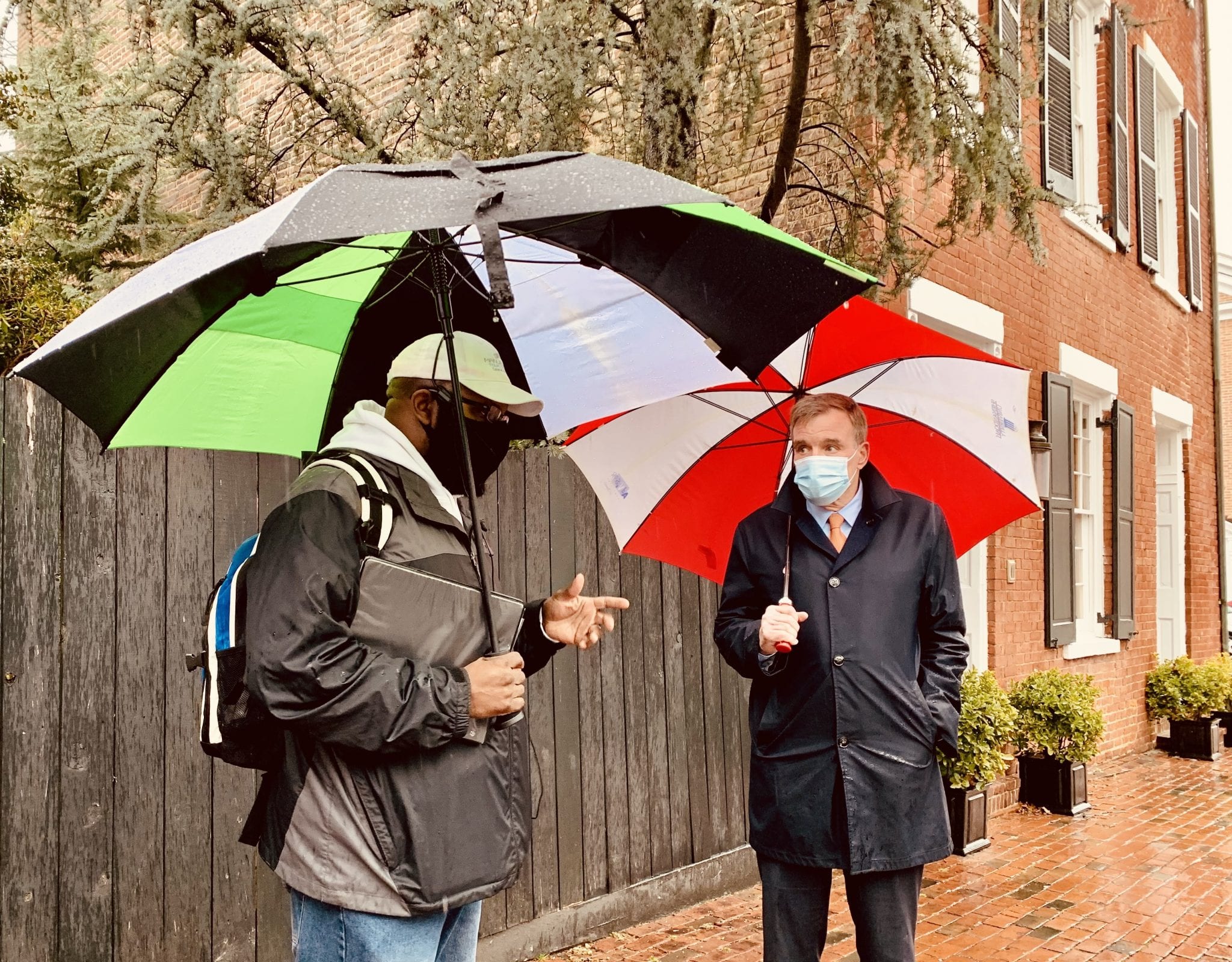 ALEXANDRIA, VA—A sprinkle of rain and a crispness in the air perked my senses on a walk through Old Town this morning. But not just any walk; Senator Mark Warner of Virginia joined myself and other members of the Alexandria press community on the Freedom's Fight in Alexandria walking tour lead by none other than Alexandria City Councilman John Chapman, of Manumission Tours—winner of Zebra Reader's Choice Best Walking Tour Company for the last two years straight.
Starting at 10:30am on Monday, February 22, at the Kate Waller Barrett Branch Library, this socially-distanced tour took us to notable Alexandria African American historical sites to commemorate Black History Month. As my umbrella deflected rain, we waded through a bit of Alexandria's extensive history of slavery, the underground railroad, and abolitionism.
The first stop was the Lloyd House and Hoffman Sugar House, where enslaved African Americans worked in the sugar refinery, turning Alexandria into America's third-largest sugar producer in the early 1800s.
Next up was the Lord Fairfax House, which has recently found connections to Virginia's new Lieutenant Governor, Justin Fairfax. Inside the Lord Fairfax House are the manumission papers (or freed-from-slavery papers) of Simon Fairfax, Justin's great-great-great-grandfather, who was freed by the Ninth Lord Fairfax.
Another notable, but perhaps not immediately noticeable, site on the tour was the Oscar Ball Runaway Site. Oscar was slave to residence owner Mary Gordon, and he attempted to escape from slavery by running away.
From slavery, to manumission, to escape, we next witnessed the Moses Hepburn Homes, a row of townhouses built and owned by Moses Hepburn, a black man born into slavery in 1809. Freed seven years later, Hepburn grew to become a prominent black citizen and business man in Alexandria, known for his real estate ownership and development in the mid-1800s.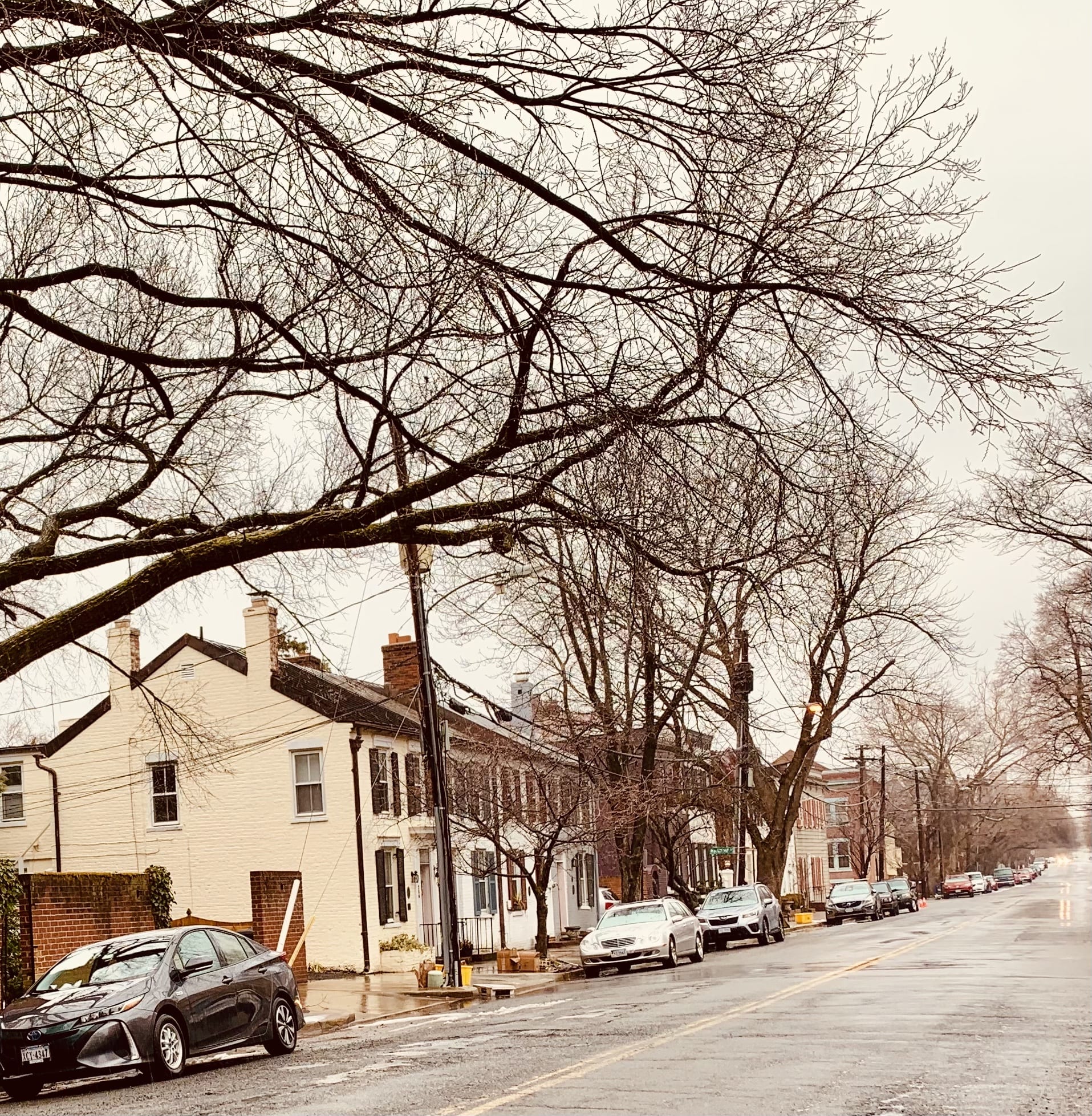 Our final stop was Market Square, which, today hosts a popular farmer's market and houses City Hall, but was once known for its slave market.
Chapman says this tour was "inspired by the opportunity to really bring local African American history to a tour. We have a ton of tourists, but many of them don't get to hear about the perspective of early African Americans in the city. We talk a lot about John Carlyle and his house, but there is a real lack of telling the history of African Americans. So I saw this as a real opportunity."
Senator Warner emphasizes that lack, when he explains his own experience with Black History teachings.
"We needed to tell part of Virginia's story and celebrate that part of Virginia history, so this idea of telling the whole history of Virginia is so important. I've lived here for 35 years and today is the first time I'm hearing some of these stories. It's important for me to hear them, and if people then write about them, hopefully that will spur others' interest, and then we can recognize that the history of this country, the history of our city, the history of the commonwealth is a lot different than what I got taught in school."
The senator says he is "grateful" for John Chapman and his dedication to bringing to light this part of Alexandria's history.
To find out more about Manumission tours and other services, visit https://www.manumissiontours.com/copy-of-about-us.