Community News
Visit Alexandria Shares Events Celebrating Pride Month in June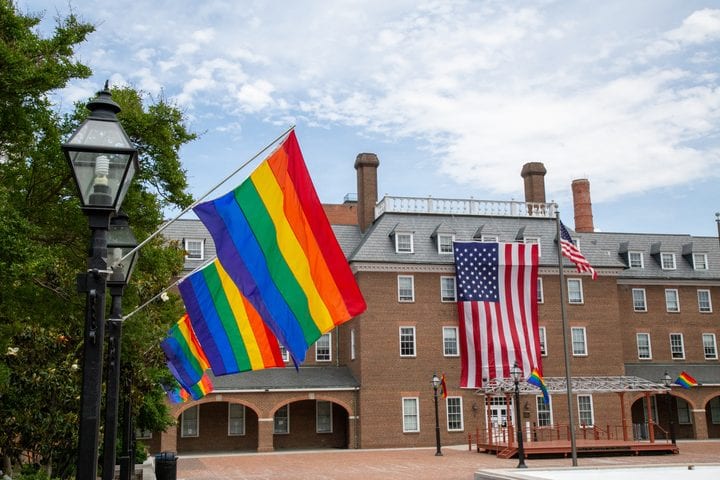 ALEXANDRIA, VA-Throughout June, Alexandria residents are welcome and encouraged to celebrate Pride Month by taking part in a variety of events. Visit Alexandria, the city's tourism bureau, today released information about virtual, and in-person events in partnership with LGBTQ+ local organizations.
Alexandria is a place known for its acceptance of all. In recent years, the city has received a score of 100 percent for LGBTQ+ Equality by the Human Rights Campaign Municipality Equality Index, . It has been recognized as an LGBTQ+ travel destination by Pride Journeys magazine and Instinct magazine.
FEATURED EVENTS
Celebrate Alexandria Pride Workshops
June 3 to 5, 2021
Admission: Free (Registration required)
Virtual
alexandriava.gov/LGBTQ

The Alexandria LGBTQ Task Force and Alexandria Library is hosting Celebrate Alexandria Pride Workshops online June 3-5.  Twelve workshops will be offered over three days. Some workshops are creative and some are educational, but they all celebrate the resiliency and beauty of the LGBTQ+ community in Alexandria. Presenters and facilitators include members of the Alexandria LGBTQ Task Force and other local and state partners, including Alexandria Library, Safe Space NOVA, Center for Black Equity, Heard Program, Virginia Anti-Violence Project, Drag Queen Story Hour, Equality Virginia, Impacto LGBT, promotional partners Visit Alexandria and more. Also, don't miss the Progress Pride flags that will fly in June around Alexandria City Hall.
The Late Shift: ALX Pride at Torpedo Factory Art Center
June 11, 2021, from 7 to 9 p.m.
Admission: Free
Virtual and in-person outside the Torpedo Factory Art Center, 105 N. Union St., Alexandria, VA 22314
703-746-4570
Celebrate Pride Month with the Torpedo Factory Art Center. Enjoy both in-person programs at the Art Center and virtual programs online. In-person programming will take place outside the Art Center on N. Union St. and at the waterfront. Outside the Art Center on Union St., explore the "UHAULED" exhibition, which features five U-Haul trucks, each containing galleries with works from regional queer women and lesbian artists, curated by Northern Virginia artist Cat Baker.
Growing Pride at The Garden
June 27, 2021, from 2 to 7 p.m.
Admission: Free ($5 recommended donation toward Safe Space NOVA*)
The Garden at Building Momentum, 5380 Eisenhower Ave., Suite C, Alexandria, VA 22314
703-566-9000
This family-friendly event at The Garden on Eisenhower Avenue, in partnership with Alexandria Makers Market and Safe Space NOVA, will feature 15 local LGBTQ+ makers and allies set up throughout The Garden with locally crafted goods available for sale. Enjoy local food trucks (including snow cones!), live music, and kids crafting available throughout the event. The event will take place inside the event space, the state-of-the-art workshop and outside on the patio. *Safe Space NOVA is dedicated to providing a safe, accepting, and supportive environment to combat social stigmas, bullying, and other challenges faced by LGBTQ+ youth.
Queens on King Street Reunion Event
July 13, 2021, from 6 to 8 p.m.
Admission: Free
The Light Horse, 715 King St., Alexandria, VA 22314
facebook.com/queensonkingstreet
After a hiatus of more than a year due to the pandemic and COVID-19 restrictions, Alexandria's Queens on King Street group will reconvene on Tuesday, July 13th at The Light Horse from 6:00-8:00 p.m. The occasion will also serve as the group's five-year anniversary. In 2015, co-founders Timothy McCue, Nathan Sell, and Alex Rodriguez-Rozic created Queens on King Street to provide a space for LGBTQ+ individuals that live, work, or just love to visit Old Town Alexandria. Until March 2020 and the pandemic, the twice monthly Queens on King Street gatherings brought, on average, more than 50 attendees and thousands of dollars in business to establishments up and down King Street! Co-founder, Timothy McCue stated, "We are ecstatic that The Light Horse will serve as our launching pad for the next chapter of Queens on King Street events. We've missed everyone and look forward to bringing back the events starting this summer."
 MORE EVENTS & OFFERINGS
Kids' Pride Pajama Story Time
June 2, 2021, from 6:30 to 7 p.m.
Admission: Free (Registration required)
Virtual
alexlibraryva.org
An affirming and inclusive selection of bedtime stories that offers a joyful glimpse into Pride Month and the vibrant community that celebrates this day each year.
Drag Queen Storytime with Citrine
June 5, 2021, at 10 a.m.
Admission: Free (Registration required)
Virtual
alexandriava.gov/LGBTQ
Cosponsored by the Alexandria LGBTQ+ Taskforce as part of Celebrate Alexandria Pride 2021. What do drag queens and children have in common? They love dressing up and all things sparkly and fancy! Drag Queen Story Hour (DQSH) is just what it sounds like—drag queens reading stories to children in libraries, schools, and bookstores. Enjoy songs and stories for kids ages 3-8. View other events part of Celebrate Alexandria Pride and register at alexandriava.gov/LGBTQ.
From the Heart: A Transgender Virginian's Story
June 21, 2021, from 7 to 8 p.m.
Admission: Free (Registration required)
Virtual
Join a member of Equality Virginia's Transgender Advocacy Speakers Bureau for an evening of community and learning as they share their story as a transgender person followed by questions.
HOTEL DEAL
Enjoy the Love Your Summer in Alexandria hotel package with rates starting as low as $83 per night, inclusive of up to $200 in added value.
For complete information about Alexandria's Pride Month celebration, visit visitalexandriava.com/lgbtq/pride-month.