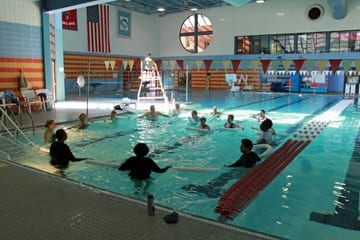 ALEXANDRIA, VA-The City of Alexandria's Chinquapin Park Recreation Center and Aquatics Facility (3210 King St.) will close Saturday, June 26 through Monday, Sept. 6, for several planned facility improvements and annual cleaning. The scope of the facility improvements requires temporary closure to ensure public safety, reduce cost, expedite the work, and minimize community impact. The work was scheduled to take place during the summer months when the City's outdoor pools are available and there is less demand for indoor swimming.
Planned facility improvements and cleaning, which will be complete when the facility reopens on Tuesday, September 7, include:
Replastering and cleaning of Chinquapin's Rixse Memorial Pool to improve the longevity, cleanliness, water conservation, appearance, and safety of the pool shell for several years.
Replacement of the pool and locker room tile flooring to improve the safety, cleanliness, and appearance of the pool deck and locker rooms.
Removal of wooden pool deck bleachers that have reached the end of their lifespan and can no longer be safely used.
Refinishing and painting the pool ceiling to improve appearance, cleanliness, lighting, and air quality.
Replacement of flooring in all club rooms and administrative suites to improve the functionality, appearance, safety, and comfort of the spaces.
Annual deep cleaning and disinfection of the entire facility to provide a safe and clean space for patrons and employees upon reopening.
Long-term, planned improvement projects that will continue after reopening include:
Construction of several new universal changing stalls, which will provide more options for individuals and families.
Construction of a new lifeguard office, which will create a safer and more functional space for the lifeguard rescue team to assist customers who require medical care.
Skylight replacements to eliminate leaks, improve energy efficiency, and improve lighting and appearance.
Many of the programs and offerings held at Chinquapin Park Recreation Center and Aquatics Facility will be redistributed:
All non-aquatics classes and camps normally scheduled for the summer will be moved to other recreation centers and parks.
Swim lessons and water aerobics classes will operate at City outdoor pools.
Old Town Pool will operate with extended morning hours to accommodate lap swimming.
Valid Chinquapin passes will be honored at all fitness facilities at Alexandria Neighborhood Recreation Centers. Chinquapin passholders will also be provided an option to suspend their pass during the closure.
Valid Chinquapin passes and daily admissions will be honored at all City outdoor pools.
Visit the Chinquapin Park Recreation Center and Aquatics Facility Improvements webpage for additional information on facility improvements. Visit alexandriava.gov/Recreation for a complete listing of classes and camps.
ICYMI: Class of 2021 Receives $525K from the Scholarship Fund of Alexandria