Foodie Newz
Farmers Market Season, Ice Cream Time and More!
We're entering peak farmer's market season! Read about the awesome foodie news focused on fresh produce and local vendors!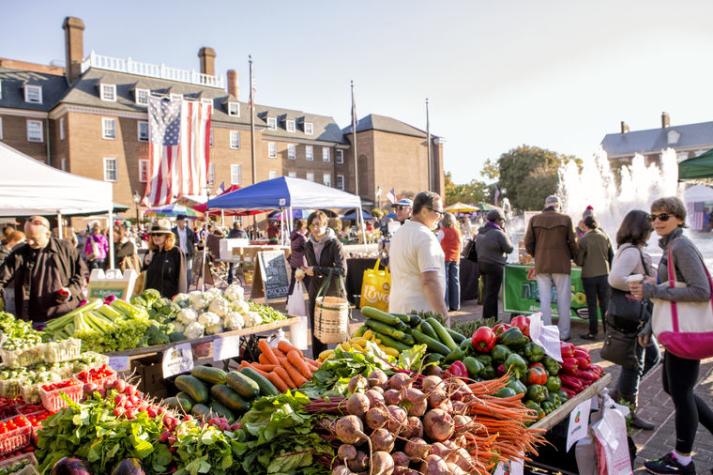 Alexandria, VA – We're entering peak farmer's market season! The fields are filled with gorgeous fruits and veggies that local farmers are bringing to the market right now. Alexandria and its surroundings are privileged to have six year-round markets as well as two summer markets.
With over 300 markets throughout Virginia, farmers markets provide important connections between farmers and consumers. Farmers Markets preserve farmland and support rural livelihoods. For the farmer, markets are a valuable sales channel for their products, which in turn boosts the local economy. For consumers, markets are places to shop fresh, local products and learn about agriculture. Communities can also improve their overall health with access to fresh produce. The City of Alexandria and the Four Mile Run Farmer's Market and Old Town Farmers' Market participate in the Supplemental Nutrition Assistance Program (SNAP), formerly known as food stamps. This allowed SNAP customers to use their Electronic Benefits Transfer (EBT) cards to purchase fresh fruits, vegetables, and other eligible food products.
Composting Resource Recovery Stations are available at the Old Town, Del Ray, West End, and Four Mile Run Markets. Staff is always on site to explain how to compost food and yard waste at home, and accept items for composting. They sell compost tubs for $5 to encourage you to transport your food waste to the stations. You are always welcome to pick up some of the resulting compost to use in your own garden.
Year-Round Markets
The Saturday morning Old Town farmers Market at Market Square, 301 King St., is the oldest farmers market in the U.S. continuously held at the same site dating from 1753. It is said that George Washington sent his farm products from Mount Vernon to the market for sale. The Old Town Market is open from 7 am to noon on Saturdays year-round and hosts a variety of vendors from wood workers, pasta makers, and flower vendors to artists, baked goods, and a variety of fruits and veg. Parking is available in the building parking garage with vendors supplying validation stickers.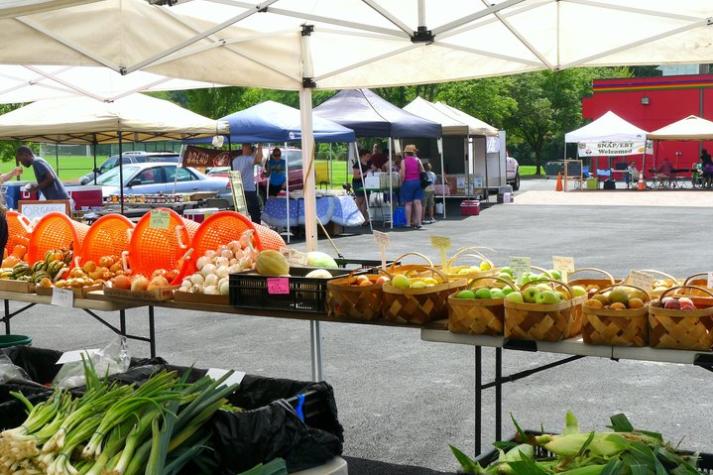 The pet friendly Four Mile Run Farmers and Artisans Market at 4109 Mt. Vernon Ave. is held on Sundays from 9 am to 1 pm. As part of an overall vision to expand and improve Four Mile Run Park, the Four Mile Run Farmers and Artisans Market offers fresh, nutritious food to people of all income levels and strives to reflect the diversity of Alexandria's community. Local artisans and producers bring their goods to the market and include a wide variety of fruits, veggies, cheeses, baked goods, candles, bacon and sausage, hand-made jewelry, and more. Innovations include live music where you can hang out in the 4MR Market Lounge. You can get your morning stretch on with the morning yoga session featuring a gentle wake up at 10:30 am. The winter market begins after Thanksgiving. Assuming Covid restrictions are completely lifted, the market moves indoors on bad winter days. Parking is available on the east side of Mt. Vernon Ave. and parking lot.
The Del Ray Farmer's Market has been held at the corner of Mt. Vernon and East Oxford Aves. for over 27 years. A producer only market, all of the vendors bring their own products for sale on Saturdays from 9 am to noon. it was named one of the top ten farmers' markets in the state. The market has grown to include both parking areas for vendors selling locally grown fruits and vegetables, meat, poultry, fish, eggs, cheeses, breads, fresh pasta, baked goods, and cut flowers. "What is unique about the Del Ray Farmers' Market is the quality of the food, and how the farmers have become a vital part of the neighborhood," said Pat Miller, who has served as the volunteer market manager for over 20 years. Parking is available in the street or nearby parking lot. Vendors provide parking validation stickers.
The newest of the year-round markets is the pet friendly Old Town North Farmer's Market. Located at 901 N. Royal St., the market is open on Thursday afternoons from 3 pm to 7 pm and occasional Sunday 9 am-noon pop-up markets. You'll find an assortment of fruit and veggies, coffee, Amish cheeses and baked goods, pet treats and toys, hand printed t-shirts, stationery, salmon, Ecuadorean treats, antiques, collectables, and more. The market, continues to grow with the recent addition of fresh bagels and fudge vendors. Free Yoga in the Fresh Air is offered from 5 pm to pm 6 pm. Come over on the third Thursday of the month for live music.
The Orchard Country Produce Stand used to sell in Washington DC. Oliver Keckler of Gardners, PA. explained, "We had sold our produce to certain markets in Washington, DC, for years. Then, in 2006, we joined a CSA (community-supported agriculture) and delivered boxes to businesses and residences." In 2012, the pastor at St. Luke's agreed to host the Orchard Country Produce. The Keckler family provides fresh products including vegetables, fruit, berries, pork, eggs, and chicken to those interested in a healthier lifestyle. The farm stand at St. Luke's Episcopal Church, 8009 Fort Hunt Road, Tuesdays from 2 pm to 7 pm. and Saturdays 8 am. to 1 pm. The Belle View farm stand is located in front of the gazebo in the 1200 block of Belle View Boulevard, Thursdays 2 pm to 7 pm.
Summer Markets
The pet friendly West End Farmer's Market operates from April to November on Sundays from 8:30 am to 1 pm at 4800 Brenman Park Drive. The market offers a wide variety of local, seasonal fruit and vegetables fresh from the farm, fair trade coffee, fresh squeezed orange juice and lemonade, fresh baked goods, handmade jewelry and art, fresh flowers, and lots more. Local non-profits, and government agencies set up a table and talk to the people their agency serves. A regular at our market is the Alexandria Bike and Ride Department. The local Beatley librarians come every third Sunday to advertise their multiple events and sell used books for only $1.
Another nearby market is the McCutcheon/Mount Vernon Farmers Market at the Sherwood Library, 2501 Sherwood Hall Lane from April to December on Wednesdays, 8 am to noon. They provide for a wide variety of vendors selling seafood, baked goods, veggies, produce, mushrooms, honey, and more. This producers-only market sells products that come from within a 125-mile radius of Fairfax County. Markets are open for in-person shopping. Some vendors offer online ordering with pickup at the markets.
Coming Soon to a Location Near You
The good news is that Call Your Mother, is coming to Alexandria! For those who have been patiently waiting for a location closer than Georgetown, that time has come. The former site of Helen Oliva Flower Design, 128 N. Pitt is going to be the latest iteration of Call Your Mother, a "Jew-ish bagel bakery and deli chain in the metro area. Expect items like a pastrami, egg, and cheese breakfast sandwich or one with candied salmon, cream cheese, cucumbers, and crispy shallots. Other baked goods include babka muffins and black-and-white alfajores. Beeliner Diner will be filling the empty space at 3648 King St. left by Atlantis in the Bradlee Shopping Center. Not much to tell yet but permits have been filed.
Aldi's is bringing some more new items for our enjoyment in August. For example, L'oven Fresh Keto Friendly Bagels arrive on August 11. Expect them to sell out in a flash. Look forward to Chocolate Chip Cookie Dough. These safe-to- eat little single-serving cups will be in stores on August 25. A sweet treat arrives on August 4, Breakfast Best Cinnamon Blast French Toast Bites. Find it in the freezer section. Foxtrot, a convenience store and grocery delivery service based in Chicago, is coming to the former Le Pain Quotidien space at 701 King St. According to their website, they are a "first-of-its-kind corner store, café and delivery retail market fully evolved for the modern customer." The current order minimum for delivery is $20, and a $3.00 flat fee to help cover operational costs.
Brain Freeze Anyone?
You might consider this bad news because the lines might get even longer than they are already. Thrillist has named several ice cream shops in Alexandria some of the best in the region. Goodies Frozen Custard, 200 Commerce St. Located in the renovated ice house, Goodies is serving up Wisconsin-style frozen custard in a multiple array of Sundays, donutwiches, shakes, and floats. It would be impossible to not include The Dairy Godmother, 2310 Mt. Vernon Ave., on a list of the best frozen treats. A well-loved source of Wisconsin-style custard in Del Ray, the shop features vanilla, chocolate, and a variety of special flavors each day. They also feature specialty sorbets and dairy-free options. Don't forget to pick up a puppy pop or two for your furry friends. Go to Old Town at 726 King St. for a Nicecream. Try their special nitrogen-frozen ice cream in a variety of flavors that change weekly. The scoop is created by mixing the flavors and freezing the concoction with nitrogen right in front of you. Dolci Gelati at 107 N. Fairfax features Italian style gelato and sorbetti in a multiple of flavors. Made from family recipes, this cold treat will transport you to multiple locations around the world with chocolate from Ecuador or Sicilian Pistachio.
Saying goodbye
Sadly, Rosemarino d' Italia at 1905 Mount Vernon Ave. is now closed. According to a posting on Alexandria Curbside, Inside, and More from Edward Camacho, "We are deeply saddened to announce that our 8-year journey at 1905 Mount Vernon Avenue will be coming to an end. We didn't expect to make this tough decision of closing our doors… We'll miss our Delray family and everyone who has supported us."
And don't forget, Alexandria Restaurant Week starts on August 20 and runs through August 29.
Until next time, eat well and enjoy.
Do you have the inside track on a tidbit that belongs in Foody Newz? Email them to [email protected]
ICYMI: LOCATIONS LISTED HERE: It's Alexandria's National Night Out on August 3 –Hot Dogs, Games,…