School News
George Washington Middle Schoolers Return to the Classroom
ALEXANDRIA, VA–As of Tuesday, August 24th, all Alexandria City Public School students are back in session. George Washington Middle School saw the majority of its students through its doors for the first time in nearly two years.
"This is the best day ever," exclaims Superintendent Dr. Gregory C. Hutchings, Jr. "Almost two years of not having kids in our school building, it is amazing."
At George Washington Middle School, students and staff are required to wear masks throughout the day, except when actively eating in the cafeteria. To address the removal of masks in the cafeteria, the school has implemented a "podding" strategy, which groups the children in order to minimize any transmission that might occur and make it easier to contact trace, should a child become infected and/or contagious.
In addition to podding, George Washington Middle School also has in place protocol and safety measures, which include daily check-ins regarding overall health and symptoms; temperature checks; hand washing stations; and daily sanitizing of classrooms and materials.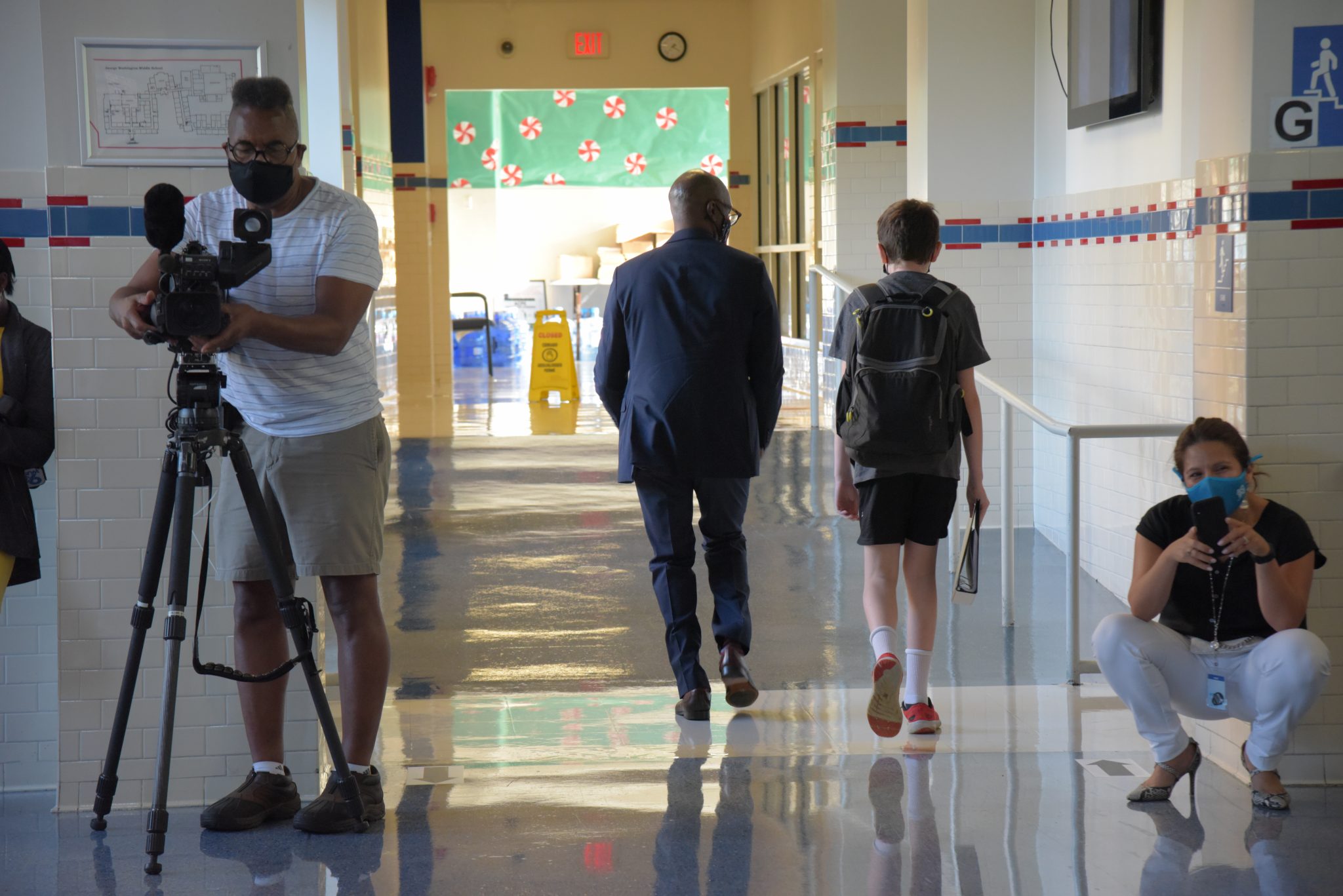 "We are taking every health and safety measure we possibly can with our students," says Dr. Hutchings.
"One thing we have been very adamant about," he continues, "is not having a universal solution because all of our schools are different sizes with different grade levels, student bodies, building structures. So we are making sure that we have guidelines for our staff as well as our schools, but beyond that each school is customizing its own plan."
Even with extensive safety measures and mandates, each parent and child still has the option to enroll virtually, should they so choose. ACPS has partnered with virtual Virginia to provide its virtual learning experience to its students. There are around 500 ACPS students currently enrolled in Virtual Virginia, out of a total of 16,000 students.
"This is a new way of education," Dr. Hutchings states. "Many students have been and are doing well in a virtual setting, so we will keep this option moving forward."
Also moving forward is the discussion of vaccinations, both out in the community and within the schools themselves. Alexandria City School Board Chair Meagan Alderton says, "I think generally in our community [the vaccine] has been very well received. Our community is excited about schools opening but also anxious, so any protocol in place is really helping take that worry away."
ACPS has recently submitted its vaccination survey statistics, but is still waiting for the final results. By October, it hopes to incorporate a pilot program for student vaccines.
Dr. Hutchings concludes, "We are taking all the necessary precautions that we need to provide a safe learning environment."
While there are many aspects of the school year that are uncertain, students, parents, and teachers can move forward—however they may choose—knowing they have the full confidence and support of the ACPS school system.