Community News
Rotary Club of Alexandria Central Celebrates World Polio Day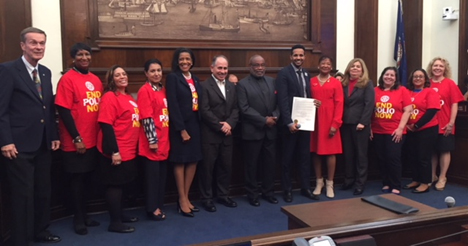 By Elisabeth Johnson, Ph.D.
Alexandria, VA – Each year on October 24, Rotarians worldwide celebrate World Polio Day to promote awareness of poliomyelitis, commonly known as polio. While North and South America, Europe, Southeast Asia, Africa, and the Western Pacific are polio-free, Pakistan and Afghanistan still experience the disease. Until every country is polio-free, all countries are in danger of a resurgence of the disease.
When in 1988 there were nearly 350,000 cases of polio around the world, Rotary International and the World Health Organization established the Global Polio Eradication Initiative (GPEI) to end polio. GPEI has reduced polio cases to fewer than 100 cases in 2 countries today.
Rotary International has committed to raising $50 million per year for polio eradication. The Bill & Melinda Gates Foundation has pledged to match that 2-to-1 for a total commitment of $150 million each year to fund medical workers, laboratory equipment, and educational materials for Pakistan and Afghanistan. The Rotary Club of Alexandria Central is proud to join Rotarians worldwide in support of the 2021 GPEI.
Mayor Justin Wilson has proclaimed October 24, 2021, as World Polio Day in the City of Alexandria. Members of the Rotary Club of Alexandria Central joined the mayor in chambers for the proclamation. Rotary Club of Alexandria Central President Ronal Butler said he was glad the Club could support the 2021 GPEI during the present pandemic, particularly as they couldn't celebrate World Polio Day in 2020.
ICYMI: Alexandria City Council Approves Additional Eviction Prevention Resources