School News
Tech
NOVA and Virginia Tech Celebrate New Partnership and Cybersecurity Program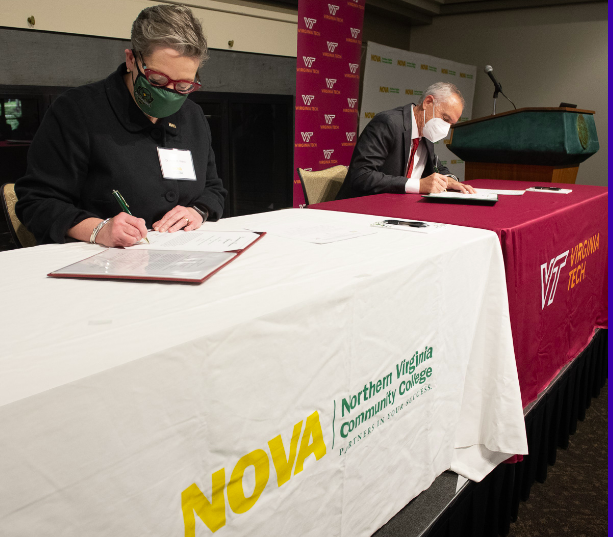 ALEXANDRIA, VA – On Friday, Nov. 12, Northern Virginia Community College and Virginia Tech's Pamplin College of Business held a signing ceremony at the Ernst Center on NOVA's Annandale Campus, announcing their new partnership. The two schools have established the Business Information Technology – Cybersecurity Management and Analytics (BIT-Cyber) program.
Leaders from both institutions, industry professionals, board members, and current students attended the event.
The program gives students a "guided transfer pathway" to work toward a bachelor's in Business Information Technology with an option to major in Cybersecurity Management and Analytics, according to a press release. This marks the first time a Virginia Tech bachelor's degree is available to students outside Blacksburg.
BIT-Cyber gives a unique opportunity to students from diverse backgrounds. It also provides students with a chance to learn in the workplace.
"This exciting new partnership with Virginia Tech builds on our longstanding transfer agreements with the university, increasing access to bachelor's degrees in the high growth, high demand IT field," said Anne M. Kress, President of NOVA. "This transfer pipeline aims to fulfill the region's need for diverse technology talent by enabling our students to continue their education and earn a degree from Virginia Tech while staying close to home."
"For Virginia to remain the best state in the nation for business, we have to address this critical need for cybersecurity professionals," said Robert Sumichrast, Dean of Virginia Tech's Pamplin College of Business. "By streamlining the transfer process and incorporating work-based learning, this model provides a diverse student base the opportunity to engage with the industry's most pressing challenges and industry access to top-notch, emerging talent."
In the future, BIT-Cyber will help expand the cybersecurity field's diversity, making it more effective.
BIT-Cyber's guaranteed admissions agreement was developed this past July.
Alexandria Named Second Biggest Art-Buying City in US by Artfinder