THEATRE
KENNEDY CENTER: Jesus Christ Superstar as Interpreted by Brits
Omar Lopez-Cepero as Judas (that falsetto!) and the experience is worth the price of admission.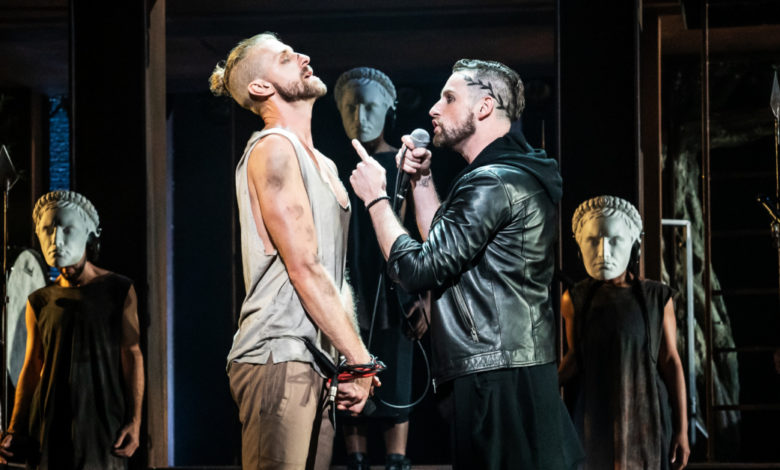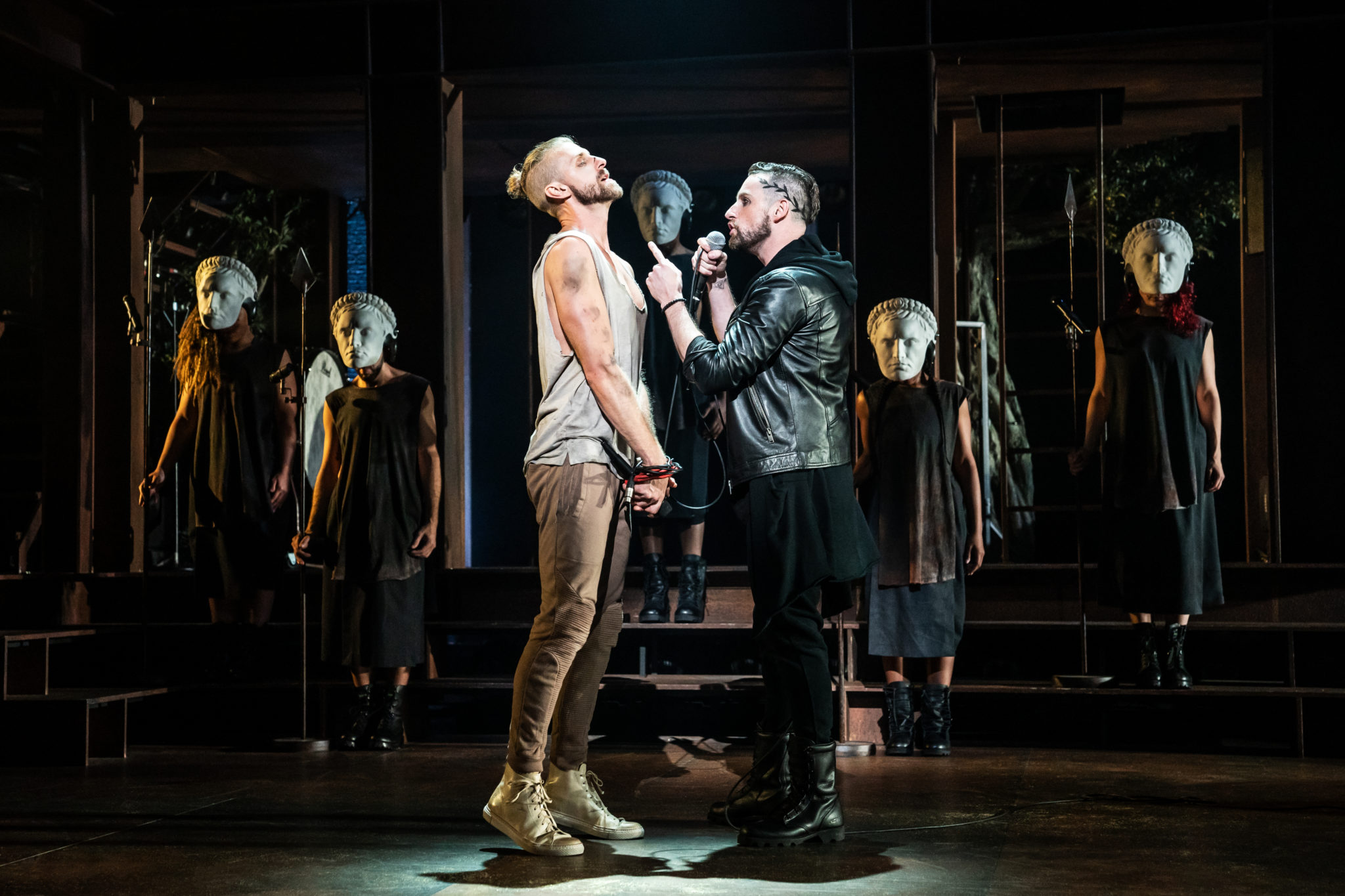 WASHINGTON, D.C. – I was looking forward to this reimagining of Jesus Christ Superstar by two Brits, Director Timothy Shearer and Choreographer Drew McOnie, if only to see how they tailor their work to a British audience. Both gentlemen have earned Olivier Awards (Britain's equivalent to a Tony Award) for their work – Sheader earning four for "Best Musical Revival" to include one for Jesus Christ Superstar and McOnie celebrating two nominations for "Best Theatre Choreography" and winning for In the Heights. Together they spell theater royalty.
So, I was more than surprised when I found some odd choices in the staging of this iconic musical. Don't get me wrong, I can still be found humming and tapping my foot to the glorious Andrew Lloyd Webber score and running home afterwards to listen to the beautiful music days later. But as I watched this production unfold, I found myself too frequently scratching out "Why?" in my notes.
Why did Jesus use a mic stand? Mary and Judas, too. Sometimes, not always. Why did some performers use a hand mic and others not? Utterly mystifying. Why did Jesus sport a hipster man bun throughout his performance, then switch over to a ponytail for the final scene? I wonder because his head shot in the program has him with long wavy blond locks. Wouldn't it have been more apropos to let it hang in loose curls around his shoulders? And, if I may state the obvious, wouldn't it have been the perfect opportunity to cast a person of color in the role of Jesus?
There are more mysteries to unpack here. Why did Jesus carry around an acoustic guitar? If the thought is to depict him as a rock star, wouldn't he play a snazzy electric guitar? Why were the sound levels all over the place? Sometimes singers came across powerfully at other times they could hardly be heard no matter from which area of the stage they were singing. Why did the casting director choose a lead with the weakest voice in the entire cast? And, for Chrissake (pun intended), why did Aaron LaVigne give such a stilted, unemotional performance as Jesus? Poor Mary.
More questions vexed me. What was the point of tossing dozens of glitter bombs at Jesus to sub for the 40 lashes ordered by Pontius Pilate? And, in the strangest interpretation of all, why was Mary (Jenna RubaII) absent in so many scenes usually played by Jesus's side? It was an especially bizarre directorial choice during her solos, especially for the lovely lullaby, "Everything's Alright", when she comforts Jesus urging him to, "Close your eyes, close your eyes and relax, think of nothing tonight," which she sung in her unique, lilting and soulful vibrato. This has been one of the most poignant scenes in other productions as she caresses him to allay his fears.
As for the musical element, 11 onstage musicians in second tier cubicles are joined by members of the Kennedy Center Opera House Orchestra for a concert-like sound. Add Omar Lopez-Cepero as Judas (that falsetto!) and the experience is worth the price of admission. With his epic rocker voice, he brought the house down several times over. Wailing electric guitars and a hot licks sax solo that nearly shook the great Opera House chandelier ratchet up the temperature. As to the choreography, rest easy. McOnie chose ace dancers who sing their faces off.
With Alvin Crawford as Caiaphas; Tommy Sherlock as Pilate; Tyce Green as Annas and an ensemble of 18 singer/dancers.
Through March 13th at The Kennedy Center for the Performing Arts 2700 F Street, NW, Washington, DC 20566.  For tickets and information call 202 467-4600 or visit www.Kennedy-Center.org