THEATRE
Don't Miss the Gripping and Deeply Emotional 'A Monster Calls' at The Kennedy Center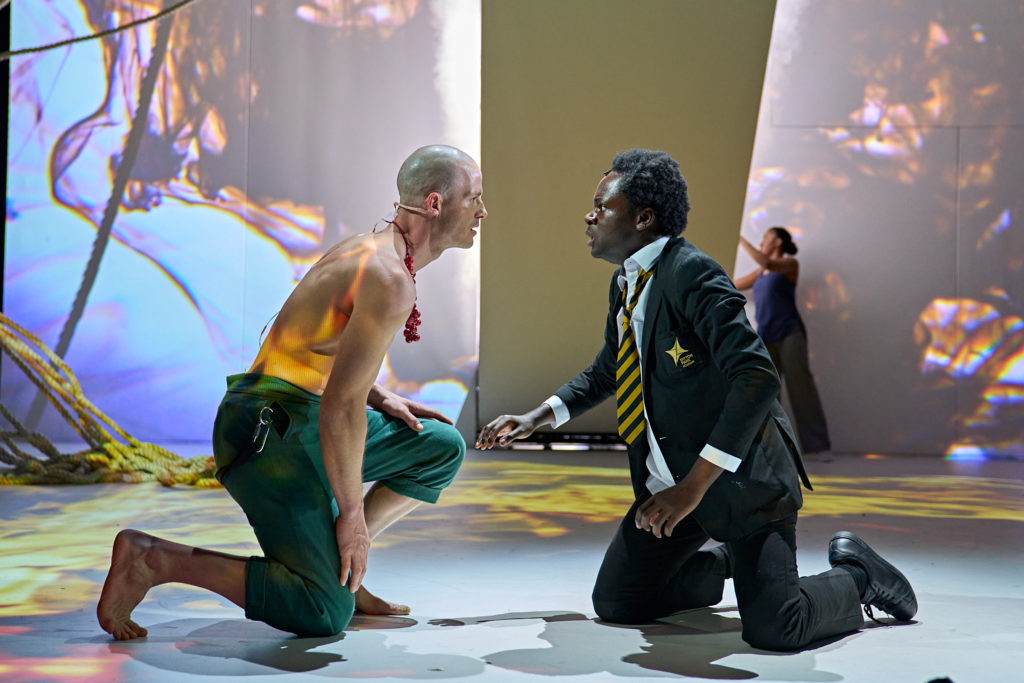 ALEXANDRIA, VA – Don't be confused by the title of this play and the fact that the author, Patrick Ness, a multi-award-winning writer of children and adult literature whose work went into "Spiderman" and "Star Wars," also created and wrote the eight-part series "Doctor Who." "A Monster Calls" is a superbly crafted, deeply emotional thriller about a British teenager whose nightmares and dreamscapes threaten to overwhelm him. It is a story of love and loss, of pain and growth, perfect for teens and adults alike.
While his mother (Bridgette Amofah) endures endless cancer treatments, Conor (Anthony Aje) stumbles through life as if in a daze. It doesn't help that his remarried father (Tom Lorcan) lives thousands of miles away in America. Wracked with the fear of losing her and the guilt of dwelling on her demise, Conor struggles to both process and express his feelings. He marks his days assuaging his pain by allowing the school bullies to beat him up, turning his back on the only friend who wants to protect him. His nights are filled with dread as the Monster (Keith Gilmore) appears to him in his sleep, guiding and filling him with stories of impossible feats and ultimate heroism. "I come to heal you," the Monster proclaims through stories of dragons, princesses and ancient lore that fill Conor's fitful dreams.
Gripping from the get-go, it is at once frightening, powerful, and utterly engaging. You do not want to miss a split second. (I had to remind myself to breathe.) The stirring plot toggles between tender scenes of mother and son, and the intensity of wildly colorful video dream projections. There are explosive sounds, smoke, strobe effects, and eerie (at times Gregorian, at others like Sting) electronika music. This is edge-of-your-seat stuff. I absolutely loved it.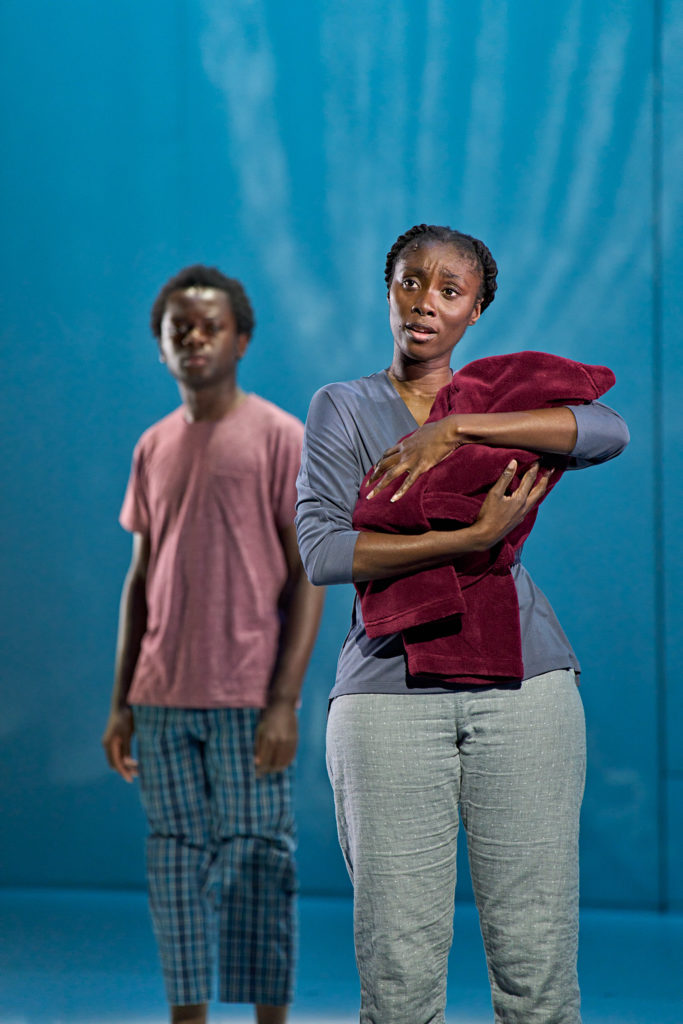 Metaphors abound with the use of massive ropes which dangle from the rafters and substitute for objects and emotions. Cast members use them to encircle their bodies, slide down them, and raise themselves up to the top through creatively choreographed movements. The rest of the cast sits on either side of the stage handing off a bowl of cereal, a quart of milk, a school uniform, and other mundane objects.
Most impressive are the young actor Anthony Aje. whose agility and ability to morph from poignant to terrified is amazingly cool, Greg Bernstein as Conor's brutal enemy Harry, whose anger-fueled rants keep Conor meek, and Keith Gilmore as the Monster, whose physical athleticism and ferocity are galvanic.
This all-British production is highly recommended.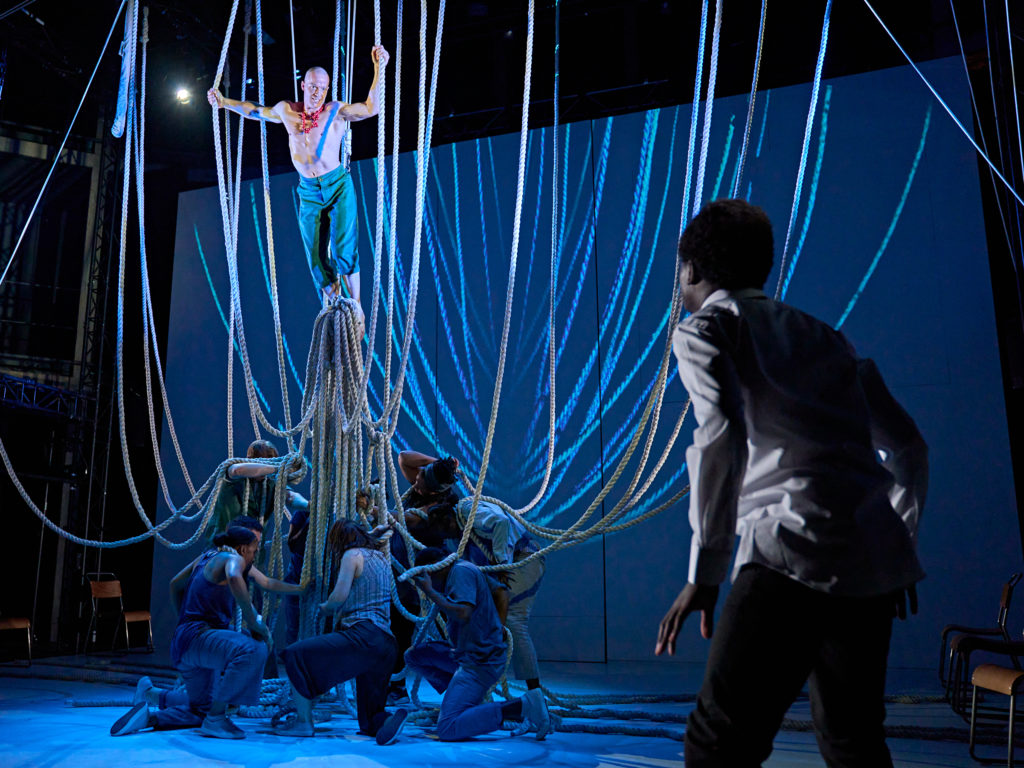 Through June 12th at The Kennedy Center for the Performing Arts, 2700 F Street, NW, Washington, DC 20566. For tickets and information call 202 467-4600 or visit www.Kennedy-Center.org.
With Eleanor Kane as Lily; Sarah Quist as Ms. Godfrey; Lauran Rae as Sully; Anita Reynolds as Grandma; Paul Sockett as Mr. Marl. All cast members except Conor double in the ensemble.
Based on the novel by Patrick Ness; Inspired by an idea by Siobhan Dowd; Adapted by Sally Cookson and Adam Peck; Set Design by Michael Vale; Director/Co-Adaptor Sally Cookson; Composer Benji Bowser; Lighting Designer Aideen Malone; Costume Designer Katie Sykes; Video Designer Dick Straker; Aerial Director Matt Costain; Sound Designer Mike Beer; Puppetry Laura Cubitt; Originating Producer Old Vic and  British Old Vic.