THEATRE
Don't Miss High-Energy "Jersey Boys" at Kennedy Center for Great Tunes and Slick Moves
James Brown Splits and Sharkskin Suits Bring Back the Sixties Vividly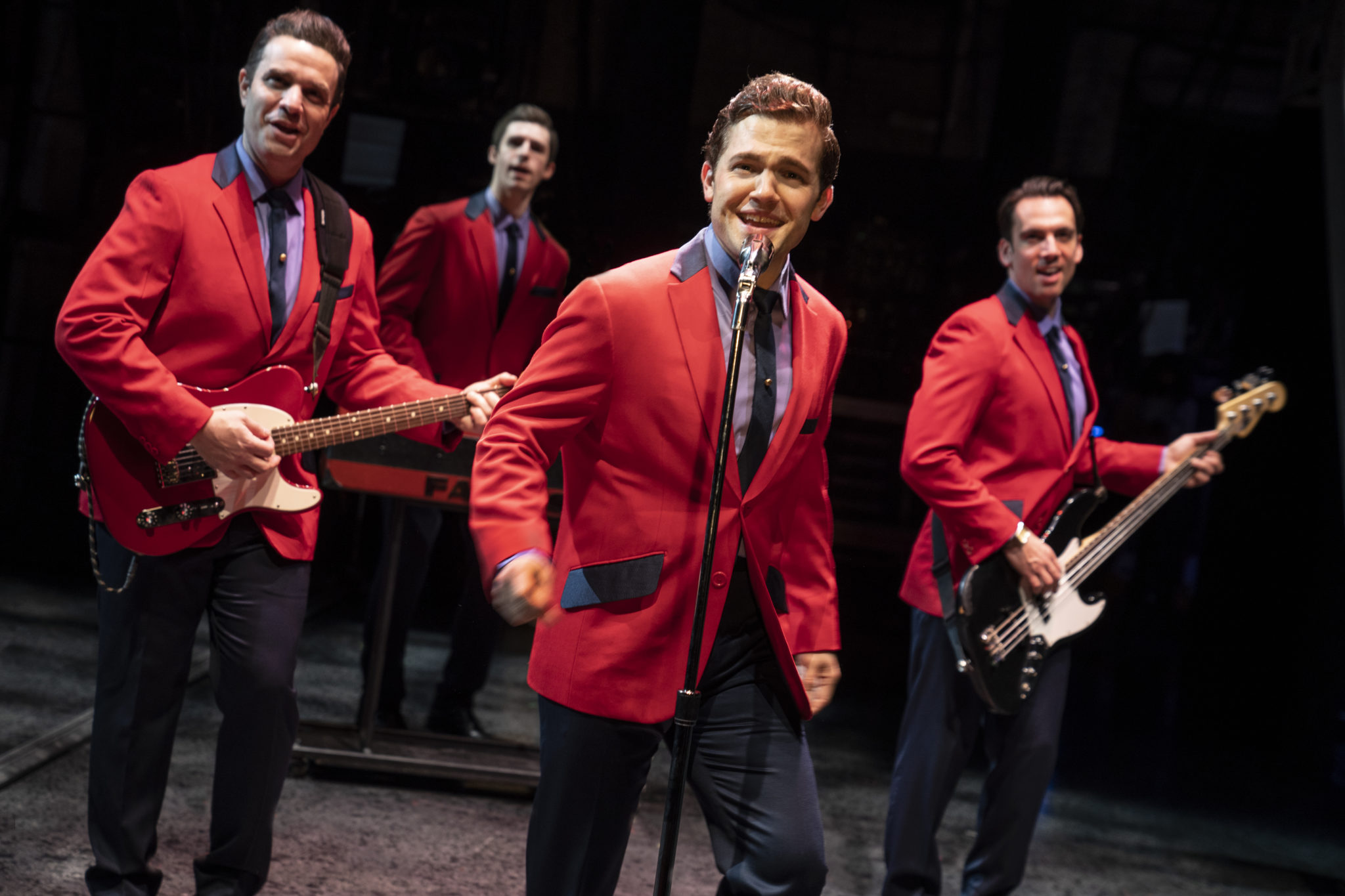 WASHINGTON, D.C. – In an era when Motown was delivering hit after hit and Black singing groups ruled the charts, a quartet of Italian kids from the blue-collar town of Belleville, NJ began their journey to stardom. Most of them were small-time crooks who knew a hot hustle when they saw it. Tommy, one of the original members, was street smart enough to keep the others out of the worst kind of trouble, though most of them wound up serving time. After their release, they re-formed, playing local dives and bowling alleys – an arduous route followed by many bands back in the day. How Frankie Valli and The Four Seasons achieved the pinnacle of success and were inducted into the Rock and Roll Hall of Fame defines this Tony, Grammy and Olivier-award winning musical.
Valli's powerhouse falsetto and the group's sweet harmonies, set them apart from other groups, but success didn't come easily. After years as unknown studio backup singers for big recording artists, the group finally found their identity when a young Joe Pesci (Yes! that Joe Pesci.) introduced them to a little-known singer/songwriter named Bob Gaudio, who became the newest member of the group. Under Producer/Hitmaker, Bob Crewe they subsequently churned out megahits and apart from their personal troubles he kept them on the road and on the charts.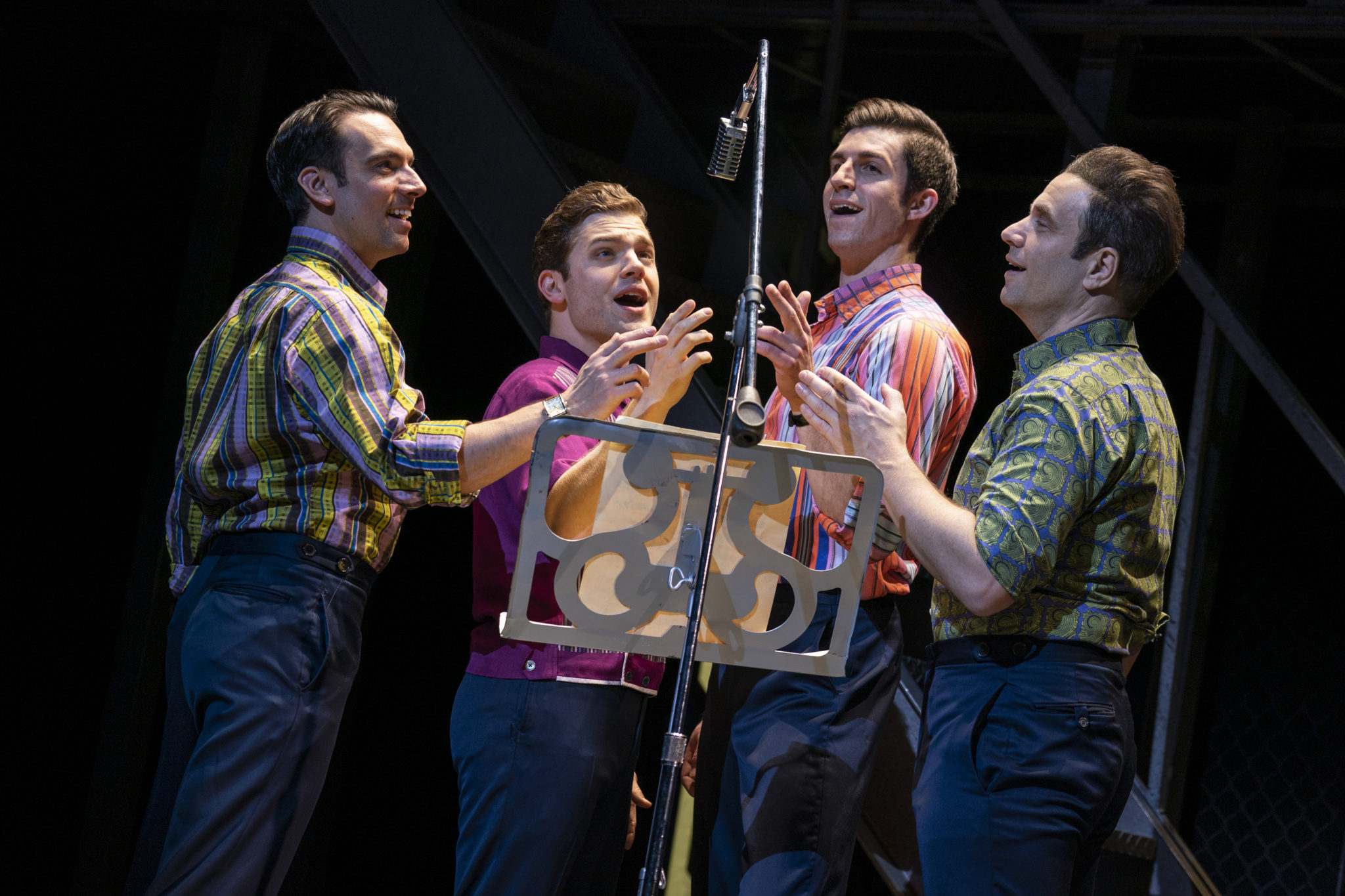 Thanks to Murray the K, a popular New York City radio disc jockey, the group got airplay of their first release "Sherry" which went straight to the top of Billboard's pop charts selling one million records. Soon after, the hits and the fans kept coming – "Big Girls Don't Cry", "Walk Like a Man", "Dawn" and dozens more.
Based on their fortunes and misfortunes and the vagaries of their love lives, the plot is the glue that supports the musical numbers. Fans will hear over two dozen of their biggest hits plus a few of their earliest song stylings. Sung by a quartet whose voices are a pitch perfect match to the originals, it comes off as a Frankie Valli and The Four Seasons live concert.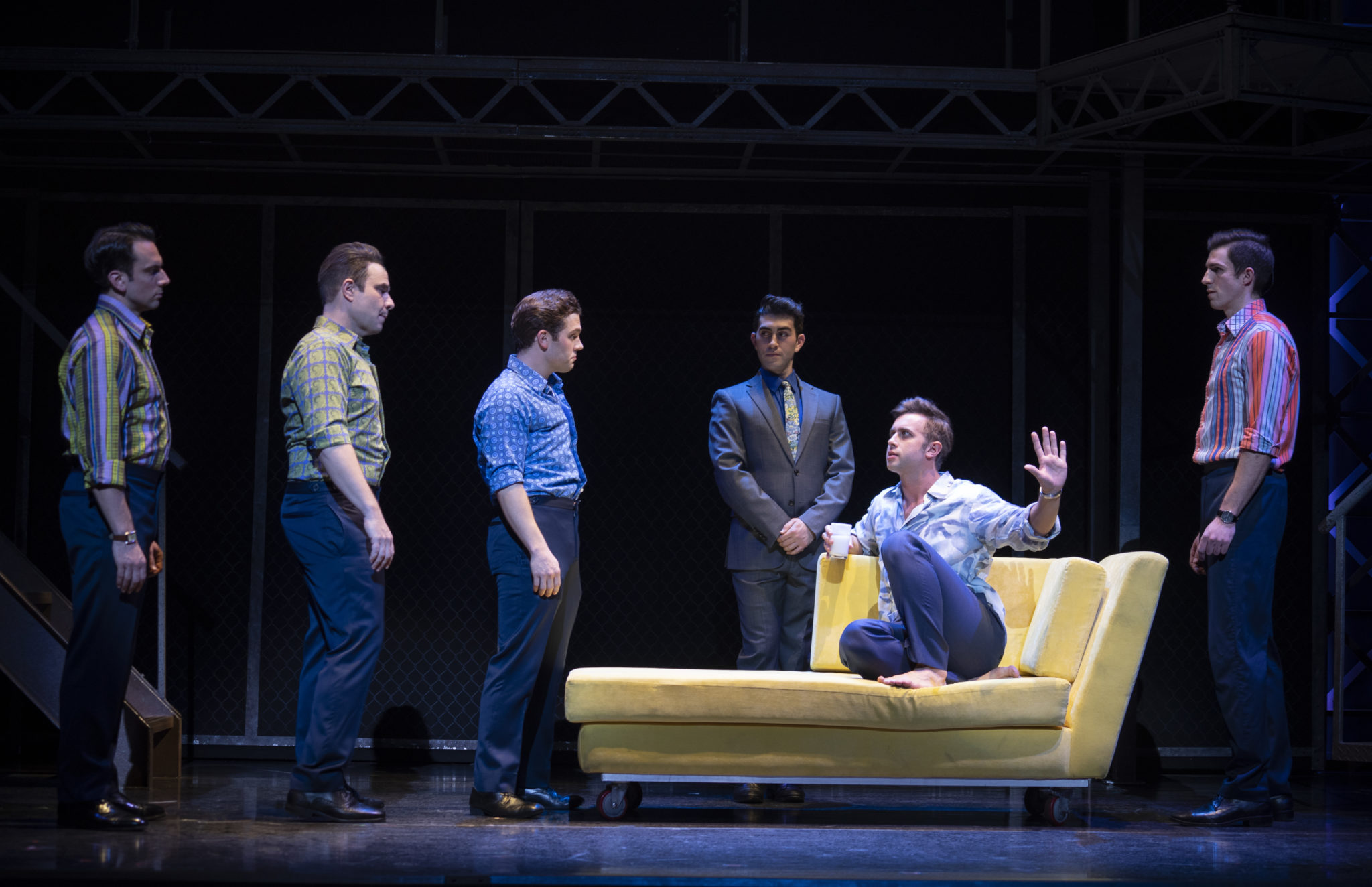 Former original Broadway cast member Jon Hacker plays Frankie. On press night his understudy the fabulous Justin Albinder filled in showing an astonishing falsetto range accompanied by slick dance moves. Expect James Brown-style splits and spins executed in retro sharkskin suits. All the band's songs are choreographed as are those for a sexy mini-skirted girl group that accompanies the boys on tour. As Tommy puts it, "We put Jersey on the map."
A high energy concert-style musical set in the retro 60's and 70's music scene, it features their greatest hits.
Highly recommended.
(Note: This show is appropriate for ages 12+ only due to strong language throughout.)
Directed by Tony Award-winner Des McAnuff; Book by Marshall Brickman and Rick Elice; Choreographed by Sergio Trujillo; Music by Bob Gaudio; Lyrics by Bob Crewe; Lighting by Howell Binkley; Costume Design by Jess Goldstein; Orchestrations by Steve Oric, Scenic Design by Klara Zieglerova; Sound Design by Steve Canyon Kennedy. The Jersey Boys Orchestra is directed by Noah Turner and Anthony Brindisi.
Starring Sean McGee as Bob Crewe/Donnie/Accountant/Finney/and others; Matt Faucher as Nick Massi; Eric Chambliss as Bob Gaudio; Devon Goffman as Tommy DeVito; Katie Goffman as Mary Delgado/Angel. The rest of the cast play multiple roles.
Through June 26th at The Kennedy Center for the Performing Arts, 2700 F Street, NW, Washington, DC 20566. For tickets and information call 202 467-4600 or visit www.Kennedy-Center.org
For more local theatre reviews, see the Zebra Theatre page.