THEATRE
Arena Stage: Riveting New Musical "American Prophet – Frederick Douglass in His Own Words" is Must-See Tribute To Great Orator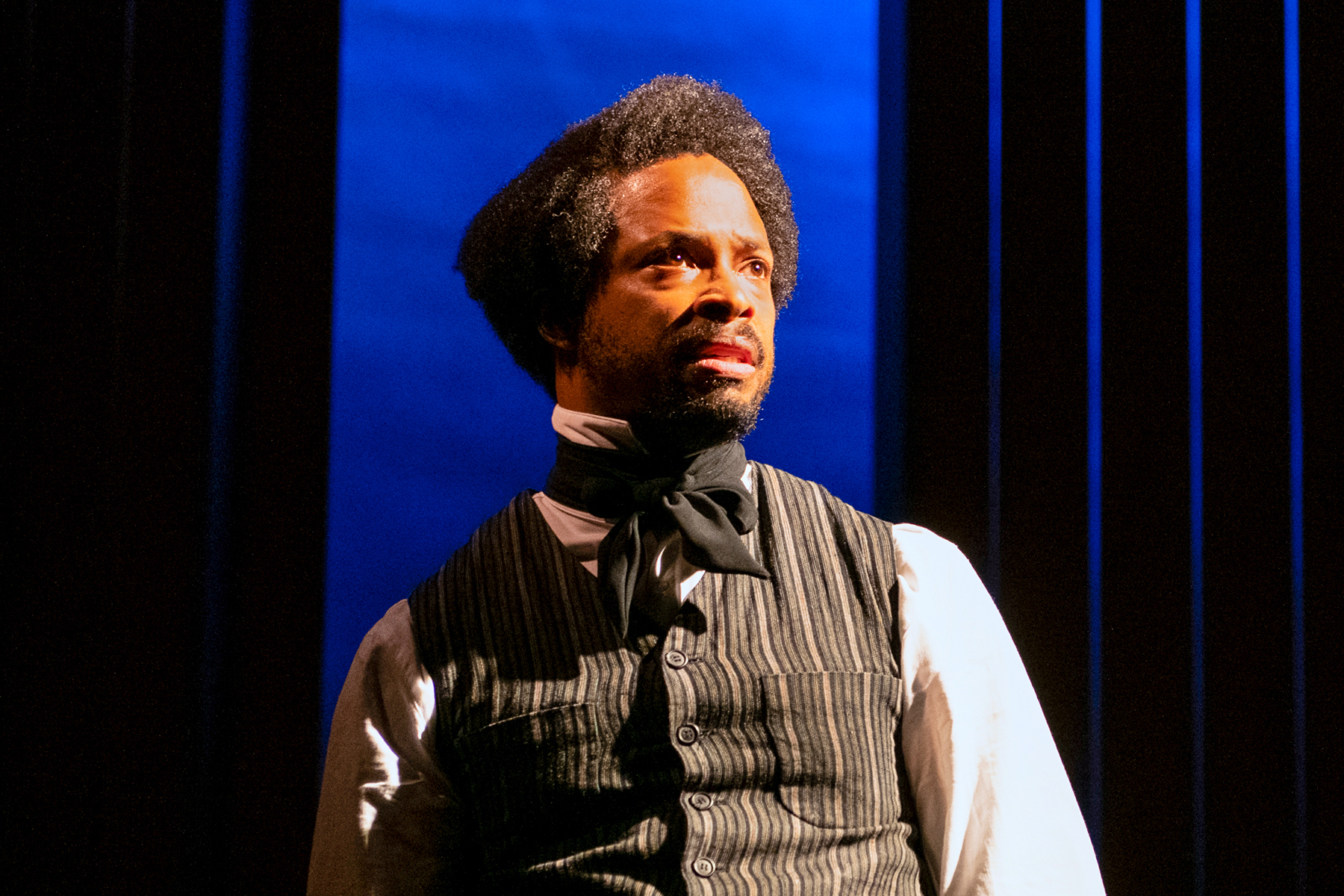 WASHINGTON, D.C. – Who could have imagined Frederick Douglass's words set to music? Two men did. Director Charles Randolph-Wright (recipient of Arena's 2022 American Artist Award), who co-wrote the book with lyricist and composer Marcus Hummon, believed it could be done, and to that end, the two men have put forth a sweeping historical musical that will henceforth be a must-see tribute to the great orator's legacy.
American Prophet – Frederick Douglass in His Own Words draws from Douglass's powerful speeches and writings the very words that inspired men and women to rise up against slavery and fight for their freedom against the cruel yoke of racism. A former slave who was later manumitted, Frederick became lauded and revered in England and America. Along with the critical support of his beloved wife, Anna, he brought pressure upon the U. S. government to liberate the slaves. Douglass achieved so much notoriety and influence that he was ultimately granted an audience with President Lincoln to whom he presented his non-negotiable demands. Fact: Before freeing the slaves, Lincoln's original plan was to "send the slaves back to Liberia – to their own native land."
Capturing Douglass's power in song would seem insurmountable, but Hummon gifts us with sweeping orchestration, impassioned ballads filled with the sweet-sounding harmonies of a gospel choir and a few well-known spirituals. The story guides us sequentially through the horrific realities of the American slavery system and up to the Emancipation Proclamation.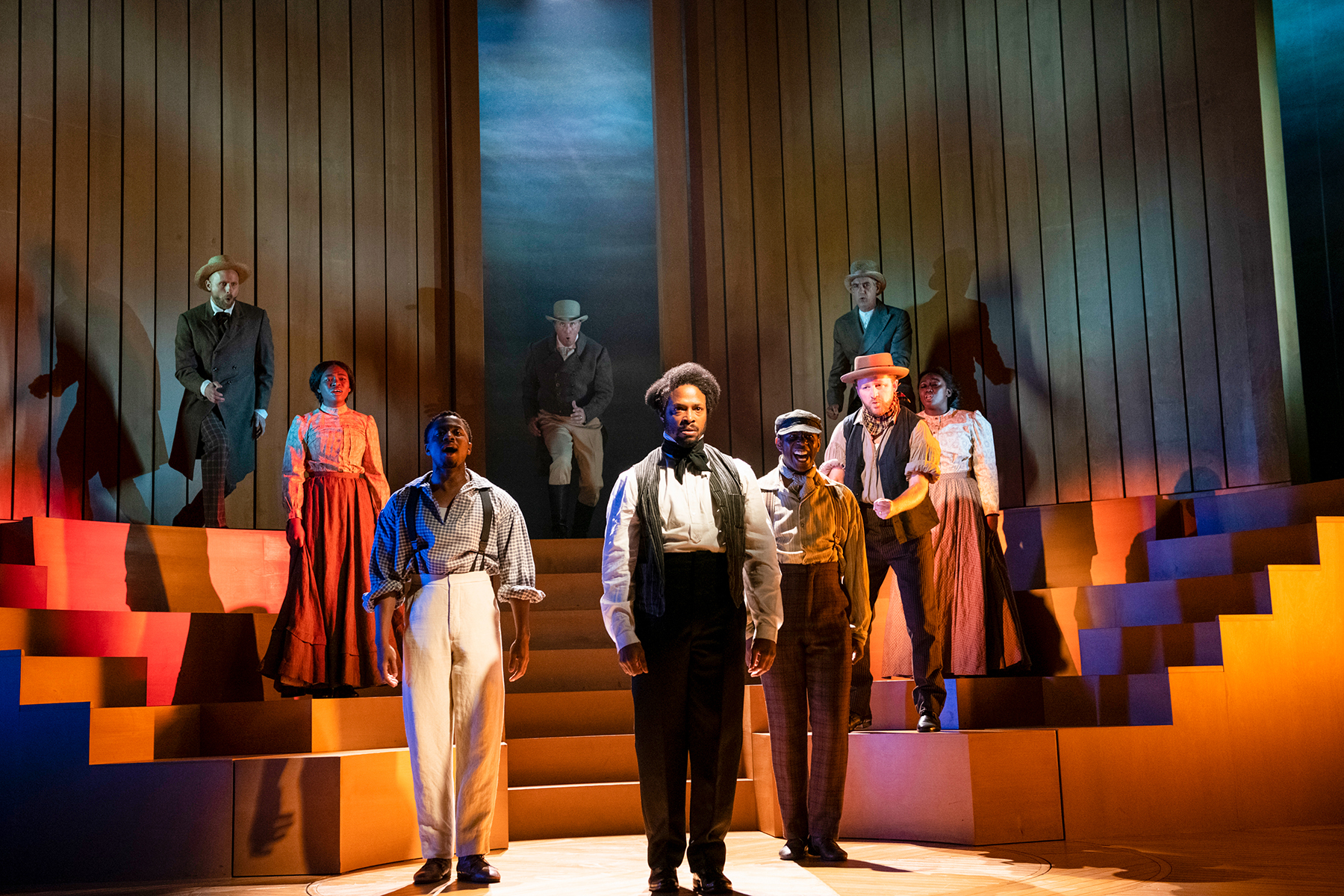 Beautifully cast with 23 musical numbers, its message is delivered both emotionally and at times tenderly. Cornelius Smith, Jr. as Douglass gives a commanding performance with his riveting delivery and smooth baritone voice. Kristolyn Lloyd as Douglass's wife, Anna Murray Douglass, is the perfect complement to Smith with her pitch-perfect voice as melodic and soothing as a lullaby.
Other characters who appear throughout his life are Lincoln (Thomas Adrian Simpson) and his wife Mary Todd (Erica Aubrey), John Brown (Chris Roberts), the noted firebrand of the failed Harper's Ferry raid, and William Lloyd Garrison (also Thomas Adrian Simpson), Douglass's first publisher and head of the Anti-Slavery Movement. It is entirely possible to envision a wide audience for this important era in our American history.
Randolph-Wright and Hummon worked with the Douglass family who were adamant about recognizing Anna's not inconsequential contribution to the cause. In Anna's early solo "Your Star" we are reminded in both words and song how she helped him escape the bonds of slavery. "Frederick's ability to move to freedom was all her doing. I feel passionate about everything," Hummon said, "but I feel intensely passionate about the Anna part of the experience." Both men have expressed the relevancy of Douglass's words in the face of the country's recent events.
With Kurt Boehm as Reverend Gore/Edward Covey/Sec. Seward/Ensemble; Cicily Daniels as Betsey Bailey/Elizabeth Keckley/Ensemble; Christopher B. Portley as Demby/Ensemble; Correy West as Bill/Garnett/Dance Captain; Curtis Wiley as Gabe/Ensemble; Kanysha Williams as Sally/Ensemble.
Assistant Director Allyson Tucker; Musical Director/Orchestrations/Conductor Joseph Joubert; beautifully choreographed by Lorna Ventura; Set Design by Dan Moses Schreier; Dramaturgs Jocelyn Clarke and Otis Ramsey-Zoë.
Exclusively in the Ensemble – Carolyn Agan, Zoë Bryant, Christopher Michael Richardson and Brendon Schaefer.
Highly recommended.
Through August 28th at Arena Stage, 1101 6th Street, SW, Washington, DC 20024. For tickets and information visit www.ArenaStage.org or call the box office at 202 488-3300.
For more local theatre, check here.
This article has been updated. An earlier version incorrectly stated that this play is one of Arena's American Power Plays. It also referred to Douglass's wife, Anna, as Mary in one paragraph.