Community News
Alexandria Presbyterian Church Opens Doors to Its New Home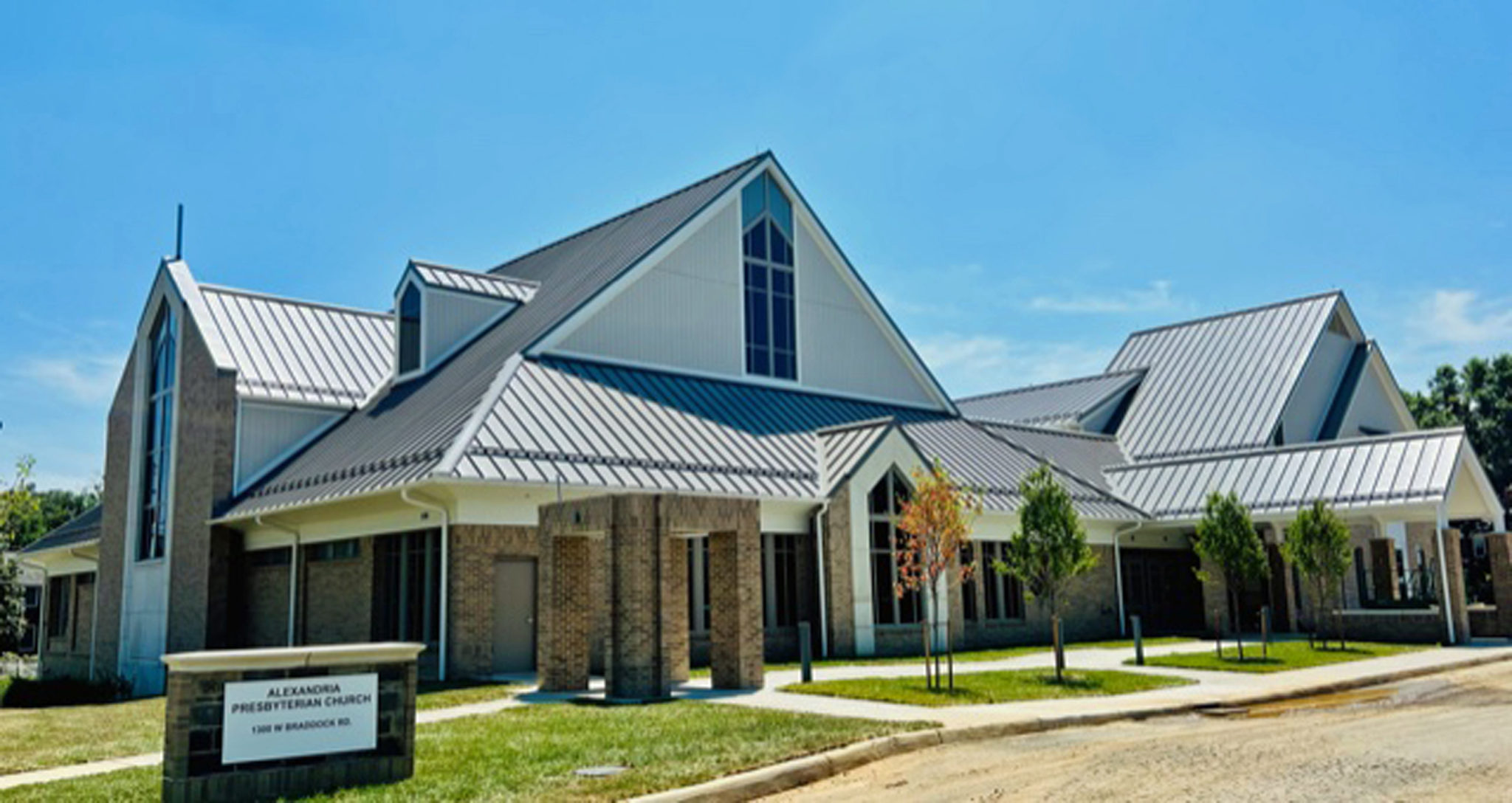 Alexandria, VA – The Alexandria Presbyterian Church has opened the doors to its new home at 1300 W Braddock. After years of renting space borrowed from or shared with other churches, the APC now has a building to call its own.
In 1986, APC started by renting space in the Campagna Center building for six years. Current Senior Pastor Tom Holliday, who joined the church in year four, has witnessed and encouraged the church through many transitions: from six years at the Campagna Center to five years at the Community Praise Center on Russell Road, where APC shared space with the Seventh Day Adventist service, to now, having just concluded a 25-year lease at the Del Ray Baptist Church.
"We've been renters this whole time," says Pastor Holliday, "and we finally got in a position to build our own." That opportunity appeared seven years ago when the Alexandria Bible Church dissolved and offered APC their space. Although the existing church building was too small to accommodate APC's current and future needs, the property could accommodate a newly constructed worship center.
"We bought the Alexandria Bible Church property when they had to close their doors. They offered to sell to us at an incredible price. They had constructed their building in 1952, so that cornerstone is an homage to them."
Pastor Holliday mentions that when you walk through the new front doors, you will see two dates etched in stone: 2022, the year the new APC was built, and 1952, the year the Bible Church was built.
When construction began on the new APC in 2021, plans were grand and prices were great. Because the design was set, parts were ordered, and building was underway, COVID-19 surprisingly did not derail the project much. Only four months behind schedule, the APC is finally finished.
Walking into the main hall, you are enveloped in natural light throughout the 37,000-square-foot building. Turn left into the worship hall, and that light gets brighter.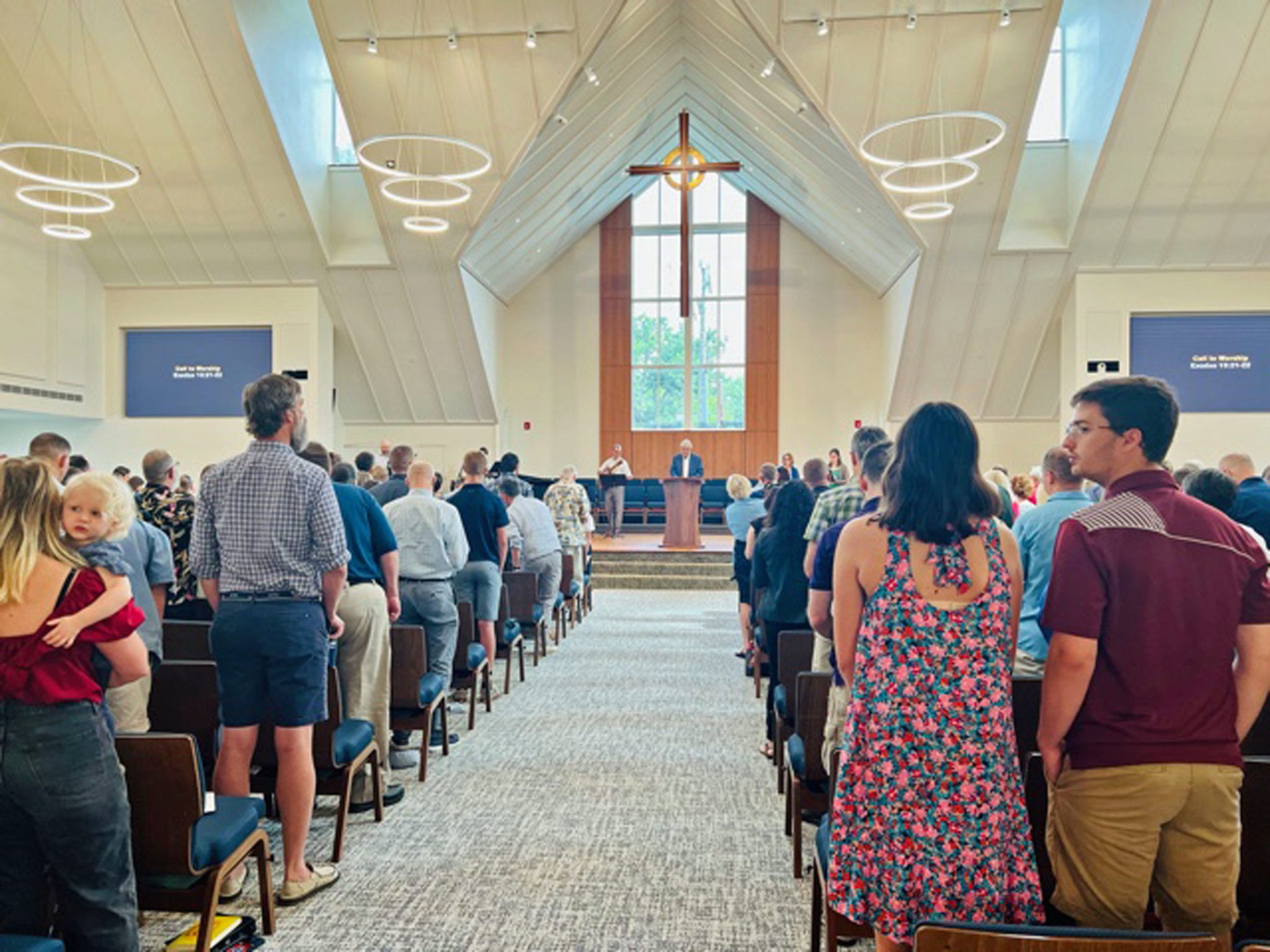 "We have always seen ourselves as a very close fellowship and relationally driven," says Pastor Holliday. "We wanted a sanctuary where everyone could be close." The sanctuary has floor-to-ceiling windows, gorgeous round light fixtures, and a cross with golden detail hanging from the ceiling above 500 chairs positioned in a semi-circle rather than a long and narrow pew-style sanctuary. "We wanted something where we could feel more like a family and I think this achieved it," he says.
The administrative offices are beyond the sanctuary on the first floor. The second floor houses gathering and group spaces for youth and teen classes, potluck dinners, and entertainment. The basement holds a smaller worship area with another circle of chairs mimicking the sanctuary, a stage, and a piano, which can be used for any number of activities. The basement also contains a fully equipped industrial kitchen, nursing suites, and daycare rooms. Televisions line each wall so members will not miss a moment of service even if they are away from the sanctuary.
This space will be a new home to all members, old, new, prospective, or just visiting.
When Pastor Holliday joined, the APC consisted of approximately 30 people. "Today, we are about 500," he says. "Being in the D.C. suburbs, we are a transient community. We turn over 50 percent of our membership every four years, but our core values have remained the same. That is what is most important."
With their pristine new space in the center of the city and in perfect proximity to Arlington, D.C., and other surrounding neighborhoods, the Alexandria Presbyterian Church continues welcoming new members through its doors.
The first service in the new building was held on July 30. "The first service in our new building was an answer to many prayers by the people in our congregation! The service was filled with robust singing, the preaching of God's Word, and people filled with joy and thankfulness for God's provision, says Pastor Holliday. "This is a significant time for our church, and our prayer is that APC will be a blessing to our city in many ways."
On September 11, APC will hold grand opening services at 9 am and 11 am. A fellowship time with refreshments will occur at 10:15 am, and Sunday evening services will follow from 5-7 pm. Classes for children, teens, and adults are available.
See the Worship Directory on page [to come during proof] or alexandriapres.org to learn more.
ICYMI: Alexandria Choral Group for Older Adults Seeking Participants for Fall Season