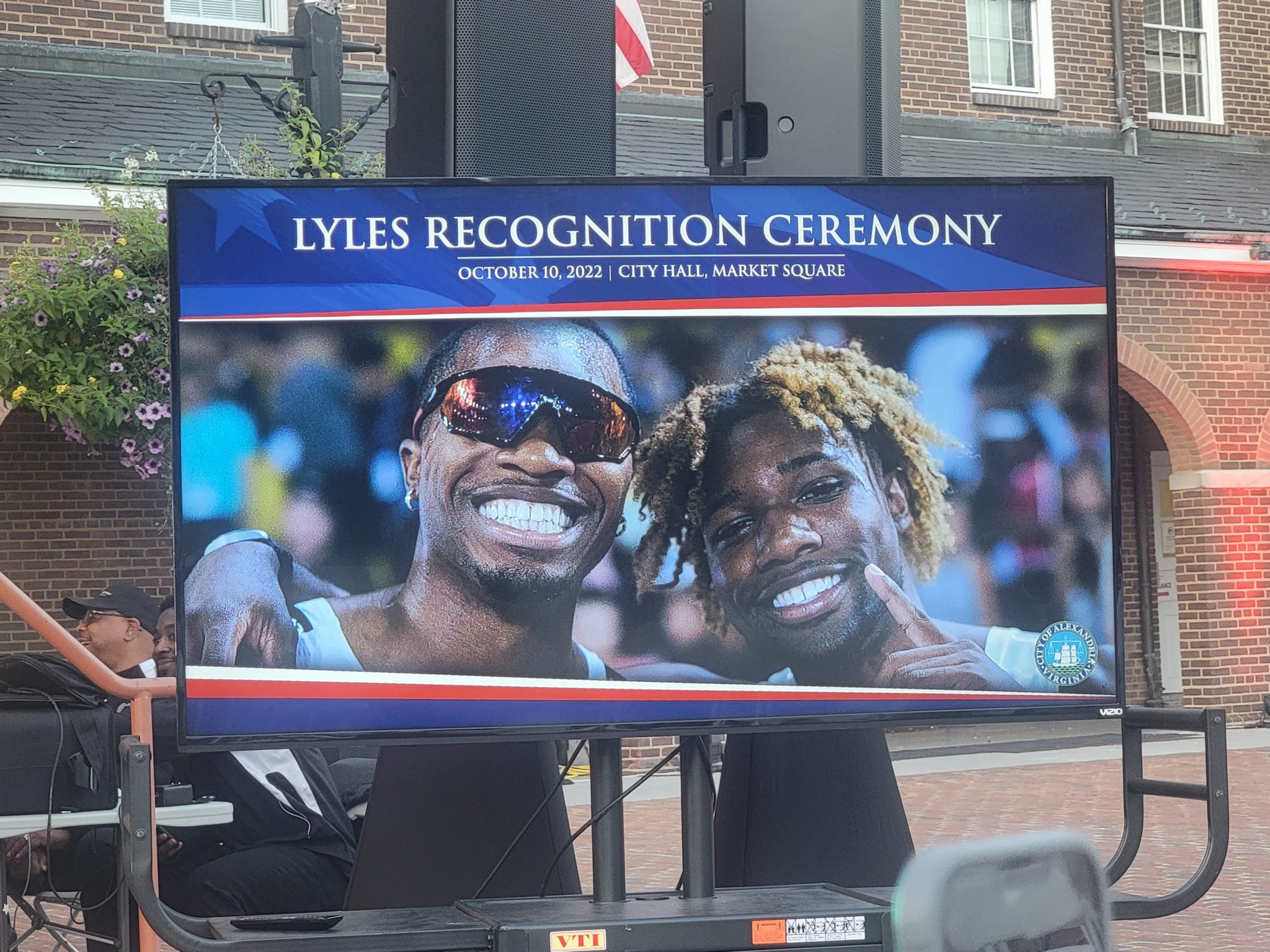 Alexandria, Virginia– There was much hustle and bustle at Market Square on Monday, Oct. 10, and it wasn't just because of the beautiful fall weather and the national holiday. 
The city of Alexandria proudly honored brothers, olympians, and native Alexandrians Noah and Josephus Lyles. The ceremony began when Master of Ceremonies Jim Gibson, known fondly as "the voice of the Titans," introduced distinguished guests, including Mayor Justin Wilson, Alexandria City Public Schools Interim Superintendent Dr. Melanie Kay-Wyatt, School Board Chair Megan L. Alderton, and Alexandria City High School Principal Peter Balas. 
The Lyles brothers were surrounded by family and friends, other Alexandria officials, and members of the community as Mayor Wilson read a proclamation and handed them the Key To The City. Along with the accolades and speeches was the presentation of the colors by the Alexandria City High School ROTC and the national anthem played by the ACHS marching band.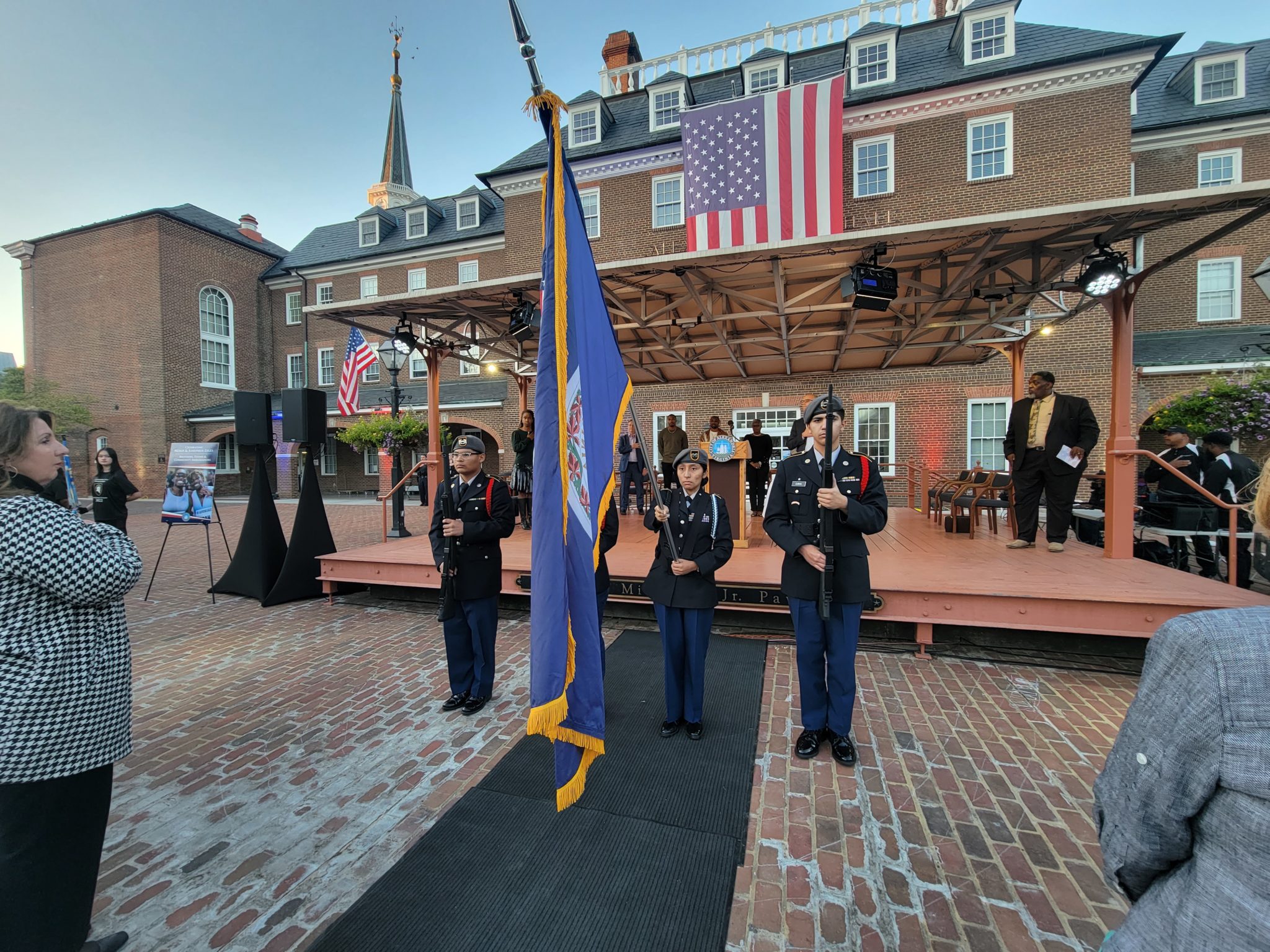 The Lyles Brothers are community ambassadors, who have been running and jumping their way to greatness since their days at Alexandria City High School, where they were star athletes in track and field before becoming professional athletes after graduation. Fast forward a few years and several more titles under their belt, including World Titles, National Championships, and Olympic Medals, they continue their athletic pursuits as well as mentoring young athletes in communities across the country. Noah earned a Bronze Medal in the 2021 Olympics and both he and Josephus have shattered records running the 200 meter, running under 20 seconds. Between the two of them, they have more than their fair share of sports milestones to boast about.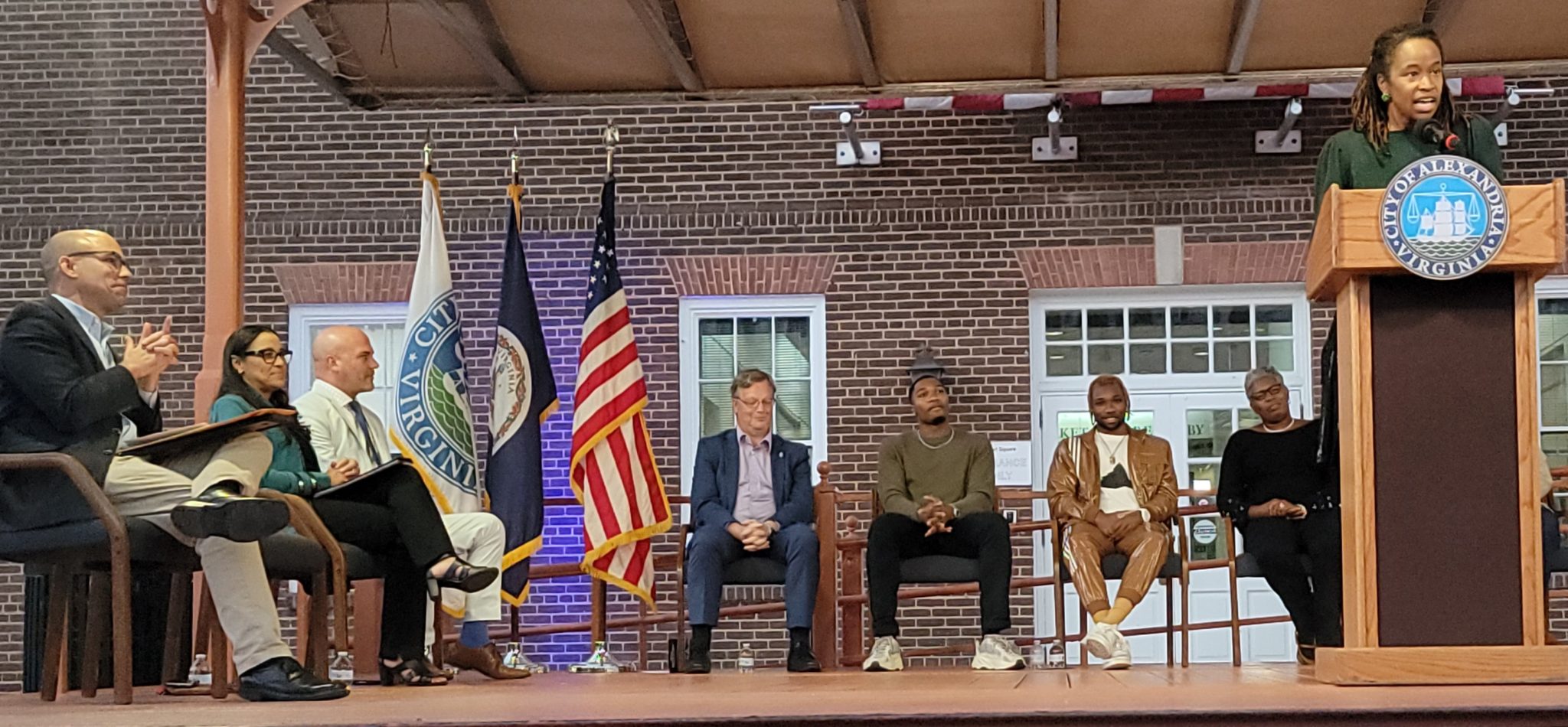 However, bragging isn't their style and they make time every year to return to their Alma Mater to speak with the ACHS student body. 
School Board Chair Alderton described, "They have character that will stand the test of time." 
Keisha Cain, Noah and Josephus's mother, was praised by Mayor Wilson, who spoke of her amazing dedication and the extraordinary job she did of raising such accomplished and humble young men. Alderton also expressed her appreciation for the kindness the family has shown to ACHS students.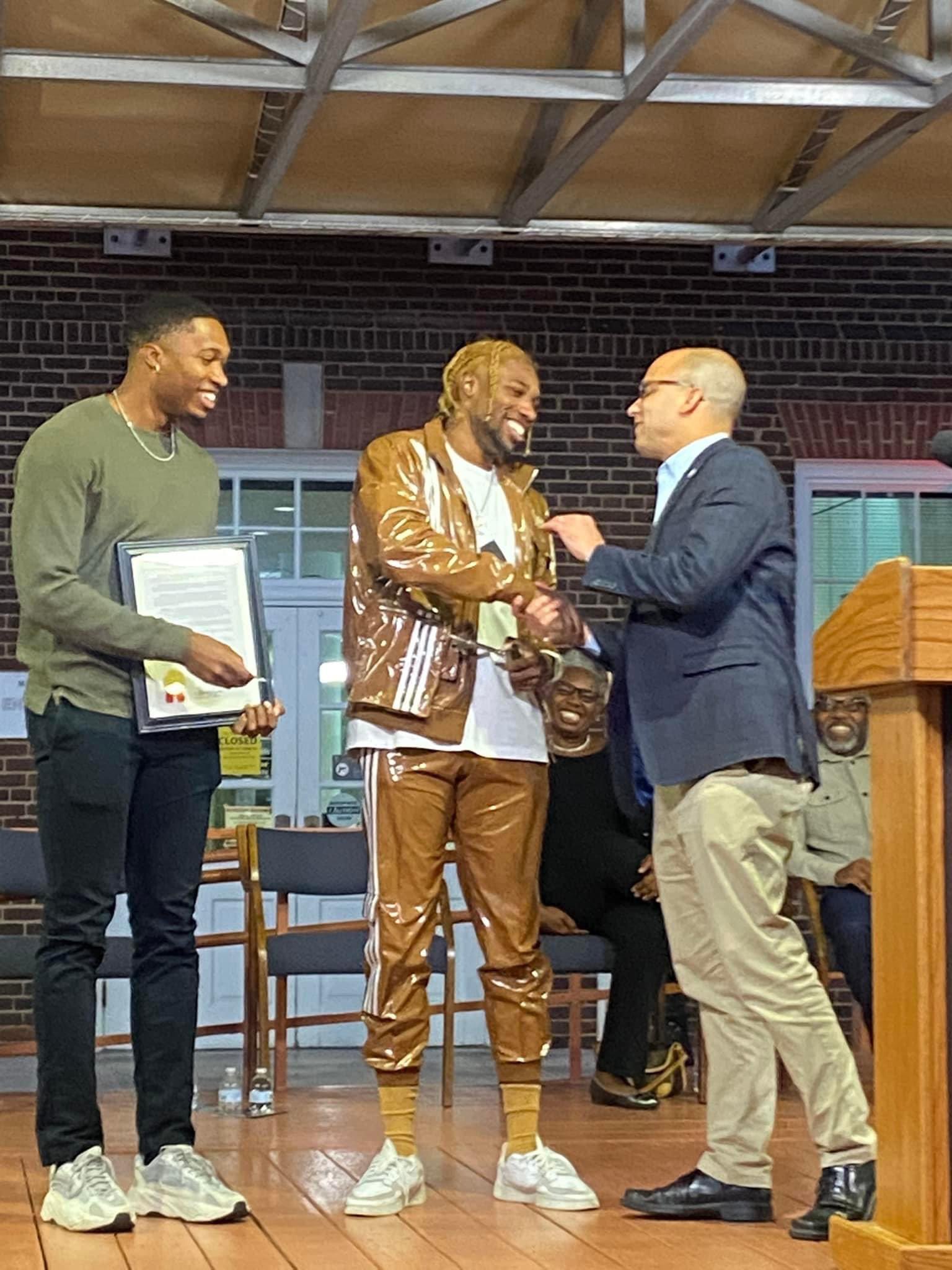 October 10th is also World Mental  Health Day. The overall objective of this day is to encourage awareness of mental health issues around the world and to mobilize efforts in support of mental health. Each speaker commended the strides that Noah Lyles has made to battle the stigma of mental illness. He openly shares about his struggles with anxiety and depression and encourages anyone dealing with these issues to "speak up and get therapy." He has been vocal about mental health and uses his platform to spread awareness. His mission is to create empathy and understanding for those dealing with mental health issues.
The Lyles Brothers Sports Foundation (LBSF), a nonprofit established in 2020, is perhaps one of  their greatest and most important accomplishments. Its mission states "the purpose of the foundation is to empower youth through the advancement of health and wellness in communities nationwide. The LBSF provides educational information on becoming better athletes, offering aid to young athletes, making the next generation better."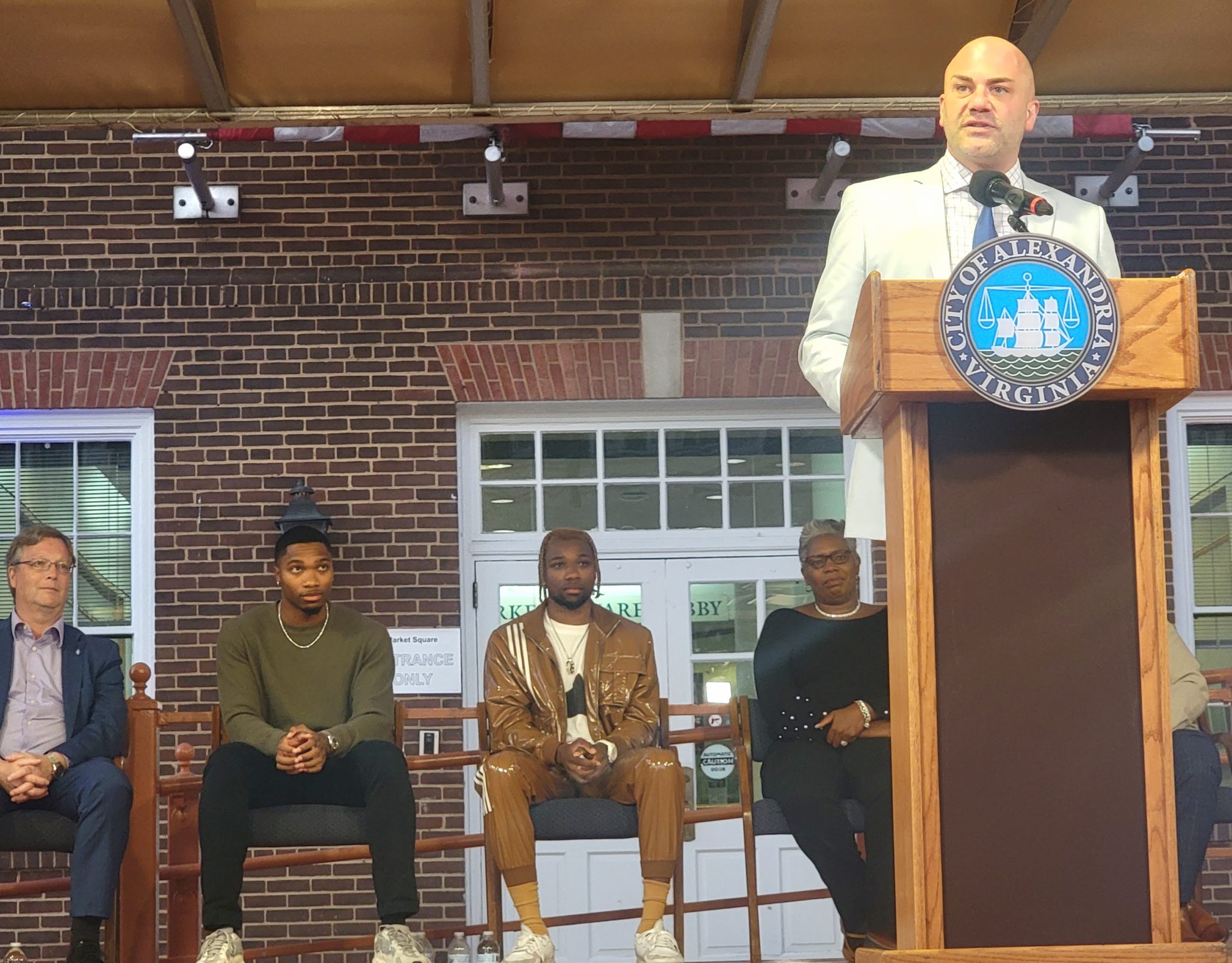 Through the foundation, Noah and Josephus have donated $100,000 in Adidas sports attire to athletic teams across the country. ACHS  will directly benefit from the foundation work as the brothers continue to give back to the community and to the school that is so near and dear to their hearts. The foundation works to inspire and encourage young athletes to take care of their mental health as well as their physical health. It focuses on education, nutrition, psychology, and college recruitment. The idea of a "safe space where students can share without judgment" is a priority when working with schools and youth athletics. 
It was obvious to anyone in attendance at Monday's event that the legacy of the Lyles brothers will not only include sports milestones and record breaking, but their undeniable dedication to young athletes, mental health awareness, and giving back to the community where they started their journey. The special bond that Noah and Josephus share, along with their unwavering support for each other is as great as any of their athletic achievements.  
Anyone wishing to make a donation to the Lyles Brothers Sports Foundation Inc., can contact [email protected] or call 1-704-277-2036.
[SEE ALSO: Where It All Started: Noah and Josephus Lyles Return Home to AHCS]