THEATRE
Tina – The Tina Turner Musical is An All-Out Rock Concert of Electrifying Proportion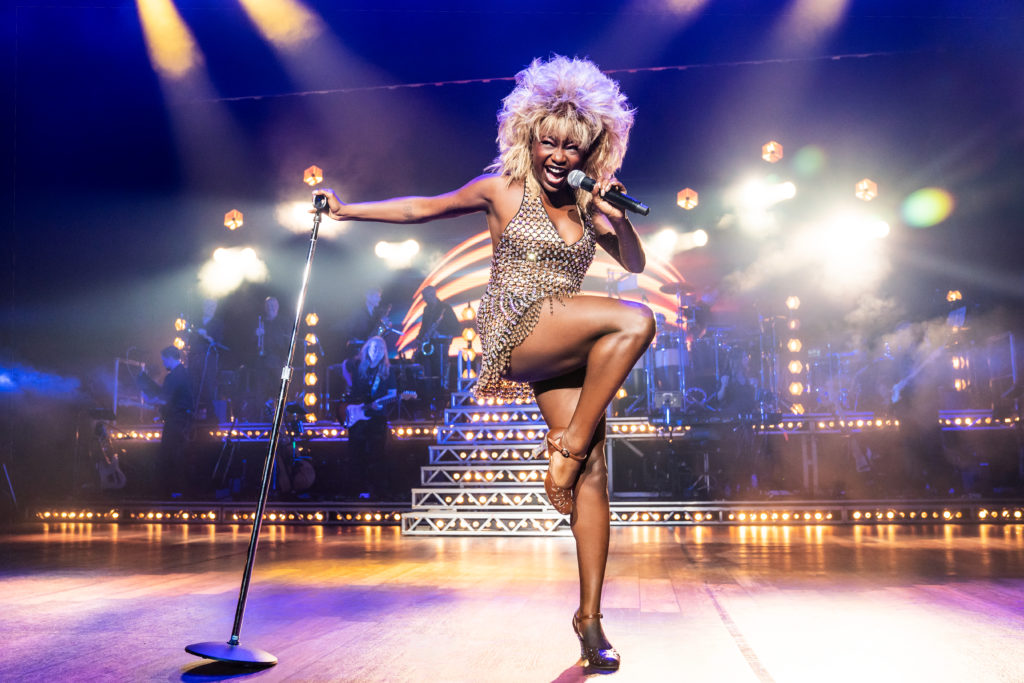 WASHINGTON, DC – Anyone who has followed the struggles of Tina Turner's young career launched by, and with, her abusive husband Ike Turner with The Ike and Tina Turner Revue to the moment she rejects his domination to forge her own path to stardom knows this story. Coming off its successful Broadway run, is the show that brings the story and the music to the stage – live and in vivid color.
Written by Pulitzer Prize winner Katori Hall with Frank Ketelaar and Kees Prins and directed by Phyllida Lloyd, Tina – The Tina Turner Musical follows little Anna Mae Bullock's early life growing up poor in 1950's Tennessee to her marriage to Ike Turner to the heights of her stratospheric solo career. The musical follows that tragic arc from the choir-singing daughter of a pastor to her early discovery of Buddhism and longing for recognition. The plot echoes her autobiography, "I, Tina: My Life Story" in that it catalogues the racism and marital strife she suffered before finding true love and becoming the 12-time Grammy Award winner and her comeback title as the "Queen of Rock n' Roll".
By the time Tina signs with Phil Spector and is backed by his famed Motown "Wall of Sound", she is well on her way to leaving Ike after two kids and a 16-year abusive marriage to record the songs that would cement her career with "Proud Mary" and "I Don't Want to Fight No More". Twenty-four phenomenal numbers, a fourteen-piece rock band, four Ikettes and I couldn't count how many dancers turn this rock musical into an all-out rock concert of electrifying proportion. Audience members were literally jumping out of their seats from the energy and power pouring off the stage. If you've ever seen Tina perform either in film or live, this is what it feels like – nothing short of a live concert featuring the greatest hits of her career.
Songs like "What's Love Got to Do With It", "Private Dancer", "River Deep – Mountain High", "Disco Inferno", "I Want to Take You Higher" and "We Don't Need Another Hero" showcase the talents of the two leads that play Tina – Naomi Rodgers (who played Tina on press night) and Zurin Villanueva. When you see the musical, you will understand why there are two leads. No one actress could fulfill this role night after night. I couldn't help wondering if the dramatic scenes, the intense vocals and the hard-driving, sweat-inducing dance numbers would last until the finale.
Set and Costume Designer Mark Thompson accurately channels each decade from the 1950's backup singers' demure dresses to 60's sequined bell-bottoms and puffy sleeves, to gold lame and the flash of Tina's well-known crystal-laden, fringed mini dresses. His sets are an eye-popping extravaganza of mood and moment alongside the rock concert vibe and laser lighting designed by Bruno Poet with noted Choreographer Anthony Van Laast nailing the popular dances of each era.
Standouts are six-time solo Grammy nominee Ann Nesby – as Gran Georgeanna; Ayvah Johnson – a tiny thing with a huge voice who plays Tina as a child; Roz White – well-known local actor as Tina's mother Zelma Bullock; and Garrett Turner as the brutish, drug-addled Ike Turner.
Original Musical Supervision, Arrangements and Additional Music by Nicholas Skilbeck; Sound Design by Nevin Steinberg; Hair, Wigs & Makeup by Campbell Young Associates.
Highly recommended!
Through October 23rd at The National Theatre 1321 Pennsylvania Avenue, Washington, DC 20004. For tickets and information call the box office at 202 628-6161 or visit www.TheNationalDC.com.