Community News
Kids
Red Ribbon Week for Alexandria Proclaimed for October 23-31
City Council Official Recognition of Student Poster Winners for National Drug Awareness Campaign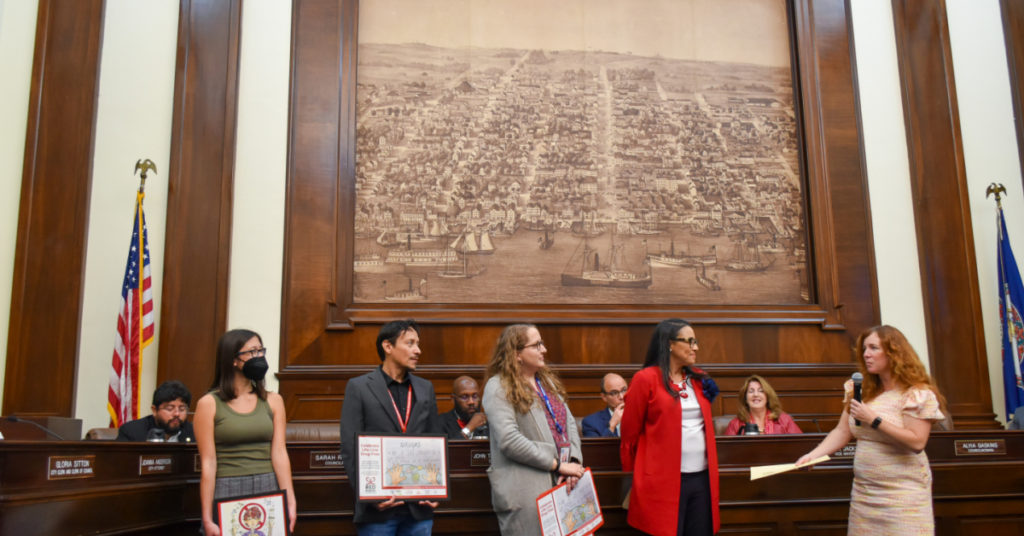 ALEXANDRIA, VA — At Tuesday night's City Council meeting, the annual alcohol, tobacco, and other drug prevention awareness campaign known as Red Ribbon Week was officially designated for Alexandria as October 23-31. It is viewed as a perfect means for people and communities to join together by taking a visible stand against drugs. This year's theme is "Celebrate Life. Live Drug Free." 
"Substance use and misuse presents significant health, legal, and social consequences for youth and can hinder personal, professional, and academic success for young people who deserve to grow up happy, healthy, and drug-free," as stated in the Proclamation. Red Ribbon Week, celebrated nationwide each October, is the largest alcohol, tobacco, and other drug prevention campaign in the United States.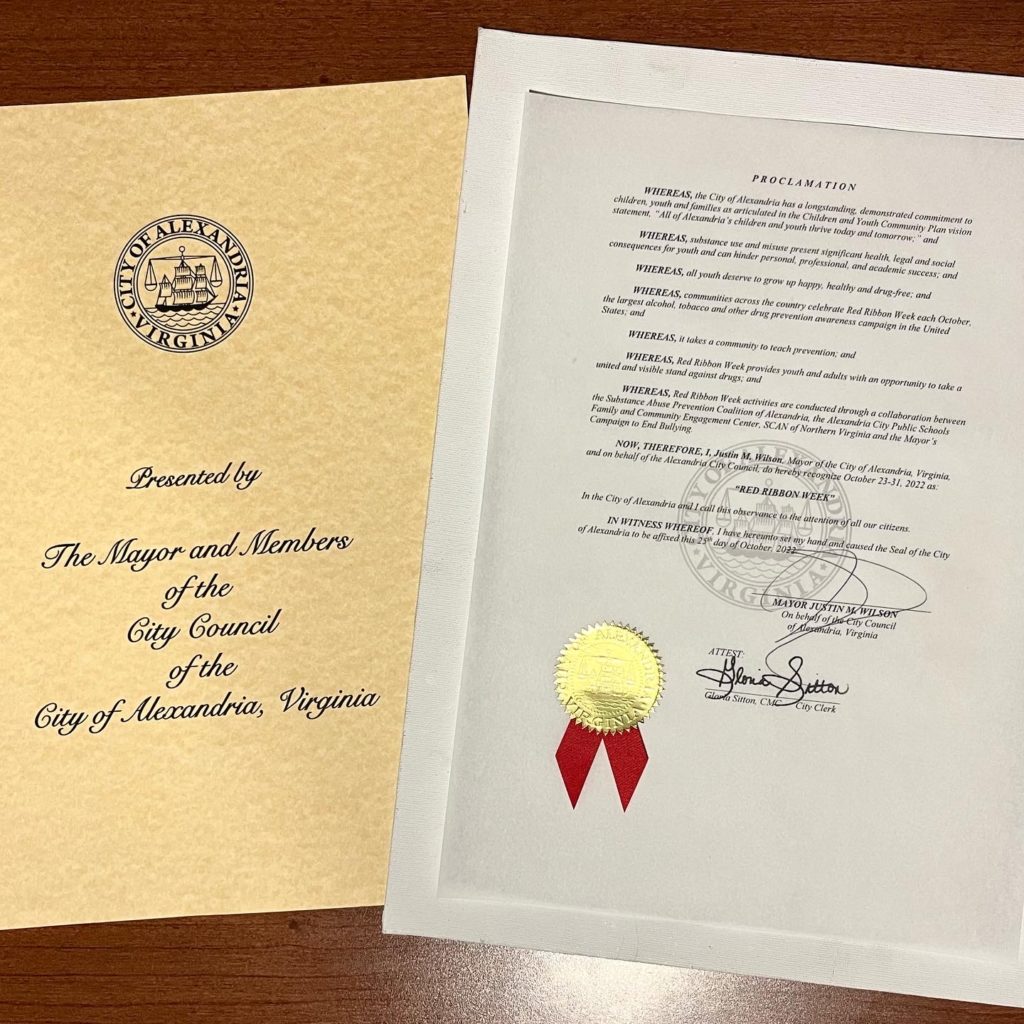 Council member Sarah Bagley, read the official proclamation with special attendees alongside: Dr. Melanie Kay-Wyatt (Interim Superintendent of Alexandria City Public Schools), Fredy Martinez (Substance Abuse Prevention & Intervention Services Coordinator for Alexandria City Public Schools) Chloe Yokitis (Junior at Alexandria City High School), and Emma Beall (SAPCA Coordinator for the City of Alexandria's Department of Community and Human Services).
"It's important to provide a space and be intentional about talking about prevention," said Yokitis. 
Yokitis is also a Keep It 360 Peer Advocate, a group of Alexandria youth who work closely with the Substance Abuse Prevention Coalition of Alexandria (SAPCA), the Alexandria Campaign on Adolescent Pregnancy (ACAP), and the Alexandria Sexual Assault Center to support prevention and outreach efforts.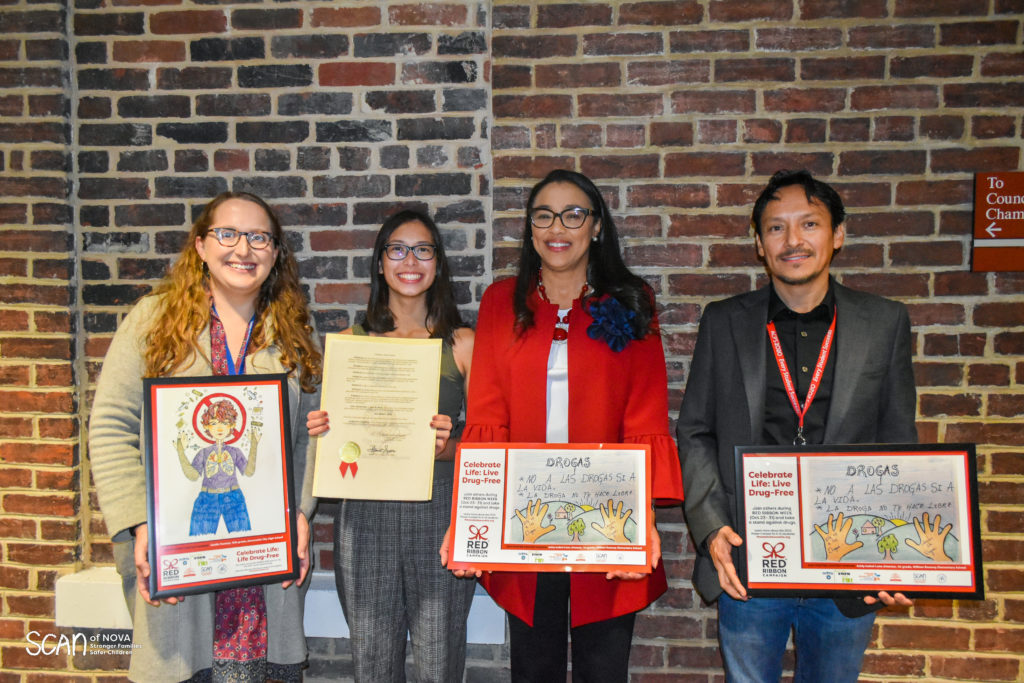 Students are encouraged to enter the 2022 Red Ribbon Week Poster Contest here as well as explore ideas to celebrate Red Ribbon Week this month. The deadline to enter is November 15th. Winners in each category of elementary, middle, and high school will each receive a $100 gift card and their poster will be featured in Red Ribbon Week 2023.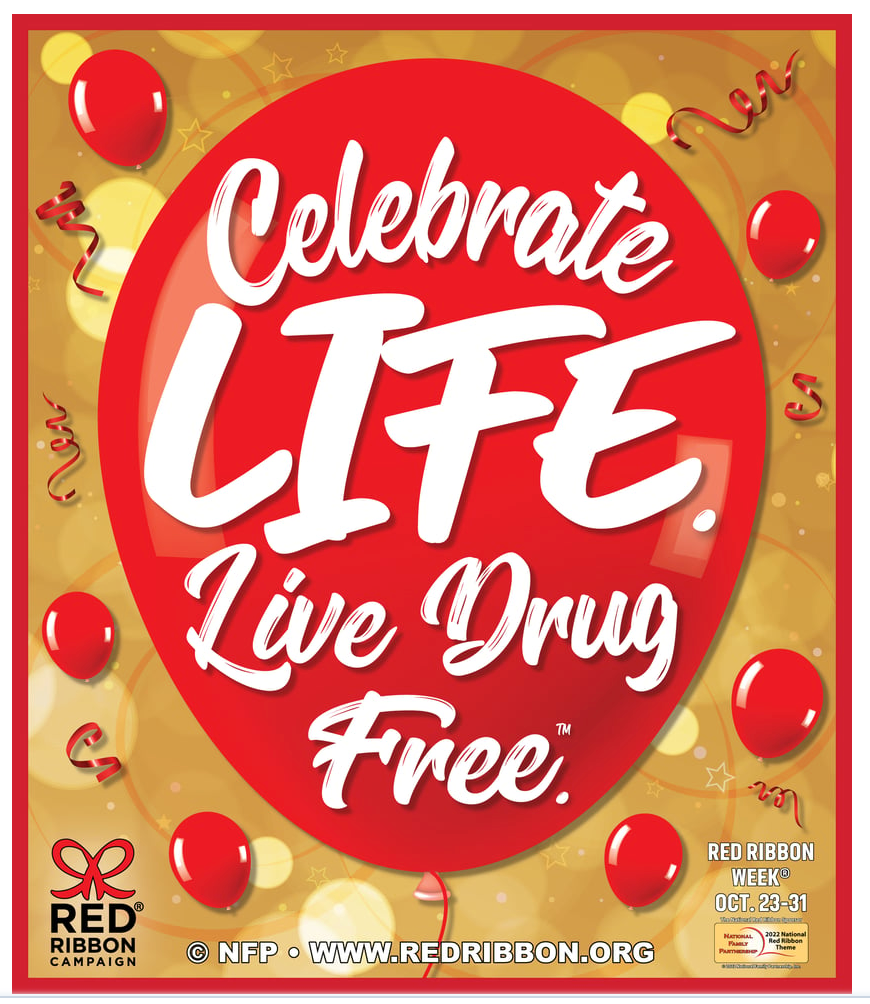 Mayor Justin Wilson took a moment to thank the partnership that works in our community to prevent drug use, stressing that peer advocacy is some of the most effective work, highlighting Yokitis' initiative on the project.
Stop Child Abuse Now (SCAN) of Northern Virginia works closely in the community campaign to bring attention to the topic. SCAN is the only region-wide organization focused solely on preventing child abuse and neglect across Northern Virginia. The Fall Gala "The Magic of Childhood" is tomorrow night to raise funds for their mission to help prevent child abuse.
Origin of Red Ribbon Week — According to their website, the campaign began in 1985 in response to the murder of DEA Agent Enrique Camarena. Angered parents and youth in communities across the country began wearing Red Ribbons as a symbol of their commitment to raise awareness of the killing and destruction cause by drugs in America. The movement has grown ever since then, educating youth and raising awareness.
The synergistic effect of Red Ribbon Week gives credence to the African proverb adage "It takes a village to raise a child." [SEE ALSO:  Join the Canine Trick or Treater on Sunday, October 30th]