Living on Music
Steve Houk's Living On Music Rocks On!
From local artists to legends and more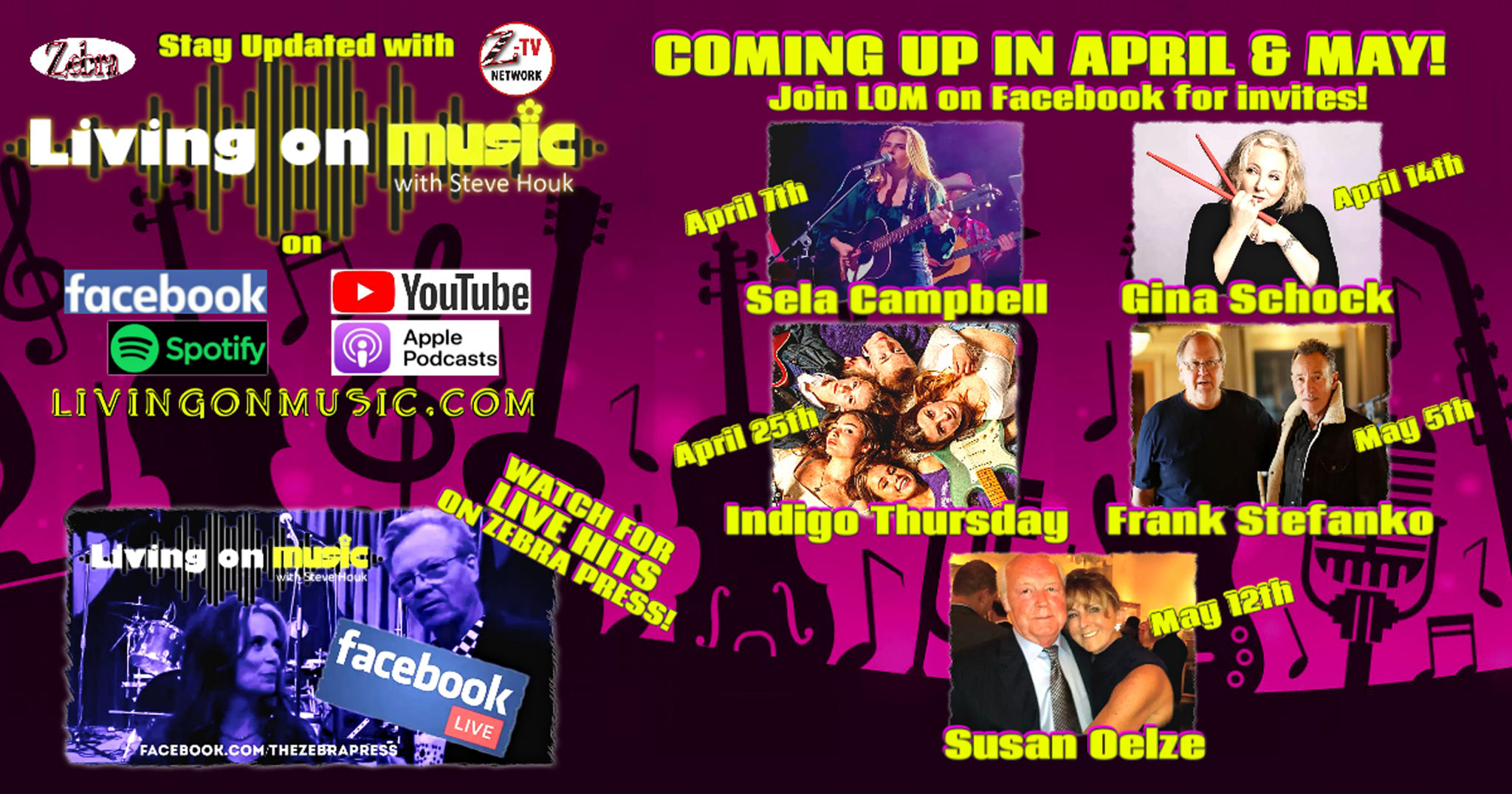 Alexandria, VA – Going strong on YouTube, Facebook, and as a podcast after launching on Z-TV in April of 2020, the online music interview show Living On Music With Steve Houk continues to gleefully engage music-related people locally and internationally, well-known or up-and-comers.
Started during the pandemic to provide a chance to interconnect, reminisce, and just have something to do as their careers took a hit, Living On Music has received high-end accolades from music folks around the region and around the world for its deeply researched efforts, the guests' informative and often memorable stories, and overall its wide range of musicians and music-related people of all genres.
The lineup for the next few weeks is no exception. Check out who's Living On Music!
April 7: Sela Campbell
Loudon County's sixteen-year-old Sela Campbell is a supremely talented singer-and-now-songwriter. She has been mentored by some of the area's musical staples, who have helped her ascend even in her early teens. Since Sela's first solo gig in 2020, she has done and is doing dozens of shows locally, is nominated for a "Best Of Loudon" award, and is also starting to write her own music, even debuting her first written song ever on Living On Music. Sela aspires to be a professional musician, and we're excited to see what the future holds for her.
April 14: Gina Schock
The Go-Go's is the most successful all-female band ever, rooted in music history as a pop phenomenon and groundbreaker. Gina Schock was their powerful drummer during their most triumphant days and beyond. Their 1981 debut album Beauty and the Beat was among the most successful debut albums of all time, and Gina and her bandmates were inducted into the Rock and Roll Hall of Fame in 2021. She wrote a book about her days with The GoGo's and continues to make music and share her triumphs and challenges with fans of that classic 80s band.
April 25: Indigo Thursday
As this Alexandria-based group of female high schoolers started banding together in 2021 via the local ROAM School Of Music, they formed Indigo Thursday. In some ways, this talented group is reminiscent of the 70s seminal all-female band The Runaways. In other ways, they have their very own sound. Indigo Thursday played Jammin' Java last year, has gigs booked this year, and recently released an EP with three of their own well-written and well-performed songs.
May 5: Frank Stefanko
Globally known, highly talented photographer Frank Stefanko is perhaps best known for his pictures gracing the platinum covers of Bruce Springsteen's "Darkness On The Edge Of Town" and "The River" albums as well as Bruce's biography Born To Run. The two bonded early and have remained friends to this day. Stefanko is also gifted at nature photography. His rock & roll and Mother Earth photos are in galleries worldwide.
May 12: Susan Oelze
Widow of recently passed longtime Birchmere owner Gary Oelze, Susan Oelze shares personal, poignant, and openly honest thoughts about the legendary music maven, who was devoted to his wife and beloved team at the revered venue and to the many musicians who played there, some of the world's best.
Stay updated with Living on Music with Steve Houk on Facebook, YouTube, Spotify, and Apple Podcasts, or go to livingonmusic.com.
ICYMI: 'King Lear' Smashes All Shakespeare Theatre Company Sales Records