Cover Story
The Pet DayZ of Summer Are Here: Having Fun With Your Best Furry Friends
It's time to have fun with your best furry friends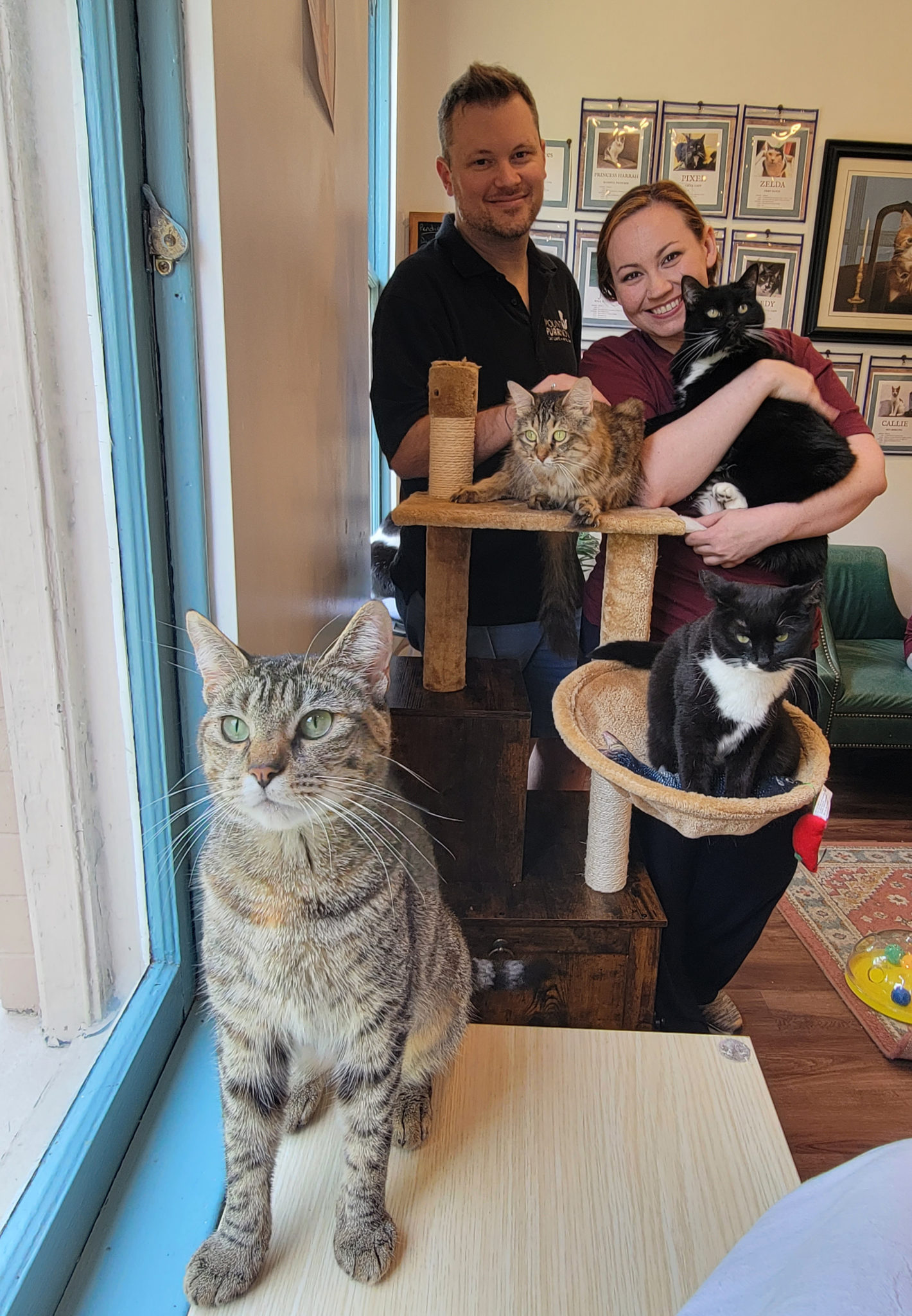 By Kelly Maconomy and Mary Wadland
Alexandria, VA – If a man aspires towards a righteous life, his first act of abstinence is from injury to animals. ~ Albert Einstein
Between the dog-dominant street parades (not only during holiday celebrations) and the Dog Days of Del Ray First Thursday dog soirées, Alexandria could easily be declared a pup paradise! Alex the Scottish Terrier has been the City mascot brand for years. Meanwhile, Port City has steadily climbed the ranks in Rent.com's 10 Best Cities for Dogs, named number two for 2023 after coming in third in 2022.
This year Alexandria came in tenth for grooming and pet supply stores, seventh for the number of dog-friendly parks, and sixth for boarding facilities, rivaling much larger US cities. But does Miami (number one), Las Vegas (number nine), or San Francisco (number three) have a Barkhaus beer and dog garden? Or a cat cafe and wine bar?
On a sunny, sultry Saturday in July, the Barkhaus dog-play garden was bustling with canine customers outdoors and in, upstairs and down. The DMV's premier dog-focused bar and restaurant strives to accommodate the socialization accouterments enjoyed by both four- and two-legged customers.
The day the Zebra Press stopped by a birthday "PAWTY," spelled out in a gold Mylar balloon greeting, had taken over the upstairs. With plenty of barking to pup-hop, a tail-chasing jam guaranteed all guests a howling good time. Leashes are required in the dining area, but anything goes in the garden. It's go dog GO!
Barkhaus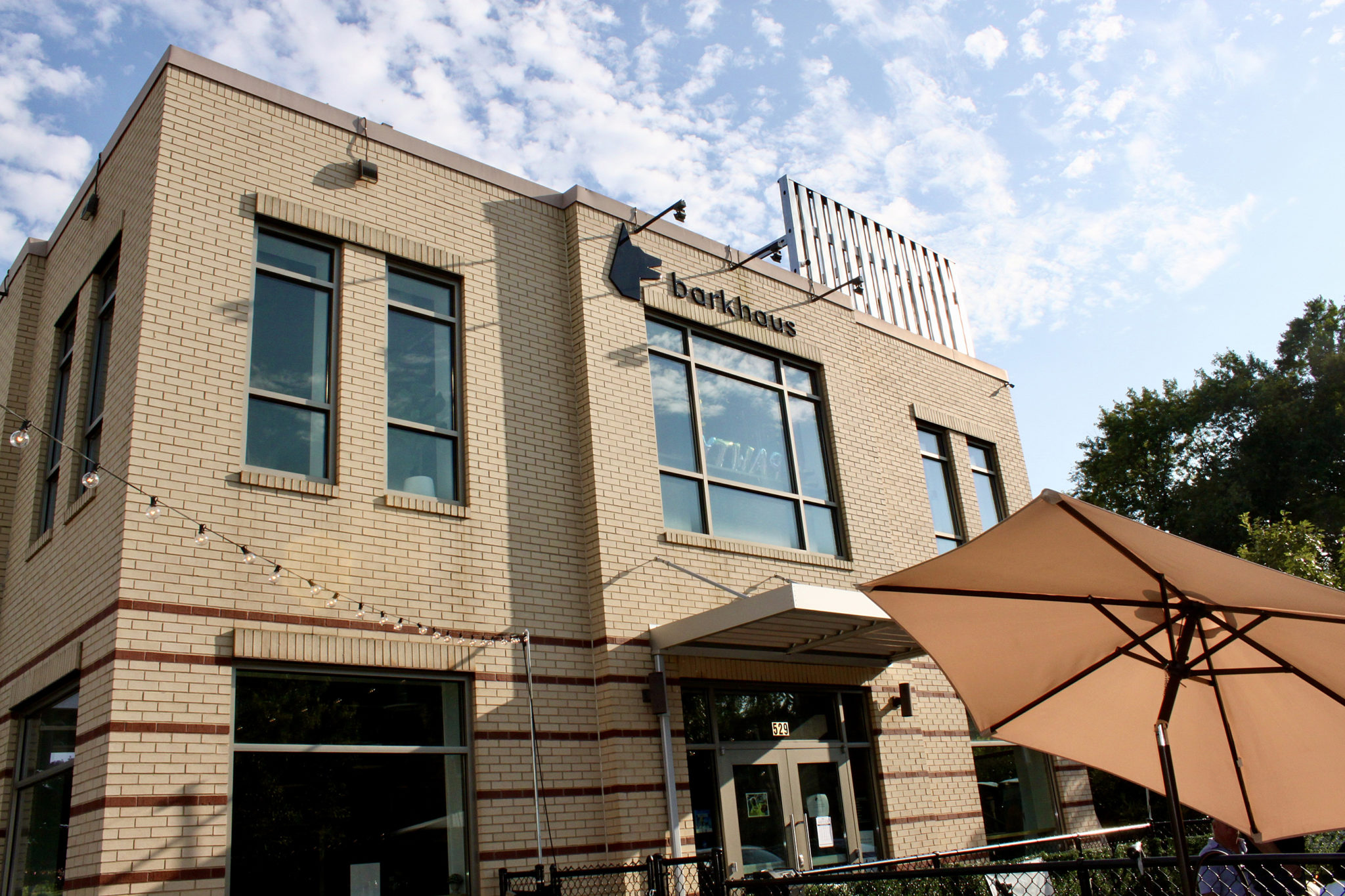 Virginia Tech roommates Alex Benbassat and Justin LeGore had organized the City's inaugural dog mixer, the Old Town Beer, Wine, and Dog Festival, held at Waterfront Park on August 17, 2019, shortly before COVID capsized the world.
In October 2020, at the height of quarantine and social distancing isolation, Alex and Justin shared a big idea for keeping the festival going, and Barkhaus was born. Four hundred dogs with nearly 4,000 beer-loving dog owners and dog-loving beer drinkers at the 2019 festival convinced investors that this architect and entrepreneurial business manager duo had all the right stuff.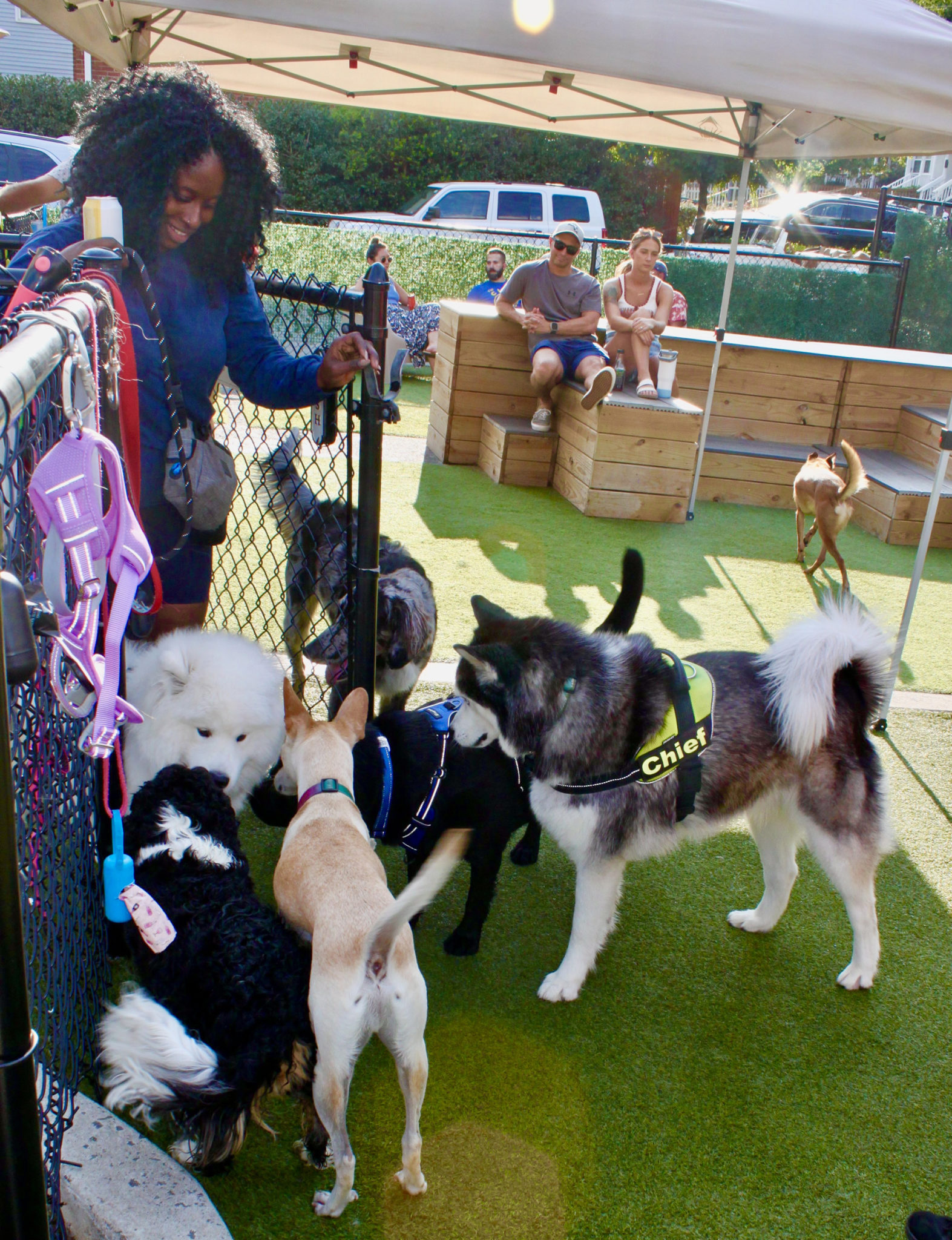 It was an idea that, despite all odds, couldn't have been more timely. While small businesses suffered, downsized, and folded, the Barkhaus took over space vacated by the unsuccessful Flat Top burger venture and expanded the beer and bark garden.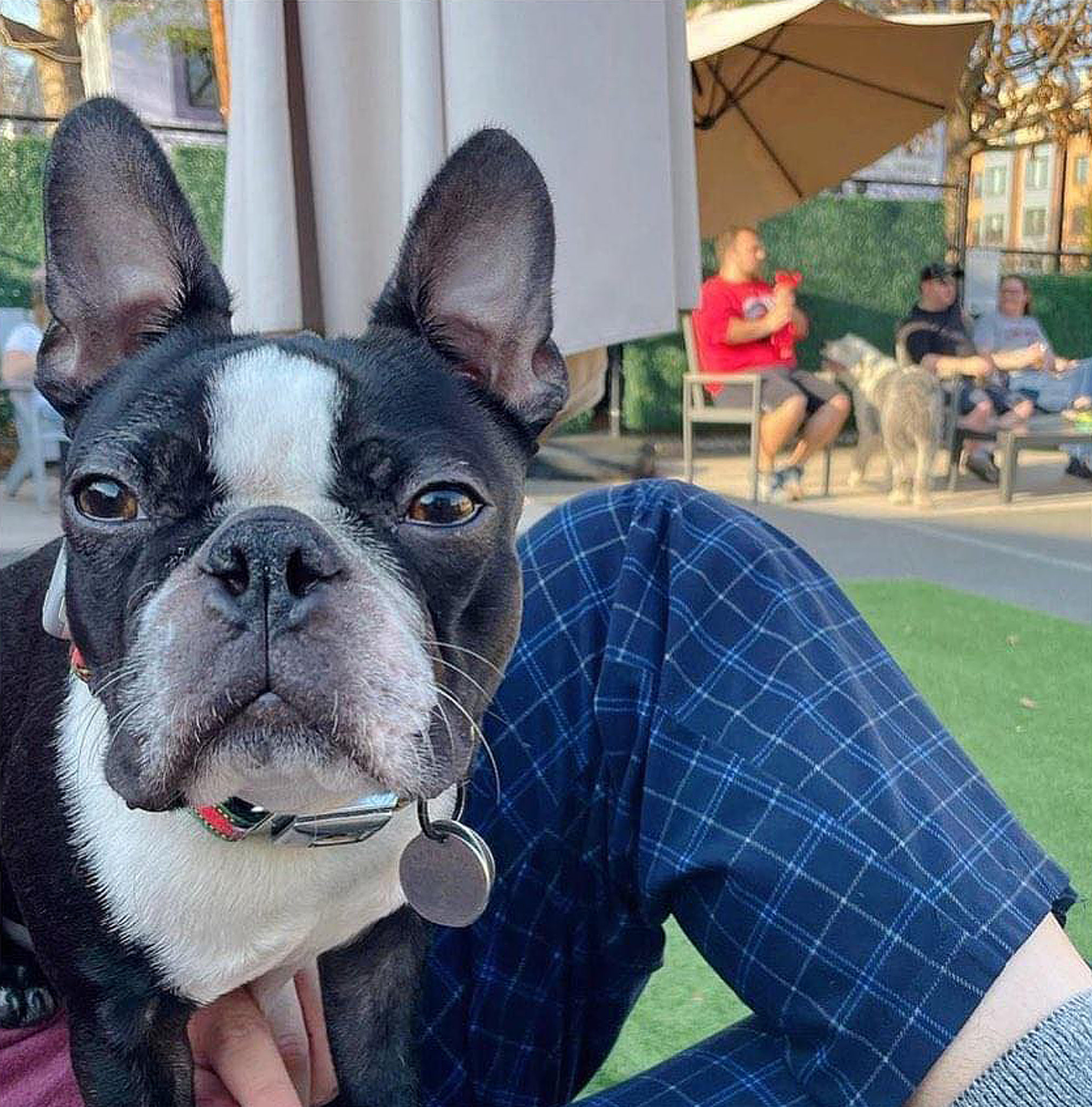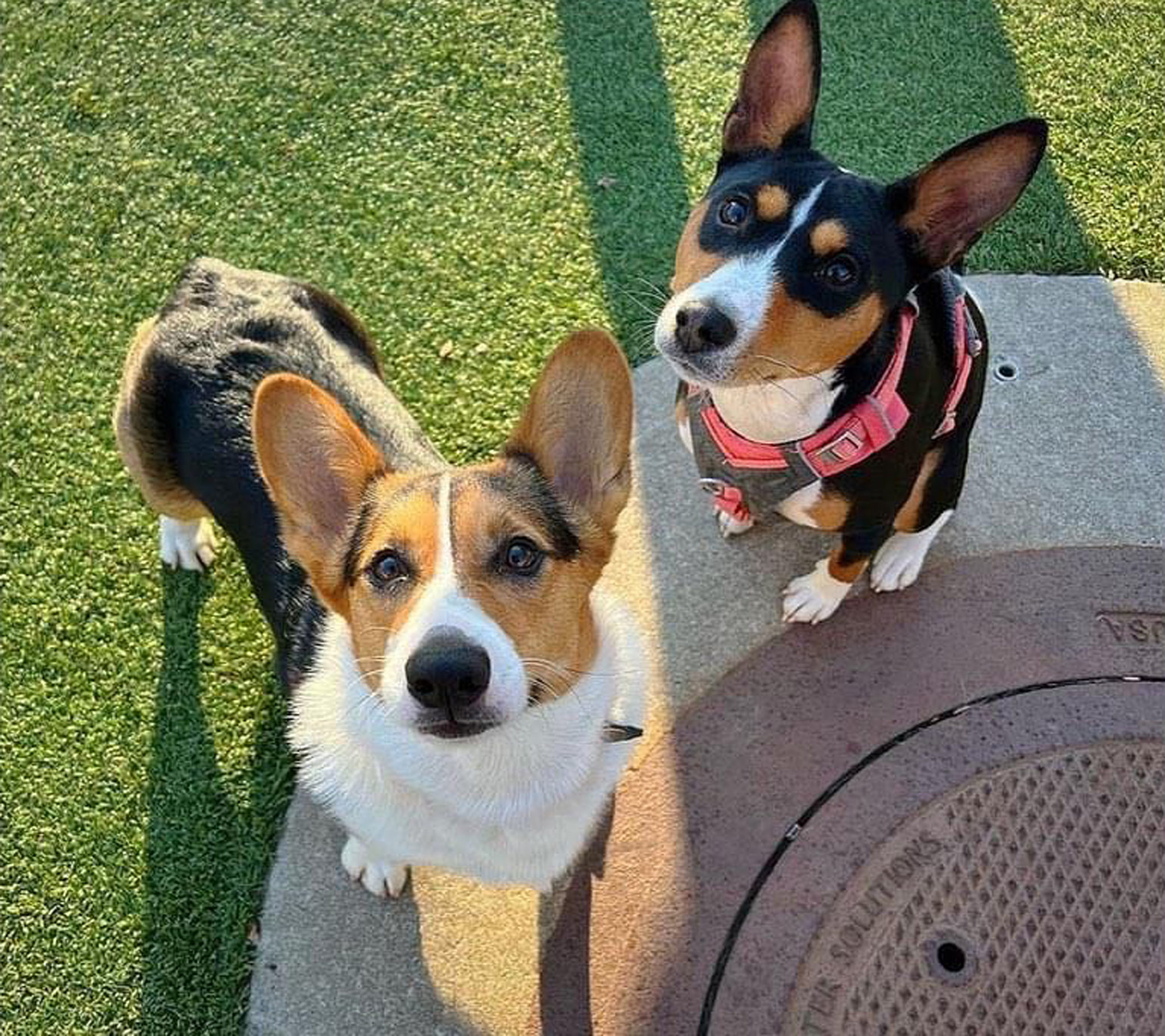 Barkhaus ambiance is hip-casual. Shade umbrellas abound outside to keep beer and pup pals cool, with wading pools and tubs for making a splash. Tree-canopied conversation corners offer a more intimate, restful experience. Inside, where dogs remain leashed, there are high tops and cafe tables for good eats and great brews, soft drinks, coffee and teas, even mocktails.
We sampled the menu and bar with no pup in tow (easier to eat with two hands). Even while queueing amid all the happy hounds with reservations checking in at the bar, we had a blast. One particularly affable Samoyed named Archie was perched in his companion's arms as she registered and ordered a puppucino from the extensive bark bar menu. Don't miss the truffle Parmesan fetch fries — drool-worthy!
Bark menu highlights include fruit barkfait, toast and peanut butter, PB&A (apples), Good Boy Dog Beer, PAWfectly Delicious Treats, and Barkables (a nod to Lunchables for the dog on the run). As for people food, who would feed their dog something they wouldn't eat themselves? Brussels sprouts, yam chips with guacamole, wedge salad, Korean chicken wings, steak tacos, vegetarian tacos, and house-made sourdough flatbread pizza!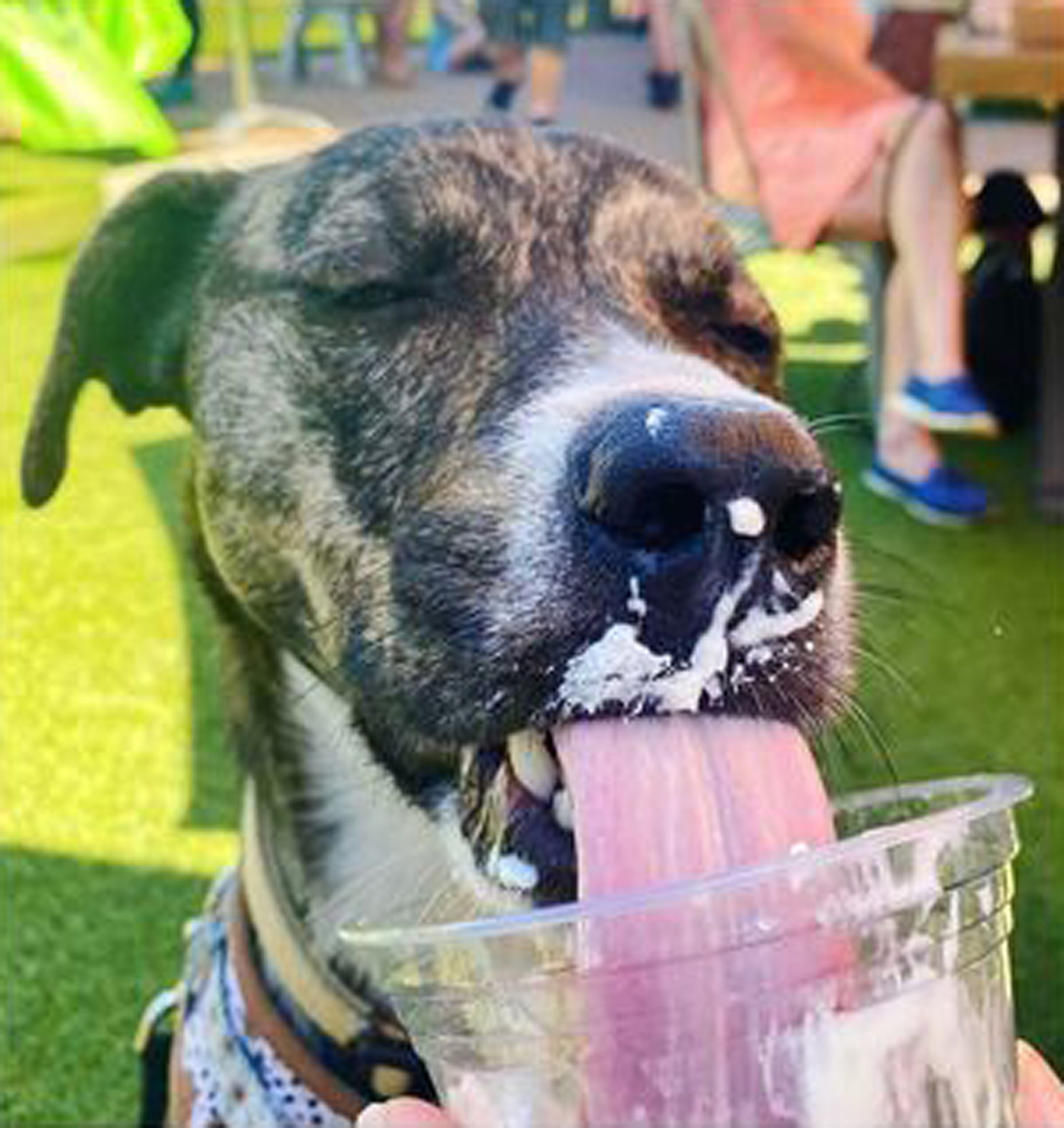 Of course, no bark bar would be complete without Yappy Hour specials. Get your bark on Monday through Friday, 5-6 pm. Beer is one dollar off. Wine seltzers and hard coffee, two dollars off.
Membership at the Barkhaus comes at the Silver Level ($30 monthly) and Gold Level ($250 annually). Day passes are $10. Gold and Silver give you discounts on purchases and daycare, invitations to exclusive events, and the occasional complimentary toys and treats. Think you are smarter than your dog? Trivia Night is every Thursday starting at 6:30 pm. Members get one free ticket and the public is $5 per person.
Proof of current vaccinations is mandatory for entry. Dogs must be at least four months old, and those over eight months must be spayed or neutered.
Does it sound as if the dogs are having all the fun? What about cats? Could Alexandria be the cat-friendliest city in the US? According to one list, we have a way to go to beat Birmingham, Alabama, Key West, Denver, and Madison, Wisconsin. But I doubt any of those cities have our claim to fame — a cat cafe and wine bar.
Mount Purrnon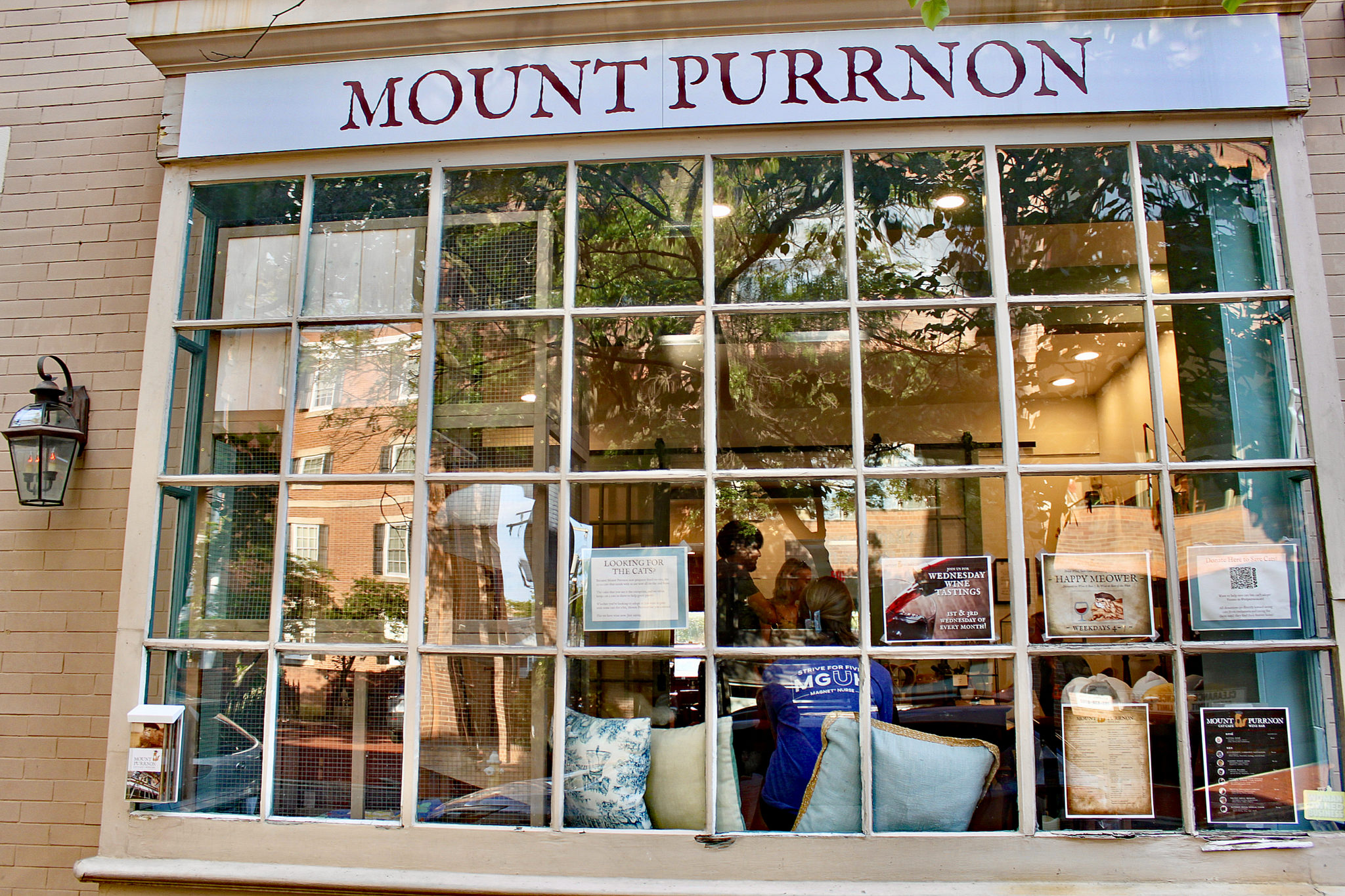 In August 2020, Kristen Cowen and Adam Patterson opened the Mount Purrnon Cat Cafe and Wine Bar in a charming Old Town rowhouse on South Alfred Street, off King across from the Morrison House. They are celebrating their anniversary this month.
To the unassuming passerby, the expansive picture window reveals what appears to be an intimate wine bar and cafe, typical of Old Town or Georgetown. But suddenly a cat leaps to a precarious window perch, abandoning the ten rescue cats luxuriating in the cat lounge upstairs and all 28 on the premises.
"Opening in the middle of COVID was obviously not ideal," says Kristin, "but we were determined to save as many cats as we could. Our guest numbers took some time to get to where we needed to be, but now, we regularly sell out on weekends."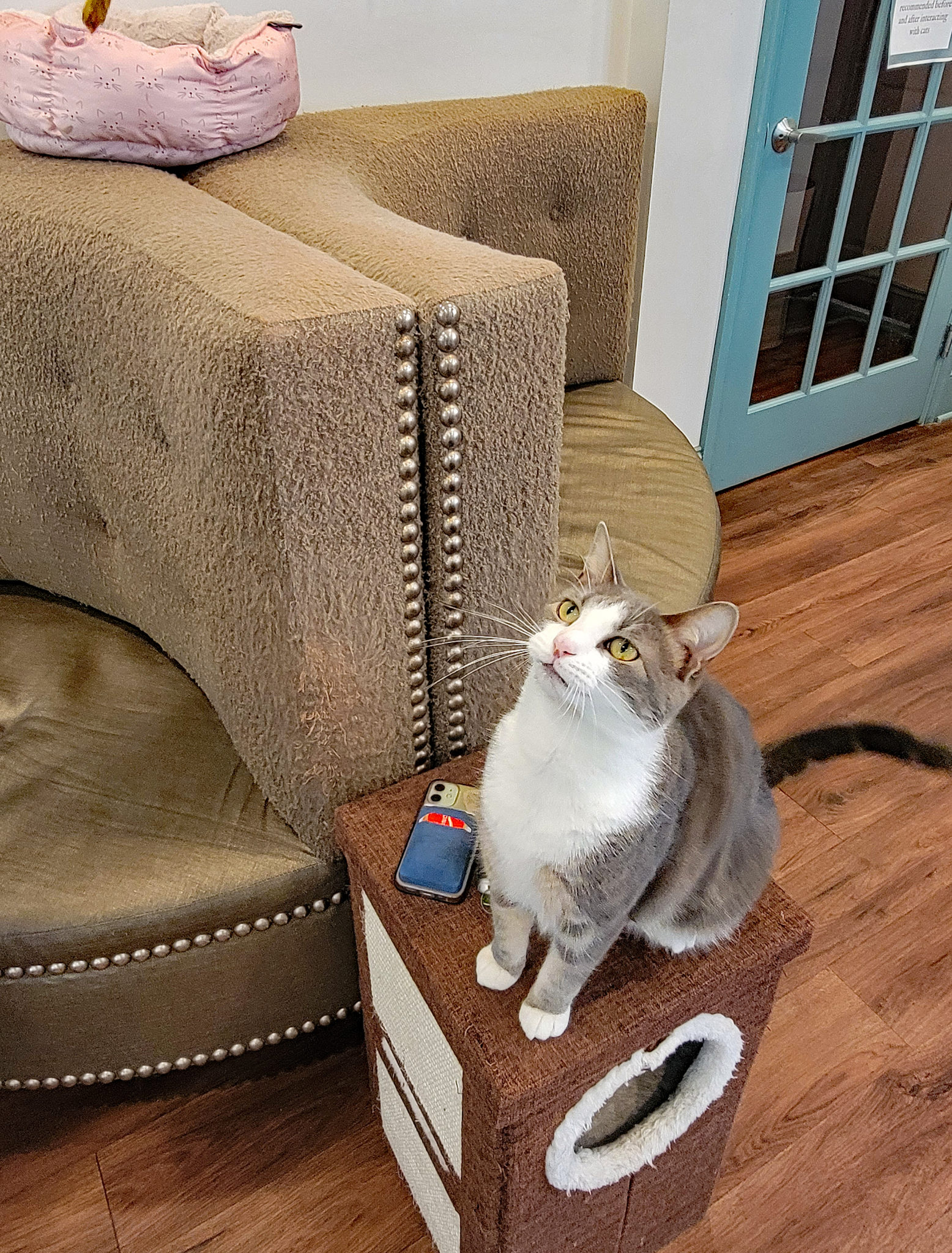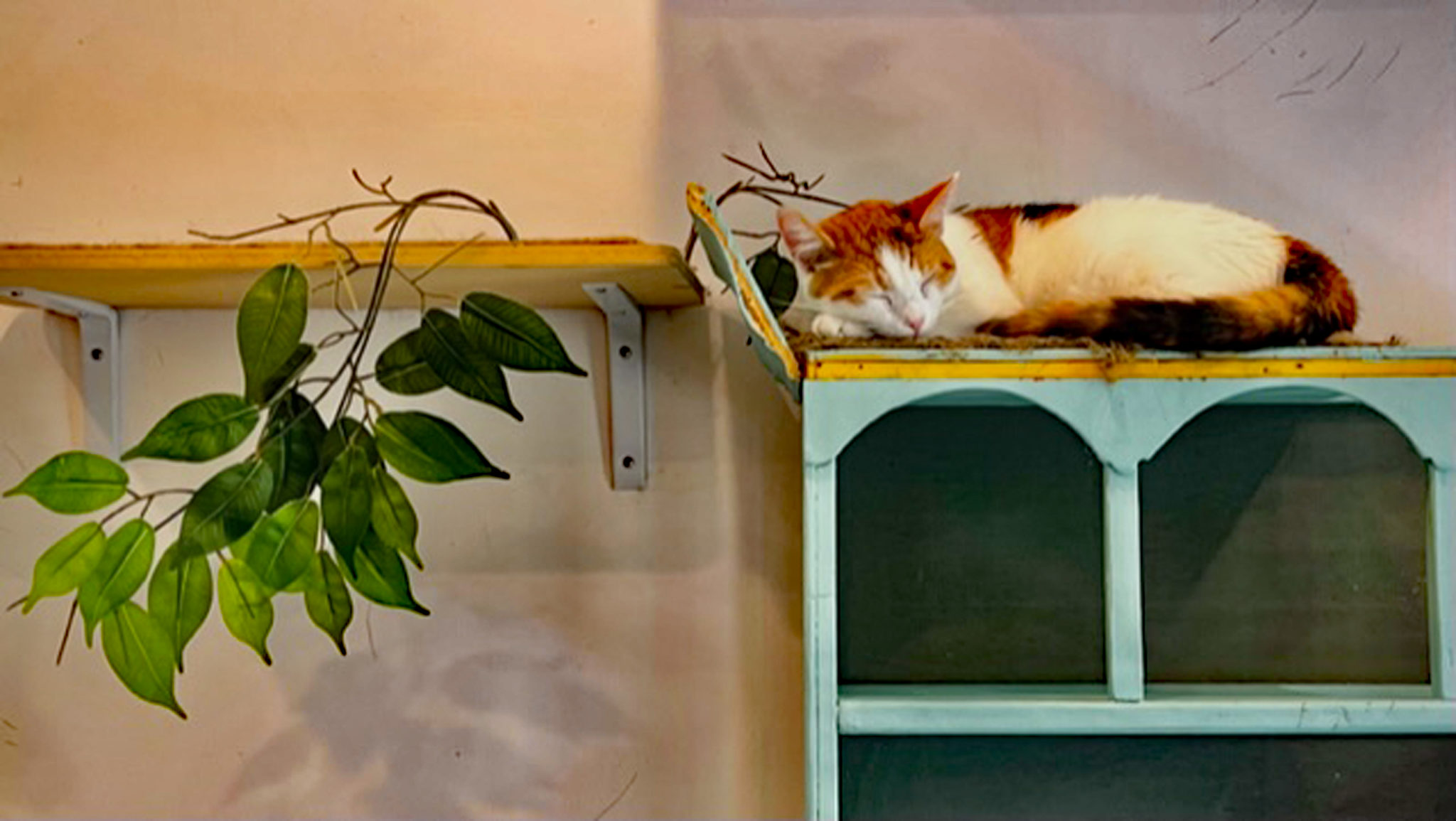 Mt. Purrnon's cats are up for adoption. "We are currently at 664 adoptions with a few others going home later this week," says Kristin. Some 724 cats have come through Kristin and Adam's doors, cats from all over the East Coast, Kuwait, Saudi Arabia, and the US Virgin Islands.
"We purposefully focus on pulling the cats that are harder to adopt: seniors, disabled, or ones overlooked. We probably would have higher adoption numbers if we had kittens, but they usually are the first to be adopted and we wanted to focus on the others," Kristin adds.
They also have a new resident cat, Colleen Robinson, that was born in the alley behind the cat cafe (truly an Old Town cat) with birth defects. After growing up at the cafe and getting her necessary surgeries, she made it her home and became the official greeter. Mt. Purrnon has many serial adopters and a network of regulars that the café  cats and people have become close to.
Mt. Purrnon's cats are visited upstairs and away from the food service area in the café. A reservation to play with the cats upstairs costs $20 per hour, $15 for kids. Playtime reservation fees provide for the rescue cats' well-being, veterinary care, and upkeep until they are adopted.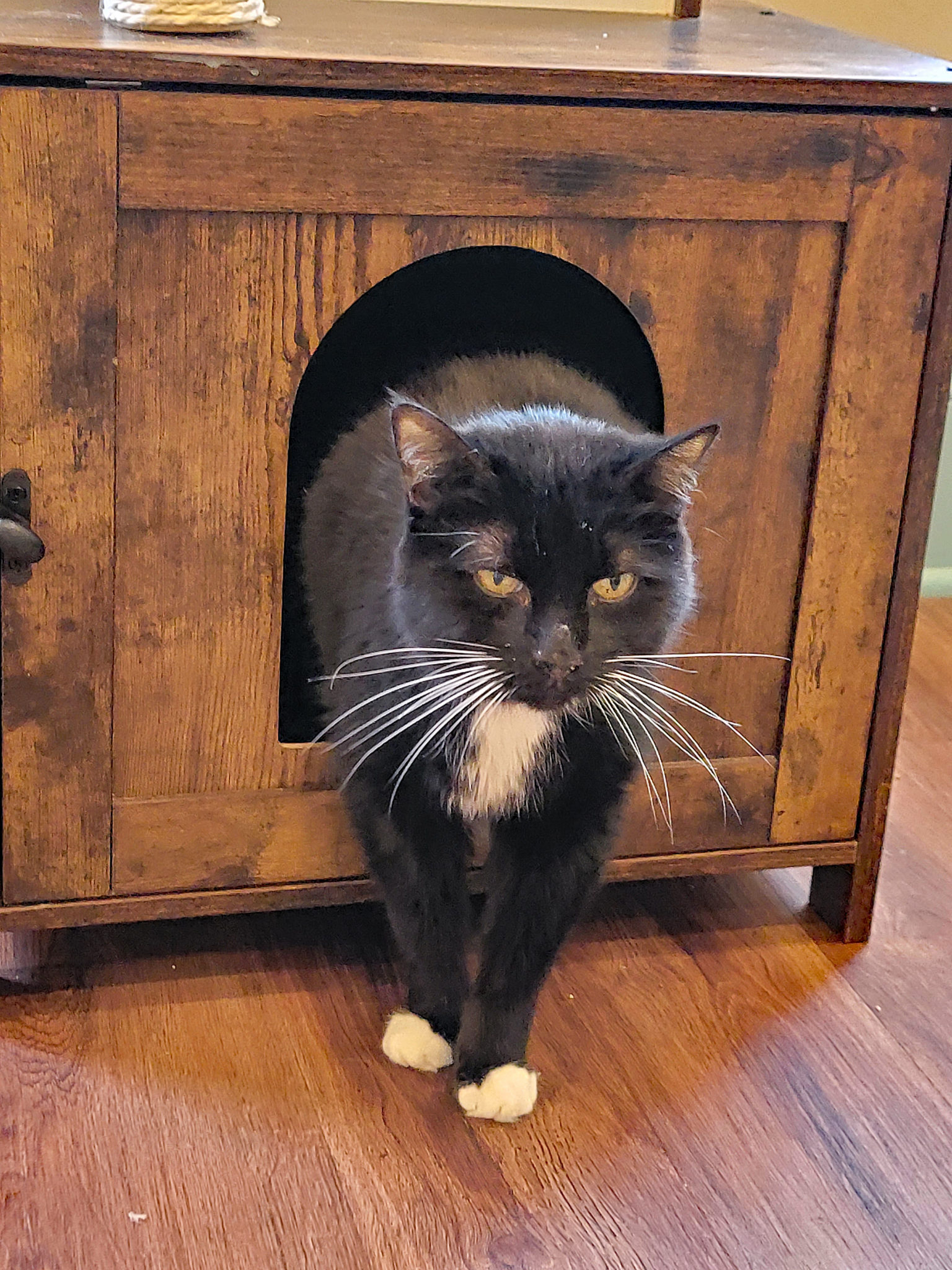 There is no fee to hang out in the café/bar. All food must be consumed downstairs for the health and safety of cats and guests. The cafe serves Hissssspresso and Catpuccino along with savory sandwiches and big salads. Libations include cider, seltzer, mead, beer, and an extensive wine list.
Kristin and Adam work with Fancy Cats and Dogs Rescue Team in Fairfax, who provide Mount Purrnon with cat ambassadors available for fun and future forever families. On a picture-perfect Saturday in Old Town, the cat lounge had a dozen visitors happily entertained by the cutest kitties. Or was it the other way around?
Forever homes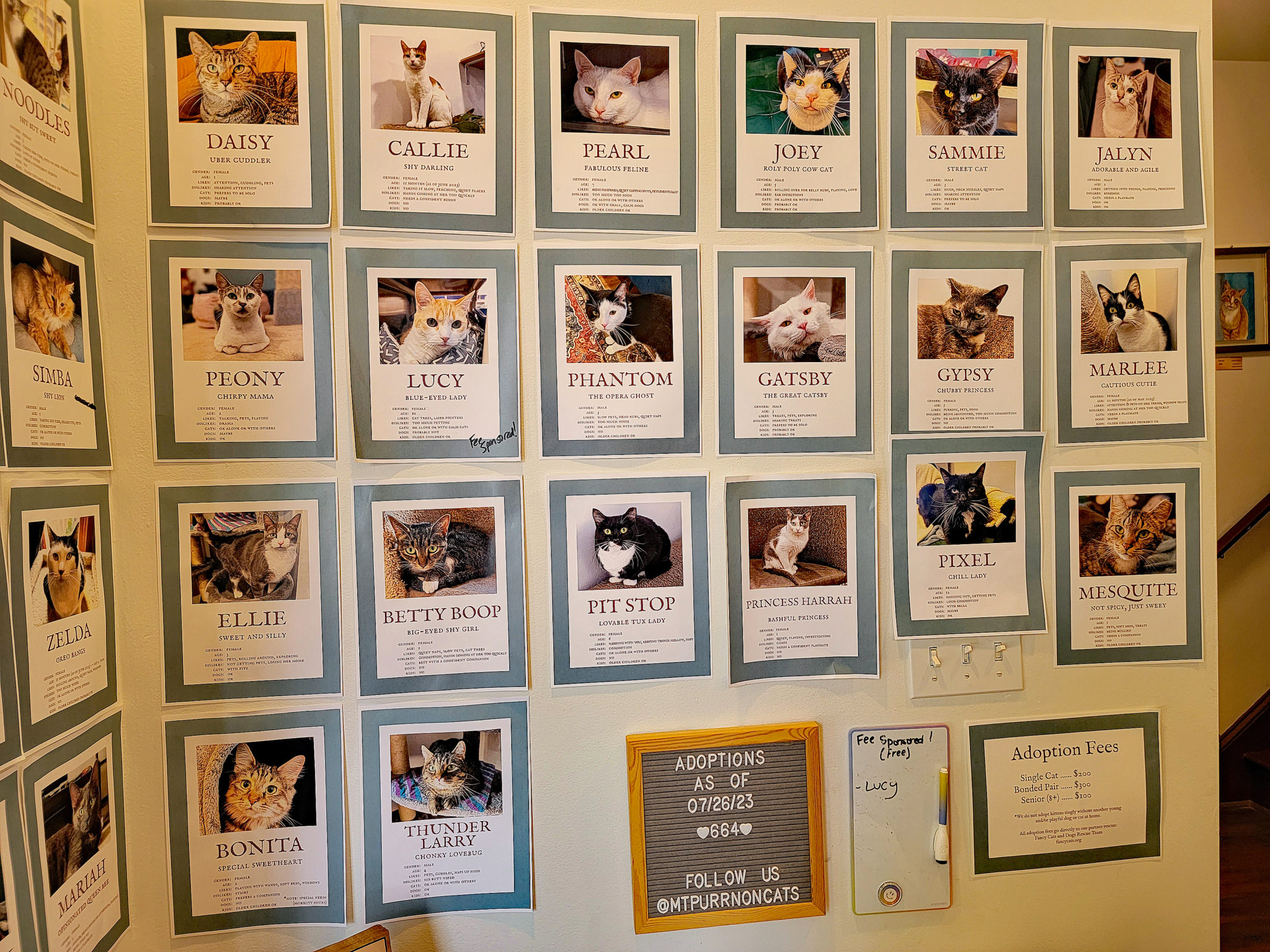 When considering adding a pet to your home, Barkhaus and Mt. Purrnon are excellent places to learn about dogs or fall in love with the cat that becomes your four-legged family member. Always adopt from a reputable rescue or animal shelter. More than dogs and cats are available and waiting for a forever home at the Animal Welfare League of Alexandria and shelters around the DMV.
Shelters can help you find the right fit for you and your family. Whether it's a cat or a dog, a horse or a bird, a gerbil or a rabbit, when you adopt an animal that needs a safe home, you make the world a better place. You rescue them. They rescue you right back!
ICYMI: Adopt Camo: Affectionate and Sociable With People, Loves Kids