TYSONS CORNER, VA – Welcome back, Cirque! It's been a minute and we've missed you and your magical universe. Not since their production of Volta in July of 2019 has the famed troupe set up their blue-and-white tents in Tysons Corner at the Lerner Town Square. Echo is the US premiere of their highest-sold show in all of Cirque history.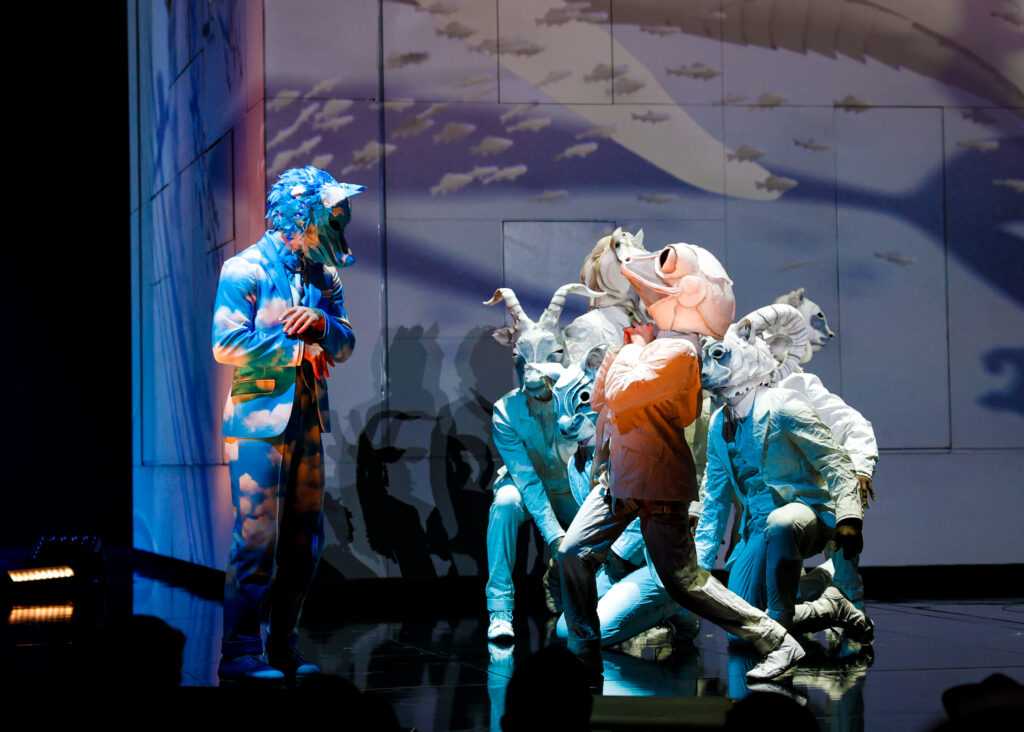 Emphasizing the symbiotic relationship between Nature and the Environment through the importance of the human connection is the theme for this 100-minute extravaganza. Expect jaw-dropping high-wire acts, eyeball-popping acrobatics, out-of-this-world juggling feats, rooftop-reaching teeter board leaps and flips, and an astonishing array of the sort of spectacular acts you've come to expect from this wildly creative Canadian production team and its super talented artists from around the world.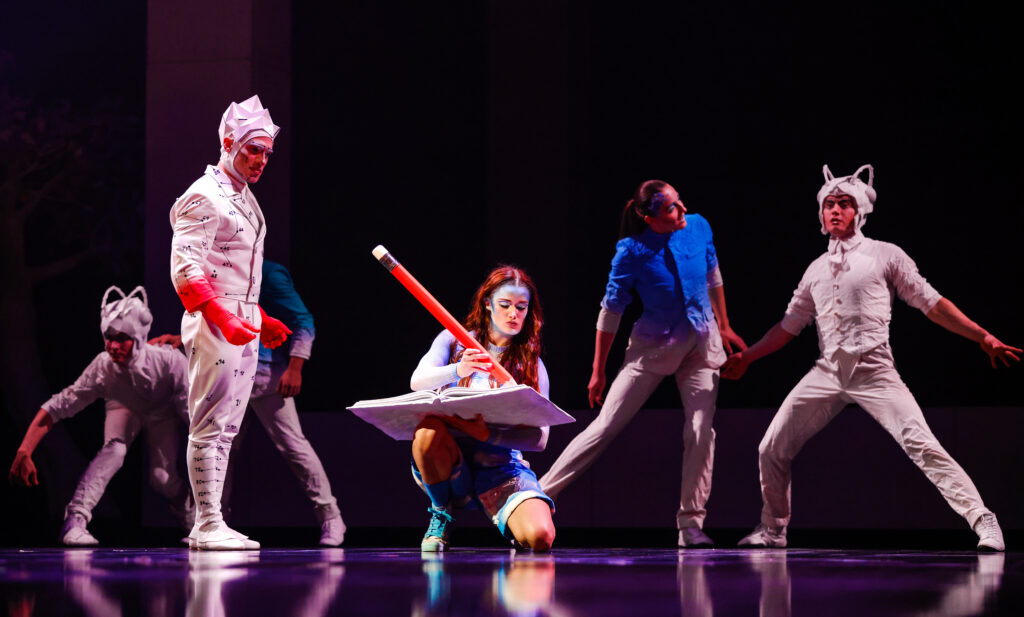 Our two playfully curious leads are the young girl, Future, and her bestie, an adorably cute fox. The pair, who frequently race through the audience in pursuit of each other, are dressed in matching cloud prints. Together they explore a giant cube housing multiple compartments where our inquisitive pair discover their new-found friends – cream-colored, frolicking animals. Oh my! The Cube is designed to open in random configurations to reveal a number of fantastical things like Ohmygosh! a high-wire slack-rope pair of daredevils or movable squares out of which pop different characters and props. The most awe-inspiring is a massive 50-foot – I'm guessing the height here – fully articulated man who gingerly holds Future in the palm of his hand.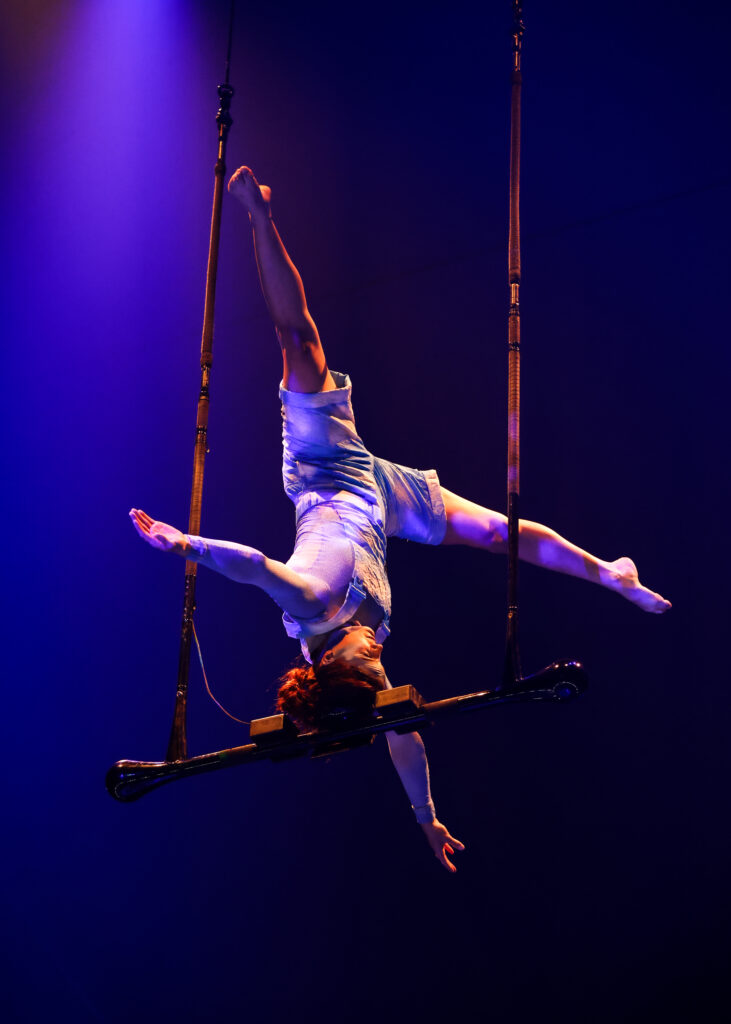 Since the show is enhanced by atmospheric New Age music with a stronger rhythm for the most electrifying acts, Echo's musicians and singers perform in all-black costumes with felted antlers. The soothing mood music contrasts seamlessly with lighter-themed circus music that accompanies a pair of cleverly comical clowns. Some of the acts are so breathtaking they are nearly indescribable. A gasp-inducing, two-man tumbling act, unlike anything you've ever seen before, beggars description. Ditto for the death-defying aerial acts – two women suspended by their hair, spinning wildly high above the stage. Keep a sharp eye out for the avian drones that fly high above the crowd, a contortionist that defies the known constraints of the human body and listen for the pulsing backbeat percussion that urges the artists onward to the top of the tent. The agility, grace and power are off the charts!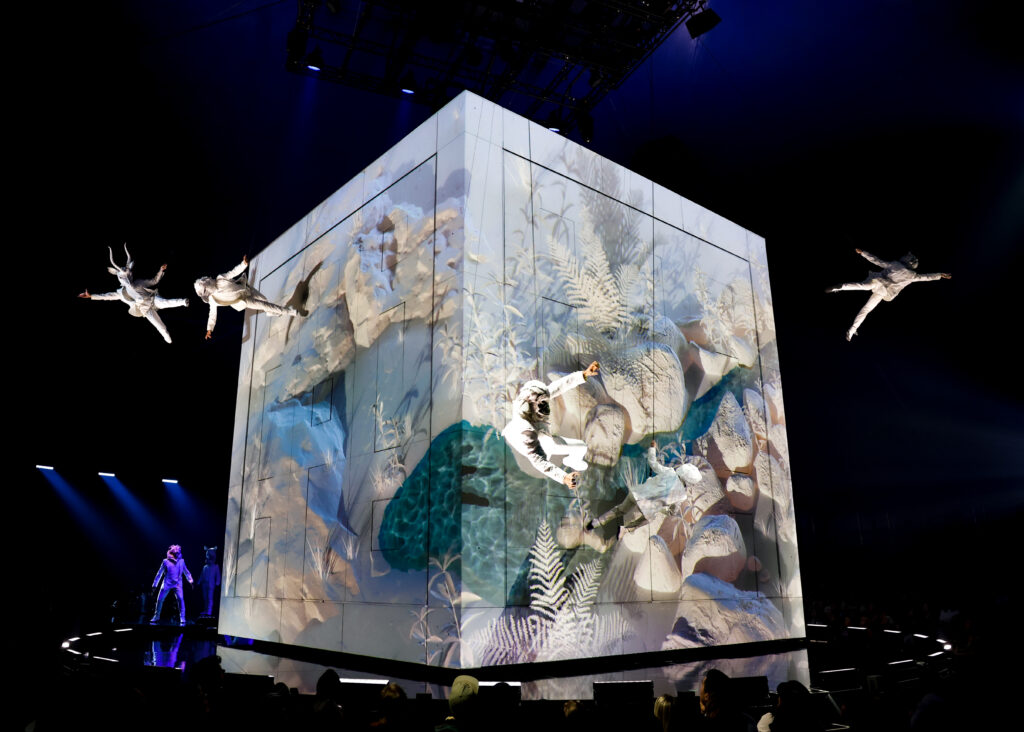 Highly recommended. See it and bring everyone you know!
Through October 22nd under the big top at Lerner Town Square at Tysons II. For tickets and information visit www.Tickets.CirqueduSoleil.com.
What's Playing in the DMV for October
Theatre Week – through October 8 – Theatre Washington – low price tickets – www.Theatreweek.org
Look Both Ways – October 14-29 – Kennedy Center – www.Kennedy-Center.org
A Murder is Announced – through October 15 – Aldersgate Church Community Theatre – www.acctonline.org
King of the Yees – through October 22 – Signature Theatre – www.SigTheatre.org
The Brothers Paranormal – through October 29 – Olney Theatre Center – www.OlneyTheatre.org
POTUS – through November 12 – Arena Stage – www.ArenaStage.org
Witch Wartsmith's Halloween Spooktacular – through October 29 – The Puppet Company – www.ThePuppet.org
Lady Day at Emerson's Bar and Grill – Baltimore Center Stage – through October 15 – www.CenterStage.org
The Very Hungry Caterpillar Show – through October 22 – www.ImaginationStage.org
Death of a Salesman – through October 8 – Port City Players – www.PTPlayers.com
Something Moving: A Meditation on Maynard – through October 15 – Ford's Theatre –   www.Fords.org
The Tell-Tale Heart – through November 5 – Synetic Theater – www.SyneticTheater.org
The Laramie Project – Staged Reading – October 6th and 12th – www.TheLittleTheatre.com
The Chosen – through October 15 – 1St Stage – www.1stStageTysons.org
Macbeth In Stride – through October 10 – Shakespeare Theatre Company – www.ShakespeareTheatre.org
Monarch: A Mexican American Musical – through October 29 – Creative Cauldron – www.CreativeCauldron.org
Trees: A New Musical by Neal Lerner – October 27 and 28 – The Bethesda Little Theatre – www.TicketStripe.com