If your taste runs to wacky sendups and zany schtick, you could do no better than Young Frankenstein at The Little Theatre. According to the program's synopsis, the comedy picks up where most tales of the famed monster leave off. This introduces us to his grandson, the young Dr. Frederick Frankenstein, a young scientist and man about town who travels to the family castle in Transylvania, bent on claiming his inheritance before racing back to his fiancée Elizabeth.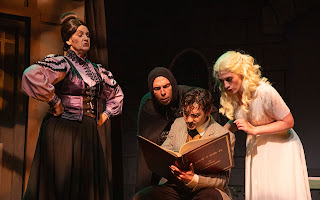 With the encouragement of the adorably sexy Inga, his grandfather's laboratory assistant, the hunchback Igor, and his grandfather's former paramour, the stern-faced Frau Blücher, Frederick agrees to stay and complete his grandfather's experiment by bringing the monster back to life with a new and improved brain. What a life! And what a premise! When the monster is given life, we discover he's a veritable vaudeville trooper!
Thanks to Mel Brooks, who wrote the music and lyrics and shared credit for the book with Thomas Meehan, we've got a rollicking musical comedy with more sight gags, double entendres, mashups, and old-time burlesque jokes than you can count.
Director Frank D. Shutts II has rounded up some of the best local talent in the biz to bring his vision to the main stage. Eighty-one actors came to the casting call – 16 were chosen. He also chose London's West End version of the show, which is more finessed than the original Broadway version. Twenty-one musical numbers backed by 14 instruments create a big sound in the little theatre. A tricked-out stage set features a revolving library door, grand castle gates, a farmer's wagon pulled by two "horses," and multiple surprises I want you to discover for yourself.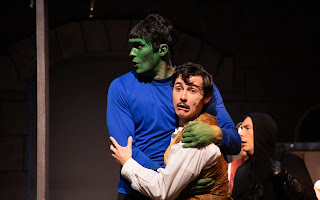 The acting, dancing, and singing are excellent. As far as I'm concerned, Noah Mutterperl, who plays Frederick, could get on a train and open on Broadway tomorrow night. His style, indefatigable energy, talent, and comic timing are spot-on in every way. As for Joshua Nettinga, who plays The Monster, he too could snag a lead role in a heartbeat. Performing in seven-inch lift monster shoes while pratfalling, getting up, and tap dancing in top hat and tails would grant him major street cred on the Great White Way.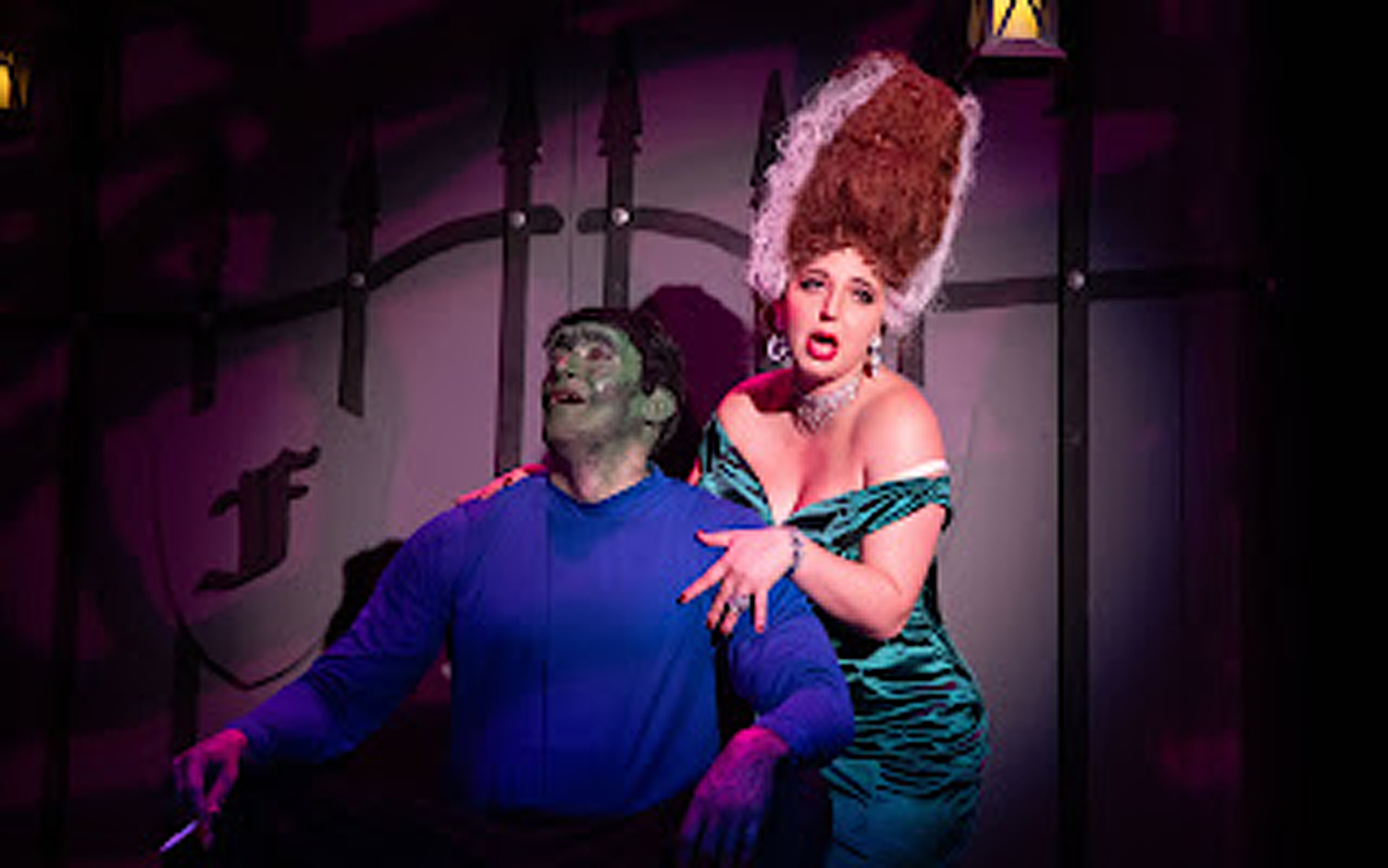 That doesn't mean to throw shade on the three female leads – Claire Jeffrey as Inga, who is as precious as she is hilarious; Liz Colandene as Elizabeth Benning, who belts like a young Ethel Merman; and Judy Lewis as Frau Blücher who is deadpan-perfect as the cigar-smoking chatelaine.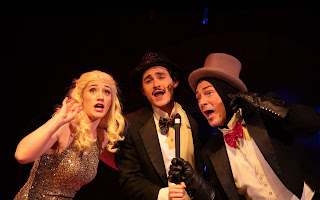 Not to leave out James Maxted, who plays The Hermit and croons "Please Send Me Someone' in the style of Al Jolson's "Mammy" and Brian Ash as Inspector Hans Kemp, whose chorus of Bavarian villagers rise up with torches and pitchforks in "He's Loose."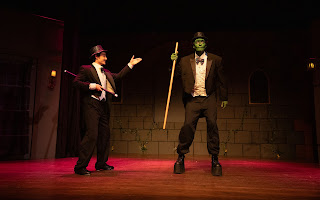 In the immortal words of Mel Brooks, "You'll laugh till you plotz!" (He didn't really say that. I did.)
Ensemble – Daria Butler (Swing), Emily Carbone, Andrew Edwards, Lewis Eggleston, Odette Gutierrez del Arroyo, Patrick Kearney, Evie Korovesis, Luke Martin, James Nugent (Swing), Lourdes Turnblom.
Music Directors Francine Krasowska and Christopher A. Tomasino; Choreographer Stefan Sittig; Dance Captain Evie Korovesis; Set Design by Robert S. Barr Jr.; Lighting and Special Effects Design by Ken and Patti Crowley; Costume Design by Jean Schlichting and Kit Sibley; Hair/Wig Design by Kadira Coley; and Makeup Design by Natalie Turkevich.
Highly recommended! The funniest, most risqué, goofball comedy since the Marx Brothers spent the night at the opera!
Through November 11 at The Little Theatre of Alexandria, 600 Wolfe Street, Alexandria, VA 22314. For tickets and information, visit TheLittleTheatre.com or call the box office at 703 683-5778.