Community News
Foodie Newz
Don't want to Cook? Dine in or Carry out for Thanksgiving around Alexandria
Let someone else take care of your meal. Try these suggestions in the Alexandria area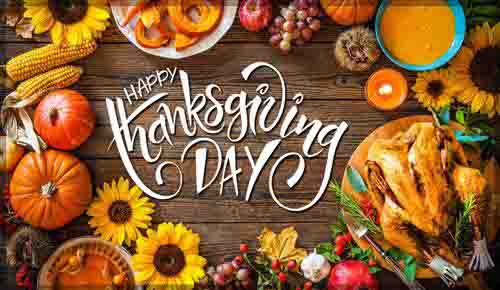 Alexandria, VA  There are many restaurants open on Thanksgiving Day for eat-in and/or carry-out. Be sure to make a reservation for both eat-in and take-out meals at all these venues.
Check out new listings at the bottom of the story.
1799 Prime, 110 S. Pitt St., 571-867-9595
The menu is a la carte starters, soups, salads, Butcher Block meat and seafood, and a variety of side dishes.
Alexandria Restaurant Partners 
ARP is offering Thanksgiving to-go meals to be picked up at Vola's Dockside Grill, 101 N. Union St on November 22 or 23. It includes a 20-to-22-pound apple cider–glazed roasted turkey with sage gravy for up to 12 people; Brioche Stuffing, Praline Baked Sweet Potatoes, Ratatouille, Corn Maque Choux, Garlic Mashed Potatoes & House Made Cranberry Sauce; and pumpkin or pecan pie with whipped cream for a dessert that feeds up to six people. You can double the sides for $55 or add a second pie for $35. Orders can be placed online until November 17. Dinner will be served at Ada's On The River, BARCA Pier & Wine Bar, Theismann's Restaurant and Bar Buffet, The Majestic, Mia's Italian Kitchen, and Vola's Dockside Grill.
Bastille Brasserie & Bar, 606 N. Fayette St., (703) 519-3776
Have Thanksgiving a la France! You can celebrate with their family as they host Bastille's annual
Thanksgiving Day lunch and dinner. Entrée selections include Dinde Rôtie: Roasted Organic Turkey, Paleron de Boeuf-Smith Meadow Farm Angus Beef Chuck, Plateau de Porc-Slow Roasted Local Pork Loin| Pork Cheeks & Belly Braised in Maple-Cider Sauce, Fruit de Mer "Chowder, and Risotto de Saison.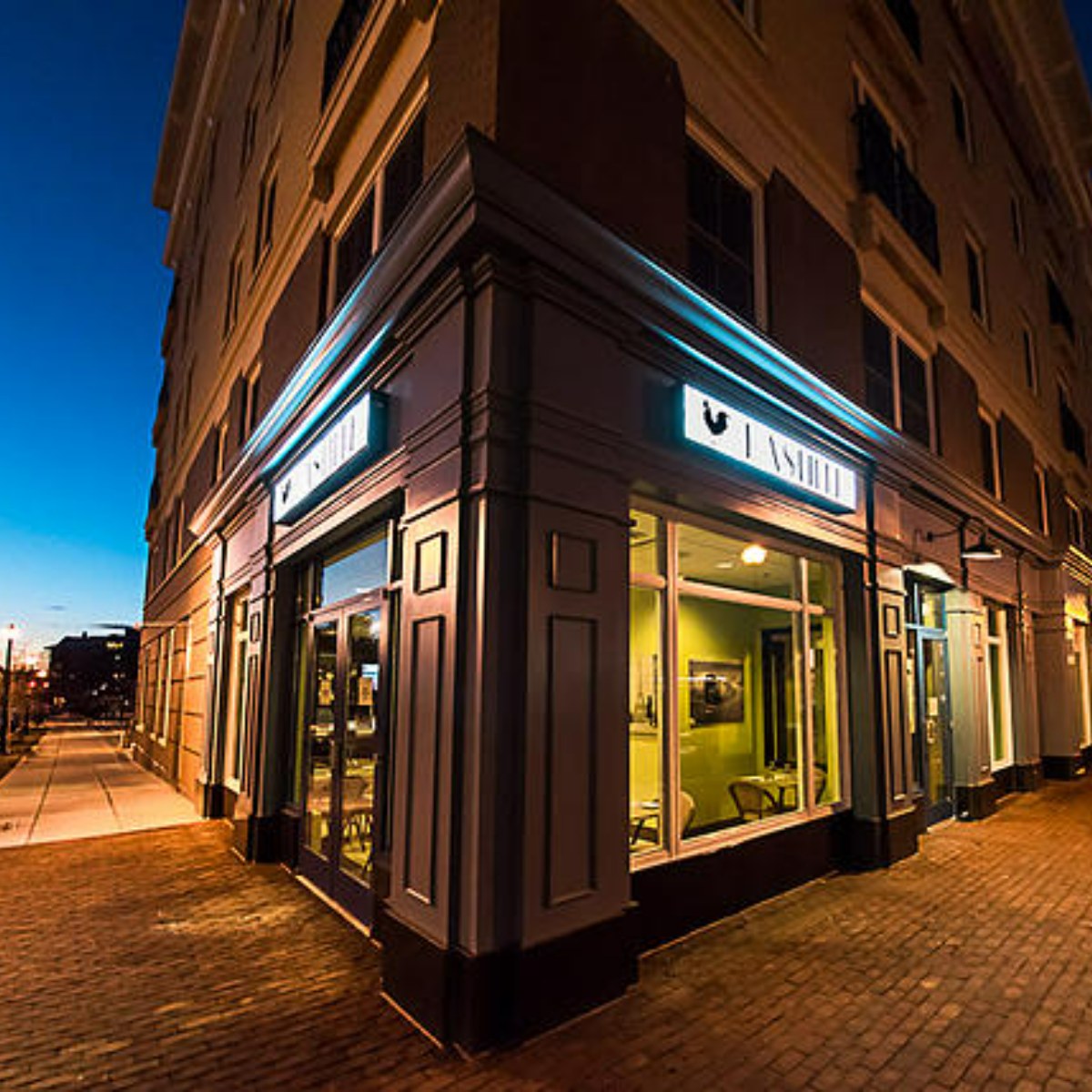 Bastille Brasserie (Courtesy photo)
All Bob & Edith's Diner locations will be open regular hours on Thanksgiving. They always have their open-face turkey sandwich with mashed potatoes and gravy.
Brabo Brasserie, 1600 King St., (703) 894-3440
Enjoy a four-course Thanksgiving menu from 12:00 pm to 8:00 pm. The meal includes soup, salad, roasted turkey breast, braised short rib, or a forest mushroom risotto. A chef's selection of holiday mini pies and tarts complete the meal.
Cedar Knoll Inn, 9030 Lucia Ln., (703) 780-3665
Join a family-style feast at Cedar Knoll. Enjoy hors d'oeuvres, turkey breast. Turkey leg confit, fresh cranberry sauce, root vegetable hash, whipped and baked buttermilk duchess potatoes, roasted green beans, and miniature Thanksgiving sweets.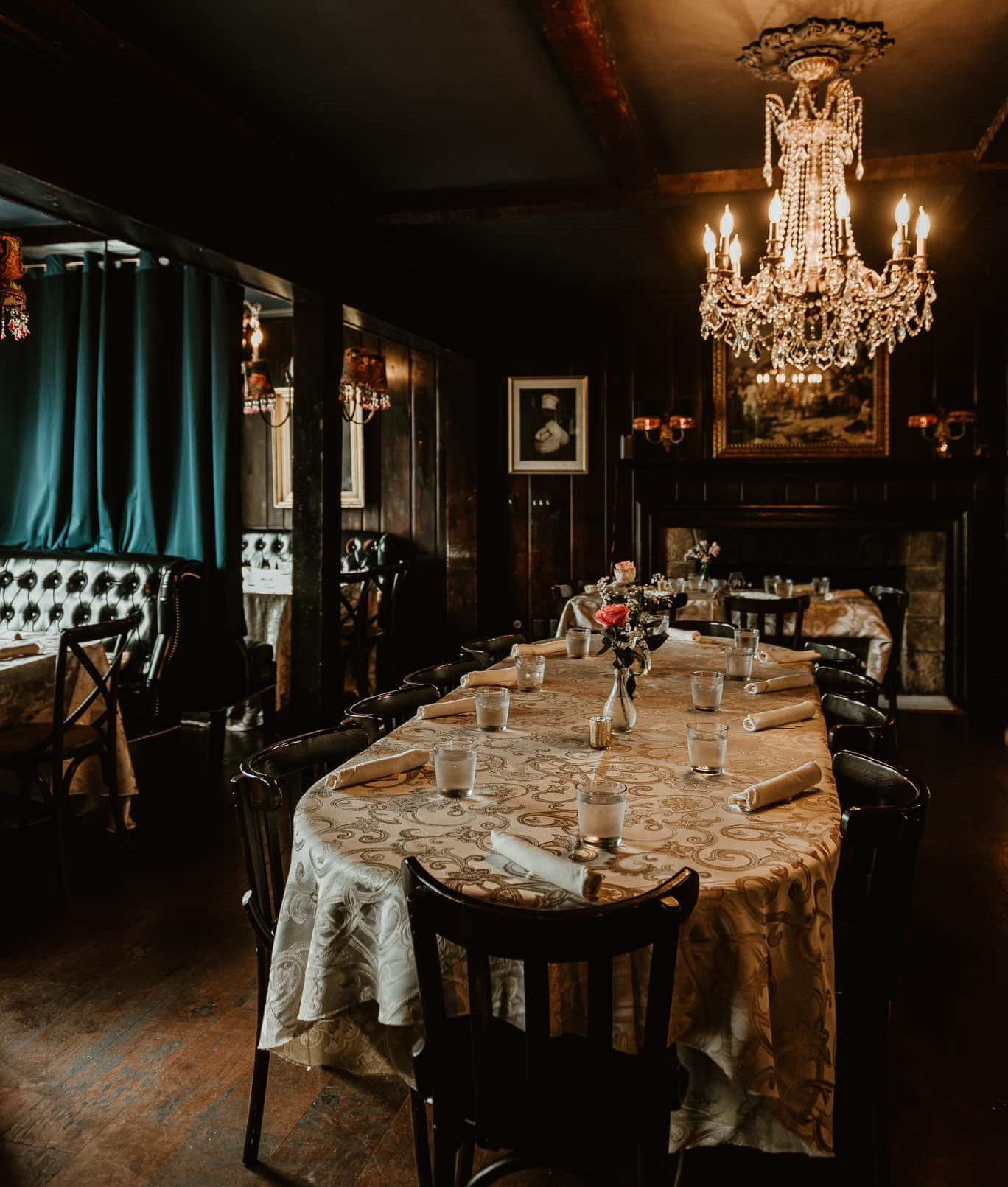 Clyde's at Mark Center, 1700 N. Beauregard St., (703) 820-8300
Clyde's is offering their regular menu and two specials.  The traditional turkey dinner includes sliced white & dark meat, sausage-sage stuffing, mashed potatoes, glazed sweet potatoes, green beans, turkey gravy, cranberry sauce; and a choice of apple pie or pecan pie a la mode or pumpkin pie with fresh whipped cream. The glazed spiral sliced ham dinner includes potato gratin, green beans, mustard-cream sauce, and a choice of apple pie or pecan pie a la mode or pumpkin pie with fresh whipped cream.
Chart House Restaurant, 1 Cameron St., (703) 684-5080
The 3 course dinner choices include a traditional turkey dinner with roasted turkey, cornbread stuffing, mashed or baked sweet potato with rum butter pan gravy, creamed spinach and cranberry relish;  prime rib with a three-potato mash, truffle crusted grouper with lobster corn fondue, and three-potato garlic mash; lobster + shrimp carbonara; filet mignon three-potato garlic mash; or a choice of fresh fish. All entrée items include a choice of soup or salad and dessert.
Copperwood Tavern, 4021 Campbell Ave., (703) 552-8010
Thanksgiving dinner starts at 3:00 pm with turkey and sides like creamy mashed potatoes, sage apple turkey sausage stuffing, sweet potato casserole, green beans, and house made cranberry sauce. The regular menu will also be available.
Gadsby's Tavern, 138 N. Royal St., (703) 548-1288
Enjoy a three-course menu on Thanksgiving that includes a choice of peanut soup or salad to start, turkey and ham with all the fixings or herb-crusted rockfish filet for the main course, and pumpkin or pecan pie for dessert. Bread, cornbread, and non-alcoholic beverages are also included with the meal. You can also enjoy a family-style meal in the 19th-century ballroom.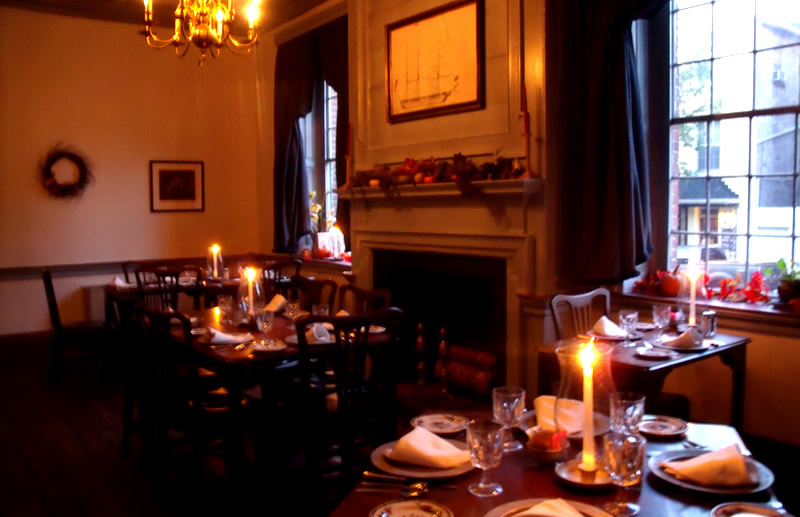 IHOP
In addition to their regular menu, the restaurant is offering a homestyle turkey and stuffing dinner or a homestyle turkey and stuffing melt (griddled sandwich with roasted turkey, mayo, grilled onions, cornbread stuffing, mixed berry topping). Customers should call their local store to check its hours first.
King & Rye, 480 King St., (703) 842-2761
The three-course feast includes a choice of appetizers including beef tartare, roasted pumpkin soup, or Kurobuta pork belly. Main courses include roasted turkey roulade, whole roasted smoked chimney trout, butternut squash farro risotto, or a Creekstone farm ribeye. Dessert choices are a choice of pumpkin spiced cheesecake, pecan pie with vanilla ice cream, and bourbon bread pudding.
Laporta's Restaurant, 1600 Duke St., 703-683-6313
The free range turkey dinner includes all the trimmings including a choice of soup or salad, turkey with walnut dressing and giblet gravy, candied sweet potatoes, mashed potatoes, green beans, creamed onions and peas, relish tray, and dessert.
Lena's Wood-fired Pizza and Tap, 401 E. Braddock Rd., (703) 683-5330
The popular Thanksgiving Family Meal To-Go is available. All orders are packaged hot and ready to be served and all order pick-ups will be scheduled for November 22 or 23. The last day to order is November 16. The meal includes a Tuscan rosemary & garlic rubbed turkey breast with house-made turkey gravy and all the sides.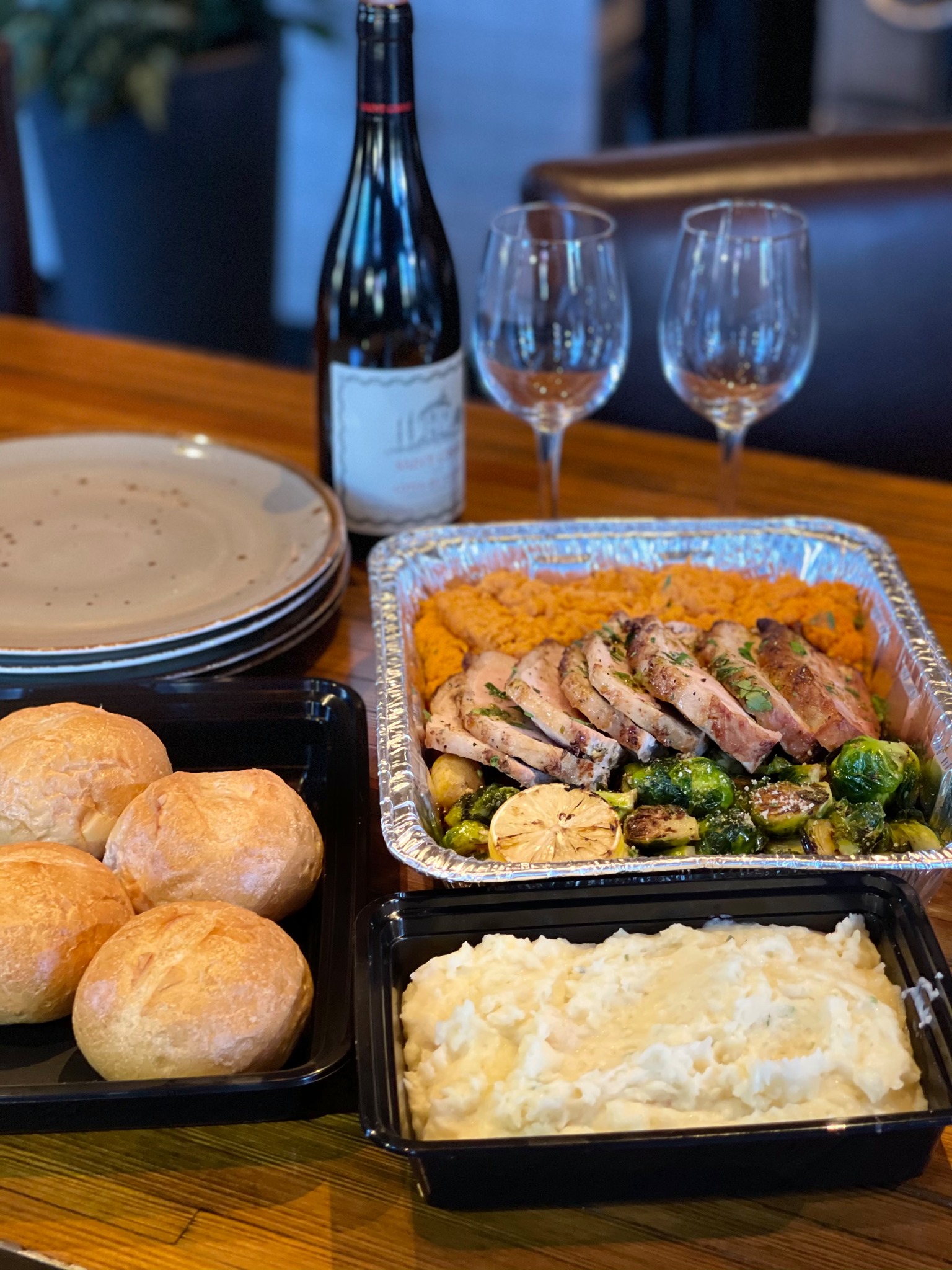 Lebanese Taverna, 1101 S. Joyce St., (703) 415-8681
No turkey here but try a leg of lamb, with spiced rice, toasted nuts, and three-herb sauce or an organic whole chicken. A la carte sides include za'atar potatoes, bulghur pilaf, and arnabeet. Pickup November 22.
McCormick & Schmick's, 2010 Crystal Dr., (703) 413-6400
In addition to the regular dinner menu, they will be serving a traditional turkey dinner including a choice of soup or salad, and sliced roasted turkey with cornbread dressing, mashed potatoes, turkey gravy, fresh cranberry sauce, butternut squash casserole, and seasonal vegetables. Dinner is also available to-go.
Mount Vernon Inn, 3200 Mount Vernon Memorial Hwy., (703) 799-5296
Enjoy a Thanksgiving Buffet from 10:00 am until 5:00 pm. Main courses include Roasted Turkey and gravy, Garlic Butter Roasted Salmon, Honey Glazed Ham, and Boneless Veal Short Ribs.
Murphy's Grand Irish Pub, 713 King St., 703-548-1717
Murphy's is serving lunch and dinner with a choice of the turkey, ham or combo meal, served with a choice of classic Thanksgiving side dishes. They are also serving all of your favorite regular menu items.
Oak Steahouse, 901 N. Saint Asaph St., (703) 840-3395
A Thanksgiving menu is available from 2:00 pm to 8:00 pm.
Red Lobster, 555 S. Van Dorn St., (703) 370-9422
Red Lobster locations will be open for dine-in and to-go service with new lobster and shrimp dishes. Guests can order several limited-time holiday sides for to go orders including Cheddar Bay stuffing, crispy Brussel sprouts, bacon mac & cheese, mashed potatoes, and orzo rice.
The Royal Restaurant, 730 N. St Asaph St., (703) 548-1616
Enjoy a Royal Thanksgiving buffet.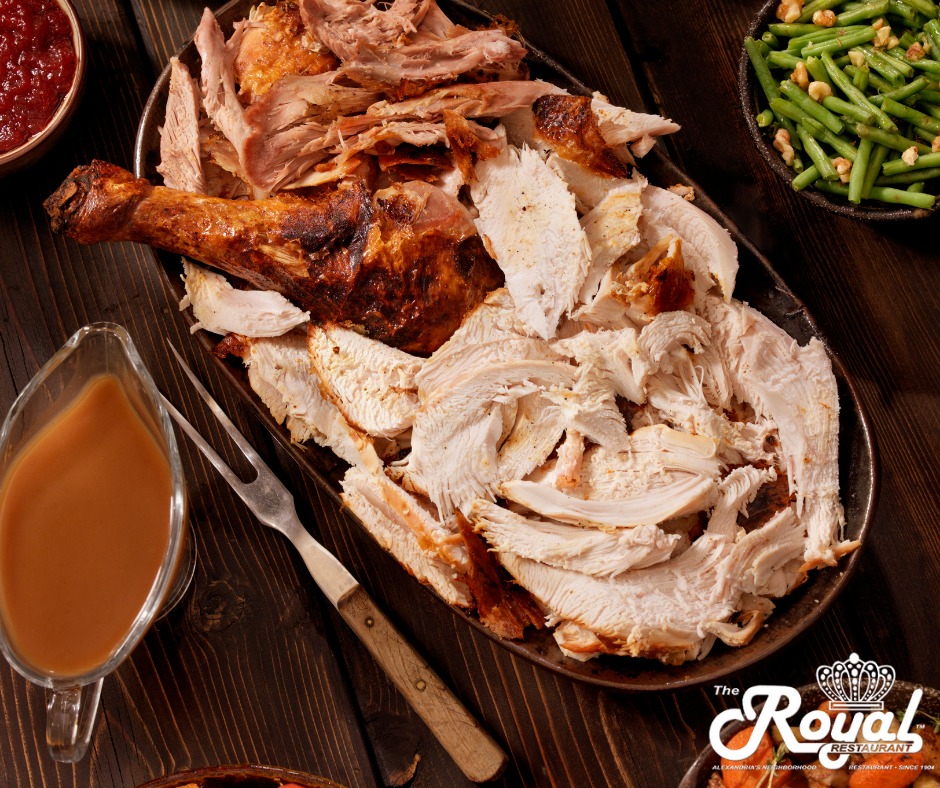 Ruth's Chris Arlington, 2231 Crystal Dr., (703) 979-7275
A three-course Thanksgiving Feast is available with all of the trimmings. The meal includes sliced oven roasted turkey, sausage and herb stuffing, homemade turkey gravy, cranberry relish, and a choice of garlic mashed potatoes, sweet potato casserole, creamed spinach, or green beans with roasted garlic. The regular dinner menu is also available all day.
Trademark Drink + Eat, 2080 Jamieson Ave., (703) 253-8640
Trademark Turkey Dinners available for pick up. The meal features a Port City Optimal Wit brined and roasted turkey and with gravy and Optimal Orange Cranberry sauce. Side selections included roasted brussels sprouts, green beans, heirloom carrots, sweet potato polenta, creamy mashed potatoes, and classic English sage and onion stuffing. Dessert features a selection of mini autumn cakes and pastries.
The Warehouse, 214 King St., (703) 683-6868
As of publication time, there was no information about the Thanksgiving menu or hours available.
Grocery stores including Giant, Harris Teeter, Wegman's, Fresh Market, Whole Foods and more will be offering a variety of meals for the holiday including turkey, ham, roasts, and all the sides.
NEW!
Chalkboard Wings & BBQ, 8723-C Cooper Rd, 571-347-8157
Chalkboard Wings & BBQ in Mount Vernon has you covered for both pre-ordered food for your Thanksgiving dinner, and will be opening on Thanksgiving night at 4:00 pm with a smoked turkey leg dinner and NFL football on their 8 TVs. Choose from a whole or half smoked turkey, ham, brisket, or roast beef, plus a wide selection of signature and classic Thanksgiving sides, appetizers, and desserts available for take-out. Place your orders before noon on Sunday the 19th for pickup on Tuesday or Wednesday.
Junction Bakery & Bistro, 1508 Mount Vernon Ave., (703) 436-0025
Thanksgiving orders will be taken until Nov. 19 or as supplies last. The turkey dinner includes a boneless turkey breast, broccolini, mashed potatoes, chopped salad, stuffy, sage gravy, cranberry sauce, and pumpkin pie. They are also offering pumpkin, apple, and pecan pies, dinner rolls, and pumpkin rolls. Orders must be picked up by 12 pm on Nov. 23.
Le Refuge, 127 N Washington St., (703) 548-4661
They are serving a three-course menu on Thanksgiving Day. Make a reservation for 12:00 pm, 2:00 pm, or 4:00 pm.
Matt and Tony's, 1501 Mt Vernon Ave., (703) 429-4950
The Thanksgiving package includes blackened turkey, andouille gravy, cornbread stuffing, bacon braised collard greens, sweet potato mashed, green bean casserole, pumpkin cheesecake, and cranberry sauce. All food will be fully cooked but need to be reheated at home before serving. Instructions are included. Pickup by 4 p.m. on Nov. 22 or before 2 p.m. on Nov. 23.
Spice Kraft, 2607 Mount Vernon Ave., (703) 527-5666
Feast on a six course menu of items featuring Indian interpretations of turkey, cranberries, pumpkin, gravy, and vegetables
Sweet Fire Donna's, 510 John Carlyle St., (571) 312-7960
Although not open on Thanksgiving Day, Sweet Fire Donna's has a Thanksgiving Catering Menu available November 1st- November 21st.  The package includes smoked turkey breast, smoked ham, green bean casserole, cornbread stuffing, mashed potatoes & gravy, house-made cranberry sauce, dinner rolls and a whole pumpkin pie.
This list is current as of 11/16/2023. We are regularly updating information as it becomes available. If your favorite restaurant is not on this list, please contact them to find out if they are offering any Thanksgiving specials. Restaurants, please contact [email protected] to be added.