After a three-year wait, Folger at last revealed its redesigned entrance and reception space to theatregoers. Don't worry. The theatre looks the same with its beautiful walnut coffered walls and upper seating gallery. Modernizing the Folger Library is still ongoing and is on target to be completed next year.
It's Karen Ann Daniels's first season as Artistic Director and if this is any mark of her guidance, we are in for a treat. The Winter's Tale is a dramedy from Shakespeare's First Folio of 1623. Considered both a romance and a comedy, it is so much more, especially in the capable hands of Director Tamilla Woodard, who breathes new life into both its dramatic and its comedic side.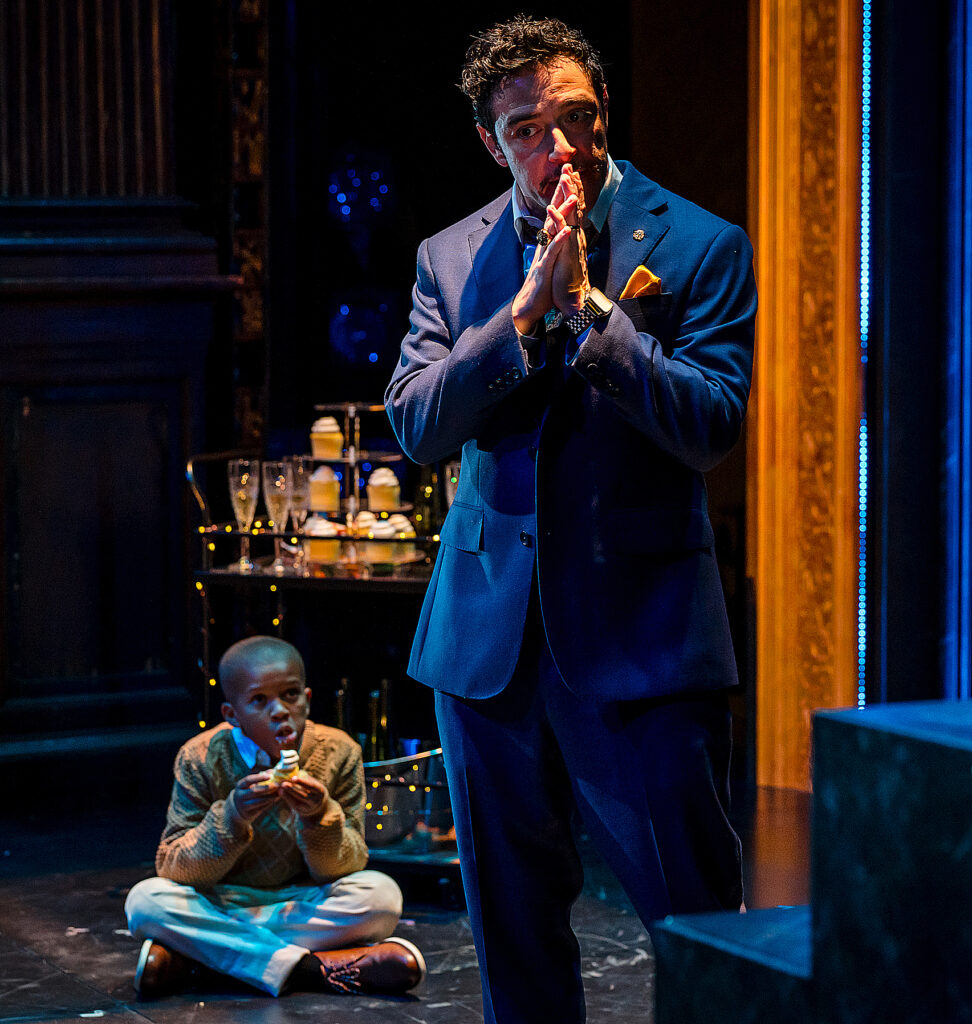 The play opens with a fancy birthday party for Leontes' eight-year-old son before morphing into an edge-of-your-seat crime drama. Who did what? What are their intentions? Who's innocent? Who's to blame? Who's going to die? Who's lying? Who will stand by King Leontes (Hadi Tabbal) even when he's obviously gone bonkers, accusing Queen Hermione (Antoinette Crowe-Legacy) of being impregnated by his best pal, Polixenes (Drew Kopas)? Insert huge eye-roll here.
It seems the king has cuckolding on the brain. It turns out the men go along with him. And although they try mightily to dissuade him from murdering his wife, along with his beloved young son, Mamillius (the adorable and talented Clarence Payne), and the yet-unborn babe, their lives are also in danger.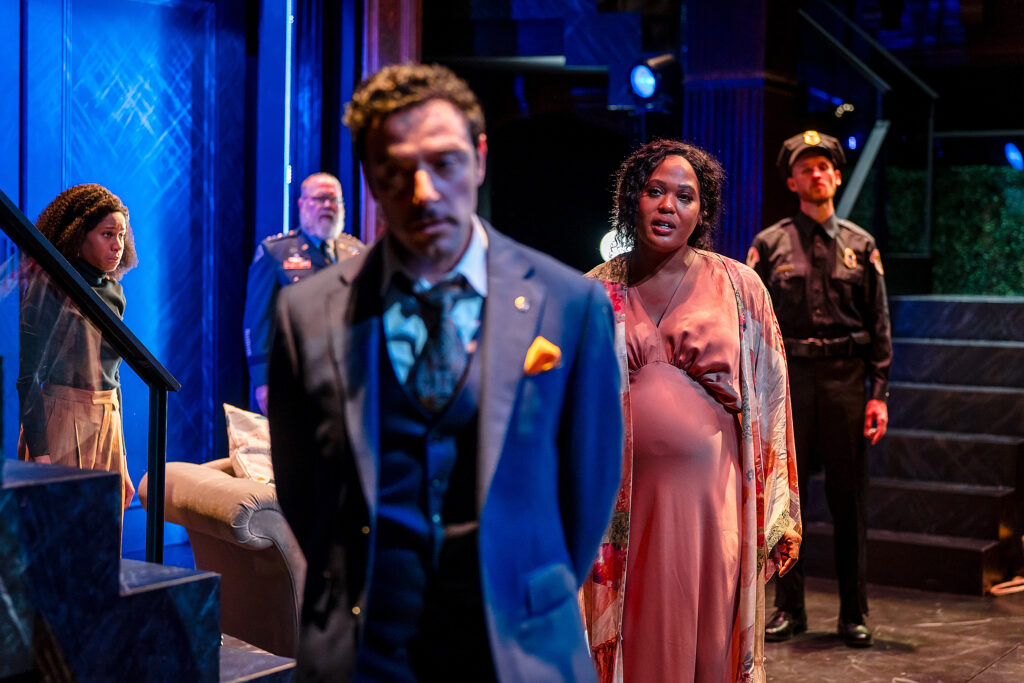 The women believe in Queen Hermione's innocence and fight mightily and eloquently for her honor. Paulina (Kate Eastwood Norris), her ally, refers to the king's delirium as "his tyrannous passion." And that's putting it mildly. She gives him holy hell on a plate.
Leontes' cupbearer, Antigonus (Stephen Patrick Martin), agrees to murder the baby, but his heart aches, and instead he leaves her in the forest during a hurricane. When the Shepherd (also Martin, who now looks like Big Hoss from the TV show Bonanza) finds her and takes her in, he names her Perdita (Kayleandra White).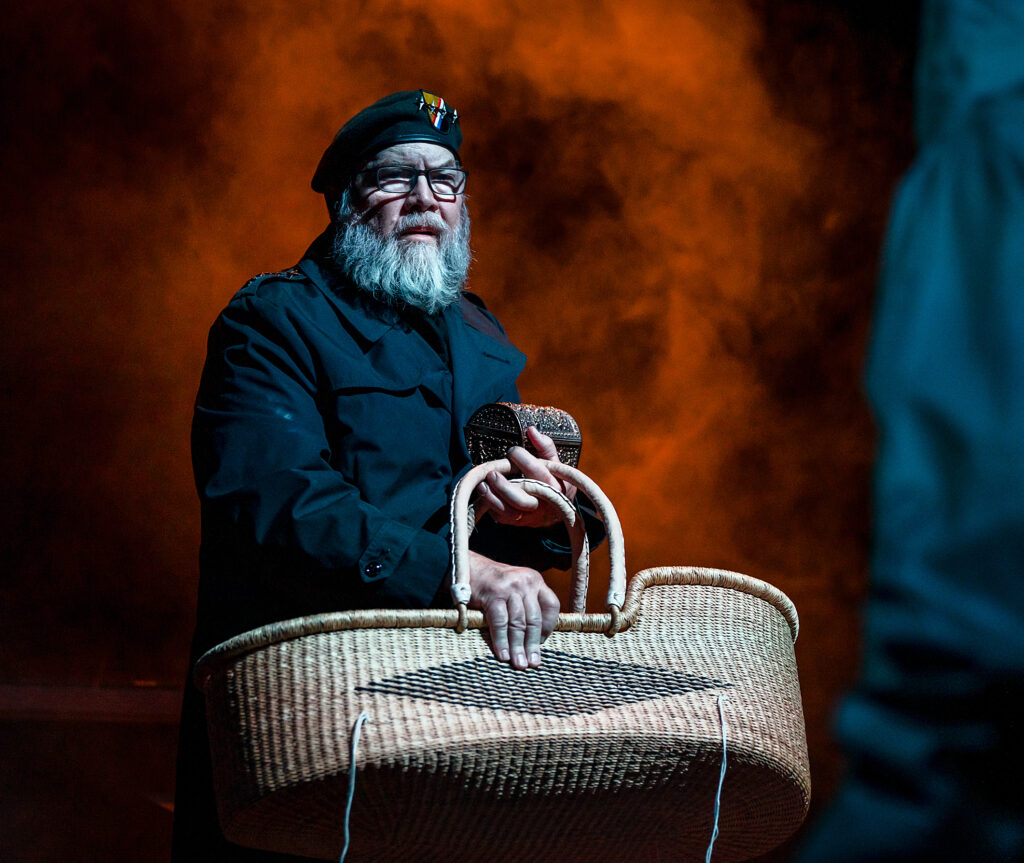 Did Shakespeare know it translates to "little lost girl" in Italian? After she has grown to be a beautiful young woman, Polixenes' son, Forizell (Jonathan Del Palmer), falls head over heels for the abandoned princess.
For the entirety of Act I, we are on tenterhooks – gripped by the murderous plot and riveted by the suspense. By the time intermission comes, we don't want to leave our seats after Leontes has ordered the deaths of his wife, his son, and the unborn child.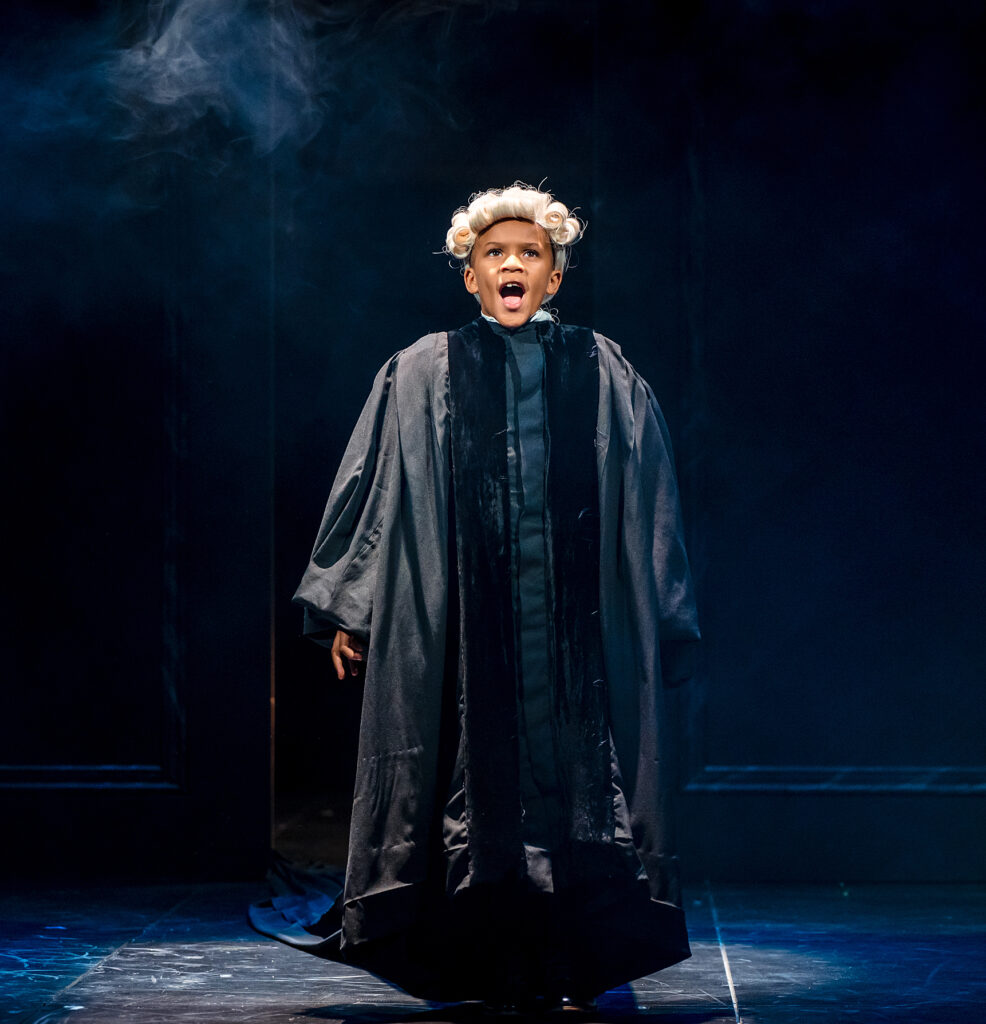 Act II takes a 180. When Time announces that 16 years have passed, the plot switches to raucous comedy in the goofiest, zaniest, laugh-your-buns-off way. Watch for cowboys and cowgirls doing the Electric Slide at a sheep shearing hoedown; the Shepherd's no-nothing, goofball son, Camillo (Cody Nickell), and the whole lot of them now speaking with a Southern twang; and a wacky, bicycle-riding, gypsy pickpocket, Autolycus (Reza Salazar) who fires up the audience with a call-and-response "Heigh-ho!" By now, we are on the floor writhing in hysterics. The audience needed stitches after all the shenanigans.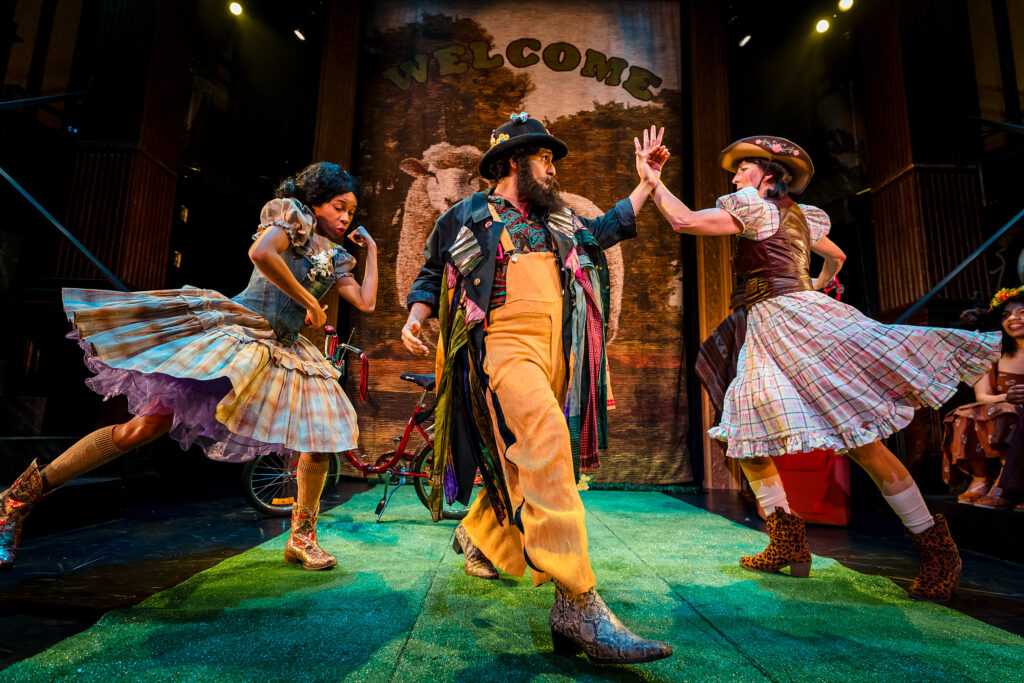 This is a terrific cast of notable locals and Broadway veterans. Standouts are the absurdly hilarious Nickell – a super scene-stealer; the marvelous charisma of the statuesque Crowe-Legacy; the undeniable acting chops of Tabbal; and our beloved local actor Norris, who pulls out all the stops to portray both fierceness and humanity.
The humor and switcheroo unpredictability of this play are the very things that make it so indelible. In the immortal words of the Roman emperor Marcus Aurelius, "Go with the flow." All the better to enjoy yourself!
Children Richard Bradford and Clarence Payne share the roles of Mamillius and Time, and Nicholas Gerwitz plays Shepherd's Son. Sabrina Lynne Sawyer is in the ensemble.
Set Design by Raul Abrego, Jr.; Costume Design by Sarah Cubbage; Lighting Design by Max Doolittle; Sound Design and Original Music by Matthew M. Nielson; Choreography by Joya Powell.
Highly recommended. A treat for the soul and the funny bone!
Through December 17 at Folger Shakespeare Theatre, 201 East Capitol Street, SE, Washington, DC 20003. For tickets and information, visit Folger.edu or call the box office at (202) 544-4600.