March 1-31
56th Annual Woodlawn Needlework Show & Sale
10:00 am- 4:00 pm (closed Tuesdays)
Woodlawn & Pope-Leighey House
9000 Richmond Highway
Woodlawn Estate was the first family home of Eleanor "Nelly" Custis, one of America's foremost needle workers. The show honors her legacy as an American crafter, maintaining the long tradition of the needle arts, promoting emerging needlework artists, and raising needed funds to preserve our site today. The show highlights the talents of all needlework makers, embracing a diverse community of artists. Admission includes demonstrations, special exhibits, talks by local craft artists and the needlearts gift shop. (703) 570-6903 $15 for adults, $6 for children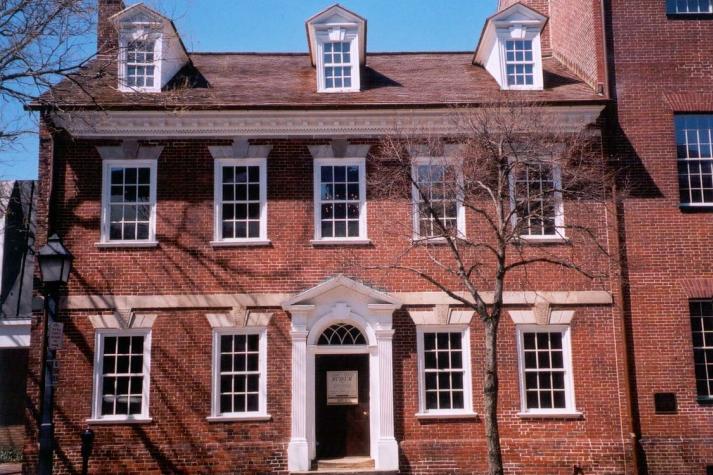 March 9, 16, 23, 30
The Feminine Side of the Tavern
10:00 am-11:00 am
134 N. Royal St.
Discover the many roles women played in tavern life. This tour challenges assumptions about a woman's role in the 18th century and how women intersected with the tavern, a place commonly assumed to be just for men. Tickets available for $15/person, $12/GTMS members.
March 9
Write Like a Woman Networking Workshop with Kanikki Jakarta
1:00 pm-3:00 pm
201 Prince St.
Facilitated by poet and author KaNikki Jakarta, this workshop welcomes amateur to professional women writers ages 18-100. Each workshop centers on uplifting and inspiring through writing and allows participants to enhance their writing styles. Cookies and tea will be offered. Space is limited, please RSVP. Free.
March 10
Mad Science
1:00 pm-4:30 pm
Stabler-Leadbeater Apothecary Museum
105-107 S. Fairfax St.
What do super heroes, crazy animals, and explosions have in common? A mad scientist probably made them! Come to the Apothecary Museum to explore where real science and mad science collide. 45-minute tours start every 30 minutes between 1 and 4:30 p.m. and feature historic medicines with surprising side effects. Meet the Museum's own mad scientist bringing to life some crazy concoctions and the science behind them. Reservations recommended. $6 per person, ages 5 and up.
March 14
Mosby's Raids in Civil War Northern Virginia with William Connery
7:00 pm-9:00 pm
The Athenaeum
201 Prince St.
In Mosby's Raids in Civil War Northern Virginia, William Connery chronicles the successes of John Mosby. The Gray Ghost is celebrated most for his raids that captured Union general Edwin Stoughton in Fairfax and Colonel Daniel French Dulany in Rose Hill. By 1864, he was a feared partisan guerrilla in the North and a nightmare for Union troops protecting Washington City. After the war, his support for presidential candidate Ulysses S. Grant forced Mosby to leave his native Virginia for Hong Kong as U.S. consul. A mentor to young George S. Patton, Mosby's military legacy extended to World War II. (703) 548-0035 $15.00/person

March 16
Best Bib and Tucker Ball: Zelda's Ball
7:00 pm-11:00 pm
134 N. Royal St.
For a night of celebration of the centennial of women's right to vote, come join Doc Scantlin's orchestra and the dazzling songstress Chou Chou for dancing and entertainment. Pull out your Roaring '20s attire! Late night, delight in disco music. Enjoy a sumptuous repast and libations, champagne, and a spectacular silent auction. Proceeds benefit Gadsby's Tavern Museum. Make reservations. $150 per person for 7-11 pm tickets;$75 per person for disco tickets for 9-11 pm

March 16
10:00 am
March 23
2:00 pm
Dress Up Day: The Musical
Episcopal High School
Ainslie Arts Center
3900 West Braddock Rd.
With fun and funny music to keep younger audience members engaged, kids and their parents will appreciate the themes of identity and acceptance. It is an imaginative, thoughtful, and relevant piece for today's kids. Dress Up Day: The Musical celebrates creativity and personal expression. When a spunky first-grader discovers that all her friends have the same plans for their school's dress up day, she goes on a quest to discover who she truly is. Dress Up Day: The Musical is intended for all ages and will include a talkback after each performance. During the talkback, audience members will be able to ask about their favorite characters, the process of writing a musical and what happens next with the main character. https://www.artful.ly/store/events/16926 $12

March 23
War of 1812 in Alexandria – A Walking Tour
10:00 am-12:00 pm
614 Oronoco St.
A guided walking tour of people and places in Old Town associated with the War of 1812 and the British occupation of Alexandria in 1814. The tour will last approximately 90 minutes. Purchase of tickets in advance is highly recommended. Participants are encouraged to wear comfortable shoes and bring water. (703) 548-1789 $10 in advance, $15 at door Free for members.
March 23
Good Shepherd Housing & Family Services Family Beach Bingo
5:00 pm-8:00 pm Mount Vernon Unitarian Church 1909 Windmill Lane Bingo night features classic bingo as well as popular variations. Tickets include a pasta buffet dinner, soft drinks, and 6 bingo cards. Winners can choose from a variety of exciting prizes, so get those daubers ready and join us for a night of family-friendly fun! Flamingo croquet from our 2018 gala will be on site for extra fun for everyone! Proceeds from the event assist our various programs, including Apartments-Budget-Counseling (ABC), Emergency Services and Children's Resources. Tickets and sponsorships are available for purchase. https://501auctions.com/gshbingo?blm_aid=24189

March 28
The New Woman: Life in Progressive Era Alexandria, 1890-1920 Exhibit
Lee-Fendall House Museum & Garden
614 Oronoco St.
The years 1890 to 1920 were a time of great change for women, both politically and socially. This exhibit explores the lives of three Alexandria women who were connected to the Lee-Fendall House during this period. Drawing on original photographs and archival materials as well as period objects, the exhibit explores changes in education, work, politics, fashion, and athletics. Entrance to the exhibit is free with admission.