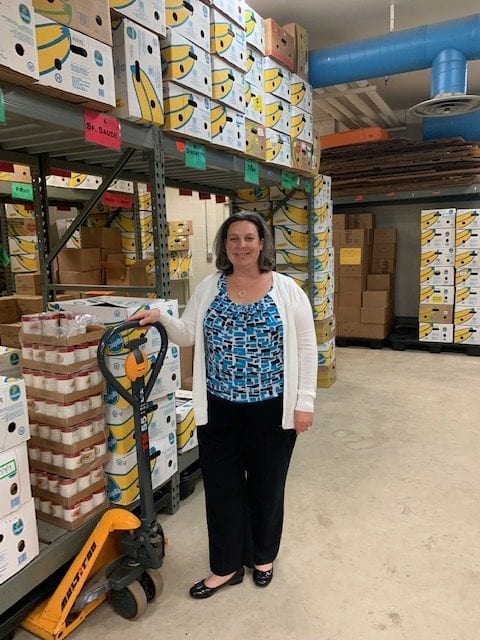 (Alexandria, VA) – The Board of Directors of ALIVE! has announced the appointment of Jennifer Ayers as executive director of the nonprofit dedicated to providing emergency and basic needs services to Alexandrians living with poverty and in hunger.
"So much has been accomplished over the last 50 years, but ALIVE!'s important work continues," said Eric Winakur, president of the ALIVE! board of directors. "As we celebrate this important milestone, ALIVE! has many opportunities for growth.  Jennifer is the right person to guide the organization, strengthen ALIVE!'s critical direct service programming and nurture our valuable community relationships."
A proud resident of the City of Alexandria, Ayers holds a master's degree in Public Administration from the University of Southern California, and brings to ALIVE! 20 years of experience working and volunteering in the nonprofit sector at the executive level, including serving as the executive director of the American Institute for Medical and Biological Engineering.
Since 2012, Ayers has owned and operated JL Ayers Consulting, supporting nonprofits to become more efficient, effective and focused on executing their mission. Ms. Ayers has been very involved in the Alexandria community. As a member of Fairlington United Methodist Church, she has served as chair of its stewardship committee. She has also served as president of Living Legends of Alexandria, in addition to involvement in Alexandria PTAs and her local civic association.
"I am honored to have the opportunity to lead ALIVE!.  As an Alexandrian, I am very well aware of the important role ALIVE! and its programs play in our City," said Ayers.  "The organization is poised to take the next, important step in its long history of service.  I look forward to be part of the effort to bring ALIVE! to the next level, making a positive difference in the lives of our neighbors in need of food assistance, financial assistance, early education, transitional housing, donated furniture and housewares and other essential services, and working to create a stronger, healthier Alexandria," Ayers said.
About ALIVE!
The oldest and largest private safety net for Alexandrians living in poverty and with hunger, ALIVE! serves thousands of people each month by providing Food, Shelter, Emergency Help and Education.  Founded in 1969, ALIVE! is comprised of 45 faith-based organizations and thousands of volunteers, partners and supporters.  For more information, please visit www.alive-inc.org or call (703) 837-9321.