Community News
New Year's News: Alexandria City Council Declares Dec. 31 as 'Fair-Weather, Fun-Filled Day'
What are you doing for New Year's Eve in Alexandria?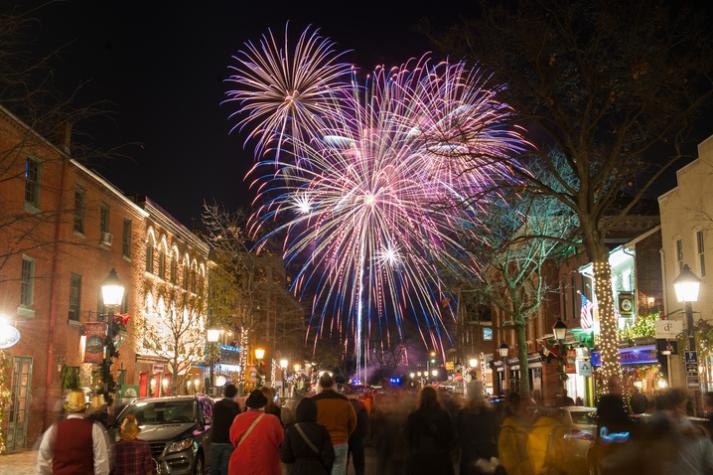 Alexandria, VA – Looking for something to do New Year's Eve for the whole family? The 25th anniversary of First Night Alexandria is an interactive New Year's celebration of the performing arts and one of the biggest and best New Year's party in the area. There will be at least 100 performances spanning a wide range of musical genres at more than 30 indoor stages throughout Alexandria.
"Every year it gets better and better – a little something different every year," said Alexandria Mayor Justin Wilson. "We're very excited and very looking forrward to ringing through the new year in Old Town, Alexandria."
On Dec. 10, the Alexandria City Council unanimously approved a proclamation declaring December 31, 2019, as a "fair weather, fun-filled day."
Don't Miss: Did You Know Alexandria Has A Night Mayor?
"We are the region's only family-friendly alcohol free celebration of the new year – the largest of the Mid-Atlantic region," First Night Alexandria President and Board Chair Laurie MacNamara said at a presentation Tuesday night at City Hall. "This is our 25th anniversary, so it will be extra special this year."
First Night includes the "Kids Karnival," a safe New Year's celebration tailored specifically to children, with face painting, balloons, magic, games, and more at the Charles Houston Rec. Center, the Mount Vernon Rec. Center, the Washington Street United Methodist Church, and the William Ramsay Rec. Center.
There will also be a talent show for all ages called Alexandria's "Got Talent?" featuring a talented array of middle and high school students held at the Durant Community Arts Center on Cameron Street. The festivities will culminate at the waterfront with a spectacular fireworks display called "Rockin' on the River," and sponsored by MGM National Harbor.
See You There!