Zebra Misc
Lez Zeppelin's Dash For The Gates Of Glory
By Steve Houk  livingonmusic.com
In a rare instance, there are those moments when something truly remarkable happens on life's journey. A time when a voice whispers to you, "Yeah, you did it." A moment when you feel you have really reached that place, that pinnacle, that mountaintop. Or that Misty Mountain Hop, for that matter.
For Steph Paynes and her world-renowned, world-class, exceptional Led Zeppelin manifestation called Lez Zeppelin, there have been some pretty big moments over the last 15 years, all as this band of four powerful women have been putting their thunderous, sensual and masterful take on the classic music of one of the world's greatest rock and roll bands. I mean, releasing a couple Zeppelin-laden records is a milestone for a band like this, touring the globe and playing places like Mumbai and Japan is pretty major, and heck, two stints at Madison Square Garden, that's a benchmark to be sure. And yes, getting to meet her idol and "guitar mentor"– Led Zeppelin guitarist Jimmy Page — and receiving his rousing endorsement certainly could be considered a high point for a this Zeppelin-induced band.
But what happened last fall at the Metropolitan Museum of Art's rock and roll-tinged exhibition Play It Loud just may have been that biggest moment that cemented Lez Zeppelin into an extra special place that few if any "tribute-type" bands ever get to. And it also once again involved Page, whose guitars and concert outfits were on display.
"I got an email from someone at The Met asking if we would do a concert there and play Led Zeppelin music as part of this Play It Loud celebration," the sweet and enthusiastic Paynes told me on a break from the band's current tour that hits the State Theater in Falls Church on January 18th. "I nearly fainted, I thought, 'Wow, they picked us to do it.' So we did this unbelievable concert, incredibly surreal playing there, and after the show, I was talking to the curator and I said, 'How did you hear about us, I'm so honored that you chose us.' And he goes, 'Oh…well, Jimmy told us.' And I thought to myself, "No. He's lying." Then I thought, 'Why would he lie?,' I know Jimmy likes us. But still, I'm not sure really how much better it gets than that, short of sitting and playing with (Jimmy). But it might even be better than him playing with us, because it was our band that was chosen to represent Led Zeppelin at the greatest museum in the world."
There are a legion of Lez Zeppelin fans, new and old, who have wrapped their collective fandom around this unique and mighty representation of Led Zeppelin's catalogue. The band has become a dominating musical force that seems to bring a different and more resonant reverance and atmosphere to the Zeppelin table than most bands of their ilk, all in an era where competition seems to be getting increasingly heavy. And Paynes is clearly proud of Lez Zep's current presence in the game.
"I will say this, the field has gotten very crowded with all sorts of these quote unquote tribute bands that did not really exist when I started this," said Paynes. "It's made it more difficult because there are so many of them. I'm not saying they're not any good, some are better than others. But they certainly do not take it as seriously, or have been doing it in the same way, or do the same thing."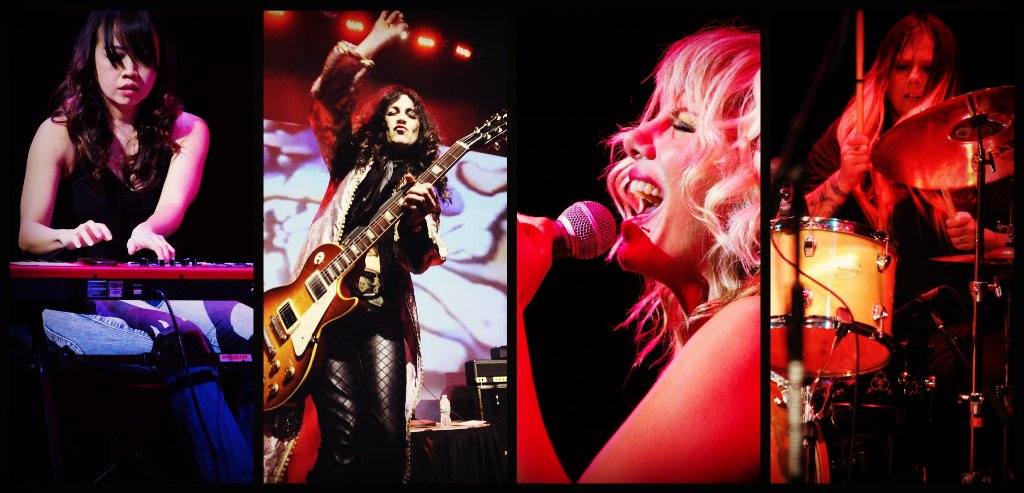 Paynes has been the instrumental force in Lez Zeppelin since the beginning, not only amping up the band's delivery but raising the band's aspirations from being just another band who steps onstage and recreates Zeppelin music.
"We've been formulating ways to make it more of a production, more of an immersive experience, kind of inch it towards something theatrical, which has been a goal for a while. Recently, we did a couple of string shows and we loved it so much that we said wouldn't it be great to just stage some string shows and do a tour with strings? Well, what ended up as a little innocent idea, as always with this band, became a much bigger full-blown thing."
That "full blown thing" not only includes string touches but the 2019 release of their EP The Island Of Skyros, which includes memorable versions and bigtime production value on Zeppelin gems like Achilles' Last Stand, Immigrant Song and Battle of Evermore.
Paynes has taken Lez Zeppelin by the hand and guided its evolution ever since she founded the band in 2004, never knowing what the future would hold. "This whole thing has been so ridiculous from what it originally started out as, this idea to indulge my guitar-playing obsession with playing Jimmy Page's riffs, and just playing some hardcore Zeppelin for fun because I was not really doing another band at the time. It has all led up to this adventure that is now in its 15th year. Now it's my job. And right now it's in a somewhat accelerated state."
For their current tour's set list, Paynes and her Lez Zep bandmates Marlain Angelides (vocals), Leesa Harrington Squyres (drums) and Joan Chew (bass/keys) have taken on Zeppelin's legendary sixth studio record Physical Graffiti (1975), playing it in its entirety, as well as other Zep nuggets. Paynes was ecstatic to undertake the task of playing this heavily varied double album while also realizing the daunting nature of its wide swath of Page's guitar playing.
"I will tell you that it was sort of my dream from the beginning, but it is a hard choice, and I'm not sure anyone else does it. There are things on that album that are really, really hard to play, so it's challenging in that way. You can't just come out and play electric guitar furiously, you have to play acoustic fingerpicking, you have to play old rock and roll, you have to play a lot of funk. But we figured it out. It's a lot of gymnastics. And I think it covers the spectrum of what Led Zeppelin did. Yeah, it's going to be really fun. Physical Graffiti is really a funky record."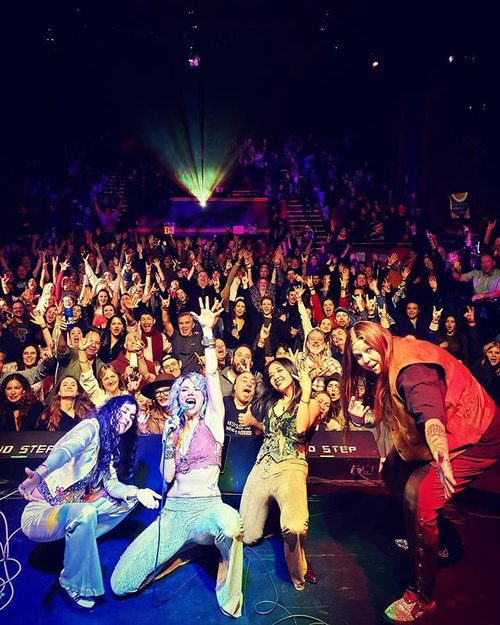 And in addition to her intense life as leader of the band, Paynes still has those dreams of recording her own music, and also dabbling in another of her passions. All when things with Lez Zep calm a bit and give her the chance.
"I'm so busy because I was basically leading the band and we didn't have a manager, so it was really eating up so much of my time. It's been hard for me to focus or do almost anything else, I can barely keep up with it. But that all should change soon. I have a couple of projects that I've been aching to do, one, write some music on my own, which I've done on and off. I mean, I had a piece on this all-girl quote unquote guitar goddess record. I didn't name it, they did, ha. But I had a composition on that, and it's something I think I'd like to try to do with this band a bit more, it's such a great band. And I'm also a writer and I just haven't really had a chance to sit down and write. I would love to get back and do that a little, too."
For a decade and a half, Steph Paynes has painstakingly nurtured Lez Zeppelin through the complicated rock band maze, navigating a couple of key personnel changes, enduring early sexist reactions to an all-female rock band, and gutting out life on the road, all while in her heart of hearts hoping the effort is worth the many sacrifices it can present. And from where she sits today, the verdict is yes, as she seems quietly overjoyed at what has transpired.
"Sometimes I think about it all and go, is this a good idea or not, how much longer can this go on? How much longer are people going to pay money to see me cavorting across the stage? All sorts of things like that. And then, I mean, just this band that exists now, they're just so into it and enthusiastic, and they're so good. I just thought, well, I'm going to just make a dash for the gates of glory, and see what happens."
Lez Zeppelin performs Saturday January 18th at The State Theater, 220 N Washington St, Falls Church, VA 22046. For tickets please click here.