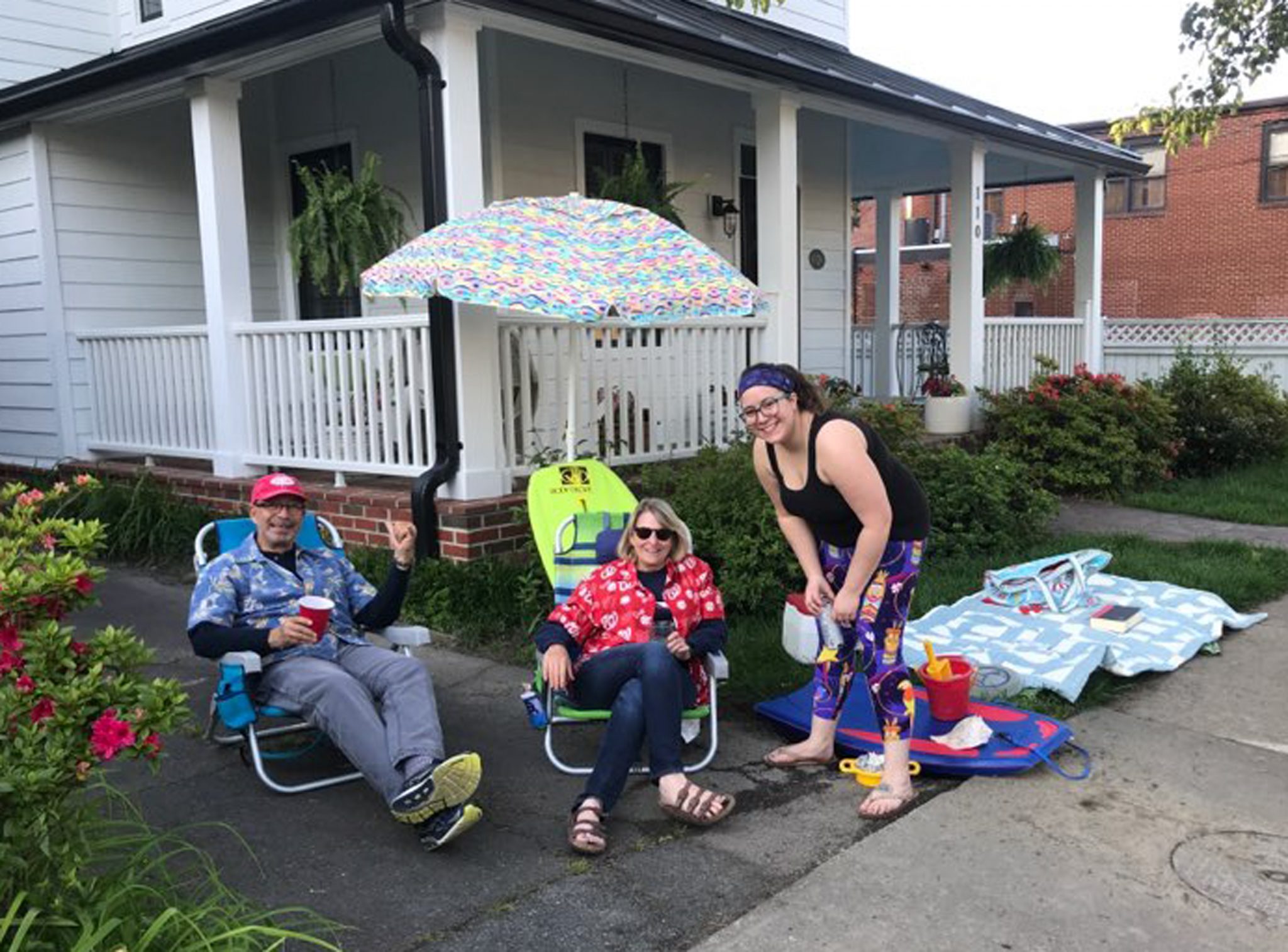 ALEXANDRIA, VA – The Del Ray Business Association is throwing its First Thursday Porch Party: Red, White, and Blue from 6 p.m. to dusk on Thursday, July 2. In the spirit of Del Ray's summer street festivals, the event features a wide range of activities that promote community while maintaining social distancing standards.
    Wear your mask, keep social distance, and participate in these community activities:
— Support our restaurants: Order dinner and drinks for carryout from one of Del Ray's local restaurants, and have dinner on your front porch, front steps, or front yard, and wave to neighbors from a distance!
— Be a hero to kids in need: Participants are encouraged to donate individually-wrapped children's snacks, fruit cups, juice boxes, or hand sanitizer to the Dunbar Alexandria-Olympic Boys & Girls Club. On Thursday, July 2, plastic bins will be placed on Mount Vernon Avenue by 4 p.m. at the intersection of all streets from Hume to Braddock; in front of the Mount Vernon Recreation Center; and at the intersection of Commonwealth Avenue and the following streets: Braddock, Monroe, Alexandria Ave., Windsor, Del Ray, and Ashby. Items will be picked up by 7:30 p.m. Cash donations can be made by clicking here: tinyurl.com/donateALXBGC   (This also completes square #1 on Del Ray Bingo! For details on playing, visit www.visitdelray.com/bingo). 
— Show community spirit: Decorate your house, porch, door, or sidewalks red, white, and blue by Saturday, July 4 — get creative and decorate in any way you wish! Enter to win $100 in Del Ray Dollars by registering your house by emailing [email protected]  Special thanks to the Alexandria Boys & Girls Club members for judging!
— Recognize our community heroes: Do you have an employee, friend, neighbor, or family member that has gone above and beyond to serve the community during this challenging time? Post photos or videos on your social media accounts recognizing our community heroes, with the hashtags #VisitDelRay and #delrayheroes
— Share the love: During First Thursday, take a video or post it on your social media accounts with the hashtags #VisitDelRay
Held the first Thursday from April to September along Mount Vernon Avenue in the Del Ray neighborhood of Alexandria, First Thursday is a series of free outdoor street festivals that bring the community together around a fun theme, benefiting a local nonprofit. For more information, visit www.visitdelray.com.
More: Del Ray Porch Parties Keep the First Thursday Tradition Going!