Cover Story
Del Ray Doings
Zebra Misc
Supporting the Art Community through Difficult Times
Del Ray's signature event, Art on the Avenue, has moved to a virtual festival, happening now through December 25 at artontheavenue.org.
By Maureen Schweers
Alexandria, VA – Del Ray's signature event, Art on the Avenue, has moved to a virtual festival, happening now through December 25 at artontheavenue.org. The online event features 175 artists, virtual experiences, and a wide range of opportunities to support local artists and connect as a creative community while social distancing.
"Our primary concern is always the safety of our artists and our attendees, making an in-person event impossible this year," said Art on the Avenue founder Pat Miller. "But canceling Art on the Avenue entirely was never an option for us. Our artists depend on the community's support to keep creating."
Zebra talked with Miller about Art on the Avenue's 25th anniversary, and how this fall favorite will pivot online:
It's a tremendous amount of work moving to an online show. What is the primary goal of Art on the Avenue's virtual festival?
The main goal is to bring art — the art that you can't go to because of social distancing — to an individual, so they can look online, go through and pick out from their favorite artists or discover a new artist. It's extremely important because artists need our support more than ever. Everything's been canceled.
I think it's important that we continue to provide the mechanism, which this year is the technology, to bring art to people. Most virtual shows are only held for 24 hours; keeping the online festival going through December 25 allows the public to take their time looking through all the amazing art, and to complete their holiday shopping while supporting local artists.
What are some advantages to being virtual?
The key advantage is you can buy art 24/7, and you'll have access to 175 artists, with every kind of art there is. They're all very talented. And the Washington D.C. metro area is a very transient community. We're excited that with the virtual platform, you can participate in Art on the Avenue from anywhere. We hope to see old friends and former neighbors who have moved away from Del Ray logging on too.
And here is an interesting concept for a virtual show — why not go through the virtual show with your neighbors? It could become a great neighborhood get-together. I hope it'll continue to be a community event.
How will the virtual show be organized?
The artists are arranged by categories — ceramics, wood , metal, painting, photography, jewelry, and more — and you'll be able to see two pictures of every artist in the virtual show. From there you can go to their website and order directly from them. And we encourage you to ask artists questions online, just like you would if you were visiting their booth!
How do the artists feel about the virtual show?
The artists are very excited. So many shows have been canceled entirely. Almost every artist that has sent in their application has said this is one of their best shows, and that makes us very proud, of course.
Art on the Avenue features five music stages. Will music be featured this year?
Absolutely! We've been getting such wonderful responses from our local musicians. They are being very creative with how we can use what they have produced. There will be music worked into the virtual show.
And what about other traditions, like the pie baking contest?
We're working on it! Our team is incredibly creative, and we're figuring out ways to keep some of our favorite traditions alive while maintaining social distancing. Stay tuned!
Congratulations on 25 years of Art on the Avenue! What is your favorite memory?
My favorite memory of any Art on the Avenue is walking the street and talking to all the wonderful artists. Some have been here almost all 25 years! It's great to greet them, and to see all the people stopping at booths and talking to the artists. I think that's also key to Art on the Avenue's popularity, being able to talk to the artists, to ask how you did you make that? There's some amazing art right now.
Why is Art on the Avenue so important to the Del Ray community?
The most important thing Art on the Avenue does for Del Ray is bring 50,000 people here! Del Ray is a great community to showcase, and Art on the Avenue is one day of the year we can really showcase Del Ray.
How has the festival grown in 25 years?
Art on the Avenue has grown so big over the years. The first year, we were only blocking off three blocks. Now we have 10. A week before the kick-off, we only had 13 artists, and I was just going crazy. So my friend and I went out and started knocking on doors, and we wound up with 76 artists. Since then, it's grown! We have to limit it at 350 artists.
I never figured it would grow this big, and that's a great thing for where my heart is, in Del Ray. To watch these artists over the years, it's amazing how they've grown! It's amazing how incredible these artists are, and I love seeing them grow from year to year.
There's one artist who always comes from California. Her sister works for Affordable Signs & Banners. We now regularly get applications from North and South Carolina. I even got an application from Portland, Oregon, the other day! We haven't done any advertising seeking artists — it's totally organic.
What makes Art on the Avenue different from other festivals?
Art on the Avenue is entirely volunteer-run. This is truly a home-grown, community event. Between our family-friendly programming and the wide range of artists, everything points to the fact that art is accessible and for everyone. No matter what your price point is, you'll find something unique and handmade.
Where do you see Art on the Avenue going in the next 25 years?
Art on the Avenue is doing exactly what I founded it to do: bring artists to the people to sell their art directly, and give people the opportunity to talk to the artists. It is, by far, my proudest accomplishment.
Visit Art on the Avenue's virtual festival now through Dec. 25 at artontheavenue.org
, and follow Art on the Avenue on Facebook at @artontheavenue and Instagram at @artontheavenuedelray.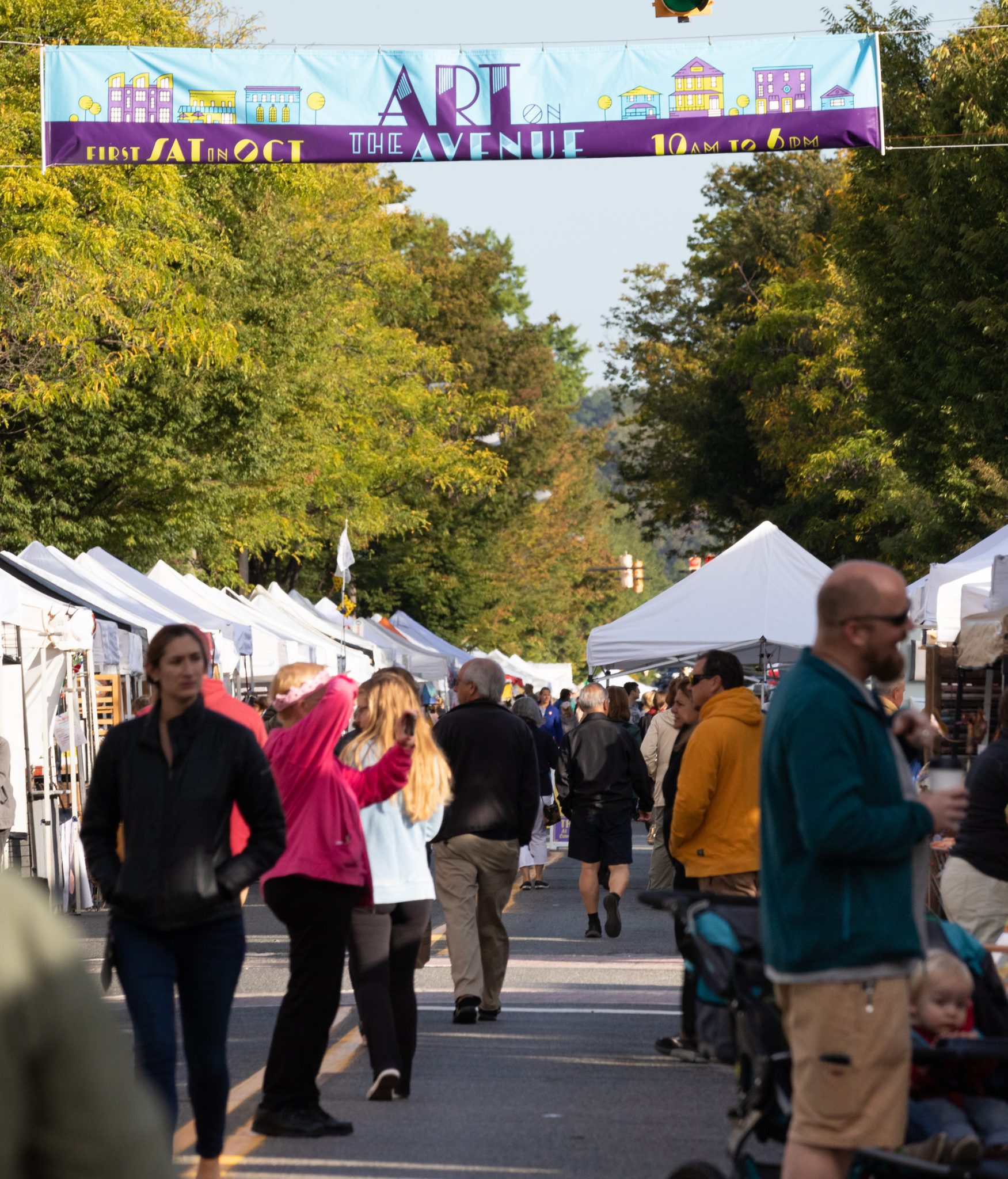 Meet Some of the 2020's Veteran Artists!
Art on the Avenue, Del Ray's signature arts festival, is pivoting to a virtual festival to celebrate its 25th anniversary. Following is a sampling of the artists that have been a part of the festival for 10 years or more. Follow Art on the Avenue on Facebook at @artontheavenue and Instagram at @artontheavenuedelray for regular features about the 175 participating artists.
Artologica
While quarantine inspired many to create, Michele Banks used her background painting themes from science and medicine to take it a step further. "I created a whole series of work specifically inspired by the pandemic. I've been painting viruses for years, so of course I painted the coronavirus, over and over. It was all I could think about," said Banks. "But after a few months, I started incorporating ideas about isolation and the strength of the individual and the community, using motifs of closed circles and roots. And after George Floyd's murder, I painted a series of trauma brains in ink, to help process that pain and grief. A lot of creativity has flowed from the events of this year." This is her 16th Art on the Avenue.
Beth Coast Pottery
Beth Coast was one of Art on the Avenue's first artists. She is now in her 34th year of teaching high school art, including 11 years teaching ceramics at T.C. Williams High School. Her Etsy shop is filled with hand-painted designs on her mugs, bowls and other functional ware; a new featured item is candles in wheel-thrown bowls. "I actually created more during the pandemic," said Coast. "Working with my hands helped me cope with the tragedies going on in the world."
Fly Home Birdhouses
Ginger Reuling started out as a metal artist, then began collaborating with her husband to create unique (and fully functional!) birdhouses. "We've been doing original, funky, fun, and functional birdhouses for nearly two decades," said Reuling. Her husband builds the houses from pine or cedar, while she cuts the copper roofs and motif by hand with a plasma torch. Together, they paint them with exterior stains and decorate with a wide variety of copper designs. A nod to the Del Ray community's love for dogs, the "Good Dog Birdhouse" is a neighborhood favorite. This is her 15th Art on the Avenue.
Keenthings
Known for her whimsical hand-made ceramic sculptures, Lisa Schumaier has been participating in Art on the Avenue since 1997, when an artist friend couldn't participate and encouraged her to apply. "It was the best business move ever! Since then art has turned into my full-time job," said Schumaier, an artist at the Torpedo Factory Art Center. This year, she will feature ceramic sculpture, mixed media sculpture, and her signature bottle cap art, which can be found on many Del Ray refrigerators. Do good while shopping! Schumaier will donate 10 percent of all Art on the Avenue sales to the bail project when you tag your order #AOA999.
Lil' Fishy
Mu Honey studied engineering, but fell in love with fashion, bringing bold colors and images to handmade onesies, bibs, masks, scarfs, tea towels and aprons. "I find inspiration everywhere. I love colors, shapes, and fabrics, so when I see what I like, I try to think what can I do with it," said Honey. "During quarantine, I was able to find new inspiration from exploring my neighborhood and from spending more time with my immediate family." This is her 11th Art on the Avenue. A favorite memory was when a loyal customer stood outside of her booth, urging festival attendees to come in and buy her products. It was the ultimate endorsement.
A life-long maker, Erika Rubel studied art in college, then managed a bookstore for six years. Her art and retail experience merged when she started selling her work 20 years ago at Art on the Avenue. At the virtual festival, Rubel will feature wall shelves built from vintage and salvaged materials, with hooks underneath. "They tend to be used mostly for keys, but customers have started to use them for masks as well. They're a catch-all for everything you need to leave the house with," said Rubel.
Mat-Lyn Designs
Lynda Poole Prioleau has been sewing since she was eight years old. After college she made wedding gowns and did tailoring. Eventually that work evolved into Mat-Lyn Designs, where she has been quilting, dyeing/painting fabric, and creating fun wearables over 20 years. "My inspiration comes from street art/graffiti, architecture, and travels abroad," said Prioleau. Her virtual booth will feature her positive graffiti quilted wall pieces — a great addition for home offices/school rooms! — and hand-dyed scarves. This is her 13th Art on the Avenue.
On U
The ultimate in upcycling, On U by Donna Silvestri is a collection of hand-knotted, and hand-crocheted, jewelry. Each one is a one-of-a-kind piece created with glass, vintage, and semi-precious materials. "Most items are eco-chic, or repurposed, and include antique and vintage buttons, beads, and findings collected from throughout the world," said Silvestri. One item inspired by main streets like Mount Vernon Avenue is On U's The Avenue bracelet. "It's easy to forget about the avenues, the main streets, the little side streets, the little brick and mortars, the art festivals that make your neighborhood a home. Please don't!" said Silvestri. "I find inspiration for my designs in everything I do. I love taking a little bit of something and creating a 'look' from it. It's totally rewarding." Silvestri has been a part of Art on the Avenue since 2001.
Reinvented Elegance
Joyce Wagner has been on both sides of the booth at Art on the Avenue, first as a festival-goer, then as an artist. "I loved visiting Art on the Avenue with my husband and our young children. We'd wander up and down the Avenue, visiting all the artist booths, buying art treasures, doing kids' activities, and winding down with delicious hot dogs and cotton candy," said Wagner. "While I am honored and grateful to have had an artist booth at Art on the Avenue for the past 12 years, I remember those early festival-going experiences happily and a bit wistfully!" Reinvented Elegance will feature colorful, whimsical mosaic wall hangings and mirrors in miniature sizes featuring rescued ceramics and foundling wood scraps. "I find my inspiration everywhere, from the beauty of nature I see on dog walks for pressed flower art to a gorgeous broken plate begging to be rescued and immortalized in mosaic art," she said.
Reinventing Reality Photo Collage
Since 2006, Matthew Parker hasn't missed an Art on the Avenue, even after a cancer diagnosis. "In 2018, I was diagnosed with cancer and I told my doctors that I have to participate in one last event before I start treatment," said Parker. "On that Saturday, I did my last show for a year and the following week started my treatment. I returned in October 2019 for another Art on the Avenue, cancer-free." Parker, known for his award-winning photographic collages of Washington D.C. landmarks, current events, and sports, draws his inspiration from his background in architecture. "Over the years, I have developed my technique to approach my works as an architect would, observing the place, sketching out the idea, and creating something unique," said Parker.
Truly-Life
One of the community's most dedicated volunteers, Mellenie Runion has been a part of Del Ray's annual fall event since 1992, which was years before an annual block party transitioned to Art on the Avenue. "I love to see the neighbors that continue to donate their time and promote this event as their very own," said Runion. "Together we've made this neighborhood safer and desirable again." In 2009, she began selling her eco-friendly skin care line at Art on the Avenue. "We're focused on protecting the environment, so we follow many international businesses and trends. Products are being offered around the world with lower impacts to eliminate plastic waste and other pollutants. They are inspiring," she said.
ICYMI:150 ARTISTS: Art on the Avenue Launches Virtual Festival Oct. 3