Backyard History
Alexandria Library Recognizing 1939 Sit-In Anniversary With Special Events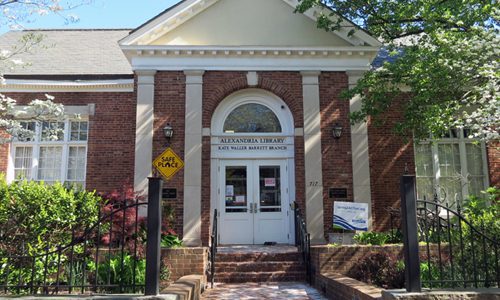 ALEXANDRIA, VA – Saturday, August 21 marks the 82nd anniversary of the 1939  Alexandria Library Sit-in. Over eight decades ago, Samuel W. Tucker led four other Black men during what is believed to be the nation's first sit-in. At that time, Alexandria Library, now the Barrett Branch, was a Whites-only institution. Protesting "separate but equal" treatment, one of the men asked for a library card, was denied one, then took his book and sat down to read. Soon, the other men followed suit, one after another.
To celebrate the historic event that helped pave the way for library access to all, Alexandria Library is hosting two special events.
Telling Our Story: The Making of Out of Obscurity
On Thursday, Aug. 19 at 7 p.m., Director Rose T. Dawson will (virtually) interview Matt Spangler, creator of the Out of Obscurity documentary about the 1939 Alexandria Library Sit-In. This 90-minute program, "Telling Our Story: The Making of Out of Obscurity," will begin with an excerpt of the documentary. Participants are encouraged to ask Matt Spangler and Library Director Rose Dawson questions. This adult program requires registration.
The documentary is available as part of the library's DVD collection. Click HERE to place a hold
Storytime With Young Historians
On Saturday, Aug. 14 at 10 a.m., Alexandria Library is hosting "Storytime With Young Historians." Explore the African American history of Alexandria through books, stories, and songs. This event is co-sponsored by the Alexandria Black History Museum and the Office of Historic Alexandria. This youth program requires registration. Sign up at the link above.
The Barrett Branch, beginning Aug. 16 will feature a special display about the 1939 Sit-In. It can be found in History/Special Collections.
The Kate Waller Barrett Branch is located at 717 Queen St. For hours and more information, click HERE.
ICYMI: New Historical Marker Honors Memory of Benjamin Thomas