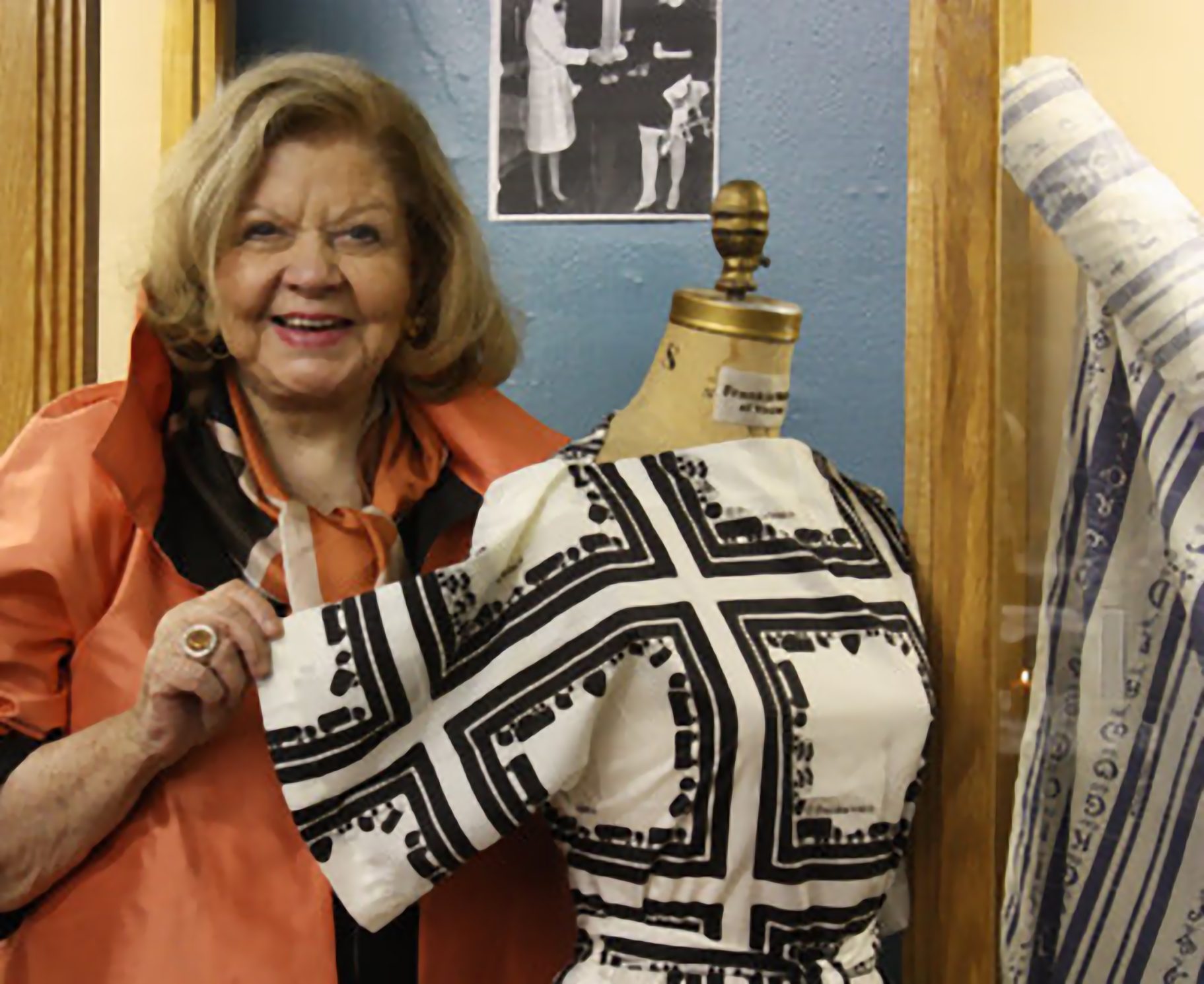 ALEXANDRIA, VA – Visionary fashion designer, teacher and consultant, Frankie Welch, 97, died peacefully at her home at Westminster Canterbury of the Blue Ridge in Charlottesville, Virginia on September 2, 2021, with her daughters by her side.
A resident of Alexandria, Virginia for over 50 years, Frankie Welch and her chic shop put Old Town on the map as a fashionable destination.
If you were a lady moving in Washington's political and social circles in the late fifties through the early nineties, you knew Frankie Welch, and you probably had a few Frankie Welch dresses in your closet as well as a half dozen of her signature scarves.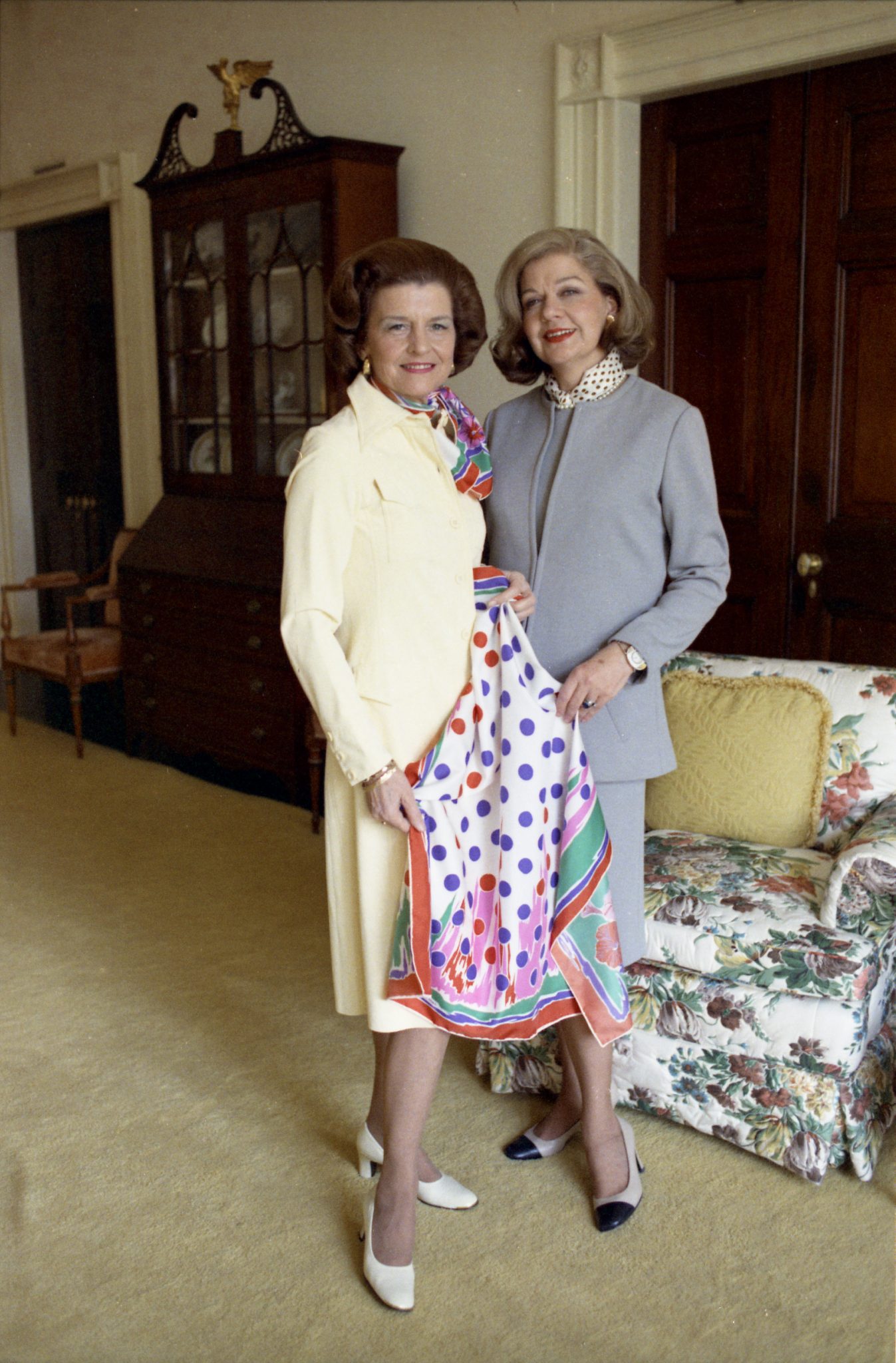 Countless Washington notables "wore Frankie Welch" including first ladies Pat Nixon, Lady Bird Johnson, Betty Ford and Rosalyn Carter.  Lady Bird Johnson was a customer during her White House days and continued to be all her life, sometimes popping in to shop for her daughter Linda Bird, when she was First Lady of Virginia, married to Governor Charles "Chuck" Robb. When Nixon resigned, Betty Ford wore a Frankie Welch design to speak to the press.
How It Began
Frankie was born Mary Frances Barnett in Rome, Georgia, on March 29, 1924. Possessing a naturally artistic eye, Welch more or less came out of the womb advising on fashion.  Her grammar and high school friends went to her for advice, and Welch followed her passion, graduating with a B.A. in clothing and fashion from Furman University and doing post-graduate work at the Universities of Georgia and Wisconsin.
A pioneering lady for her time, Welch married her childhood sweetheart, William Calvin Welch, after her junior year during World War II but continued her fashion and design work while being a wife and new mother.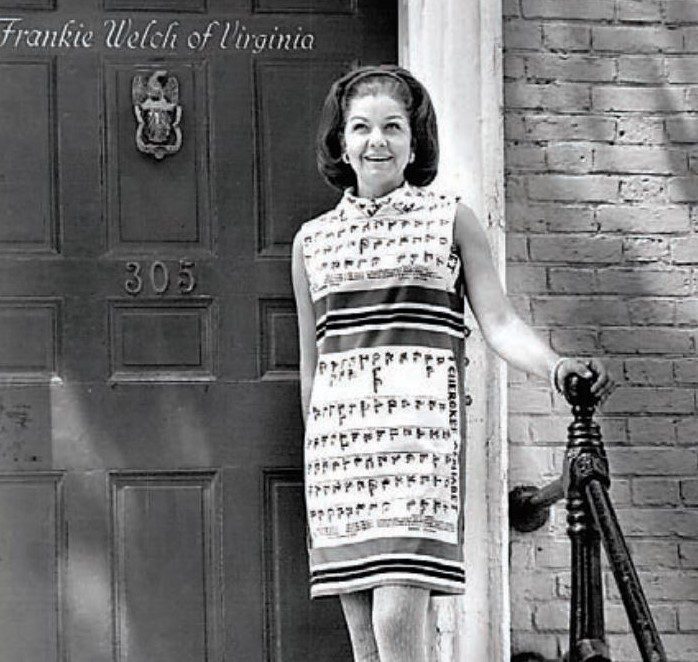 The Welch family moved to Alexandria in 1953. It was a few years later when Welch got her first big break. She was teaching sewing at Washington and Lee High School in Arlington, Virginia in 1960 when she designed a versatile dress she called "The Frankie," to help show students how to handle various waistlines. Her innovative ideas caught the attention of a teen magazine called Ingenue and she was named "Outstanding Home Economics Teacher of the Nation" and was awarded a trip to visit the fashion houses of Paris and Rome.
Fashion Success
In September 1963 she opened her shop at 305 Cameron Street and by then "The Frankie" dress was being marketed nationwide. Welch's flexible design came in various fabrics and hem-lengths, and could be worn in multiple ways, depending on how the waist ties were joined.
The shop was always buzzing with Washington's elite as well as Alexandria's more anonymous ladies. Welch proudly told the story of the time when a high-level ambassador's wife had just come in to get advice on how to dress in America when a woman came in with her baby and husband. "The girl had been saving her nickels and dollars to buy a coat and she had brought her husband in to see it," Welch told the Baltimore Sun in 1982. "Well, that was so important to us that we nearly dropped the ambassador's wife in an effort to help this young woman."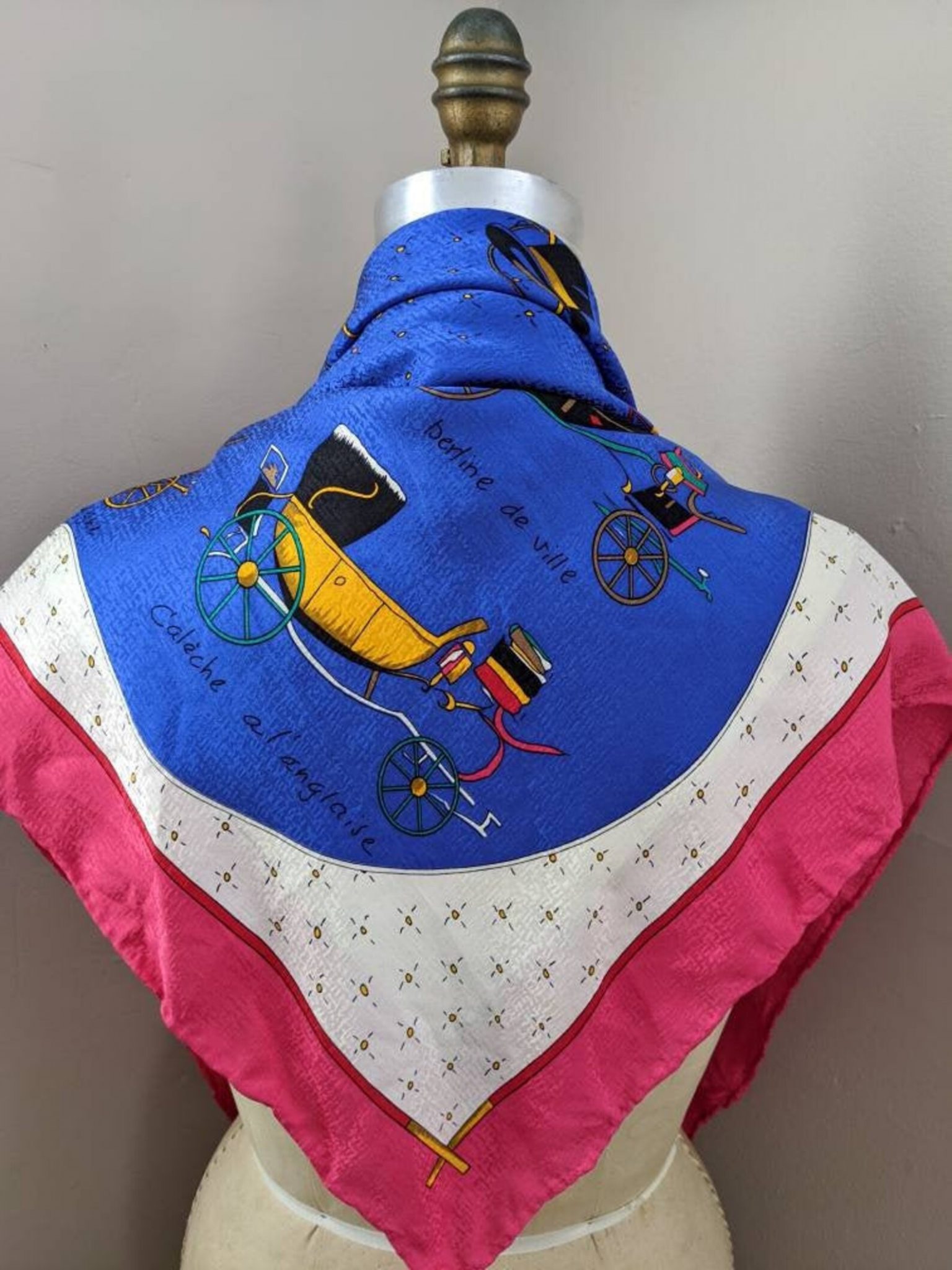 Welch's scarfs are legendary. She is credited with over 4,000 designs and used them to sometimes give back. For example, in 1967, as part of an initiative for the Native American education service, she designed a scarf featuring the Cherokee alphabet, and donated one dollar from the purchase of each scarf to the higher education fund of the Eastern Cherokee. That scarf caught the attention of Lady Bird Johnson, who asked Welch to create one which would promote her "Discover America" campaign. The scarf became a featured item at the first fashion show ever held at the White House.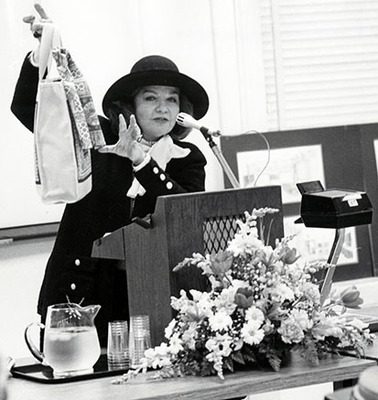 In 1968, she designed a scarf with a daisy pattern for the Republican National Convention and was then asked to design a scarf for Hubert Humphrey's presidential campaign featuring his HH logo. When Richard Nixon won the presidency, Welch was commissioned to design a scarf with his slogan "Forward Together" as a commemoration of his Inaugural.
Betty Ford and More
Betty Ford was a real fan of Welch too. Her official photograph was taken in a Welch design made of green silk, which Ford had brought back from China. In 1976, when Ford selected which gown was to be presented to the First Lady's Hall, she selected a Welch dress in a princess style, with a Chinese-style high collar. The dress was first worn in 1975 for the Shah of Iran's state dinner and later worn by the First Lady to a dinner for King Juan Carlos I of Spain and Queen Sofía in 1976. Welch designed Ford's official scarf, which she gave to visiting dignitaries, on a floral and polka dot background with the First Lady's signature imprinted.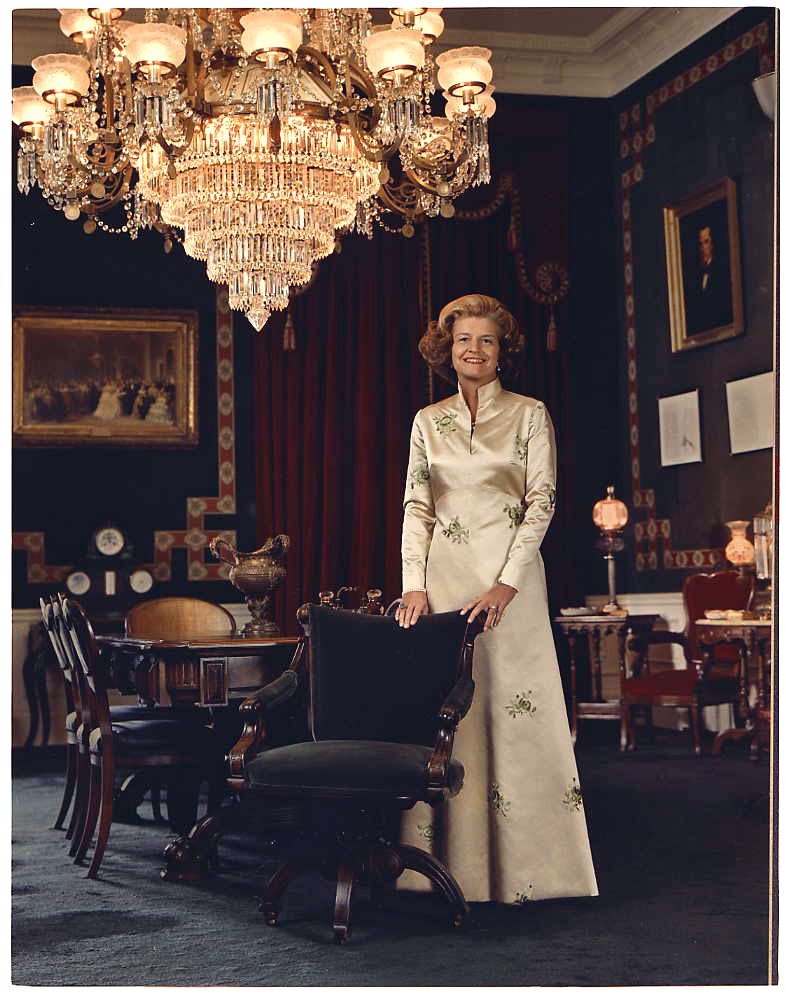 And she had corporate clients too, including McDonald's and Time-Life. Frankie Welch was one busy woman. She designed scarfs and tote bags for Auburn University, the University of Georgia and West Point and organizations like the Arkansas Democrats Association, the American Medical Association, the Congressional Wives' Club, the Princeton Club, the United States Marine Corps, and the United States Historical Society, as well as St Paul's Cathedral in London, The Indianapolis 500, and the Watergate Hotel, where she had an apartment for a time. She designed a peanut motif dress and a scarf for Jimmy Carter's gubernatorial race, a scarf for the United States Bicentennial featuring the original 13 colonies, and a series of scarves depicting the official state flowers of all fifty states for the Garden Club of America. She later designed scarves with a peanut for Carter's presidential election and scarves, ties, tote bags and umbrellas for Ronald Reagan's inaugural festivities, plus a scarf for President Bill Clinton's inauguration in 1993.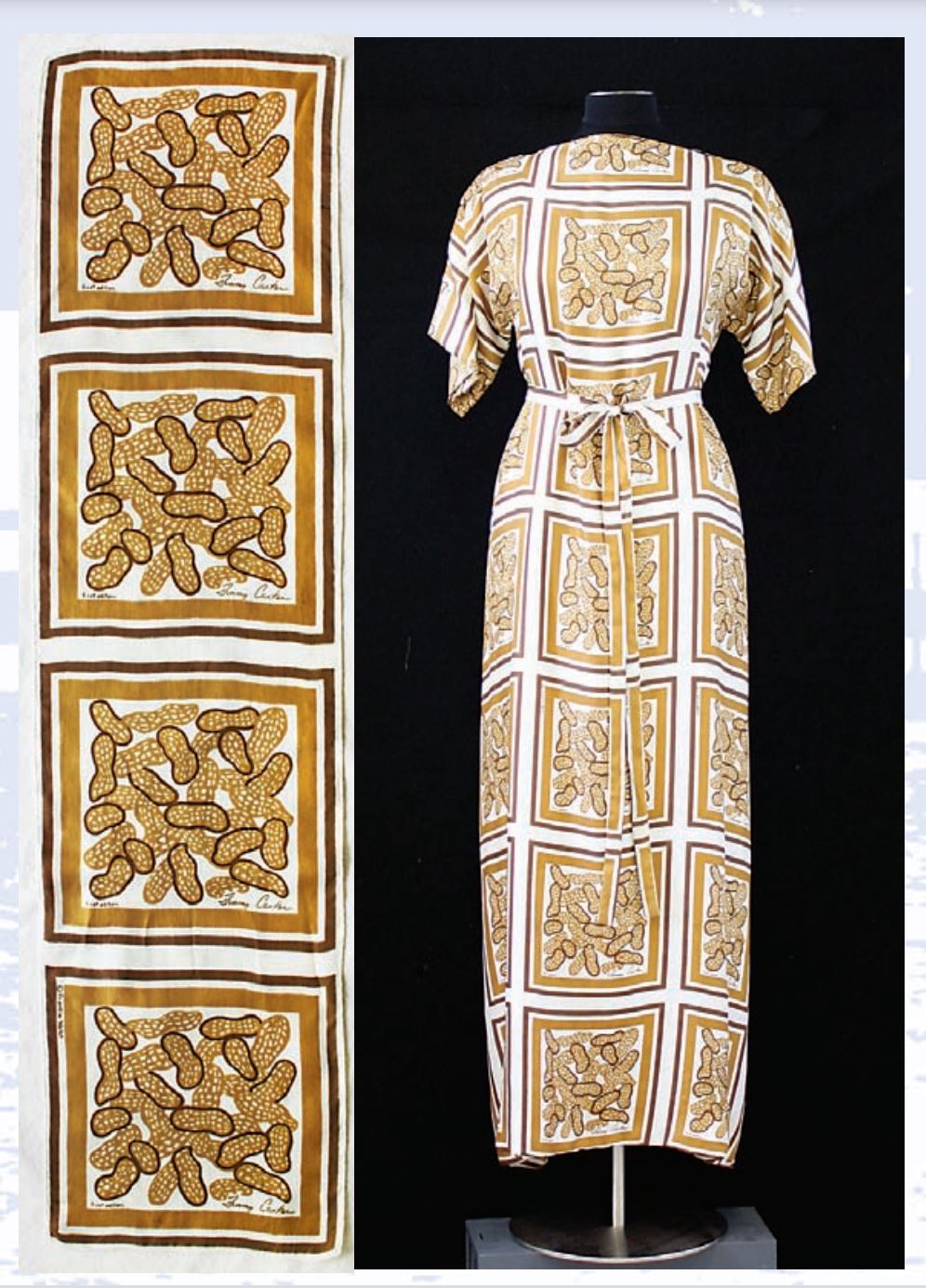 Welch expanded with satellite shops in the D. C. area in the 1970s and consulted on interior design, and kept the Alexandria dress shop until 1982, when she sold it to her daughter Genie Welch so that she could focus more on designing. In 1990, the shop closed permanently, and Welch continued to design and teach courses on design for several years. She retired to Charlottesville, Virginia. In 2016, a pink brocade dress designed for First Lady Betty Ford for the 1974 White House Christmas Party, part of the collection of the Gerald R. Ford Presidential Library, toured the country in the Native Fashion Now exhibit sponsored by the National Museum of the American Indian's George Gustav Heye Center in Manhattan and the Peabody Essex Museum of Salem, Massachusetts.
Family and Personal
During her fifty years in Alexandria, Welch was active as a member of the Twig Hospital auxiliary and the Alexandria Rotary Club. She was a member of Christ Episcopal Churches in Alexandria and Charlottesville. She retired to Charlottesville in 2001
Frankie is survived by her two daughters, Peggy Welch Williams (Page) of Charlottesville, and Genie Welch Leisure (David) of Deer Valley, Utah; three grandchildren, Lindsay Williams Dota (Bryan) of Mt. Pleasant, S.C., Kevin Page Williams (Dana) of Charlotte, N.C., and Ramsey Ratcliffe Stewart (Charles) of Salt Lake City, Utah; and great-grandchildren Anneslee Page Dota, Emma Mae Dota, and Rowan James Williams.
A private family graveside service will be held at Monticello Memory Gardens. In lieu of flowers, contributions may be made to Westminster Canterbury of the Blue Ridge Foundation, 250 Pantops Mountain Road, Charlottesville, VA 22911.
Condolences may be sent to the family at www.hillandwood.com.