Z-Oneology
Diversions and Delights Along WINEding Roads Less Travelled in the Free State
This month we thought we would shine a light on unique events you can enjoy while imbibing and exploring the Free State, Maryland!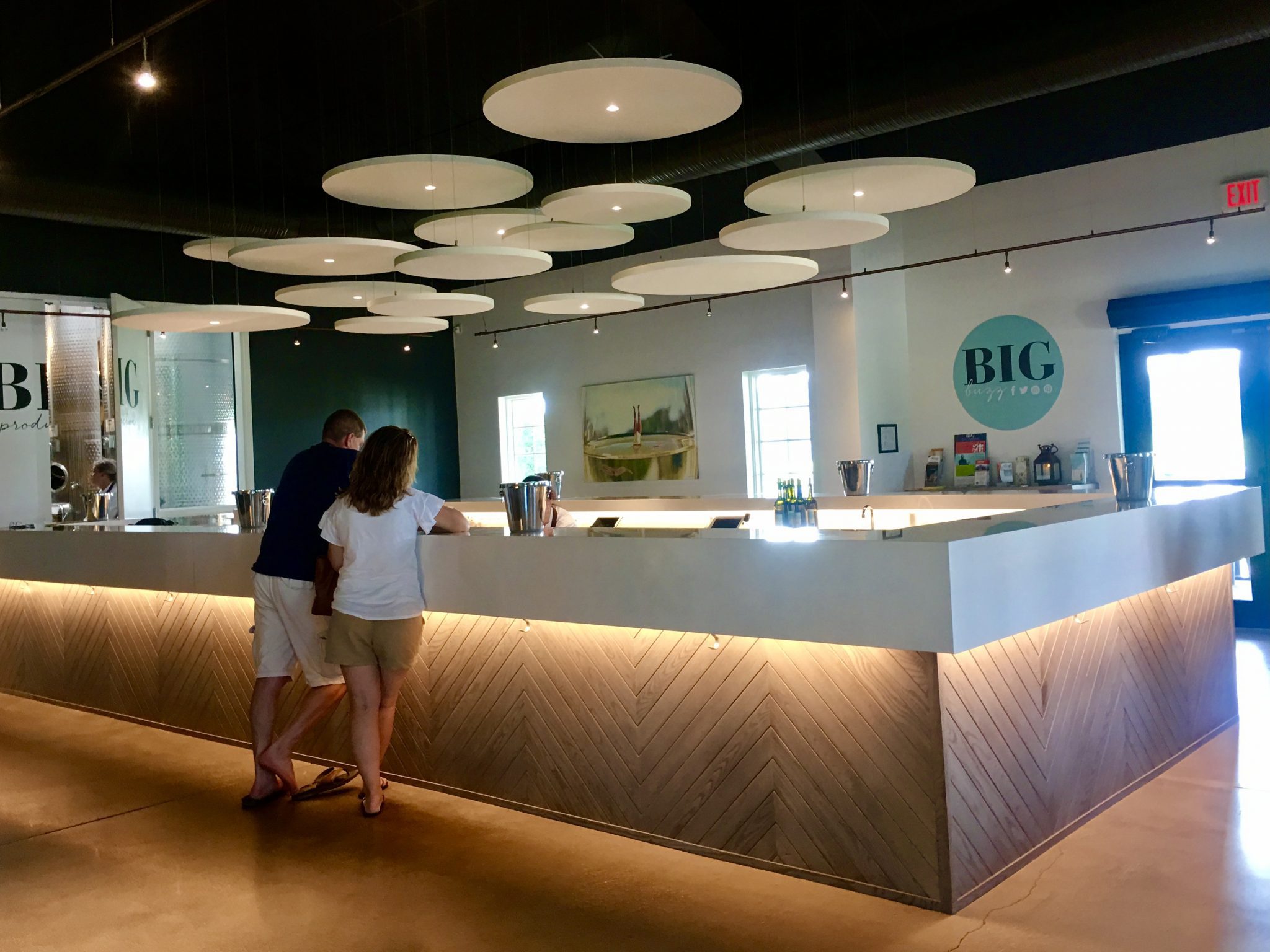 Alexandria, VA – Z~Oenology could talk and write about wine all day. This month we thought we would shine a light on unique events you can enjoy while imbibing and exploring the Free State, Maryland. After all, visiting a winery is as much about hospitality as tasting the wine. As summer winds down, area wineries are well into harvest. Days are shorter, nights are cooler, and the vines are a bounty of jewel-tone colors of amber, citrine, topaz, garnet, and peridot.
After last year's suspension due to COVID, the Chesapeake Bay Balloon Festival and Wine Tasting event returned to Triple Creek Winery in Cordova, Maryland. Located on the bucolic Eastern Shore, this event is ideal for wine lovers with families. There's the vines, the wines, and the local craft beer. But the focus is on family fun and Eastern shore culture paired with hot air ballooning.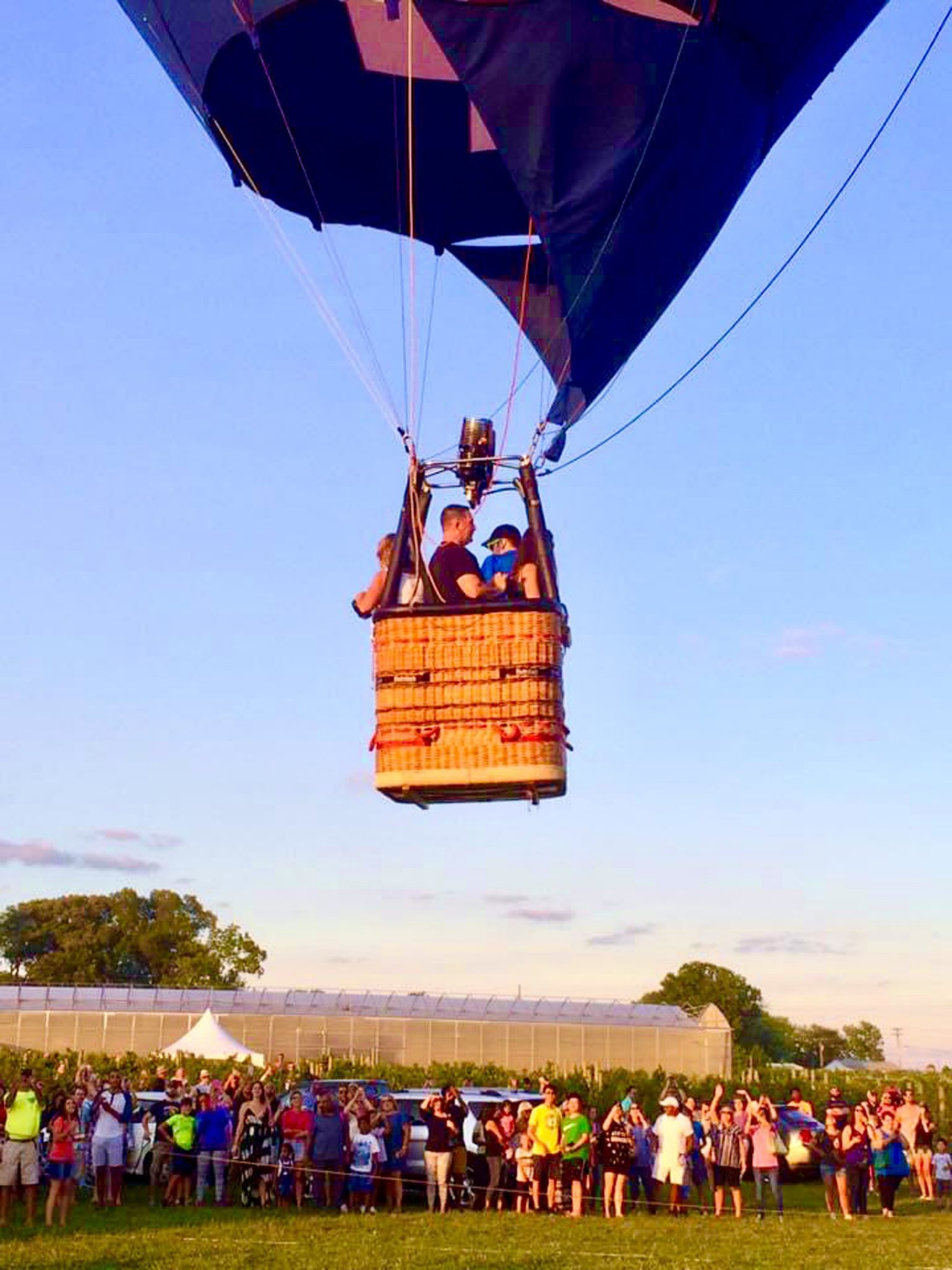 There's a dedicated play area for the kids with a bounce house and games. For grownup kids, there's live music from nationally known and local performers, vendors, food trucks, even a mechanical bull!
Tethered rides and balloon flights are always popular, but the festival's highlight is the two morning ascensions and the balloon glow. At 6:00 am on the first and final mornings of the festival, balloonists coordinate a simultaneous launch of all the participants creating a spectacular dawn flight kickoff and finale.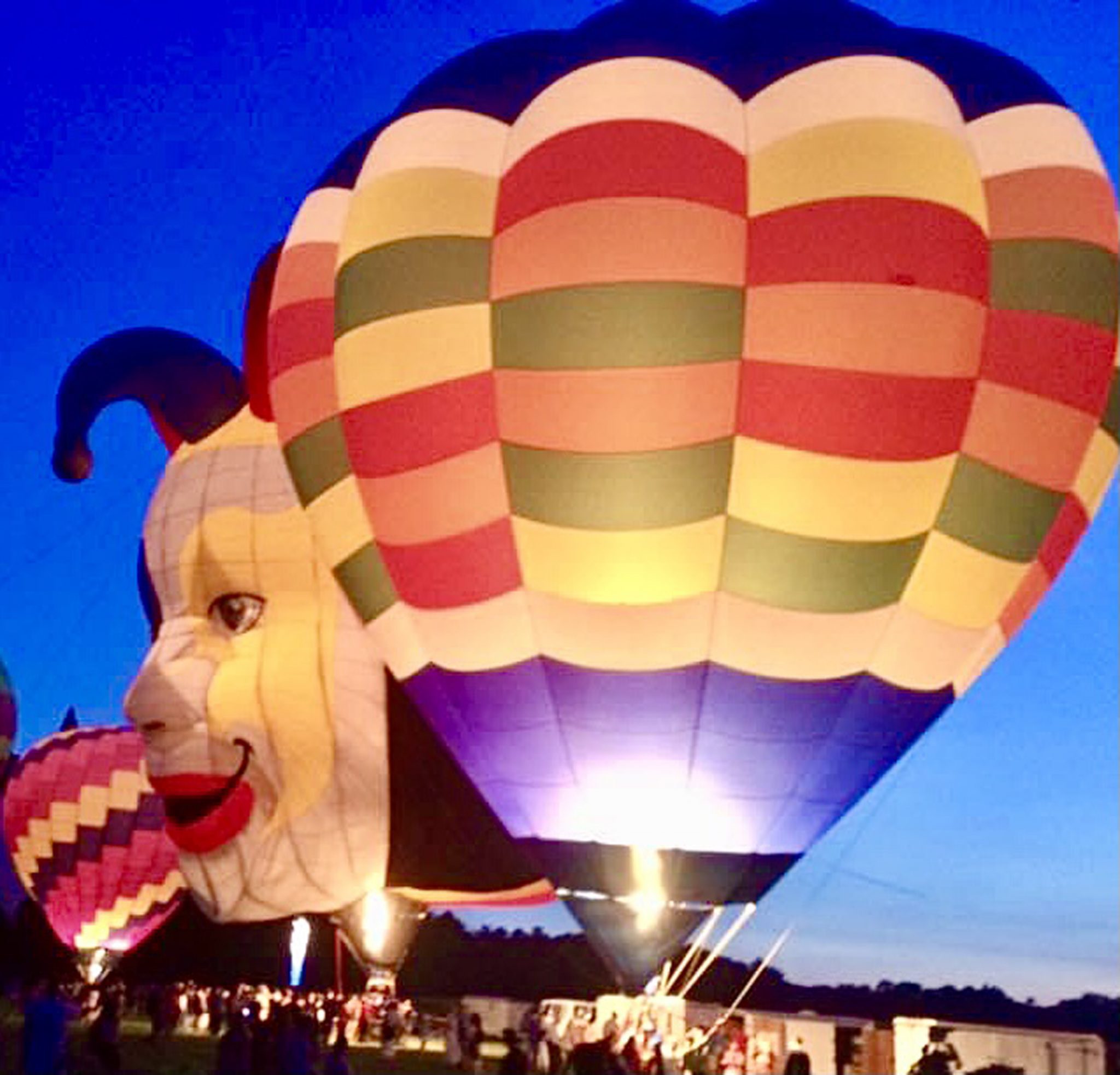 The balloon glow occurs each twilight of the festival. Tethered balloons are inflated in a row, the gas flame creating an illumination in a stunning display. All ballooning activities are weather-dependent, of course. The disappointment when flights and glows are canceled is palpable, but the wine and family fun festival stands on its own as a calendar must-do event.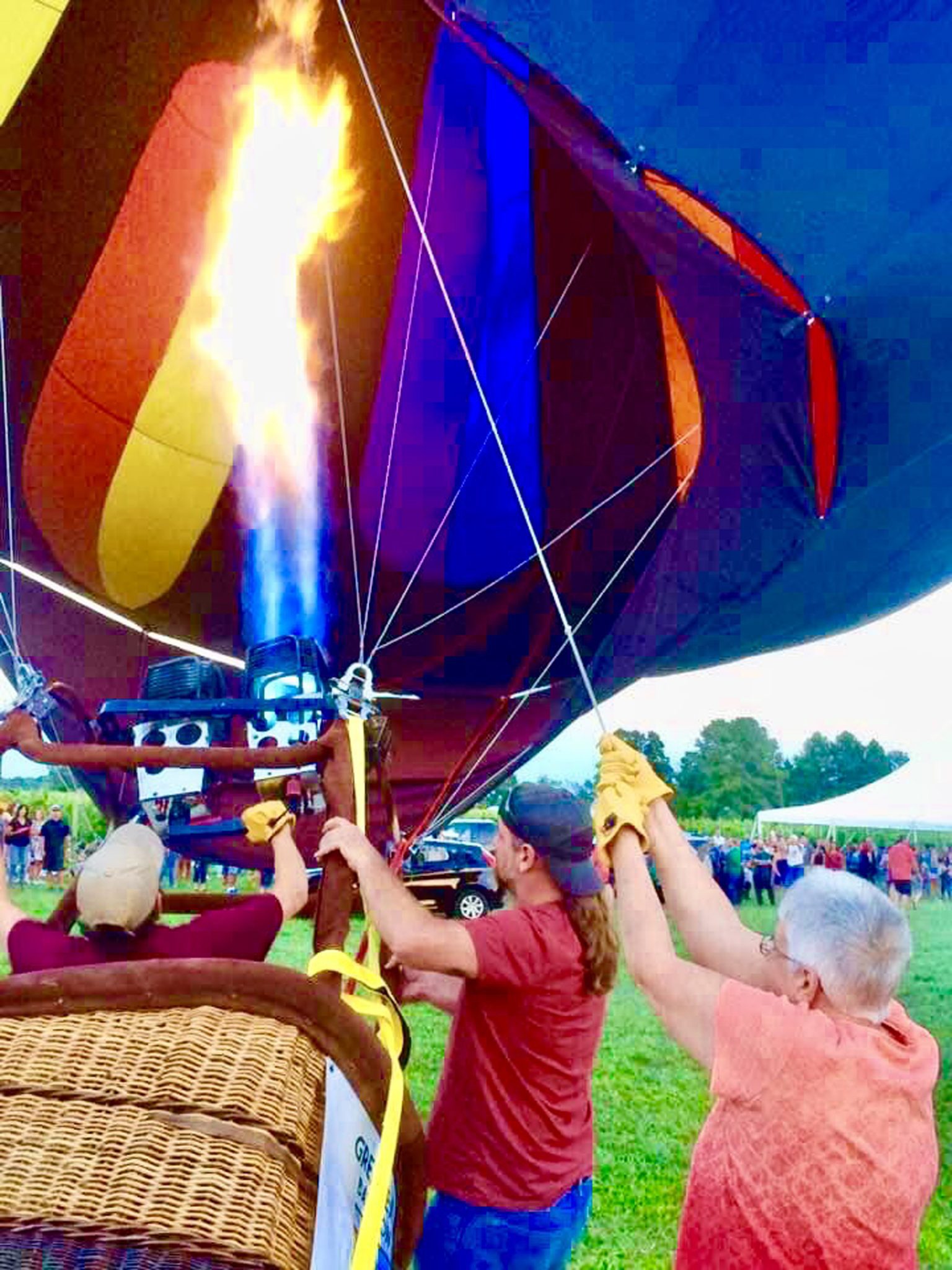 Let's take a moment to discuss the wine. The first time attending the festival we didn't accord the wine too much attention. The balloons were the star attraction. Maryland wines have come a long way, proving that good wine happens in the hands of an accomplished and ambitious winemaker.
If a winery is new to you and comes without a reliable recommendation, a good rule is to start by tasting the Chardonnay. If the Chardonnay isn't palpable, chances are the reds are risky. But rules are made to be broken!
Triple Creek Winery is a family affair owned by the four brothers Spies: Alex, Corey, Paul, and Taylor. The Spies family has a legacy spanning five generations of agricultural investment and innovation on the Eastern Shore. They opened the tasting room off Route 50 in 2015. It's a perfect pit stop along the way to Bethany or Ocean City.
When Triple Creek opened in 2015, they offered only three wines. There are now eleven to taste. The elegant Clovelly label includes a 2015 Chambourcin, a 2014 Chardonnay, and several Meritage red blends: Riverside, Hambleton Creek, and Devil's Reach. Given the palatable 2014 Clovelly Chardonnay, it's safe to explore the reds.
It's also evident that the Spies and staff are all about great hospitality. Can they party! Triple Creek is hosting the All American Pro Rodeo, September 24-26.
October 2 is the Rocktober Festival featuring rock bands, including Guns n Roses, Metallica, and AC/DC tribute bands. Then there's the Up the Creek Country Music Festival with the Amish Outlaws and half a dozen groups performing. That's happening Saturday, October 9th. Yee Ha and rock on!
Moving on, if there's one winery in Maryland that proves it's not only Virginia that's for wine lovers, it's Big Cork Vineyards in Rohrsville. Nominated as one of the top ten tasting rooms in the country by USA Today, Big Cork is a must-do on every DMV wine bucket list. Winemaker Dave Collins left Breaux Vineyards over a decade ago to start his own vines and wine. Dave accomplished a lot helping put Breaux as a star on the Virginia wine map, but he's soared to new heights at Big Cork.
The wine is a destination unto itself but going the distance on a daycay means we expect a good time no matter how quaffable the vino. General manager Matt Riley, formerly of Sunset Hills Vineyard and 50 West Vineyards in Loudoun County, has considerable experience with marketing fun as well as wine. Matt understands agritourism doesn't mean making the experience an oenophile amusement park, yet he's aware that people can always drink at home given the vintage label selections available at Harris Teeter and Wegman's. COVID restrictions made creative, outside-the-box winery attractions all the more de rigeur.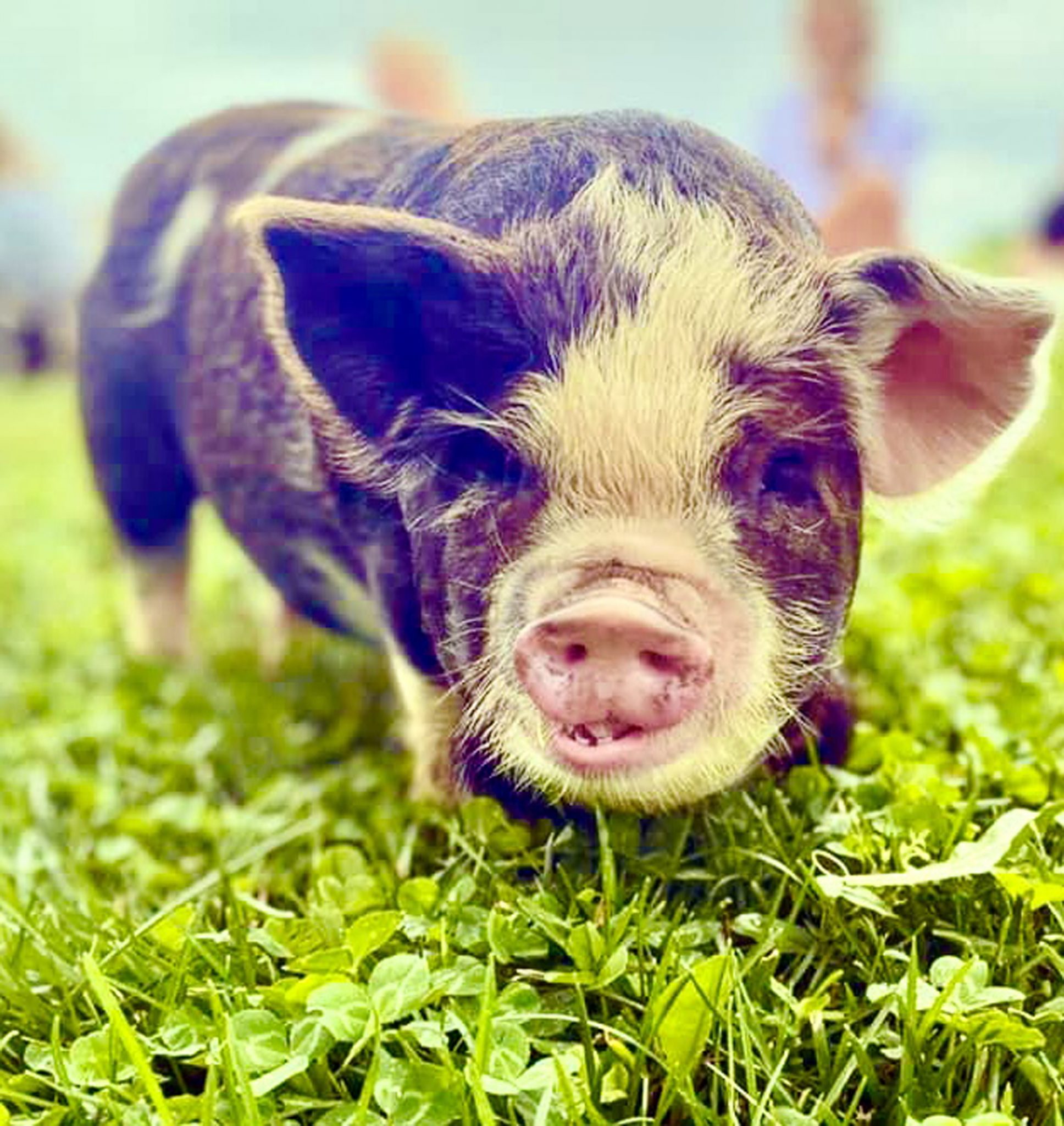 Last month Big Cork hosted the sold-out End of Summer Bash with The Reagan Years, Advanced Party Solutions, and Groovalicious performing. In August, they celebrated the dog daze of summer with Rumours ATL, a Fleetwood Mac cover band, and a fireworks display by Zambelli Fireworks. The summer's highlight had to be Piggie Yoga on August 28, with Amanda from GoatToBeZen yoga. Baby goat yoga move over—piglet yoga is the new "it" thing!
If you already have a case of FOMA (fear of missing out), don't be blue. Big Cork has a full lineup of musical entertainment in September. Fall movie night is October 2. (Film to be decided, so check the website.) Music or a movie and wine are perfect pairings to indulge in some chilled end-of-summertime-blues wines: the 2020 Muscat Cannelli, expressing exotic tastes of mango and passion fruit, the 2019 Vidal Blanc, a German Riesling style VB, or my favorite, the more elusive 2020 Malbec Rosé. The unique 2020 Russian Kiss with the secret blend is a standout along with the 2020 Viognier/Chenin, bright and crisp, opening up to essences of apple and ginger evoking tastes of apple compote that cry out that fall is coming!
But no need to stay with the whites. Should September bring a chill in the air that commands you to go red, then go big! Try the more profound 2019 Barbera, or comparably robust, the 2019 Meritage, a blend of Merlot, Cabernet Franc, Malbec, Petit Verdot. The 2019 Petit Verdot will please having impressions of chocolate and tobacco, with subtle, more blueberry than cherry notes rendering it not too fruit-forward. The outstanding Black Label series wines are reserved for their Big Corker Wine Club. Elevated tasting experiences can be arranged by advanced request.
Big Cork sits on 100 acres growing 18 different grape varietals yielding 28 kinds of award-winning wines. Come play for the big fun. Stay for the even bigger wines. With the Antietam National Battlefield a quick jaunt up the road and Shepherdstown, West Virginia, a bridge over the Potomac away, there's ample diversions along these WINEding roads.
Travel east on Route 9, leading back to Virginia and Breaux Vineyards, where the dream of Big Cork began. I'm hoping one day Dave Collins will name a grape juice that burns The Big Bang. Until then, let's raise a glass to Maryland winemakers. #CHEERS
ICYMI: At Fabb Fabbioli Cellars, Everything's Coming up Rosés and Tagalongs®!