Foodie Newz
Meet the New Owner of Al's Steakhouse
Milkshakes are Coming!!
Alexandria, VA – Rest assured; the same great cheese steaks are available in the new owner's steady hands. Meet the new owner of Al's Steakhouse, Nelson Rodriguez, who  assumed the ownership of Al's Steakhouse on Mt. Vernon Ave. on Saturday September 18, from Dorothy Breeding.
Nelson told me, "We will continue the great cheese steak tradition of John Severson and Dorothy. Bo and Mark will be on the grill as usual." He added, "My passion is good food, and that's what we'll continue to serve at Al's."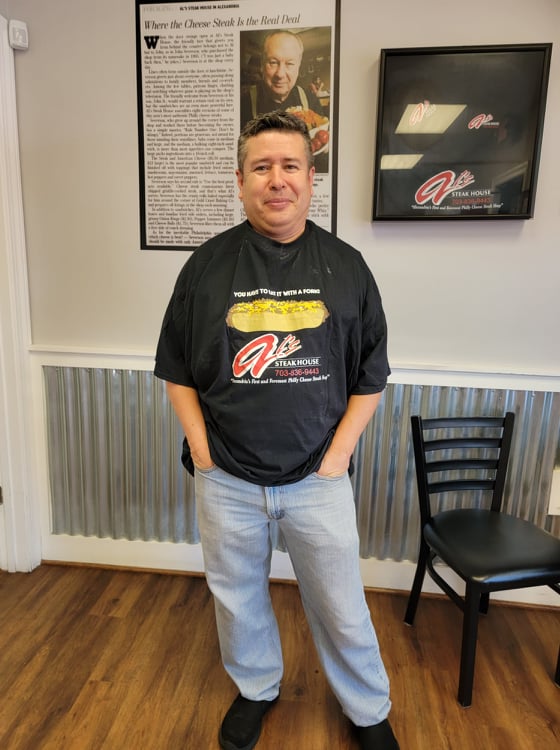 Nelson has a strong restaurant background. He's been a chef for over 25 years including a stint at the Great American Restaurant Group and MSG Group where he was most recently at Circa. One day, he said to himself, "Why am I opening restaurants for others when I can open one for myself?"
That thought led to his opening the Pan Am Family Restaurant in Vienna two years ago. His experiences there serving Greek and Italian specialties will lend itself to some of the new menu items he is planning for Al's.
In addition to keeping the current menu, he is planning to add kebobs and burgers including turkey, bison, and beef. He's going to serve milkshakes too. His plan includes opening up the kitchen so you can see your sandwiches being prepared.
Nelson came to the U.S. from El Salvador in 1988 and settled in Alexandria on Mason Ave. His first American restaurant meal was from Al's. It's easy to see it was a fond memory and led to his buying the restaurant.
Nelson loves Alexandria and still lives here with his family and German Shepherd, Chester.
MORE FOODIE NEWZ: Alexandria Pizza Place Named One of Country's Top 100 Restaurants