Arts
Art Is All Around Us!
Last Calls and Home for the Holidays Diversions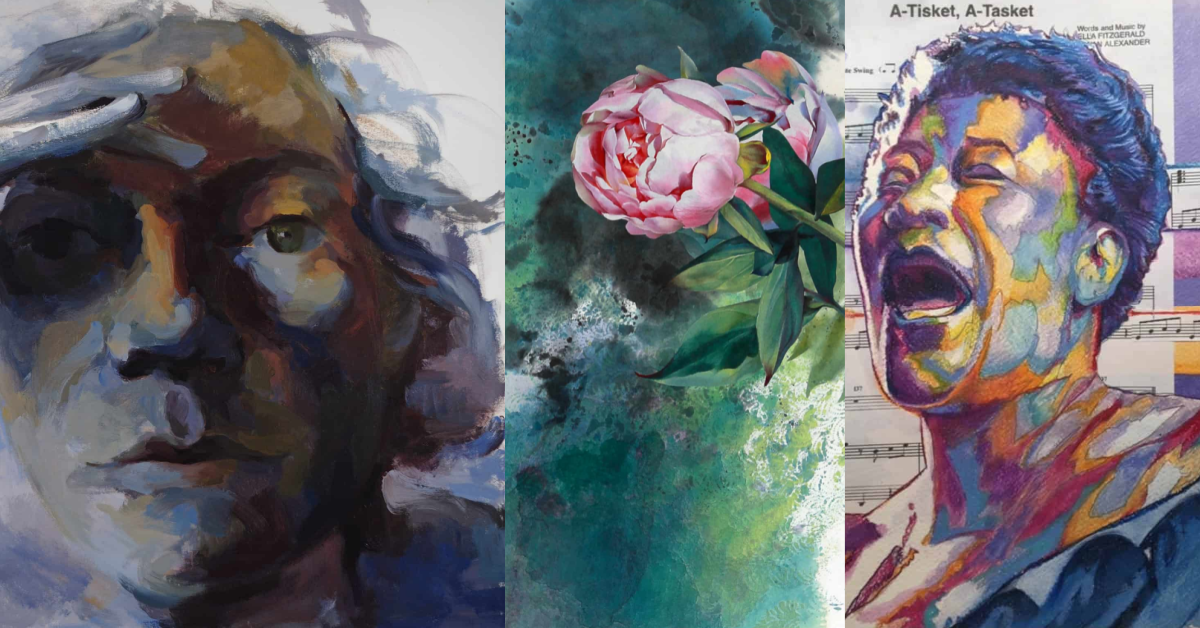 Alexandria, VA – * Art League Gallery of the Torpedo Factory ~ Open Exhibit juried by Nicola Charles, international curator and founder of the 11Eleven Gallery in DC November 10 – December 3, 2021. Solo Exhibit by Edward Ugo "The Shape of Happiness" November 10-December 5, 2021.
Last Call: October open exhibit juried by Summer Brown and Solo Artists Exhibit The Principles of Nature by Dongpei He & Headlands by Tania Karpowitz closes November 7, 2021. The Art League continues limited COVID hours Wednesday – Saturday 11 am-5 pm, Sunday noon-5 pm. You can shop all the Art League Gallery exhibits online, including Gallery 75, formerly known as the Bin Gallery.
* Athenaeum Gallery ~ 201 Prince Street, Old Town Alexandria. Natalie Cox Solo Exhibition. Cox is a Fredericksburg abstract artist working primarily with acrylic and ink on canvas and paper, creating small and large-scale kinetic, poetic, evocative landscapes. November 4 – December 12, 2021.
* Del Ray Artisans ~ Groovy Movies: Artwork Inspired by Motion Pictures, November 5 – 28, 2021. This exhibit curated by Karen Schmitz spotlighting artistic interpretations and inspirations from memorable moments in filmmaking is a collaboration with the Alexandria Film Festival (11/11 – 11/25), celebrating 15 years since its founding by Patti North. Alexandria City Mayor Justin Wilson and the City Council will officially proclaim November 2021 Magic Movie Month to kick off the month-long festivities.
* Gallery Underground ~ The Shops at 2100 Crystal Drive Arlington, VA. Words Matter November 1 – 26, 2021. Opening Reception Friday, November 5, 2021, 5-7 pm. The Focus Gallery presents a two-person show featuring the fused glass art of Steena Fullmer and acrylic abstracts by Sandi Parker, exploring the power of words to energize, uplift, and take action. Steena Fullmer's fascinating glass medium has frequently been on exhibit at Del Ray Artisans. The gallery is open Monday – Friday, 10 am – 6 pm. Closed Saturday and Sunday.
* The Phillips Collection ~ Alma W. Thomas: Everything Is Beautiful, October 30, 2021 – January 28, 2022. The Washington Color School artist's iconic body of work was the focus of In Z Hood last month when her legacy was celebrated in DC with a new street art installation and special events held at the Smithsonian American Art Museum. Don't miss this extraordinary exhibition dedicated to one of Washington's own most treasured cultural heroines. Just the antidote to almost two years of living through a pandemic and perhaps the beginnings of early winter doldrums.
* Potomac Fiber Arts Gallery ~ Studio 29 of the Torpedo Factory Art Center. The annual Holiday Sparkle show returns to tempt you with great gift finds for yourself and everyone on your giving lists from November 9, 2021 – January 2, 2022. Celebrate Fall closes November 7, so hurry on in to find some fashionable autumnal personal and home decor adornments.
* The Principle Gallery ~ 208 King Street. Solo exhibition of representative artwork showcasing Carlos Morago's city and landscape paintings. Opening reception November 12, 6-8:30 pm.
* River Farm ~ Robert Murray of the Von Brahler Gallery, Ltd. presents a continuing exhibit of the work of Armenian artist and architect Armen Kankanian throughout the River Farm mansion and ballroom gallery. There will be a reception Sunday, November 21, 1-3 pm. The exhibit and the reception are free and open to the public. Autumn in the splendid riverfront gardens is compelling and another great reason to revisit River Farm!
* The Target Gallery of the Torpedo Factory ~ Gallery 2 Fall Salon November 10 – December 12 This exhibit features 70 works by DMV area artists priced at no more than $1,000. Artists receive 70 % of the profits from sales. The remaining revenue will go toward programs at the Torpedo Factory Art Center and future exhibits at the Target Gallery. The exhibit is displayed salon-style, permitting the curators to maximize the limited gallery space. There will be an online shopping portal.
* Torpedo Factory Artists@ Mosaic ~ Closing November 7, Wicked: What Does the Wicked Mean to You? Torpedo Factory Artists Association artists exhibit the finest examples of their studio work in an elegant gallery milieu. Come for the art, stay for the eclectic entertainment and foodie mecca options abounding in and around this dynamic and diverse district in the Falls Church area of Fairfax County.
ICYMI: Globally Revered Rocker Willie Nile Lights Up Living On Music