Eatz
Bon Appetit, Alexandria!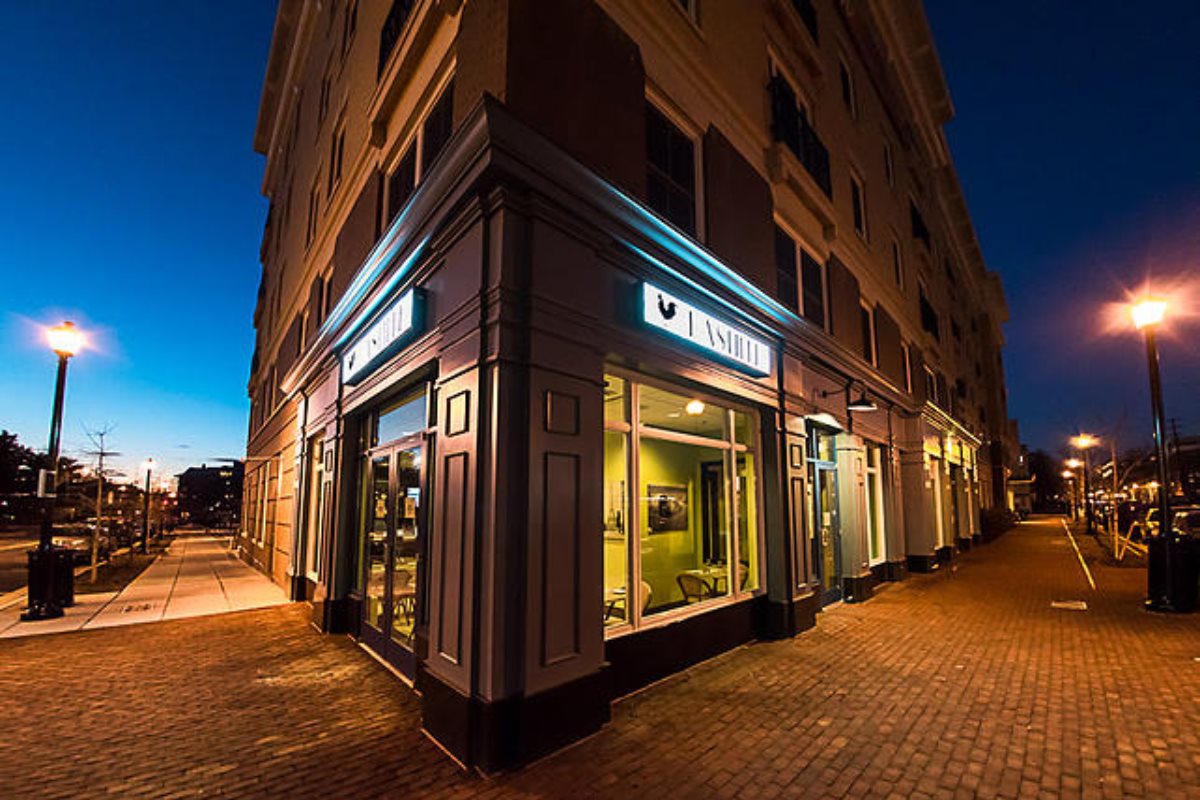 Alexandria, VA – What happens when you yell Duck in a French restaurant? Bastille brings you a variety of remarkable duck dishes accompanied by just as amazing wines from Oregon. Bastille regularly hosts specialty dinners for its many fans and the Duck Duck Pinot Dinner was one of the most recent. Owners Michelle and Christophe Poteaux served a five-course menu of everything duck paired with luscious wines from a corner of the Willamette Valley.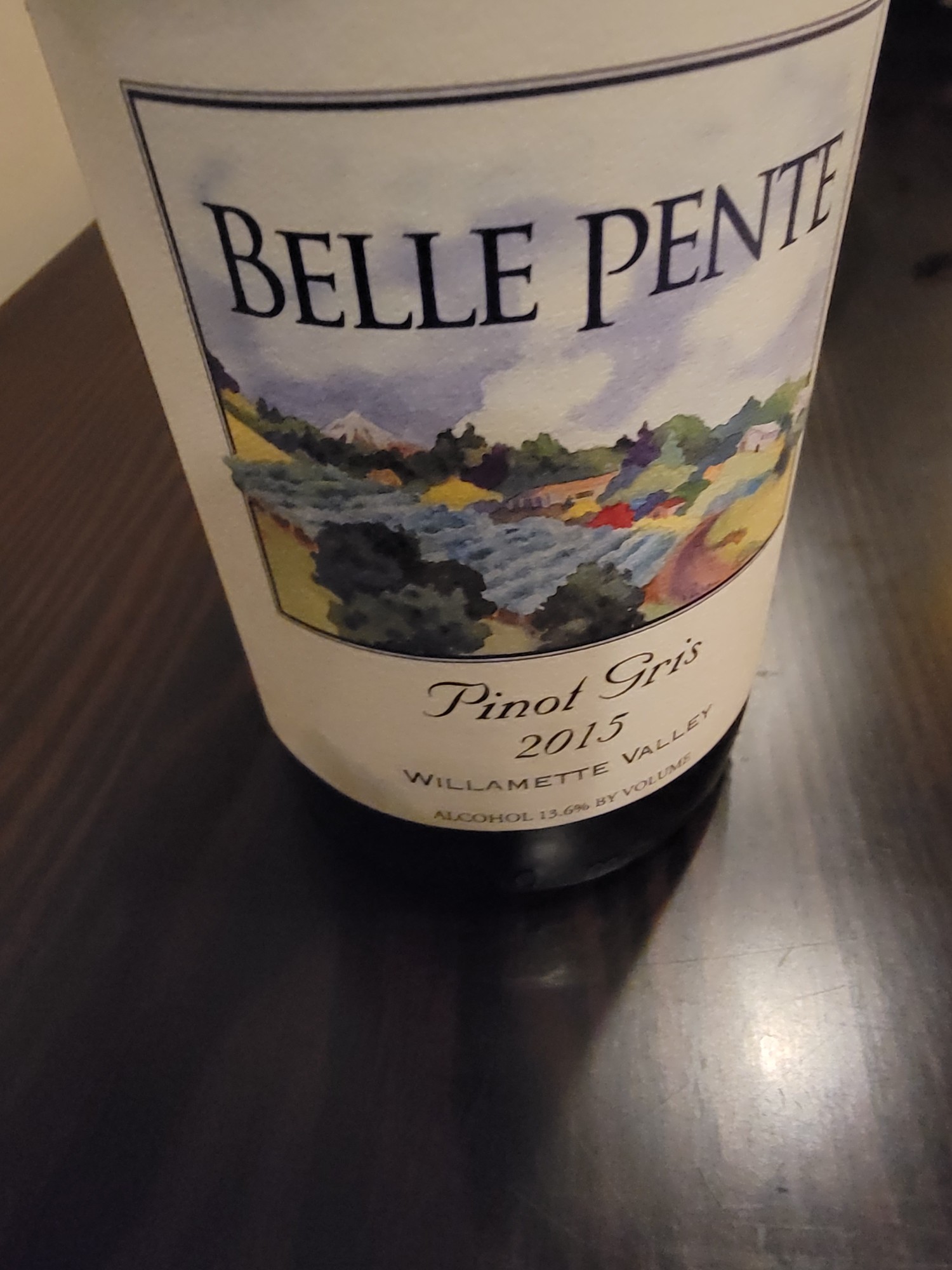 Let's talk wine. Belle Pente Vineyard and Winery is a 70-acre hillside vineyard and winery in Oregon's Willamette Valley. They draw their inspiration for their wines from Burgundy and Alsace. Their guiding principle is that great wine is made in the vineyard and merely nurtured in the winery. They are located on a historic 1840s farmstead two miles east of Carlton in Yamhill-Carlton American Viticulture area which has a maritime climate and soil composed of ancient sedimentary silt-loam. The vineyard site rises from 240′ to 500′ with south, south-east, and south-west exposures. The first vineyard was planted in 1994, and now includes over 16 acres of Pinot Noir, Pinot Gris, and Chardonnay. Nestled at the base of the mountain, Belle Pente produces 'artisanal wines in partnership and respect for the environment.'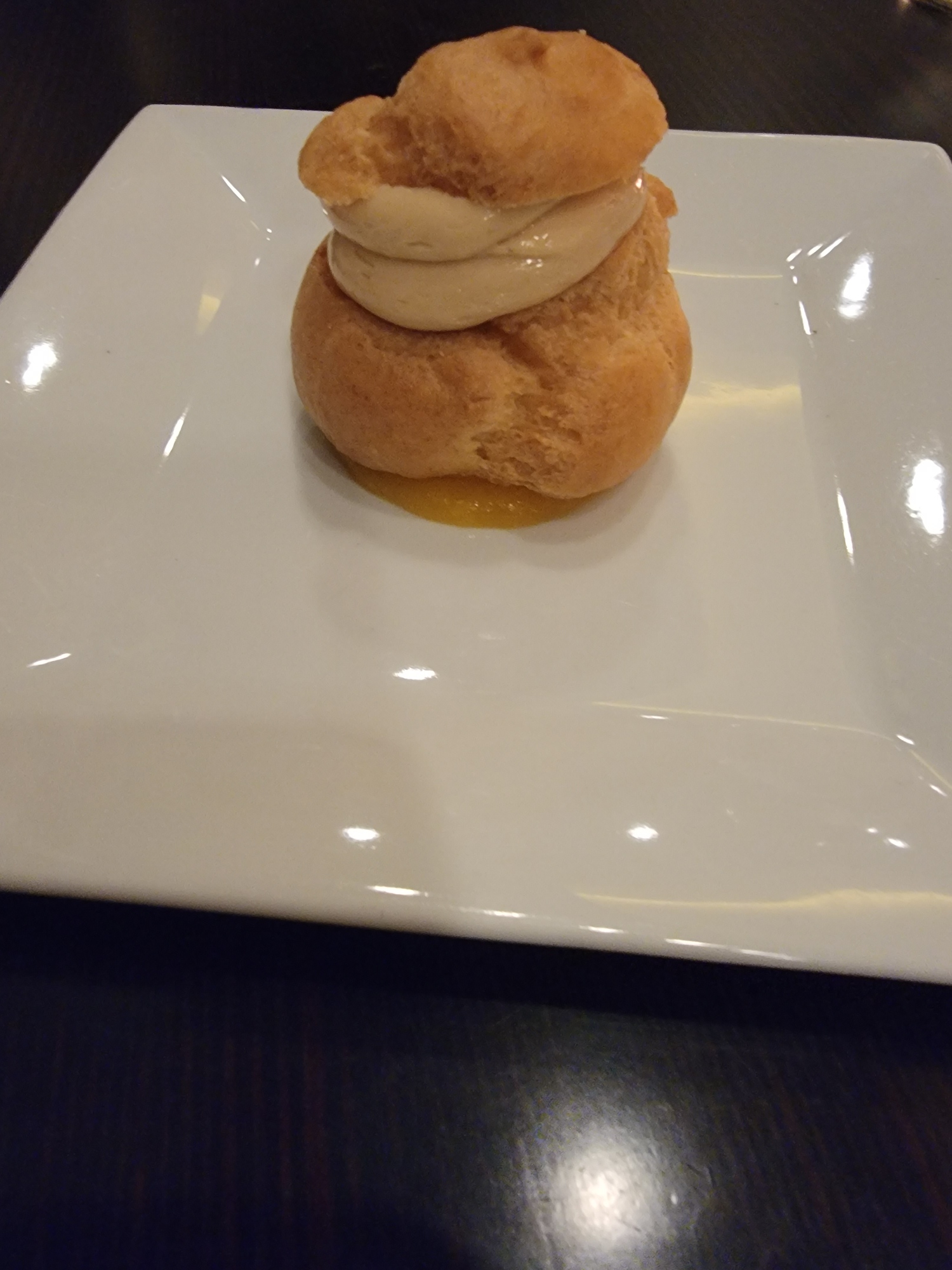 Our first course of the evening was a Profiterole au Foie Gras with a compote de Mangue et Abricot – Foie Gras Mousse a with a mango and apricot compote. As an admittedly and unabashedly lover of anything foie gras, the crispness of the choux pastry, and sweet juxtaposition of the compote created a perfect bite of richness. It was accompanied by a 2015 Pinot Gris "Rivenwood Vineyard.' The wine leaned heavily toward an Alsace wine – dry with a hint of sweetness. Perfect with the premier course.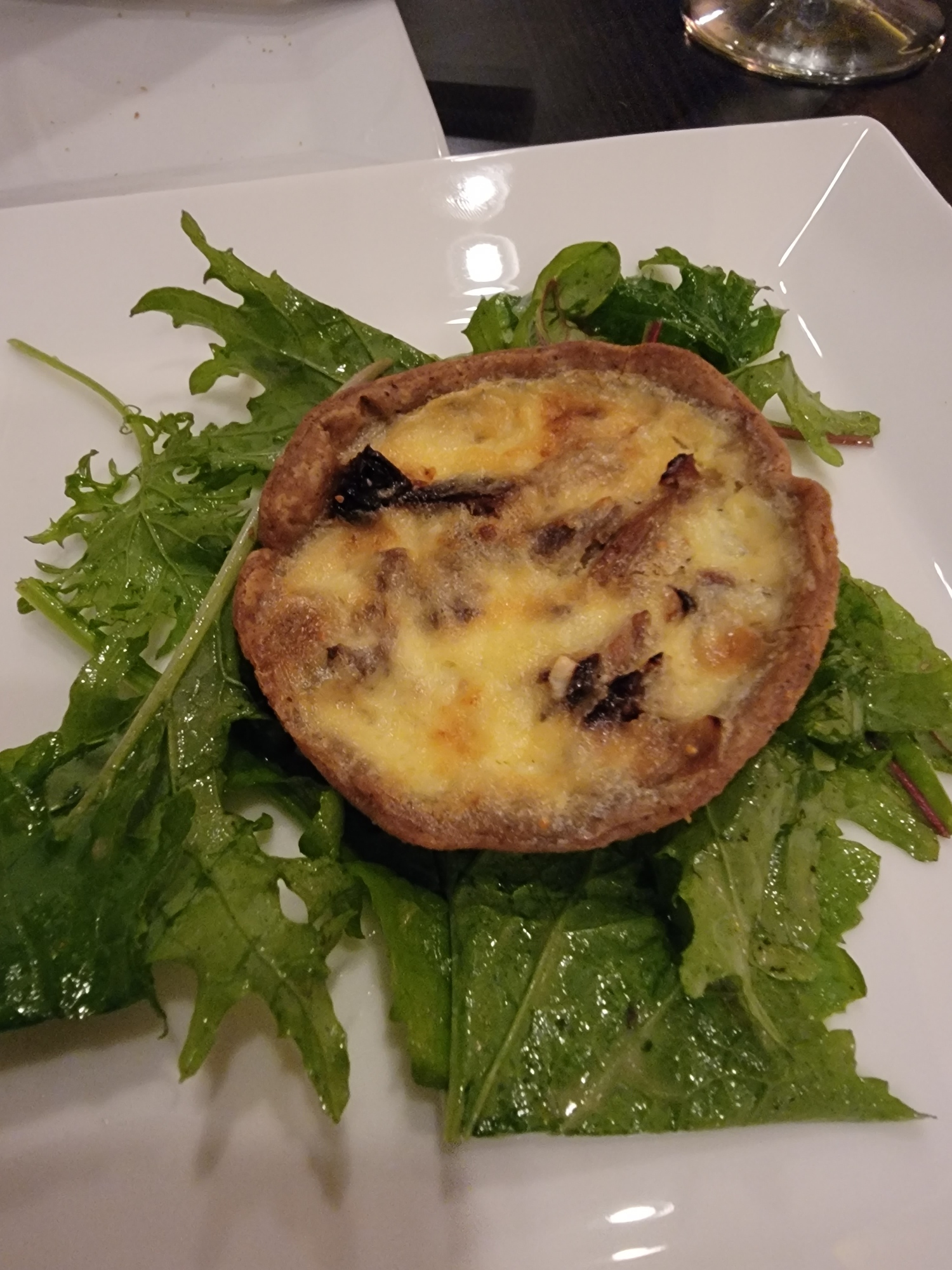 The Deuxième or second course was a Tarte au Confit composed of duck confit in a buckwheat crust with caramelized onion, and Parmesan on a bed of lightly dressed greens. The custardy filling was rich yet light with a delightful flavor set off with the bitter greens. A larger version would make a satisfying meal by itself. The tart was served with a very pleasant 2017 Pinot Noir, "a medium bodied wine with a bit less intensity than many Pinots."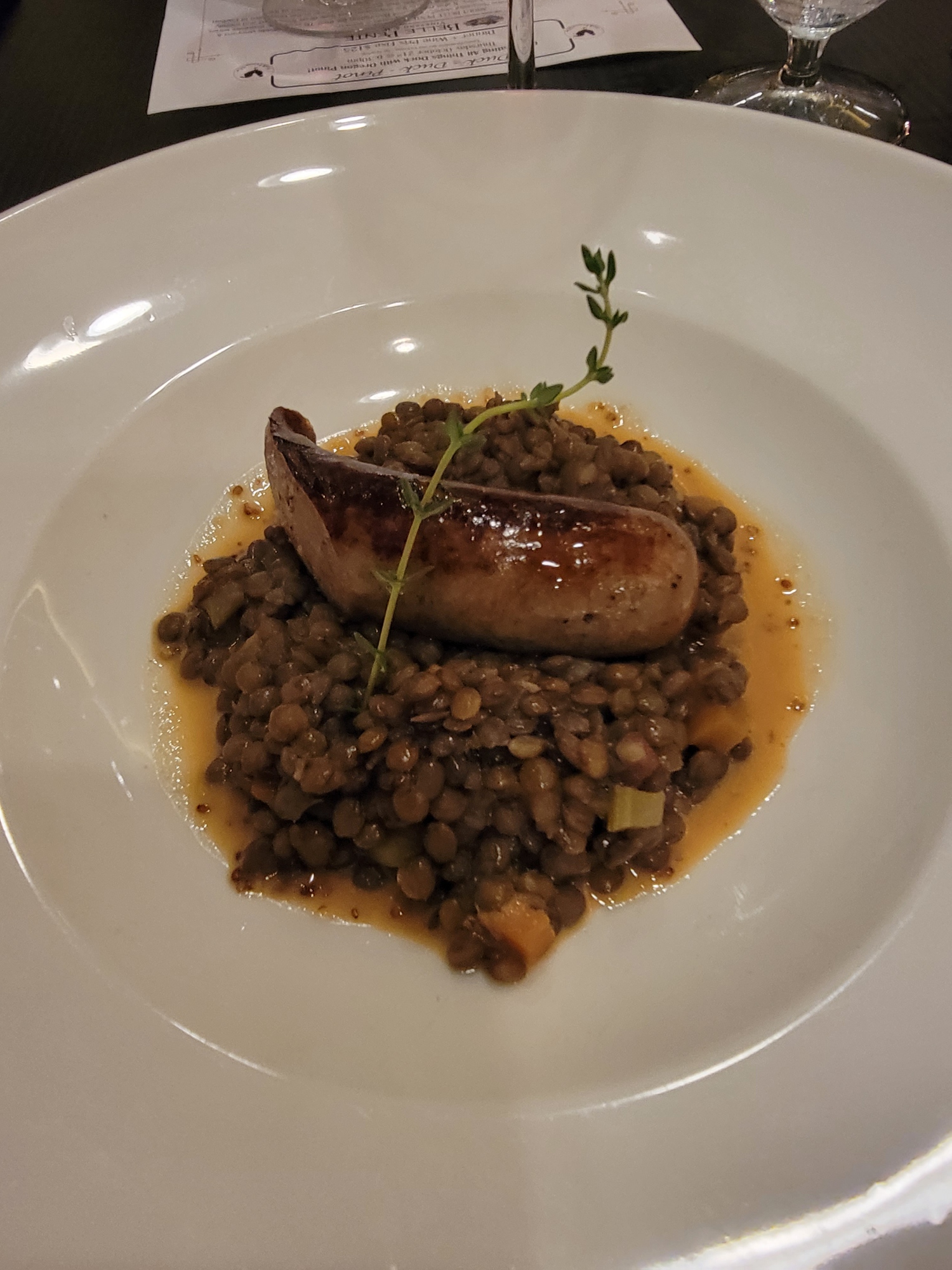 At this point, we were ready to rock and roll with an amazing course Troisième of Saucisse de Canard, a house made duck sausage served on a bed of green lentils with a mustard sauce. Rich and tender lentils lent an earthiness that enhanced the well flavored sausage. A plate of these lentils and sausage with a couple of slices of French bread would be a dreamy luncheon. The "Estate Reserve" Pinot Noir served along side was a well-developed, highly flavorful example of what a fine pinot should represent with dark black fruit flavors and aromas complimented by licorice, dried herbs, and flowers. What a stunning combination of flavors.
The Quatrième course of Magret de Canard, Moullard duck breast with a prune cognac sauce, king mushrooms, and kale was beyond delectable. Tender medium rare duck breast slices nestled on top of the sauce with rich mushrooms and bitter kale was indescribable. Let's hope they add the preparation to their regular menu. I asked for a doggy bag of more duck! And the wine! My favorite of the pourings, a 2015 Pinot "Murto Vineyard." These old vines were planted in in a high elevation Dundee Hills location during a warm growing season which provided ripe raspberry flavors and aromas, complemented by baking and exotic spices wafting above the fruit. To quote their website, "this rich, concentrated wine also retains bright freshness that persists through the long finish." A forkful of duck followed by a sip of the wine would make anyone swoon.
What could make the most suitable finish for a duck dinner? The Cinquième course was a Foie Gras Crème Caramel / Poires et Raisins Rôtis – Foie Gras Crème Caramel with roasted pears and grapes. Many seated around us seemed a bit put off at the thought of foie gras in a dessert but I knew better from a dessert crafted by Chef Michelle. As expected, it was luxuriously creamy with the opulent taste you expect from crème caramel. The touch of sweetness of the caramel sauce and piquancy of the grapes and pears were perfect. It was accompanied by the same 2015 Pinot Gris "Rivenwood Vineyard' from the first course. It was a text-book pairing.
What's the take-away of this dinner? We are so lucky to have Chef Michelle and Christophe preparing exquisite food in an attractive setting in Alexandria. Whether it be for happy hour or dinner, Bastille Brasserie and Bar should be a top choice for dining. And if they are offering a specialty meal like this one, sign up right away. You will fall in love with every offering.
Would you like your restaurant reviewed? Contact [email protected]