Arts
Be First to See New Exhibit at Local Art Gallery

ALEXANDRIA, VA–The King Street art gallery Galactic Panther is debuting its latest exhibit this Friday, Dec. 17!
From 6 to 10pm, the gallery will be open free to the public for viewing of NEW HUE.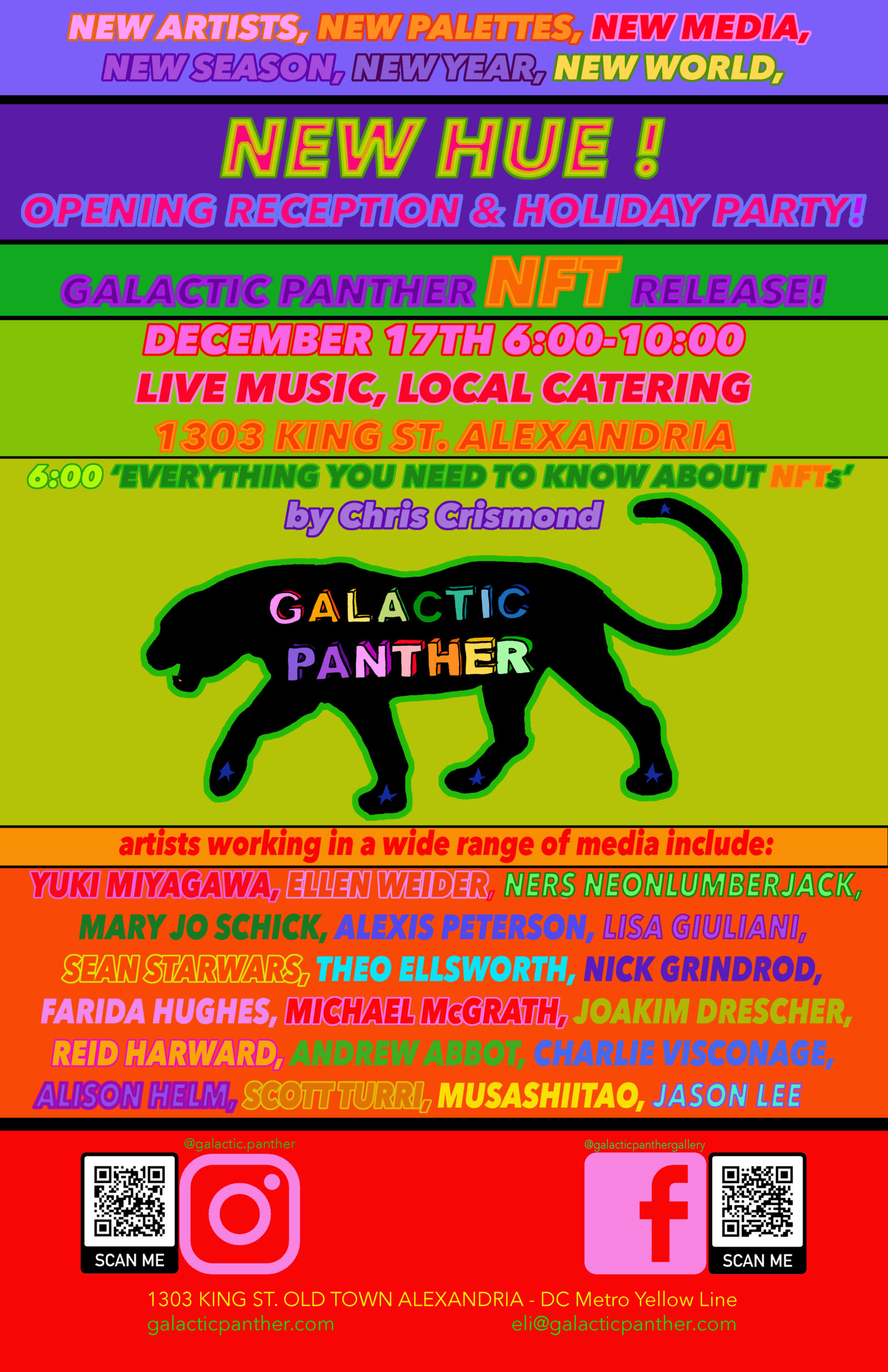 "The exhibit will represent new artists, new palettes, new media, a new year, and a new world," describes gallery co-owner Eli Pollard.
Galactic Panther exhibits are known for their eclectic variety of media, and this new exhibit is no exception. NEW HUE will feature small train sculptures from Yuki Mayigawa, a young, neuro-divergent man who loves trains, watching them, and travelling all around Japan on them, as well as the media non-fungible tokens, or NFTs.
Not exactly sure what NFTs are or how they work? At Galactic Panther's opening reception there will be a talk by Chris Crismond on "Everything You Need to Know About NFTs," with live music to follow.
Other artists and media highlighted include Haitian artist Alexis Peterson and their voodoo work, ceramics by Lisa Guiliani, prints from Sean Starwars, and many, many more. There will be over 50 local, national, and international artists featured in the gallery to make for a sincerely unique exhibit. Any viewer is sure to find inspiration, plus, as the holidays persist, perhaps even  those perfect gifts they've been putting off buying all season due to a plethora of possible supply chain reasons.
On Friday, Dec. 17, from 6 to 10pm, stop by 1303 King Street (right next to Pacers Running), be one of the first to see NEW HUE, learn more about NFTs, shop local, and support a small business. The event will be free, open to the public, and locally catered.
Galactic Panther, 1303 King St., is open Thursday 12-5pm, Friday through Sunday 11 to 7pm, and by appointment.
Scroll down for gallery of last exhibit MARK MOTHERSBAUGH & Artists Who Rock: